I've been making this recipe since before I could walk believe it or not. From a toddler and beyond, I have always been a baking fiend. My mom used to have my two older sisters and I help her in the kitchen when she baked us delicious things and treats.
There's a whole collection of old photos of the three of us holding the stand mixer bowl, paddle and spatulas with our faces covered in batter and/or dough. Pretty classic.
We would usually do the tasks like scooping out cookie dough onto baking sheets (while also nomming on the dough of course) or separating out our secret ingredient, the bran, from the raisins (yuck). She'd have us measure out the brown sugar, and that was always my favorite part…squishing it into the measuring cup as hard as my little hands could.
My love for baking and food definitely stems from my momma and how she raised us all to play with her in the kitchen. Of course, everything she makes is always better, but I like to compete. 🙂
This cookie recipe, though simple and classic, is one of the only baked goods that is truly comforting to me. It is one of two traditional American things my mom would make at home when we were all growing up. The other is our fave brownie recipe.
Whenever I'm craving just a nice chewy chocolate chip cookie, I still go back to this recipe. The bran from the raisin bran gives this classic cookie just a little more oomph and a wonderful textural component that is missing in most ccc recipes.
And don't ask me why, but it haaas to be Raisin Bran sans raisins. We've tried buying regular bran flakes to avoid the tedious step of sifting through the raisins, but it just isn't the same. Trust me. It's worth it. <If you happen to like raisins in your cookies, I guess I understand kind of. Leave 'em in if you muuuust.>
These guys are actually kind of famous among family friends. Many people in our friend group have tried them and rave about how yummy they are. They always ask what we do to them to get them so chewy… It's the bran man! I'm a flat/chewy cookie person (notso into the fluffy/cake-like ccc's), so these are perfect for me.
Momma's Bran Chocolate Chip Cookies
From
Mostly Sourdough
at
https://mostlysourdough.com/2014/09/mommas-bran-chocolate-chip-cookies/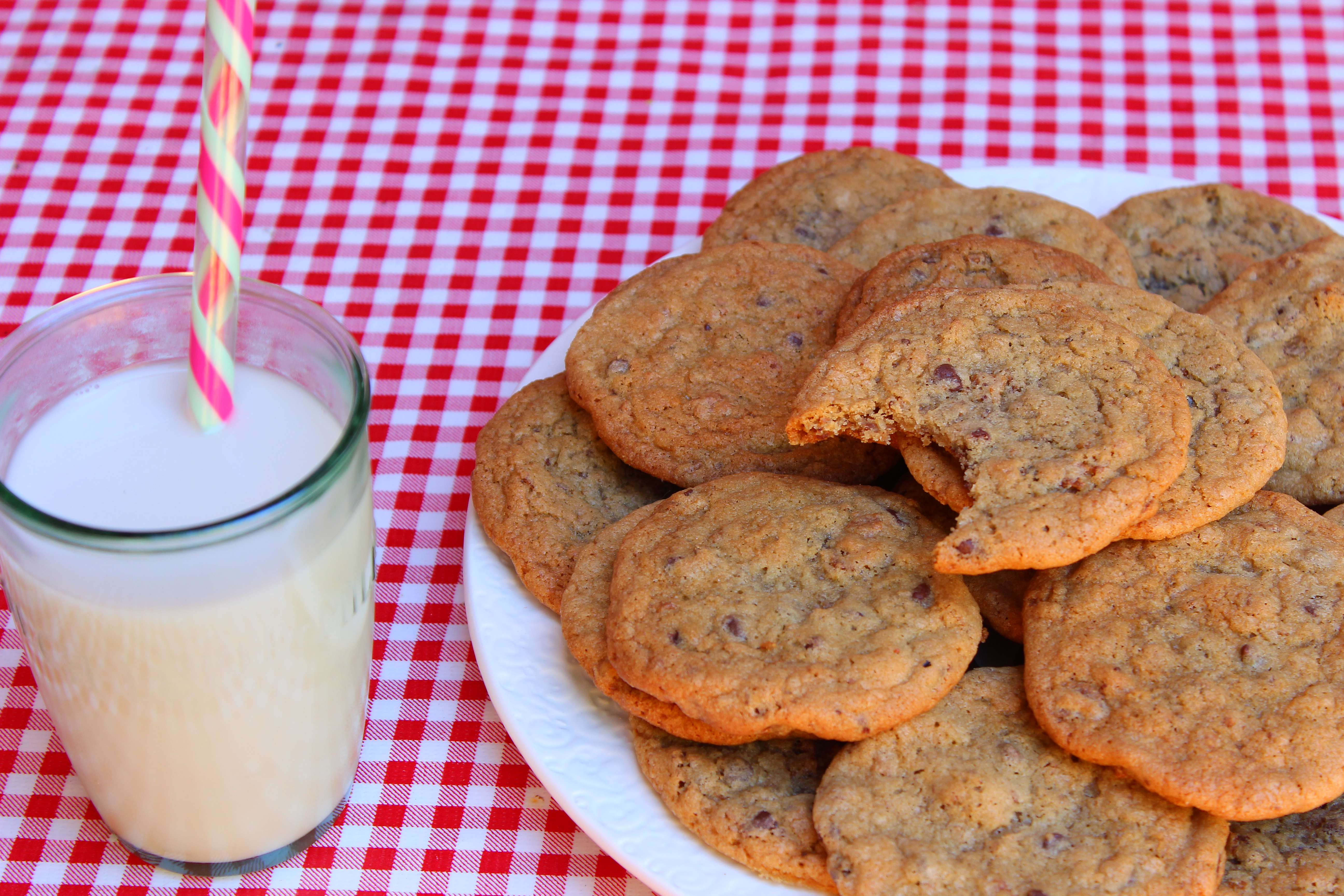 https://mostlysourdough.com/wp-content/uploads/2014/09/IMG_1969.jpg
Prep:
Cook:
Yield:

~30 cookies

Total:
My fam's go-to chocolate chip cookie recipe. A classic amped up with great texture from bran flakes.
You'll Need...
1 cup vegetable shortening or unsalted butter
3/4 cup brown sugar
3/4 cup granulated sugar
2 eggs
1 teaspoon vanilla
1 teaspoon salt
1 teaspoon baking soda
2 cups all purpose flour
1 cup bran flakes (Raisin Bran with raisins removed)
1 cup semisweet chocolate chips
Directions
Preheat the oven to 375 degrees. Line a baking sheet with parchment or a silpat.
In the bowl of your stand mixer, beat the shortening or butter and sugars together on medium until light and fluffy. Add the eggs and vanilla and beat until incorporated. Next add in the salt and baking soda. Once mixed, pour in the flour and mix on low until it just comes together. Mix in the bran flakes and chocolate chips by hand with a spatula.
Using a medium cookie scoop, portion out the dough on to your baking sheet. Bake for 10-12 minutes until browned on the edges but still somewhat soft in the middle. Cool on a wire rack.
I've made these cookies probably hundreds of times. The recipe is ingrained in my mind forever. I could be having a completely terrible day, and the smell of these cookies in the oven would bring me right back to my childhood home and baking with my momma. Instant happiness.
While I've deviated from my go-to recipes now and again in experimenting with foods and such for the blog and in culinary school, there's still nothing like what you grew up on. These cookies, brownies and my mom's pumpkin pie are my three comfort food things. Ya just can't beat all the memories made with great family in the kitchen! 🙂
The Creative Cookie Exchange theme this month is Comfort Food Cookies! What cookie says comfort food to you? If you are a blogger and want to join in the fun, contact Laura at thespicedlife AT gmail DOT com and she will get you added to our Facebook group, where we discuss our cookies and share links.
You can also just use us as a great resource for cookie recipes–be sure to check out our Pinterest Board and our monthly posts (you can find all of them here at The Spiced Life). You will be able to find them the first Tuesday after the 15th of each month! Also, if you are looking for inspiration to get in the kitchen and start baking, check out what all of the hosting bloggers have made:
Butterscotch Cookies from A Baker's House
Chocolate Cappuccino Toffee Chip Cookies from Karen's Kitchen Stories
Chocolate Chip Cookies Made with an Assortment of Chocolate from The Spiced Life
Quadruple Chocolate Shortbread Cookies from Magnolia Days
Dark Chocolate Chunk Chocolate Peanut Butter Cookies from Food Lust People Love
Roth (The Sacred Cookies from Kashmir) from Spiceroots
Crispy Potato Chip Cookies from Rhubarb and Honey
Carrot Cake Sandwich Cookies from Made with Love
Triple Chocolate Cookies from It's Yummi
Peanut Butter Chocolate Chunk Cookie from Noshing with the Nolands
Thekua (Sweet Wheat Cookies from Bihar) from Indian Curries/Stew
Peanut Butter & Damson Jam Bars from Baking in Pyjamas
Nut Cookies from Basic N Delicious
Banana Oatmeal Chocolate Chip Cookies from What Smells So Good?