English Muffins are one of my favorite bread things. They're so versatile.
My go to meal in undergrad was always a fried egg on an english muffin with melted cheddar and a handful of spinach. Fast (for when I rushed home to have lunch between classes), hearty and delicious. Gosh, I want one now. Just look at all that yum…
Making your own breads is so rewarding. It's great to be able to avoid having to buy packaged breads from the grocery store that are filled with all sorts of preservatives and icky stuff.
I've been pretty adamant about making my own breads since we moved to Pittsburgh. Something about getting my hands in dough is so therapeutic and also just so fun!
Sourdough English Muffins
From
Mostly Sourdough
at
https://mostlysourdough.com/2014/10/sourdough-english-muffins/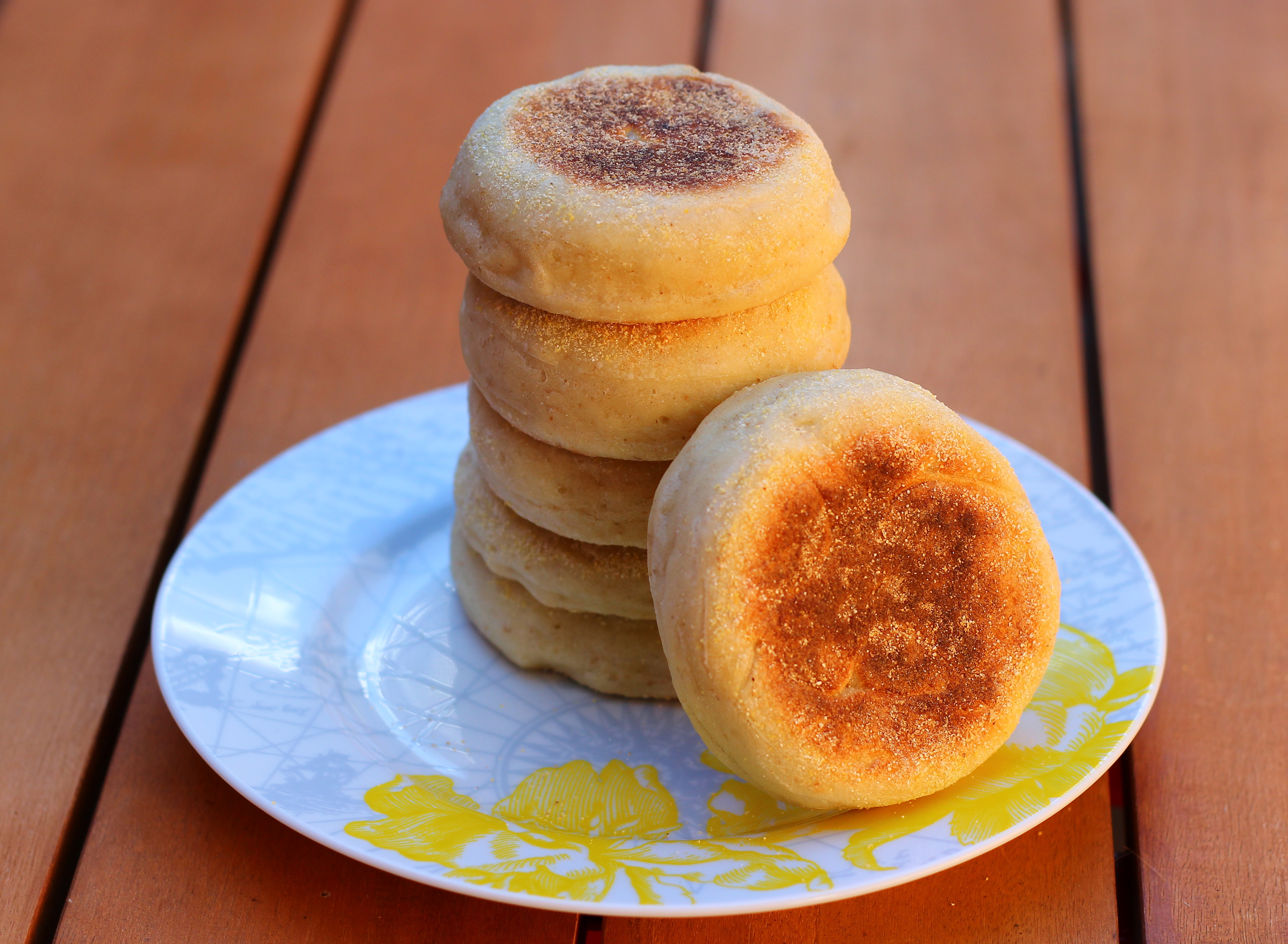 https://mostlysourdough.com/wp-content/uploads/2014/10/IMG_2526.jpg
Naturally leavened English Muffins
You'll Need...
300 grams all purpose flour (plus extra if needed)
100 grams sourdough starter
1 teaspoon salt
1 tablespoon granulated sugar
1 tablespoon butter, soft
1 egg
130 grams warm water
Corn meal or semolina for dusting
Directions
If doing by hand, combine all the ingredients in a large mixing bowl. Knead together with your hands until a shaggy ball forms (can be done in a stand mixer as well, with the dough hook attachment). While mixing, if the dough seems too wet, add a tablespoon of flour at a time until it begins to pull away from the sides of the bowl.
Pour out onto a floured work surface and knead until smooth, soft and somewhat elastic. Transfer to a lightly oiled bowl and cover. Set in a warm space until it grows in volume by about 30%, 3 to 4 hours. If you want to refrigerate the dough and roll it out the next day, that works too.
When ready to cut them out, prepare a baking sheet with parchment, and sprinkle with cornmeal or semolina. Dust your work surface with flour and corn meal/semolina, and pour the dough out. Use your hands or a well floured rolling pin to roll out to about 1/2 inch thick. Using a 3 inch biscuit cutter, slice into 8-10 muffins (you can re-roll the scraps) and place on your baking sheets. Sprinkle the tops with more cornmeal.
Cover with a tea towel and proof for an hour in a warm space. Prepare two skillets by preheating them over medium low heat. Cook the muffins until golden brown on each side (takes 5-6 minutes each side depending on how hot your pans get). Let cool on a wire rack, and store in an airtight container for several days or the freezer for months.
Making enriched sourdough doughs has been something I've been wanting to experiment more with lately.
Next up might be some sourdough cinnamon rolls!