Need inspiration for what to serve for dinner tonight?
I've gotcha covered. This tomato soup is the easiest meal ever, and it's sooo good.
It's soup weather here in Pittsburgh and I'm loving it. As I have definitely covered well enough on this blog, I am the queen of cozy feels.
Tomato soup has always been a fave of mine. It's hearty without being over the top filling like some of the noodle or bean based soups.
It beeegs to be paired with a really good grilled cheese like I did here. So nom.
Easy Tomato Soup
From
Mostly Sourdough
at
https://mostlysourdough.com/2018/10/easy-tomato-soup/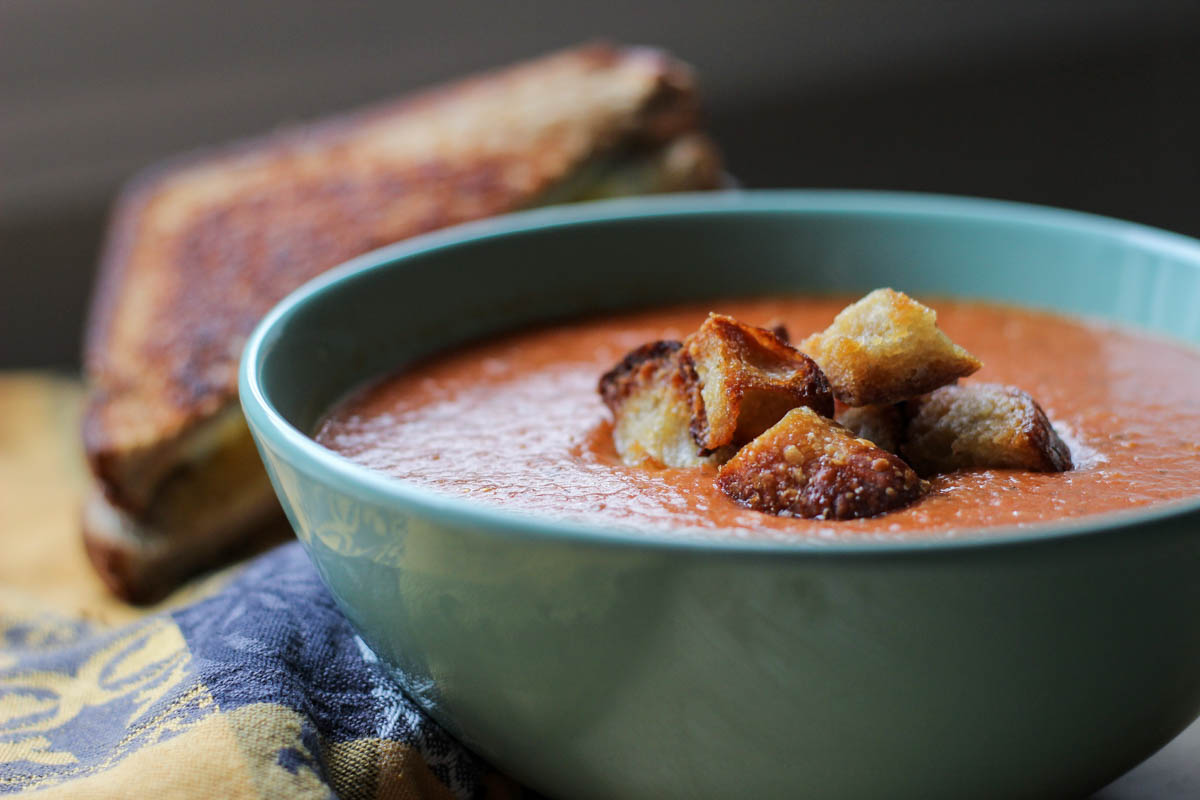 https://mostlysourdough.com/wp-content/uploads/2018/10/IMG_6945-5.jpg
Classic hearty tomato soup that warms the soul!
You'll Need...
1 tablespoon extra virgin olive oil
1 tablespoon butter
1 yellow onion, diced
1 clove garlic, minced
1-28 ounce can San Marzano tomatoes (or canned whole tomatoes)
2 tablespoons ap flour
3 cups vegetable broth
1 teaspoon salt
1/2 teaspoon ground black pepper
Dried thyme & basil to taste
Croutons & Grilled Cheese for topping & dipping
Directions
In a large soup pot, heat the olive oil and butter over medium heat. Add the onions, and saute until translucent (about 5-10 minutes). Add the garlic, toss together and cook for a minute. Toss in the flour, and stir with a wooden spoon to coat the onions.
Stir in the tomatoes, broth, and seasonings. Bring to a simmer, and allow to stew together for about 20 minutes. Taste and adjust the seasonings as needed. Use a stick blender to puree until desired consistency. Serve immediately with croutons and grilled cheese.
Each week passes here in Pittsburgh and I get more and more nervous for the impending winter. I'm already freezing my tush off in the 40 degree Fall weather. Soup is a necessity in the cold, and I'm not mad about it.
Crunch on the croutons, dip the sando and slurp up the sloup. Yes yes yes.
Excuse me while I go have another bowl.