Ciao amici!
In culinary school my intro to cooking class was definitely my most feared and stressful course. Although I love to cook, I am a baker at heart and being graded on cooking really threw me for a loop.
I remember my final for that class was one of the days I dreaded most in school. My instructor was super knowledgeable, but also pretty intimidating so I wanted to do well.
I had to make a salad, a fresh pasta, a side vegetable, risotto, and a stuffed chicken breast. All plated nicely within a certain allotted time period. Scary!
Buuut, I learned so much in that class! I would have completed the culinary certificate as well, but I couldn't get through the first day of Meats & Sauces when we had to debone whole chickens (ick). I always said I'd go back if they made a vegetarian track.
Anyways, this is the same risotto I made for my intro cooking final. 🙂 It's flavored with butternut squash and fresh sage, so it just screams Thanksgiving. And now that it's November, how appropriate amiright?
Risotto isn't the easiest dish to throw together since it requires constant stirring, but it's so worth it.
Butternut Squash Risotto
From
Mostly Sourdough
at
https://mostlysourdough.com/2018/11/butternut-squash-risotto/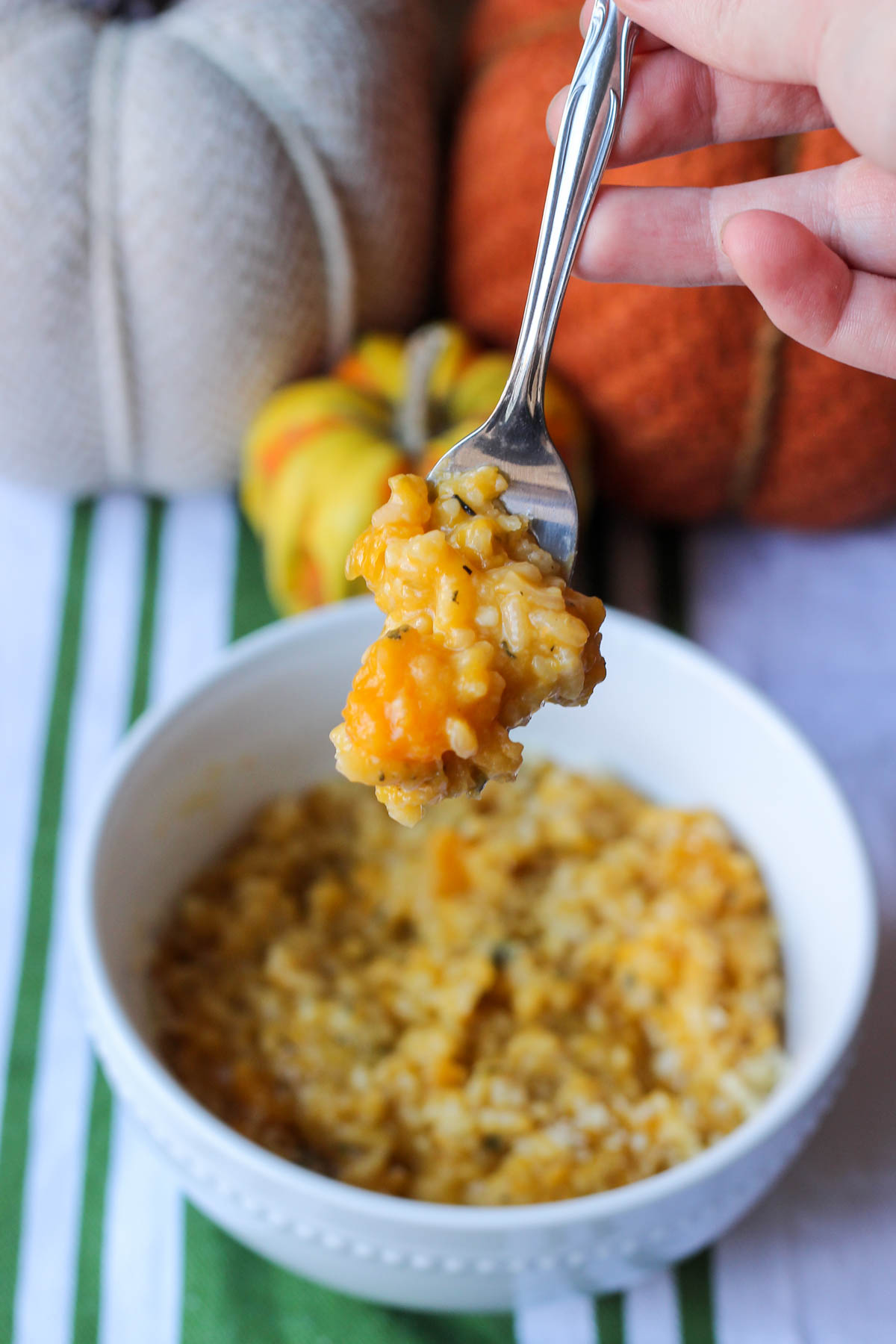 https://mostlysourdough.com/wp-content/uploads/2018/11/IMG_7026-13.jpg
Prep:
Cook:
Yield:

4 servings

Total:
Delicious risotto flavored with some of my favorite Autumn flavors, butternut squash and sage.
You'll Need...
1 butternut squash
1 tablespoon butter
1 small shallot, minced
1 cup arborio rice
1/3 cup dry white wine (something you'll drink too!)
3-4 cups vegetable broth
1 tablespoon minced sage (plus more for garnish)
1 teaspoon dried thyme
1/2 cup grated parmesan (plus more for garnish)
1/2-1 teaspoon salt
Black pepper to taste
Directions
Preheat the oven to 400 degrees. Slice off the ends of your squash and peel it with a vegetable peeler. Slice in half, scoop out the seeds and and cut into 1 inch cubes. Bake on a foil lined baking sheet until tender when pricked with a fork (20-25 minutes).
In a medium pot, melt your butter over medium heat. Add the shallot and cook until fragrant and translucent, about 3 minutes. Add the squash and stir until combined. Then add your rice, and stir to coat the rice. Next add the wine, stir thoroughly, and cook until the liquid is mostly absorbed (1-3 minutes). Now you will begin to add your vegetable broth, a half cup at a time, stirring frequently. Allow the liquid to become mostly absorbed before each subsequent addition. This process should take between 35-40 minutes.
Once the rice is cooked (you may not end up needing all the stock, so taste as you go for readiness), add the parmesan, herbs and season with salt and pepper. Serve immediately topped with more parm and sage.
Additional Notes
You can prep the squash ahead of time if you want to cut down on cooking time.
Pittsburgh is absolutely beautiful in the Fall! I was all worried the leaves would never change and we'd go straight into gloomy winter. But man oh man, all the trees seemed to get the memo practically overnight.
I have never seen such beautiful trees and Fall colors like here in the 'burgh. It actually takes my breath away when I walk outside and see all the yellows, oranges, reds. It's unbelievable!
Thanksgiving is just a few short weeks away, and this squash risotto would be a lovely addition to your menu!