Look at these little cuties.
Who knew something so small and unassuming could pack so much flavor?
Madeleines are a lovely cookie with a fluffy cake like texture (perfect for dunking in tea or coffee). They are traditionally flavored with vanilla or citrus and dusted with powdered sugar.
Many bakers pride themselves on the cute little bump that forms on top when madeleines are baked. The best way to get the bump is by resting your batter in the fridge, chilling your pan, and a hot oven. This all creates a "thermal shock" which forces the batter to spring up when baking.
I currently work at a bakery in Pittsburgh named after these sweet treats. My little sister Aki requested that I do a madeleine recipe last month, so I figured I'd get on it now. Hi Aki!
Years ago I did post these chocolate orange madeleines with a Grand Marnier ganache. Whoa right? But sometimes you just want something traditional.
These mads are closer to the classic, with just a simple twist of browning the butter. Browned butter adds such a nice nutty flavor without completely altering the character of the madeleine.
Brown Butter Madeleines
From
Mostly Sourdough
at
https://mostlysourdough.com/2018/11/brown-butter-madeleines/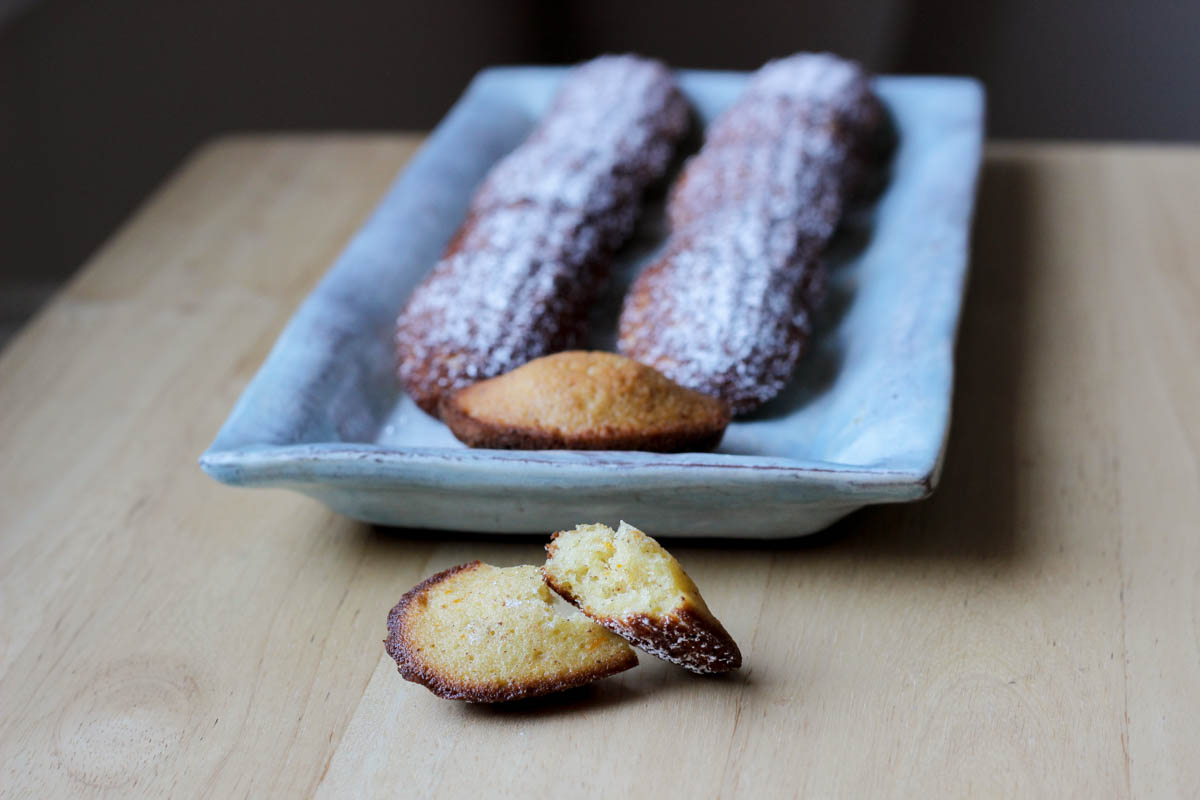 https://mostlysourdough.com/wp-content/uploads/2018/11/IMG_7067-14.jpg
Prep:
Cook:
Yield:

2 dozen madeleines (depending on pan size)

Total:
Lovely little cookie cakes flavored with browned butter, lemon and orange zest.
You'll Need...
1/2 cup unsalted butter
1/3 cup granulated sugar
Grated zest of 1 lemon and 1 orange
2 eggs
1 tablespoon honey
1 teaspoon vanilla (I used vanilla bean paste, but extract is fine too)
1/4 teaspoon salt
1 teaspoon baking powder
2/3 cup all purpose flour
Powdered sugar for dusting
Directions
In a small frying pan, melt the butter over medium heat, keeping an eye on it. It will start to bubble and spatter. Swirl the pan occasionally and use a rubber spatula to scrape the edges of the pan. Continue to cook until the butter starts to turn a lovely brown color and smells nutty. You'll see flecks of browned milk solids that should be a dark golden color. Set aside.
In a medium mixing bowl, combine the sugar and zests. Rub the zest and sugar together with your finger tips to extract the citrus oils and enhance the flavor. It should resemble wet sand after you're done. Next, add the eggs and whisk together until slightly fluffy, about two minutes. Whisk in the honey and vanilla.
Then add the dry ingredients, and whisk to combine. Finally, add the browned butter, and whisk until you have a smooth shiny batter. Cover with plastic wrap, and refrigerate the batter for at least an hour (or overnight). Butter and flour your madeleine pan, and keep in the freezer while your batter rests.
If you have a piping bag, use it to fill the pan slots about 2/3 of the way (don't over fill them!). You can always use a spoon or measuring spoon instead. Refrigerate the filled pan for another hour.
Preheat the oven to 375 degrees. Bake the madeleines for a total of 8-10 minutes, rotating the pan halfway through. You want them to be a golden brown color, and the bumps on top should spring back when you touch them.
Remove them from pan immediately and allow to cool enough to touch. Dust with powdered sugar and serve warm.
Additional Notes
-Madeleines are best eaten the day they are baked
-You can skip the browning of the butter if you'd like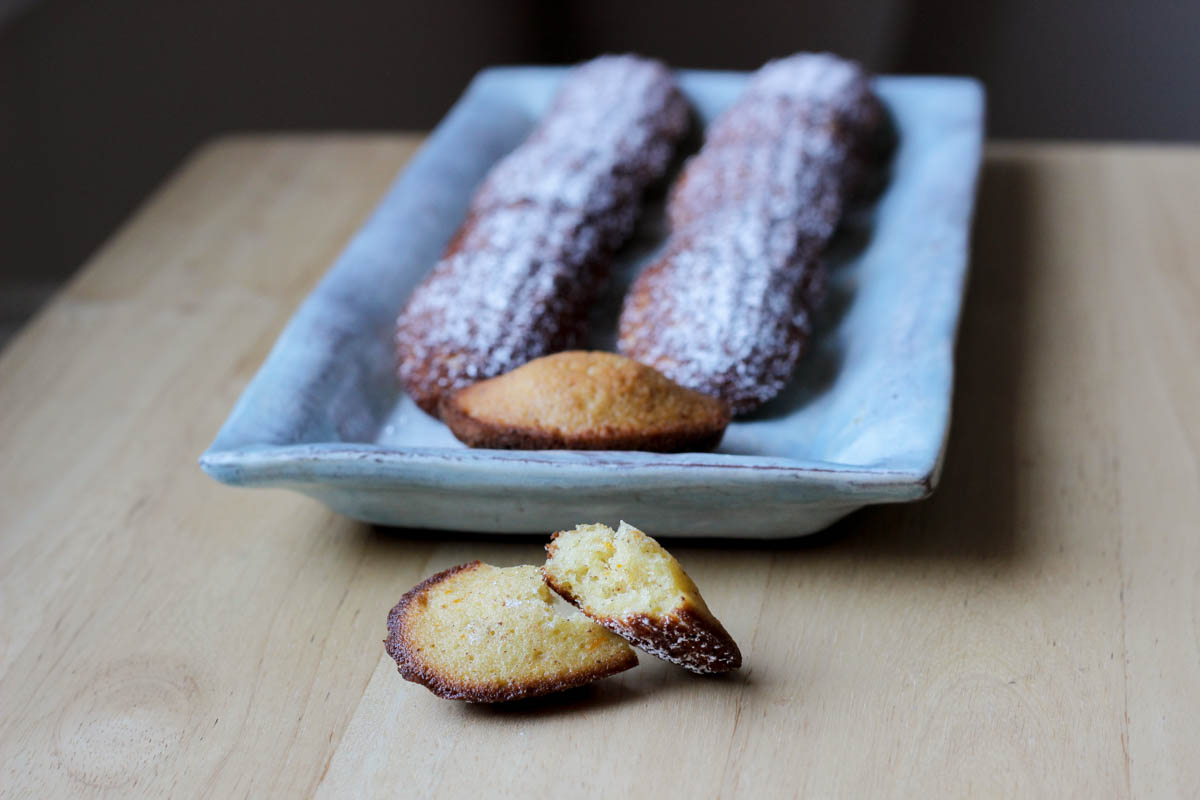 We got our first snow this weekend!! I flipped out of course. I've never lived somewhere where it snows regularly.
Can you believe we're only two weeks away from Thanksgiving? This chilly weather just makes me want to snuggle up and watch Christmas movies already.