Pot pies are one of the coziest meals ever.
Something about that creamy potato-y filling, and that buttery flaky crust. It just makes you want to curl up in a fluffy blanket on the couch.
I have always loved pie, and savory pies are getting close to edging out pumpkin as my fave. They're so satisfying and full of so much flavor.
These little pies come together so quickly, and are relatively easy! You can totally make the crust and the filling ahead of time and assemble them right when you're going to bake them.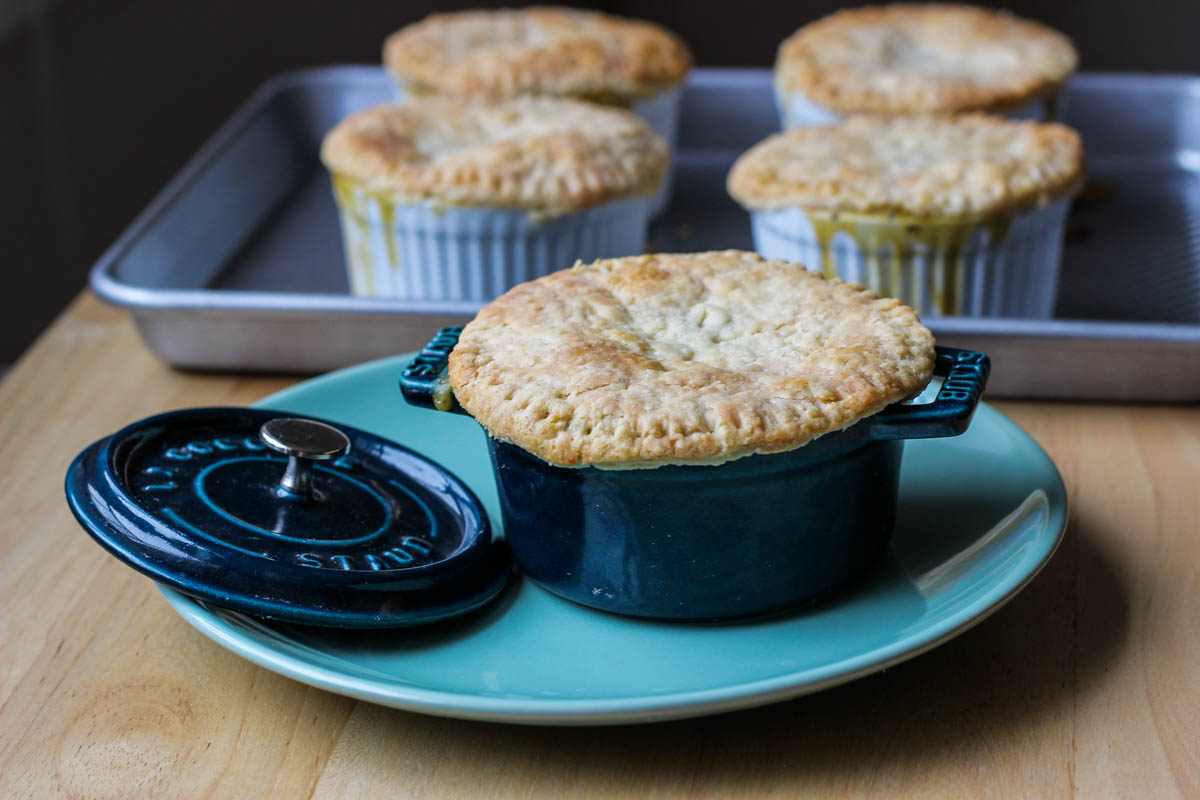 The fun thing about these is you can really put anything you want in them. I went with potato leek flavors because it's what I love mostest. But they're super versatile. I made veggie curry for dinner the other night, and we still have leftovers so I'm even considering throwing that into a pot pie! Why not right?
Veggie Pot Pies
From
Mostly Sourdough
at
https://mostlysourdough.com/2018/11/veggie-pot-pies/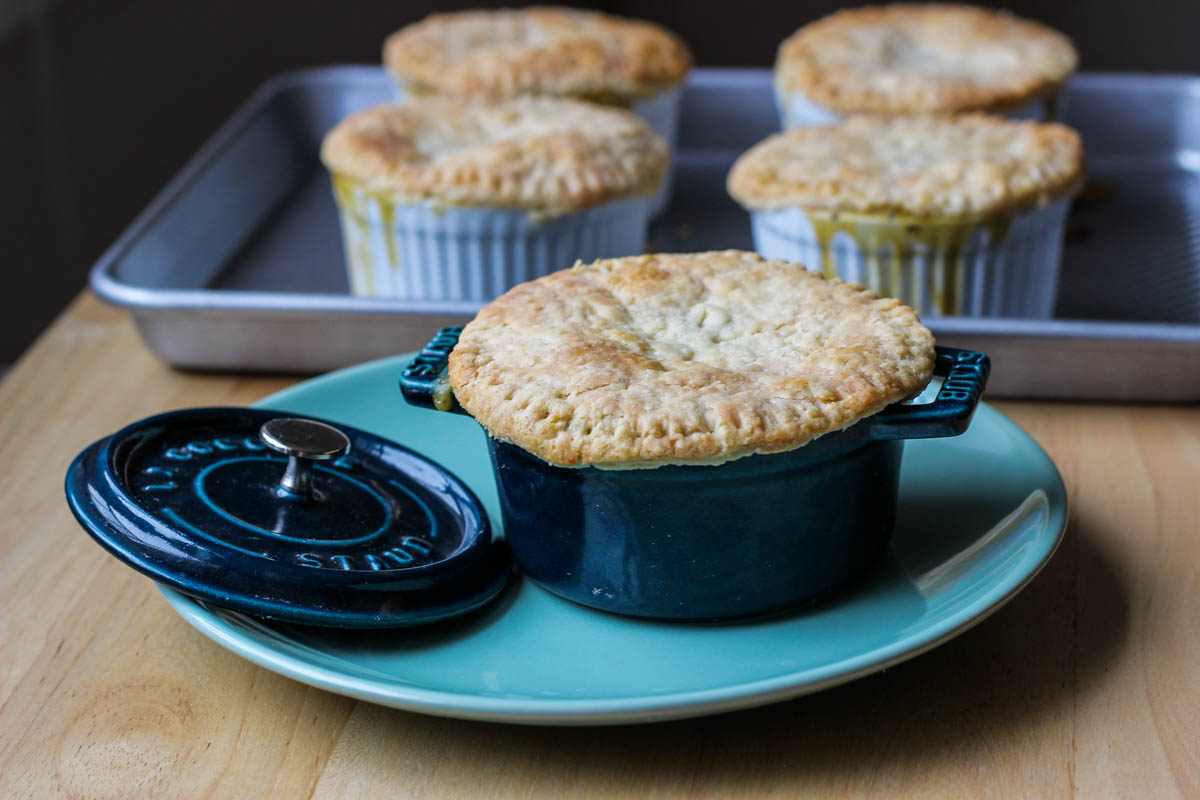 https://mostlysourdough.com/wp-content/uploads/2018/11/updated-8.jpg
Prep:
Cook:
Yield:

6 small ramekins or one 9 inch pie

Total:
Stewed vegetables topped with a flaky crust.
You'll Need...
Crust:
1 1/4 cups all purpose flour
1/2 teaspoon salt
1/2 teaspoon sugar
1/2 cup (1 stick) cold unsalted butter, cubed
1/4 cup ice water
Filling:
2 tablespoons olive oil
2 medium leeks, washed and sliced thin
1/2 cup diced carrot
2 cloves garlic, minced
2 cups yukon gold potatoes, washed and diced
1 teaspoon dried thyme
1/4 cup all purpose flour
2-3 cups vegetable stock
1/2 cup peas
1 cup broccoli florets
Directions
For the crust: In a medium mixing bowl, combine the dry ingredients. Cut in the butter using a pastry cutter or your finger tips until pea sized. Drizzle over the ice water, 1 tablespoon at a time, mixing with a spatula until a shaggy dough forms. Use your hands to bring the dough together into a disk and wrap with plastic. Chill for at least an hour. Meanwhile, make the filling.
Filling: In a medium pot, heat the olive oil over medium. Add the leeks, carrot and garlic. Saute until fragrant and the carrots and leeks start to soften, up to five minutes. Add the potatoes and thyme and stir to combine. Next add the flour and stir to coat the veggies. Cook out the flour for about a minute. Next stir in 2 cups of the vegetable stock, and bring to a boil. The mixture should thicken. If you feel like it's too dry, you can add more stock. Add the peas and broccoli and continue to cook until they soften.
Assembly: Preheat the oven to 400 degrees. Prepare 6 small ramekins, or a pie pan. On a floured surface, roll out the dough to 1/4 inch thickness. If using ramekins, cut out 6 tops for the pot pies that are slightly wider than your molds. If baking as one big pie, roll out the dough to fit over the top of your pie pan with a lip to crimp. Divide the filling among your molds, and top with the dough rounds. Press the edges down with the tines of a fork, and poke a few steam holes in the center. For the small ramekins, bake for 30 minutes until the tops are nicely browned. If baking one large pie, it will probably need closer to 40 minutes. Keep an eye on it. Serve warm.
Additional Notes
You can make both the crust and filling ahead of time, store them in the fridge, and wait to assemble them when you want to eat them. Or you can even assemble them and freeze them for baking off later.
Just look at that!
We're only a week away from Thanksgiving guys. Ahh!
Thanksgiving leftover pot pies? That's probably gonna have to happen too.