I could not be more excited to share these little guys with y'all!
It's almost St. Patrick's Day! I love holiday bakes as I'm sure you've realized by now.
As you may remember, I have posted Irish Car Bomb Cupcakes and Irish Car Bomb Brownies previous years.
While I love both of those Irish inspired treats and would gladly make them again, I do have to come clean about something!
It took me several years to decide officially that I hate Guinness. It's just not my thing. I did the whole Guinness factory tour etc. when I was in Dublin, and I gave it a real chance. I swear!
But I would so much rather drink beer, cider or wine. And to buy a whole pack of Guinness just to use a half cup in a recipe every year… Meh.
With all that said, these are ALMOST Irish Car Bomb Macarons.
These little babes are macarons filled with Bailey's buttercream and Jameson chocolate ganache. So good!
St. Paddy's Macarons
From
Mostly Sourdough
at
https://mostlysourdough.com/2019/03/st-paddys-macarons/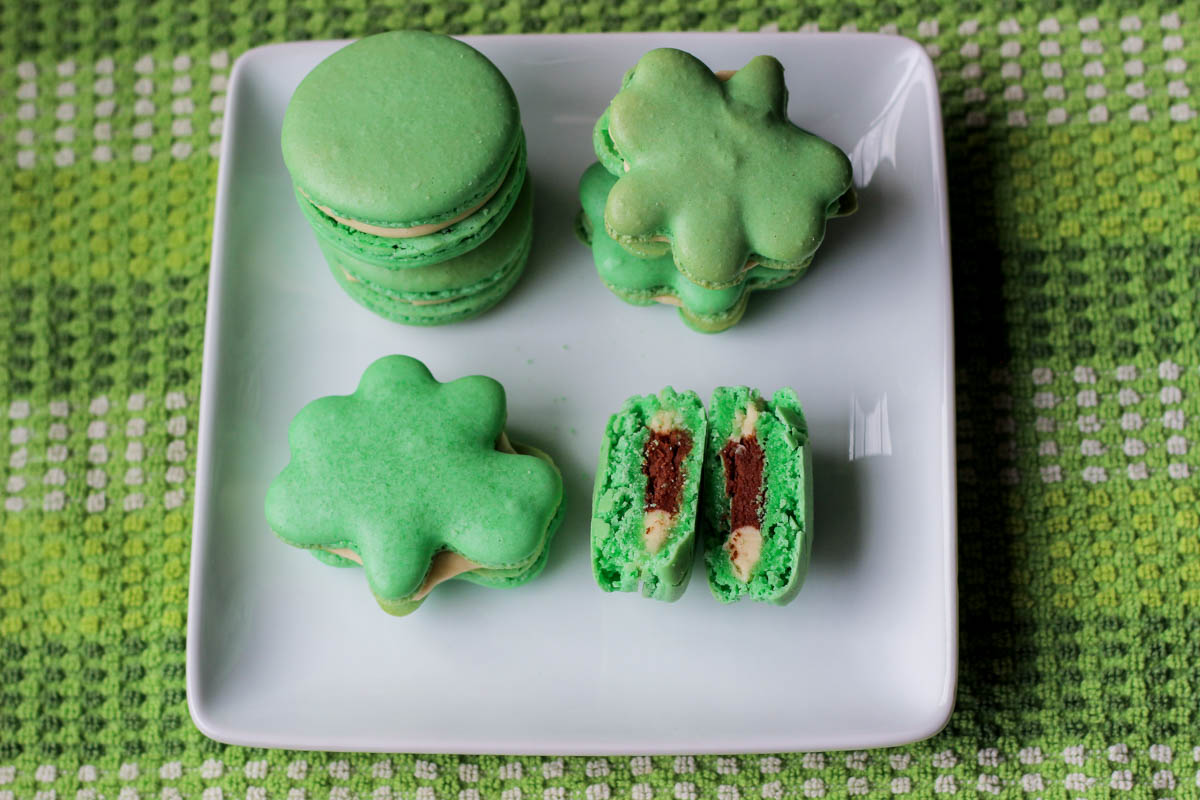 https://mostlysourdough.com/wp-content/uploads/2019/03/IMG_8138.jpg
French macarons filled with Bailey's buttercream and Jameson ganache.
You'll Need...
Macarons Shells:
2 egg whites, room temp
68 grams almond flour
153 grams powdered sugar
2 tablespoons meringue powder
Green food dye gel
Buttercream:
2 egg whites
1/2 cup granulated sugar
1/2 cup butter, room temp
1/4 teaspoon salt
2-4 tablespoons Bailey's Irish Cream (to taste)
Ganache:
4 ounces bittersweet chocolate
1/4 cup heavy cream
1-2 teaspoons Jameson whisky (to taste)
Directions
Macaron shells: Line two baking sheets with parchment. Sift together the almond flour and powdered sugar into a bowl. In the bowl of your stand mixer fixed with the whisk attachment, beat the egg whites on medium-high until they are foamy. Slowly add the meringue powder while mixing, and beat until they reach medium-stiff peaks. Fold in the dry mix in three additions with a rubber spatula, being very careful not to over mix it. Your batter should be shiny and smooth, and when you lift the spatula and let some batter drop back down, it should fold back into itself after about 20 seconds. Transfer to a piping bag fitted with a plain tip and pipe to desired size. Allow your macarons to dry out for at least half an hour (may take up to half an hour) so that they are no longer tacky to the touch. While they are drying out, make your fillings (see below). When the macarons are ready, preheat the oven to 295 degrees. Bake for about 13 minutes, rotating half way through. Allow to cool entirely before removing them from the parchment.
Buttercream: In the bowl of your stand mixer, combine the sugar and egg whites. Heat over a pot of simmering water, using your hand to whisk the mixture constantly so the eggs do not cook. You want the sugar to dissolve completely, and the mixture should we warm to the touch (no grit between your finger tips at all from the sugar, should be smooth). Immediately beat the mixture on medium high with the whisk attachment. Increase the speed to high, and beat until it is completely cool and a stiff peaked meringue forms (about 10 minutes). Switch to the paddle attachment, and slowly incorporate the butter one tablespoon at a time. Next add the salt and Bailey's. Taste and adjust flavoring as needed. Transfer to a piping bag.
Ganache: Coarsely chop the chocolate and place in a small bowl. Bring the cream to a simmer on the stove, and pour the cream over the chocolate. Let sit for a minute before whisking until smooth. Add the whisky to taste. Transfer to a piping bag when room temperature.
Assembly: Match your macaron shells, and pipe a small ring of buttercream around the edge of one side to act as a well. Fill the middle with the ganache, and sandwich. Store in an airtight container in the fridge.
Additional Notes
If you want to do the clover macarons, I recommend using a stencil to get the right shape. I just freehanded it and ended up with a lot of different sizes/shapes.
Apparently St. Paddy's is a huge deal here in Pittsburgh. Giant parade, the whole works.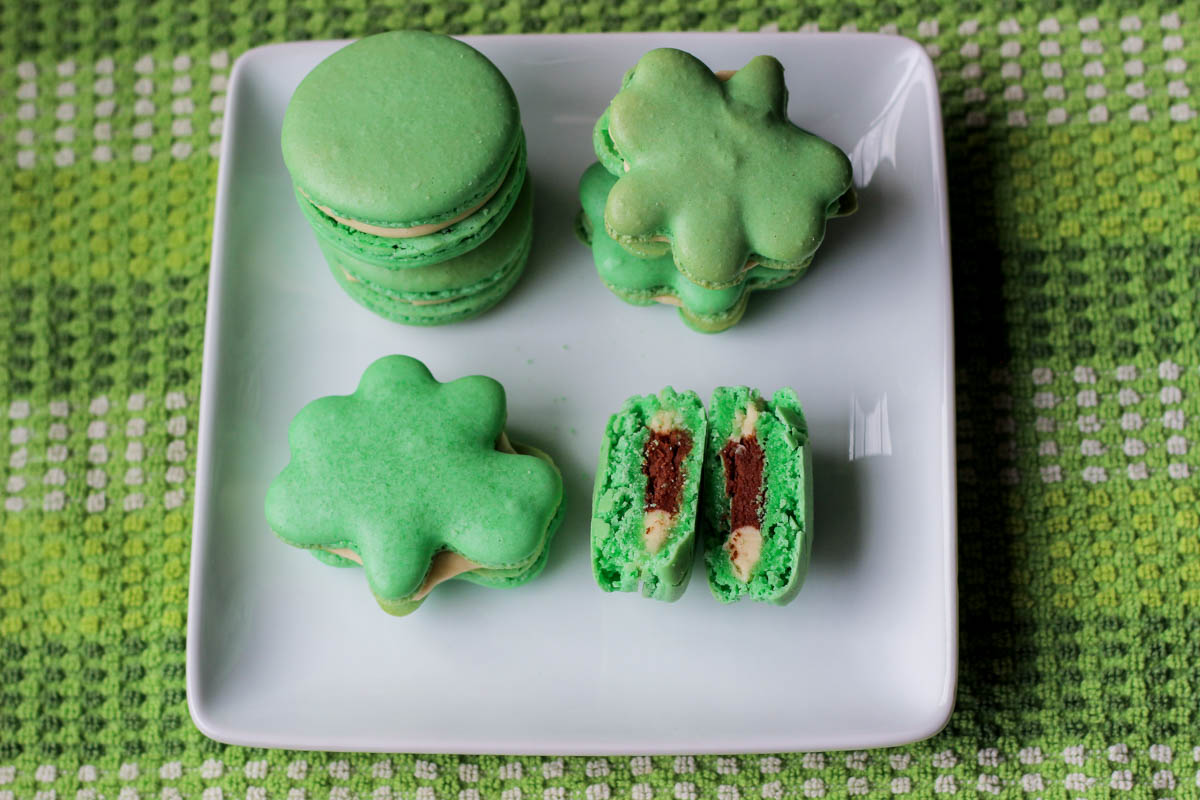 Of course I'm in the midst of a cold, so I don't know how much celebrating I'll be doing. But these little macarons are enough party for me. Sláinte!