This is my kind of weeknight meal.
It's easy. There's tons of leftovers. And it has cheese.
But there's also veggies! So we don't have to feel as bad about eating a big bowl of cheesy pasta.
I love simple pasta dishes. I have always been a big carb gal. But I also love meals that can be easily switched up based on what you have on hand in your kitchen.
Don't have asparagus or kale? Use something else! Brussels would be delish. This is such a great base recipe to go wild with. I can't wait until we have more veggies available when winter is over.
Time to snuggle up on the couch with this tasty pasta and a glass of vino.
It's Wednesday. You deserve it!
Lemon, Kale & Asparagus Pasta
From
Mostly Sourdough
at
https://mostlysourdough.com/2019/03/lemony-kale-asparagus-pasta/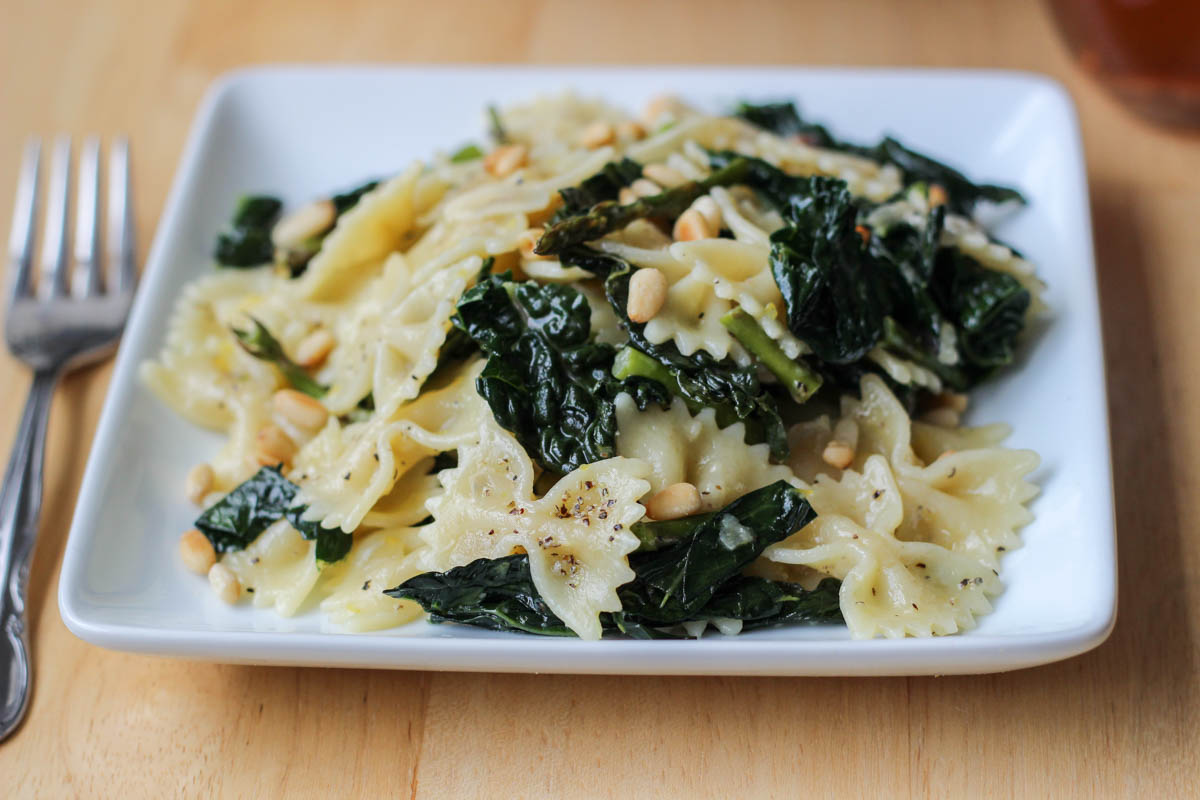 https://mostlysourdough.com/wp-content/uploads/2019/03/IMG_8075.jpg
Prep:
Cook:
Yield:

6-8 servings

Total:
A refreshing and easy pasta dish with kale, asparagus, toasty pine nuts, parm & lemon!
You'll Need...
2 tablespoons butter
2 tablespoons olive oil
3 cloves garlic, sliced thin
1/2 white onion, diced
1 head dino kale, washed and chopped
1 bunch asparagus, washed and chopped
1 pound pasta of choice
1 lemon, zested
2 teaspoons salt
1/2 teaspoon black pepper
1/2 cup grated parmesan
1/3 cup pine nuts, toasted
Directions
In a large skillet, heat the olive oil and butter over medium heat. Add the onion, and cook until translucent. Stir in the garlic, and continue to cook until fragrant (about a minute). Next add the kale and asparagus, and cook down until the kale has softened and the asparagus is tender. Turn the heat down to low to keep warm while you cook the pasta.
Cook the pasta until al dente, according to package directions. Reserve 1/2 cup of the starchy pasta water before draining. Toss the pasta with the veggies, lemon zest, salt and pepper. Add the parmesan, stir together and then drizzle over the extra pasta water. Toss to coat.
Taste and season further if needed. Serve topped with the toasted pine nuts and more parm.
Additional Notes
-Feel free to swap out the veggies for something else
-You could also do another toasty topping (almonds, walnuts. Go nuts! :D)
Yum yum yum!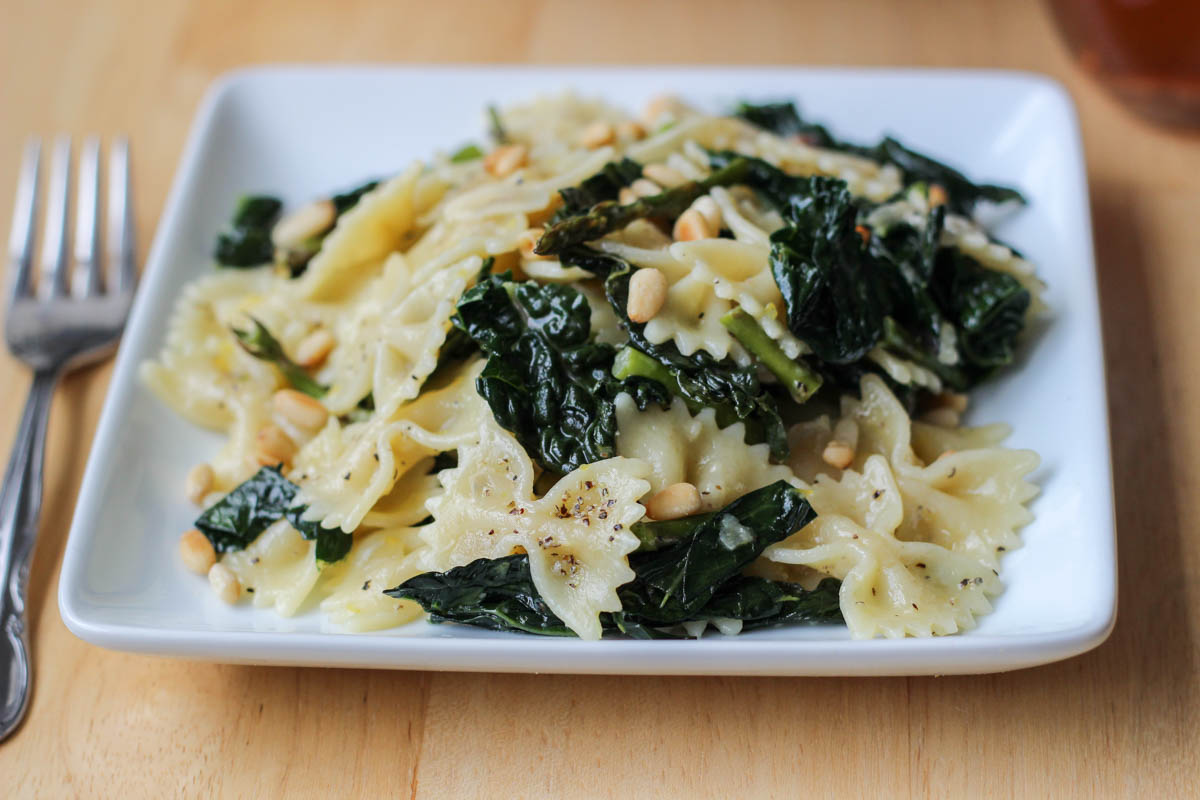 Nev and I signed up for a CSA box from a local farm for this summer and I am so excited!!! Can't wait to see what we get! Summer veggie pastas are the best.