Attention almond lovers: this coffee cake is for you!
This little cake has almonds in all the forms. Almond flour, extract, toasted sliced almonds, AND a layer of almond paste in the middle. Like I said, if you love almonds dis cake is gonna be your fave.
Coffee cake is one of my favorite bakes, particularly because of the crumb topping. I'm all about a good crumb. Like, gimme more crumb than cake please. Yes yes yes.
Anyone else feel like February flew by? So not complaining though. Nev and I have definitely been feeling pretty ready for Spring.
Everything in Pittsburgh is very brown in the winter. We're used to the opposite in California, where the winter is lush and green, and summers are brown and dry. Starting to feel a little bit of that February funk.
I do love when it snows here because it brightens everything up again. Maybe we'll get a bit more snow before Spring comes. Even so, this little coffee cake is getting me through the last of February!
Almond Coffee Cake
From
Mostly Sourdough
at
https://mostlysourdough.com/2019/02/almond-coffee-cake/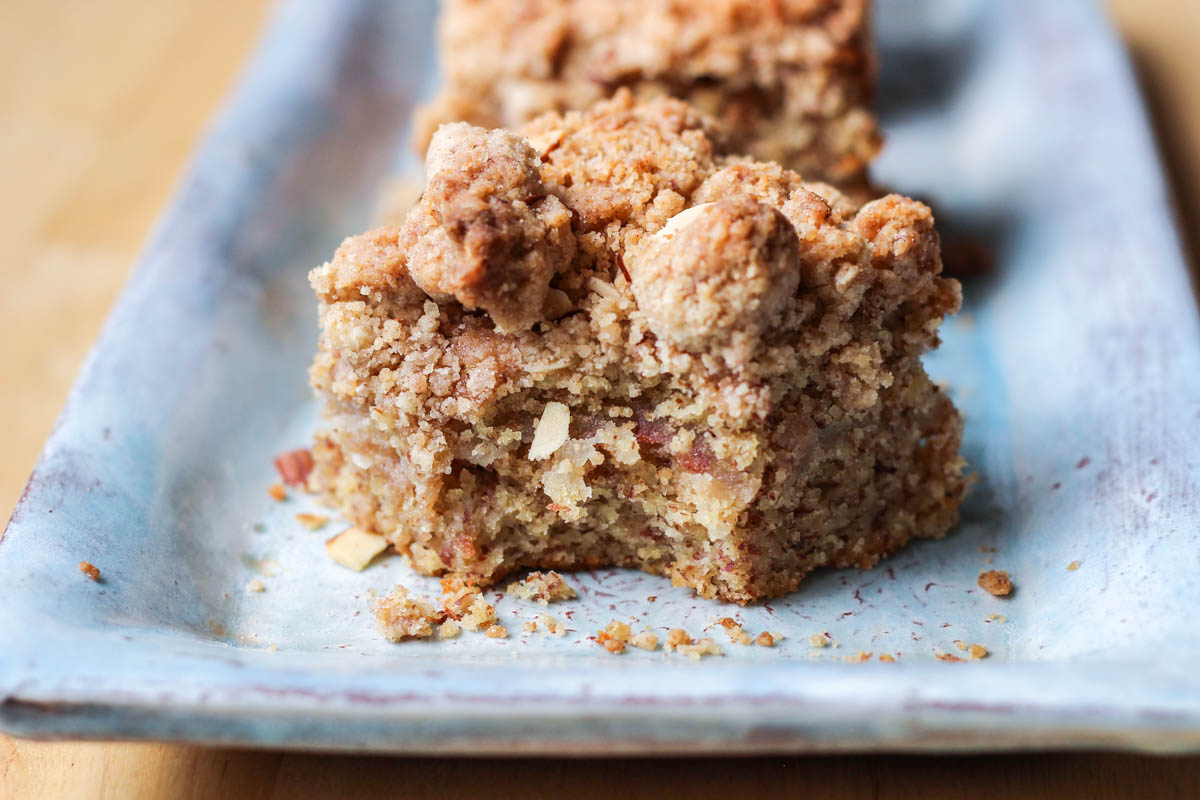 https://mostlysourdough.com/wp-content/uploads/2019/02/IMG_8060.jpg
Prep:
Cook:
Yield:

9-12

Total:
This coffee cake is packed with almonds. Almond flour, extract, toasted sliced almonds, and a layer of almond paste in the middle. So tasty!
You'll Need...
Crumble:
1/2 cup butter, melted
1/3 cup granulated sugar
1/3 cup brown sugar
1 teaspoon cinnamon
1/2 teaspoon almond extract
1/2 teaspoon salt
1 1/2 cups all purpose flour
1/2 cup toasted sliced almonds
Cake:
2 eggs
1/2 cup brown sugar
1/3 cup canola oil
3/4 cup milk
2 teaspoons almond extract
1 teaspoon vanilla
1 cup almond flour
3/4 cup all purpose flour
2 teaspoons baking powder
1 teaspoon salt
4 ounces almond paste
Directions
Preheat the oven to 350 degrees. Prepare an 8x8 inch square baking pan with two strips of parchment hanging over all 4 sides (will act as a sling to pull out your cake).
Crumble: In a small mixing bowl, combine the sugars, cinnamon, extract and salt and whisk together. Slowly pour in the melted butter and whisk until incorporated. Then add the flour and almonds, and mix with a rubber spatula until it just combines. Spread out on to a baking sheet, and squeeze some of the bits together with your hands to create large crumbs. Allow to firm up in the fridge while you make the cake.
Cake: In a medium mixing bowl, whisk together the eggs, sugar, oil, milk & extracts. In a separate bowl combine the dry ingredients and whisk together. Add the dry ingredients to the wet, and fold together until smooth. Roll out the almond paste between two pieces of parchment until approximately an 8x8 square. You can cut it with a knife and do a little patching to make it fit (doesn't have to be perfect).
Assembly/Bake: Pour half the batter into your pan, and top with a layer of the crumble. Add the almond paste square over top the crumble, and then pour over the rest of the cake batter. Top with the remaining crumble, and bake for 45-50 minutes until a toothpick inserted comes out with a few crumbs. Slice into 9 or 12 squares, and serve warm. 🙂
Just look at that fluffy cake and crumbly crumb.
I'll take a big slice now with a cuppa tea, thank you.