As I'm sure you all know very well by now, I'm obsessed with lemon. Sweet or savory. I always want more citrus in my food.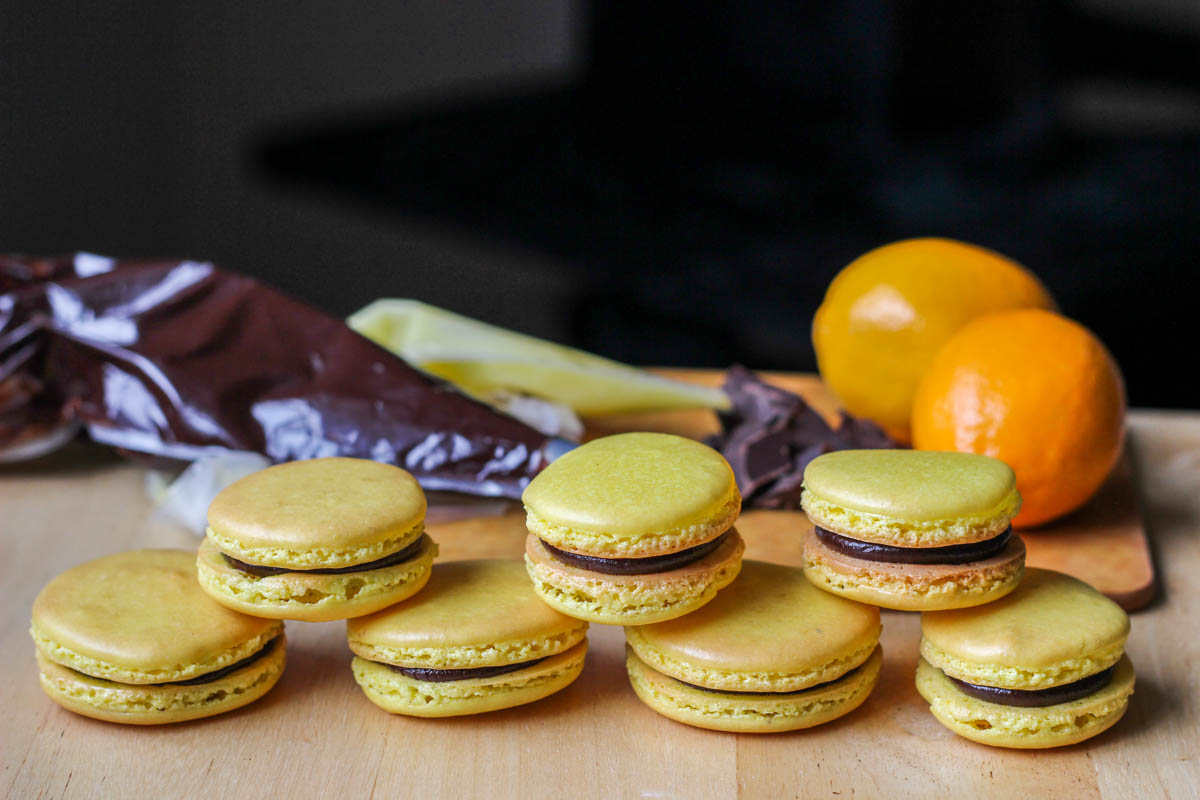 These little babes are macs filled with a dark chocolate ganache and a luscious lemon curd.
Chocolate and orange has always been considered a classic flavor pairing —for good reason, they're great together!— Chocolate and lemon though!! That's a pairing that totally does not get enough credit.
The combination of those two strong flavors together is so good! Dark chocolate is pretty bitter, and lemon curd is obviously acidic and tart. Mixed with the sweet mac, there's nothing better.
Lemon & Chocolate Macarons
From
Mostly Sourdough
at
https://mostlysourdough.com/2019/04/lemon-chocolate-macarons/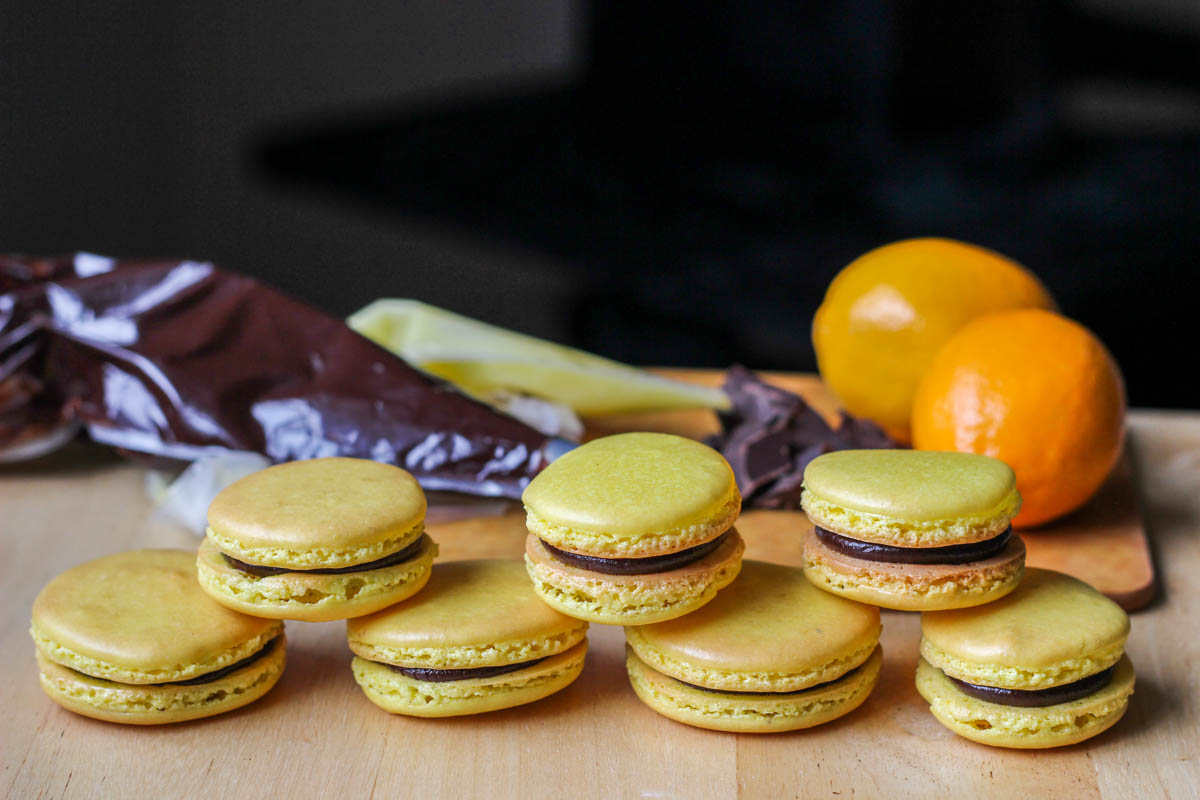 https://mostlysourdough.com/wp-content/uploads/2019/04/IMG_8237.jpg
French macs filled with Meyer lemon curd and dark chocolate ganache.
You'll Need...
Macarons Shells:
2 egg whites, room temp
68 grams almond flour
153 grams powdered sugar
2 tablespoons meringue powder
Yellow food dye gel
Lemon Curd:
1/4 cup sugar
1 eggs
1/4 cup Meyer lemon juice
1 tablespoon unsalted butter
Ganache:
4 ounces bittersweet chocolate
1/4 cup heavy cream
Directions
Macaron shells: Line two baking sheets with parchment. Sift together the almond flour and powdered sugar into a bowl. In the bowl of your stand mixer fixed with the whisk attachment, beat the egg whites on medium-high until they are foamy. Slowly add the meringue powder while mixing, and beat until they reach medium-stiff peaks. Add your food coloring at this stage. Fold in the dry mix in three additions with a rubber spatula, being very careful not to over mix it. Your batter should be shiny and smooth, and when you lift the spatula and let some batter drop back down, it should fold back into itself after about 20 seconds. Transfer to a piping bag fitted with a plain tip and pipe to desired size. Allow your macarons to dry out for at least half an hour (may take up to half an hour) so that they are no longer tacky to the touch. While they are drying out, make your fillings (see below). When the macarons are ready, preheat the oven to 295 degrees. Bake for about 13 minutes, rotating half way through. Allow to cool entirely before removing them from the parchment.
Lemon Curd: Whisk together egg and sugar in a small saucepan. Cook over medium heat until the sugar dissolves (stirring constantly with a heat proof spatula so it doesn't curdle). Add the lemon juice and butter, and cook on medium stirring constantly until it has thickened (about 3 minutes). Run through a mesh strainer, then cover with a layer of plastic wrap to prevent a skin from forming. Transfer to a piping bag when cool and set.
Ganache: Coarsely chop the chocolate and place in a small bowl. Bring the cream to a simmer on the stove, and pour the cream over the chocolate. Let sit for a minute before whisking until smooth. Transfer to a piping bag when room temperature.
Assembly: Match your macaron shells, and pipe a small ring of ganache around the edge of one side to act as a well. Fill the middle with the lemon curd, and sandwich. Store in an airtight container in the fridge.
Look at that gorgeous composition! I mean, c'mon.
Macs are beautiful little cookies.
*Swoon!* I love these!