Happy weekend friends!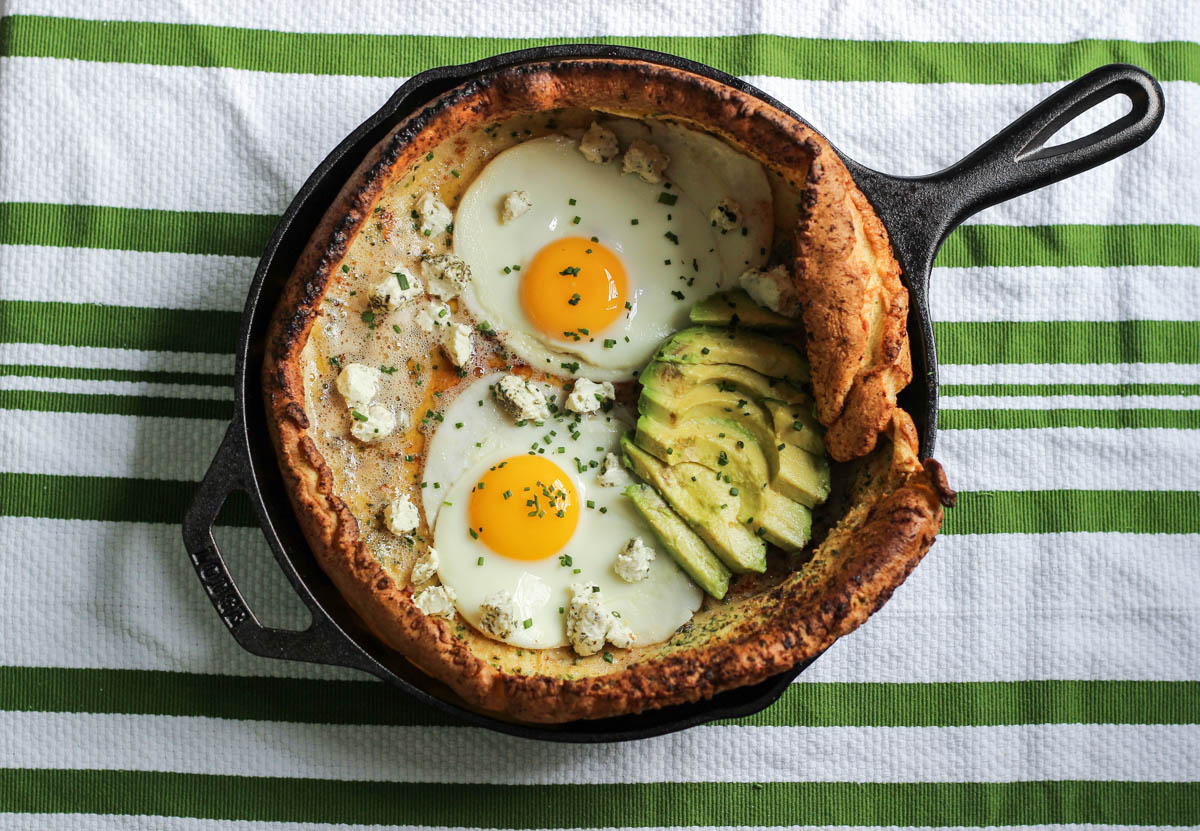 I'm so excited to be sharing this dutch baby with you!
Nevin and I came to love dutch babies when we moved to Pittsburgh, and we make them fairly often now on the weekends. They're so good! And this is our first savory one! Now I can't decide if I like sweet or savory best.
As you all may remember, I posted this sweet dutch baby back in January.
Well this little babe is topped with my favorite savory breakfast things. Fried eggs, avocado, goat cheese and herbs. Yum. A brunch lover's dream.
That's what I always want in my french crepes, so it's no surprise that I chose those toppings for this application as well. Dutch babies remind me of crepes. But they have their own unique flair! The crispy edges are always the best part.
A dutch baby would be the perfect Easter brunch dish, because they look so impressive and they're so easy! If you have multiple cast iron pans you could bang out a few at once if you need to feed a crowd. I mean, look how beautiful that is!
Savory Dutch Baby Pancake
From
Mostly Sourdough
at
https://mostlysourdough.com/2019/04/savory-dutch-baby/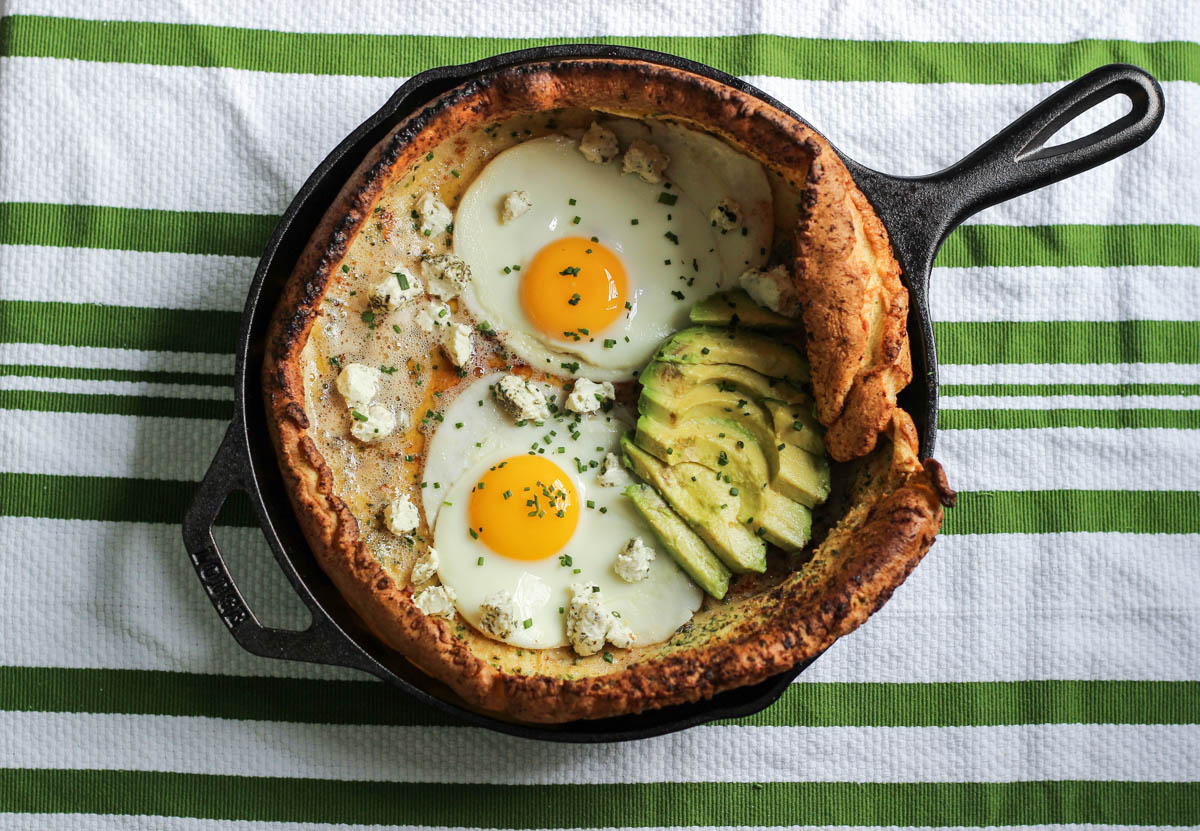 https://mostlysourdough.com/wp-content/uploads/2019/04/IMG_8388.jpg
Prep:
Cook:
Yield:

One 10-inch dutch baby

Total:
Fluffy popover pancake with a savory spin! Fried eggs, fresh herbs, avocado & goat cheese make this the perfect brunch dish.
You'll Need...
Dutch baby:
1/2 cup flour
1/2 teaspoon salt
Fresh ground pepper (to taste)
3 eggs
1/2 cup milk
Chopped fresh herbs (chives, thyme, rosemary)
4 tablespoons butter
Toppings:
2 eggs, fried
1/2 avocado, sliced
Chopped fresh herbs (see above)
Goat cheese, crumbled
Directions
Preheat the oven to 425 degrees. In a small mixing bowl, combine your dry ingredients and whisk together. Next add the eggs and milk, and whisk until you have a smooth very thin batter. Fold in the fresh herbs (save some for garnish).
Add the butter to a cast iron skillet (10 inches) and melt in the oven. Once your butter is melted (make sure it doesn't burn!), pour the batter into the skillet over the butter and bake for 20 minutes until fluffy and golden. Lower the oven to 300 degrees and bake another 5 minutes. Slice and serve immediately with desired toppings.
While the dutch baby is baking: Prepare your toppings. Cook your eggs to your preference -- I like mine runny so either over-easy or sunny side up-- & prep the avocado, goat cheese and herbs. Assemble by scattering your various toppings over the pancake right when it comes out of the oven.
Additional Notes
Switch up the toppings to your liking!
You can also make these as a sweet dish! See my other dutch baby post in the blog archives.
Don't you just love the way they puff up so majestically? (Yes, I firmly believe that food is magical!)
I hope you all get to gather with family this holiday weekend and enjoy this lovely springtime.