Hiii! Guess what?! It's Passover!
Last year for Passover I posted this amazing Matzo Toffee recipe that I think everyone in the world should try. It's sooo good and highly addictive.
This year, I'm back with another delectable Passover-friendly dessert! These coconut macaroons are such a fun take on the classic cookie. I honestly find that most coconut macaroons are far too sweet.
That's why I prefer to use unsweetened coconut, so I can control how much sugar goes into my bakes. The addition of coconut flour rounds out the coconut flavor, and also helps with any extra moisture from the berries.
The fresh raspberries and toasty hazelnuts in these bring so much more flavor to the table. It's the perfect answer to the problem of the coconut macaroon. Add chocolate, and flaky sea salt and you've got a real winner here.
Raspberry Hazelnut Coconut Macaroons
From
Mostly Sourdough
at
https://mostlysourdough.com/2019/04/raspberry-hazelnut-coconut-macaroons/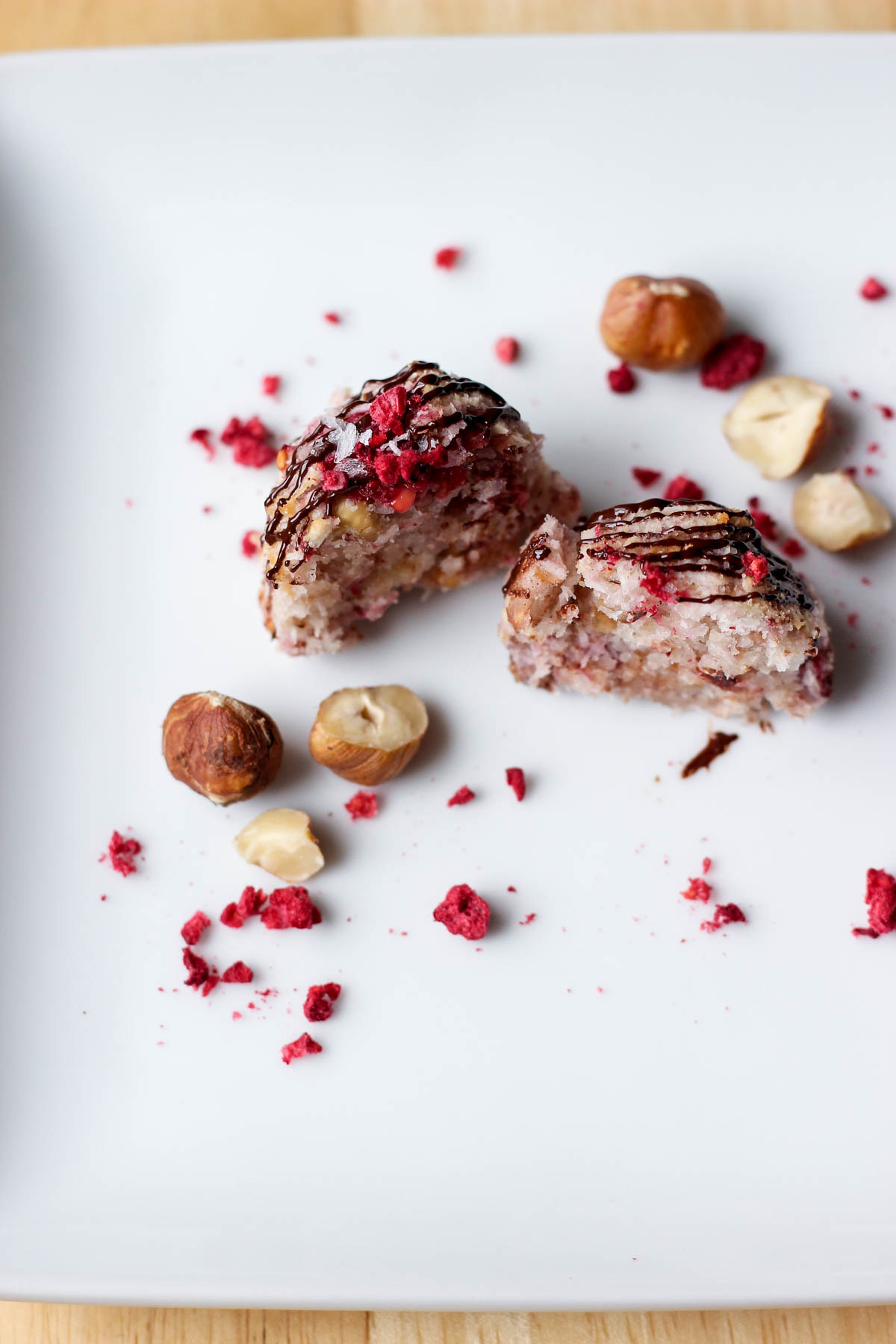 https://mostlysourdough.com/wp-content/uploads/2019/04/IMG_8358.jpg
Prep:
Cook:
Yield:

2 dozen macaroons

Total:
A fun spin on your typical coconut macaroon with fresh raspberries, toasted hazelnuts, dark chocolate & sea salt. Perfect for Passover!
You'll Need...
4 egg whites
2 cups unsweetened desiccated coconut (shredded works too)
1/3 cup granulated sugar
1/2 teaspoon salt
1/2 cup finely chopped toasted hazelnuts
1/2 cup coconut flour
1 cup fresh raspberries (very slightly broken up)
Dark chocolate (for drizzling)
Flaky sea salt (for topping)
Freeze-dried raspberries, crumbled (for topping)
Directions
Preheat the oven to 325 degrees. Line two baking sheets with parchment. In a large mixing bowl, whisk together the whites, coconut and sugar. Fold in the salt, hazelnuts and coconut flour. Next, add the fresh raspberries and mix until marbled in (don't mix too much, you want little pockets of berry).
Scoop with a large cookie scoop onto your baking sheets, and bake for 20-25 minutes until golden on top and around the edges.
Allow to cool entirely before trying to move them. Drizzle with melted dark chocolate, and top with the freeze-dried raspberry crumbs & flaky sea salt (or decorate as desired).
Additional Notes
Because I was making these for Passover, I skipped extract flavorings. But these would be great with some vanilla extract/bean paste!
As a baker, being told you can't use leavening agents or fermented flours (chametz) can definitely throw ya for a loop.
But I've always found challenges in baking super fun, so I love creating recipes that pass whatever rules are in place!
While I'm not religious, I've always loved to celebrate my heritage through food. 🙂
So happy Passover to my fellow Jewish friends.