Today I bring you the best waffles!
Liège waffles are made with a brioche-like yeasted dough instead of a batter. They're what you'll typically see in those waffle trucks popping up everywhere.
One of my favorite days when I was traveling in college was when my friend and I got Liège waffles before taking a canal boat tour of Bruges. Mine had whipped cream and chocolate sauce on it and I nearly died.
What makes these so unique and tasty is the pearl sugar that you add to the dough just before they go into the waffle iron.
The pearl sugar caramelizes in the hot iron, and makes the waffles have perfect caramely crisp edges. So. Good. Trust me.
I knew I wanted to make these with my sourdough starter instead of commercial yeast, so they're even better!!
Hello to the perfect weekend breakfast.
Sourdough Liège Waffles
From
Mostly Sourdough
at
https://mostlysourdough.com/2019/04/sourdough-liege-waffles/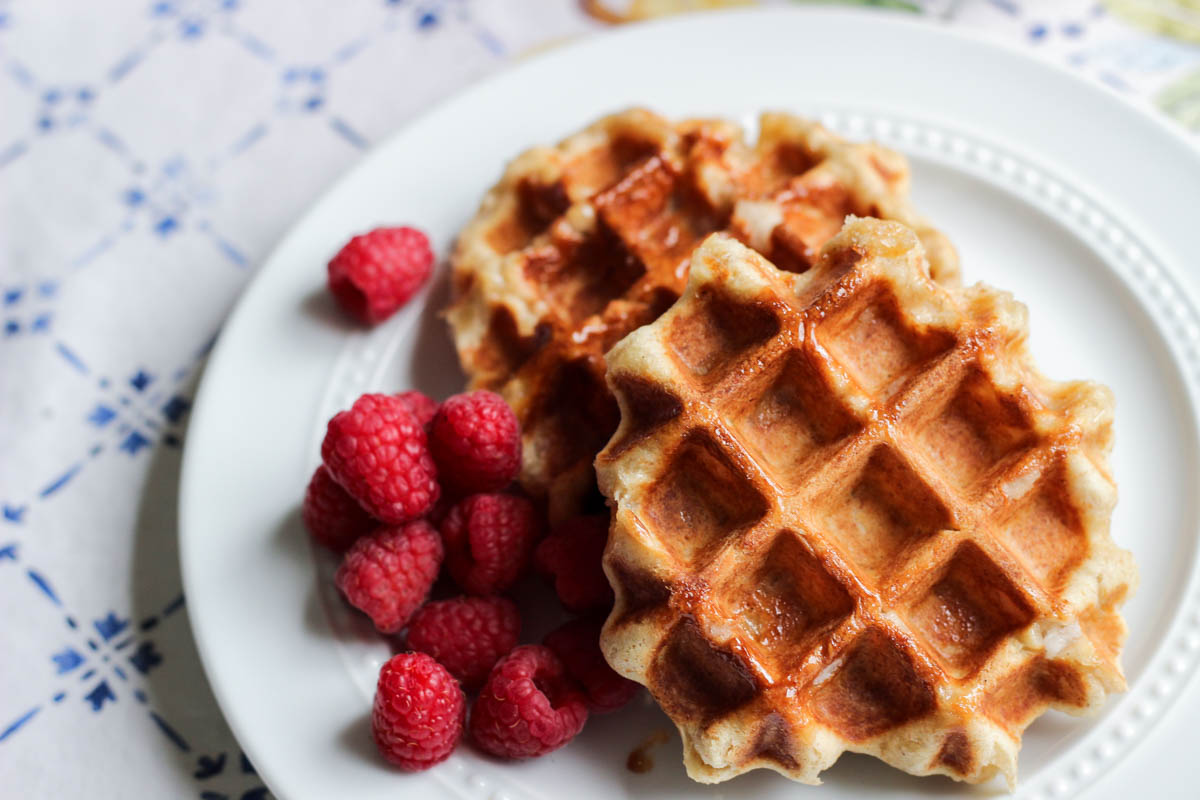 https://mostlysourdough.com/wp-content/uploads/2019/04/IMG_8466.jpg
Liège waffles made with sourdough starter.
You'll Need...
Levain:
1/4 cup all purpose flour (30 grams)
2 tablespoons active sourdough starter (15 grams)
1/4 cup water (57 grams)
Dough:
1 3/4 cup all purpose flour (210 grams)
1/3 cup whole wheat flour (38 grams)
1/2 teaspoon salt (3 grams)
1 tablespoon brown sugar (13 grams)
1 tablespoon honey (21 grams)
1 teaspoon vanilla extract (5 grams)
2 large eggs
1 stick unsalted butter, room temp (113 grams)
Just before baking waffles:
1 cup pearl sugar (185 grams)
Directions
Levain (The night before mixing your dough): In a small bowl, mix the 2 tablespoons sourdough starter with the 1/4 cup water. Add 1/4 cup all purpose flour and mix until combined. Cover with a towel, and let sit overnight until mixing next morning.
Mix the dough: In a large mixing bowl, combine all the ingredients up to the eggs (leave the butter until the end). Mix together until all ingredients are incorporated. You can do this by hand or in a mixer. Next add the butter a bit at at time until it comes together into a smooth ball. Place in an oiled bowl and leave in the refrigerator until the next day.
Waffle day: Preheat your waffle iron to the temperature you usually use (not too hot though or the sugar will burn). Fold the pearl sugar into the dough until evenly dispersed. Divide into even balls (I got 8 waffles) and bake in your waffle iron until a deep golden brown and the sugar bits are caramely. Serve warm with desired toppings.
Additional Notes
Using sourdough starter instead of commercial yeast makes this a 3 day process, so be sure to plan ahead!
You can find pearl sugar at most specialty foods stores, Sur La Table, Williams Sonoma or on Amazon!
Due to the sweetness of the extra sugar, you really don't even need syrup or other sweet toppings. Fresh fruit and whipped cream are my fave on them.
It's always fun to find new ways to use your sourdough starter, and this waffle recipe is a great one to keep on hand.