Happy almost weekend!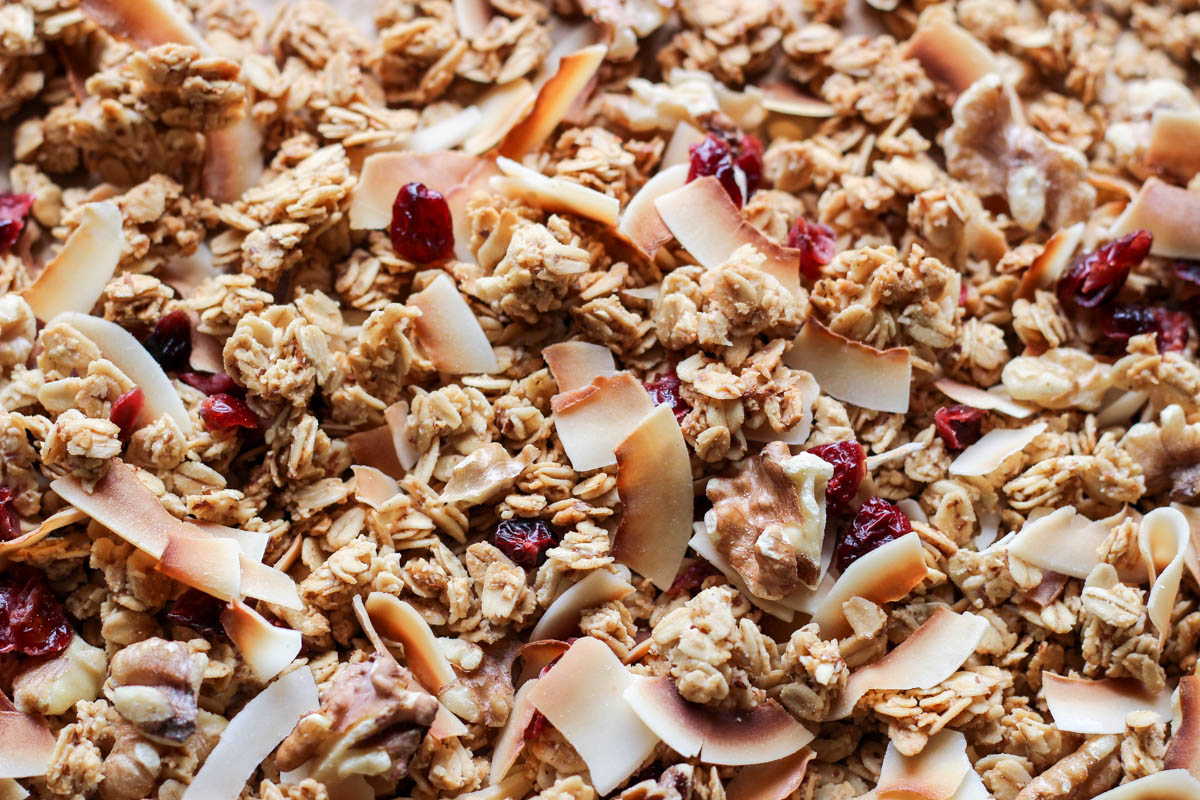 Today I'm giving you the easiest base granola recipe ever.
It's so simple and super fun to play around with. Whatever you prefer in your granola, you can adapt this recipe to fit your taste!
My boyfriend's mom Delynne sent me an awesome base granola recipe years ago, and over the years I've tweaked it to my preference.
When I make granola, I really prefer that it is just barely sweet. I don't like to eat a ton of sugar for breakfast (believe it or not), so this recipe is great because it uses pure maple syrup. I find that it's just right.
I typically keep it pretty traditional with a toasted nut and some sort of tart dried fruit in my granola. So my version here has walnuts, dried cranberries and toasted coconut chips for extra texture.
There are tons of ways to keep your granola interesting so you're not eating the same thing every week. I've also done chai spiced granola, granola with coffee and chocolate, lemon & ginger; the options are endless!
Go-to Granola
From
Mostly Sourdough
at
https://mostlysourdough.com/2019/05/easy-granola/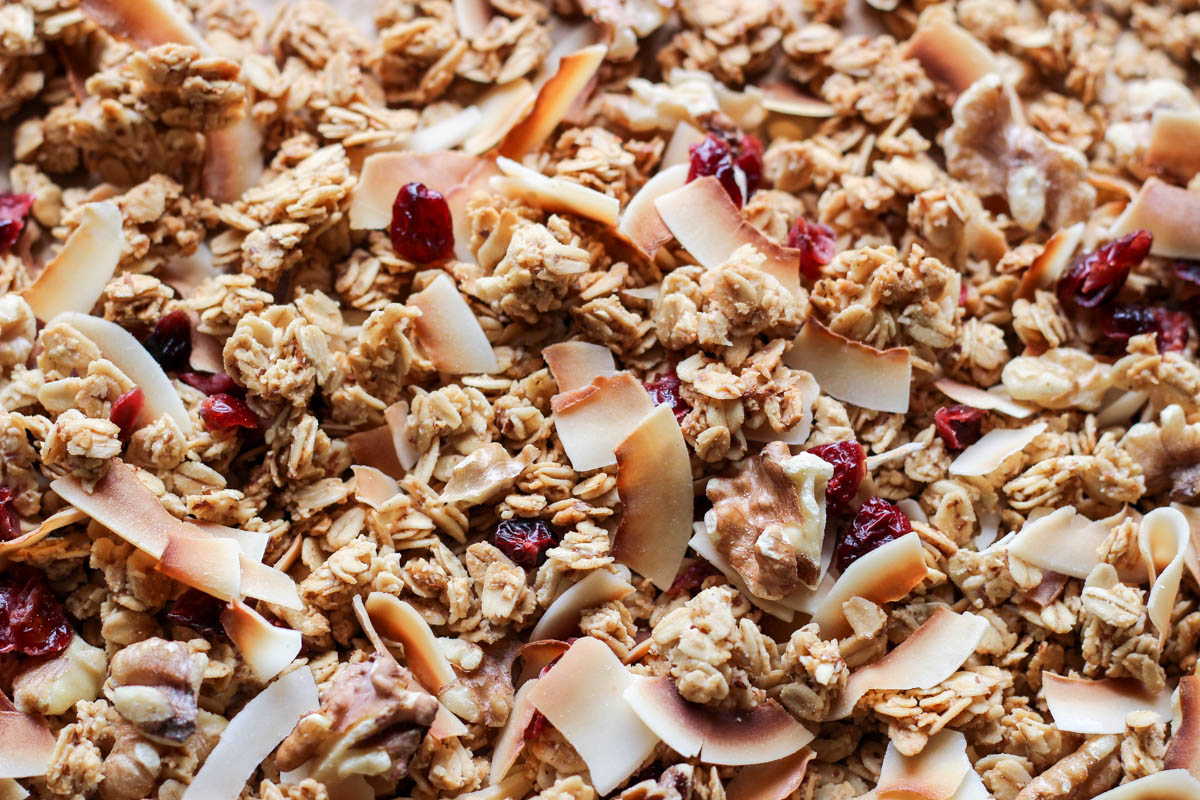 https://mostlysourdough.com/wp-content/uploads/2019/05/IMG_8483.jpg
The perfect basic granola recipe that can easily be adapted to what you have on hand!
You'll Need...
2 cups rolled oats
1/2 teaspoon salt
1/4 cup pure maple syrup
3 tablespoons canola/vegetable oil, butter, or coconut oil
1/2 cup nuts, lightly toasted
1 cup coconut chips, toasted
1/2 cup dried fruit
Directions
Preheat the oven to 275 degrees, and line a baking sheet with parchment.
In a small saucepan, combine the maple syrup and oil (or whatever fat you choose). Bring to a low simmer over medium heat. In a mixing bowl, whisk together the salt and oats. Pour over the wet ingredients and toss to combine.
Spread the oat mixture out on the baking sheet in an even layer, and bake for 30 minutes. Add the coconut and nuts, and stir together until evenly dispersed and the granola is throughly tossed. Bake for another 20 minutes until crispy and golden brown. Add the dried fruit and toss together. Once cool, store in an airtight container.
Additional Notes
Feel free to mix up your add-ins. Seeds, chocolate, coffee even!
If you want, add spices to the wet ingredients before adding to the oats.
Extracts would be great too!
Also, double the recipe if you want more than a week's worth prepped.
So easy right?
Have fun creating your perfect granola with this easy base recipe. 🙂