Happy friday friendos.
Today is the best day because I get to share these little adorable little gummies with you.
You'd never guess how crazy easy these are. Like, SO easy.
As a vegetarian, I don't eat gelatin. So I wanted to make a vegetarian friendly version of the classic candy. I was able to make these with Agar powder, which is an algae-based gelatin alternative.
These gummies do admittedly have a bit of a different texture than the real gelatin ones, but I actually really like it! It's more of a gelly feel than chewy if that makes sense. And that rosé flavor is awesome!
You will need some special tools for these! A silicon gummy mold and dropper for easy dividing. I was able to find them on Amazon for pretty cheap, and now I can make all the gummy bears I want!
Just look at how stinkin' cute they are. I had way too much fun with these little bears.
Rosé Gummy Bears (Vegetarian)
From
Mostly Sourdough
at
https://mostlysourdough.com/2019/05/rose-gummy-bears/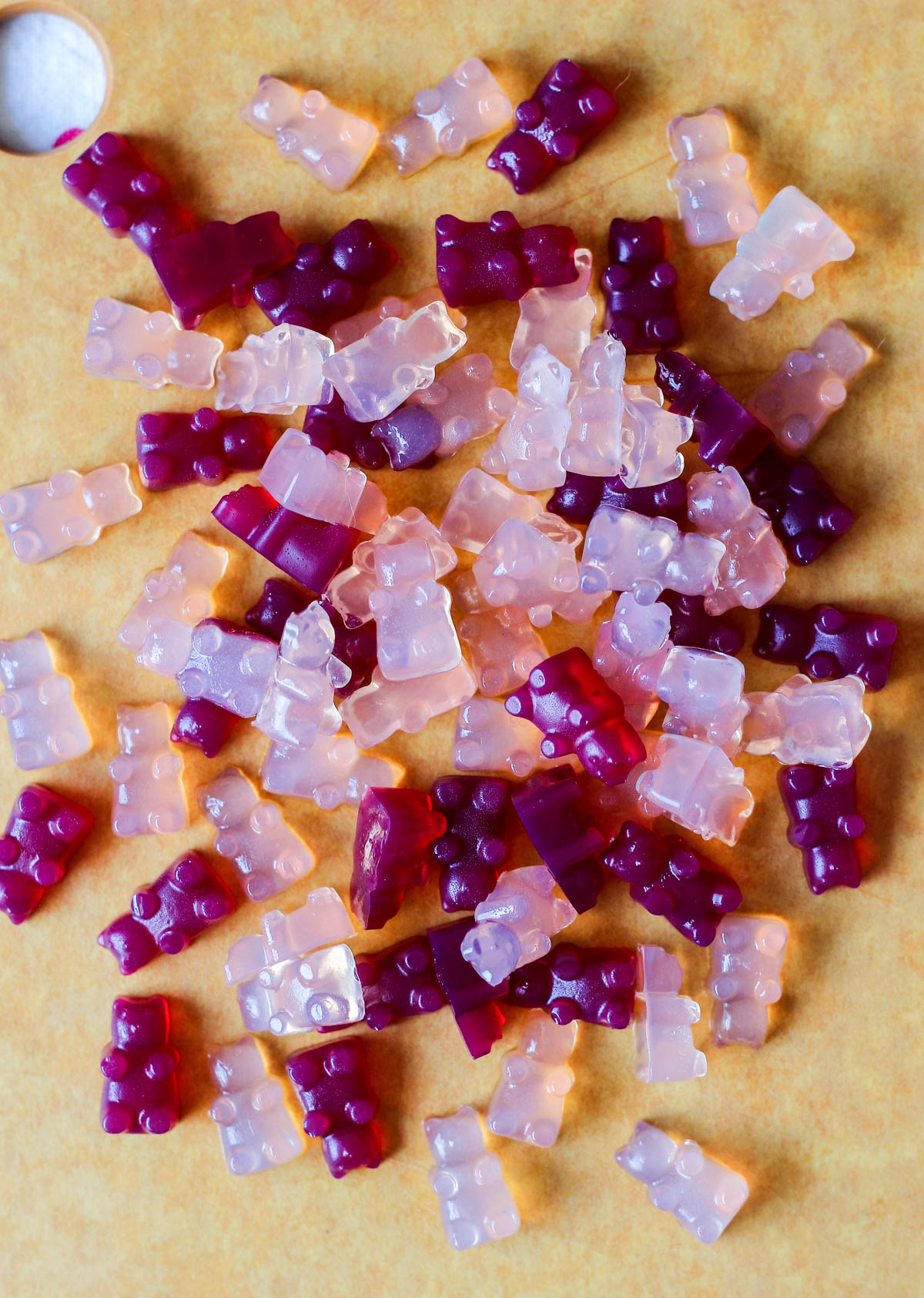 https://mostlysourdough.com/wp-content/uploads/2019/05/IMG_8930.jpg
Prep:
Cook:
Yield:

About 100 gummy bears

Total:
Vegetarian gummy bears made with agar powder and rosé wine.
You'll Need...
1/2 cup dry rosé wine
1/2 teaspoon agar powder
1 tablespoon honey (or maple syrup if vegan)
Special equipment:
Silicon gummy mold
Dropper
Directions
Prep your gummy molds by putting them on a baking sheet, and have your dropper at the ready. In a small saucepan, whisk together the wine, agar powder and honey. Cook over medium heat, stirring occasionally (scrape the bottom and sides of the pot too) and bring it to a gentle simmer. Let simmer for about 3 minutes. You do not want your mixture to come to a full rolling boil, or the texture will be too firm. After the 3 minutes, you should notice it has thickened a little bit.
Turn off the heat, but leave the pot on the stove so it doesn't cool too quickly. Divide the mixture into your gummy molds, and set in the fridge to firm up (at least 15 minutes). Pop the gummies out, and store in an airtight container in the fridge. Will keep for up to a week refrigerated.
Additional Notes
This recipe is easily adaptable to any flavor of gummy! Swap the rosé for fruit juice and adjust the honey as necessary.
This recipe does not yield a lot of gummy bears (less than 100 gummies), as the molds are very small. But you can always make multiple batches if you need a larger amount.
The purple gummy bears pictured are ones I made with my blueberry basil kombucha! The possibilities are endless!!!
Rosé gummy bears are the most fun summer treat.
You could even float them in a glass of rosé just to show off how cool you are.