Hello Friday! So nice to see you.
Look at this beautiful little tart I'm sharing with you all!
Apricots are my absolute favorite stone fruit. I love how tart and complex in flavor they are. A good apricot can't be beat in my opinion.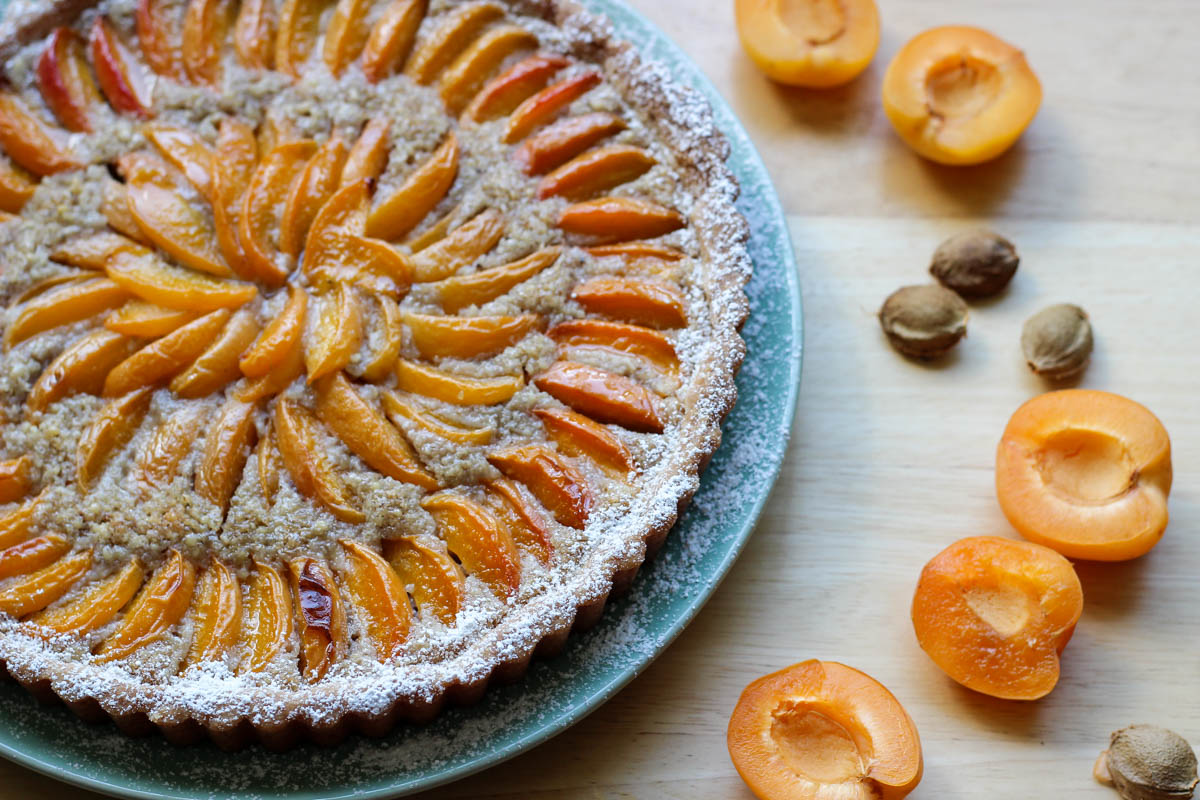 This babe features a tender flaky crust, rich and decadent walnut frangipane, and those gorgeous apricots. I'm in love!
I was in Las Vegas last weekend for my best friend's bachelorette party, so it took me a few days to recover from the whirlwind weekend with very little sleep.
Then I went back into working at the bakery this week, so I'm finally getting back into this little blog and baking at home again. 🙂
Apricot Walnut Tart
From
Mostly Sourdough
at
https://mostlysourdough.com/2019/06/apricot-walnut-tart/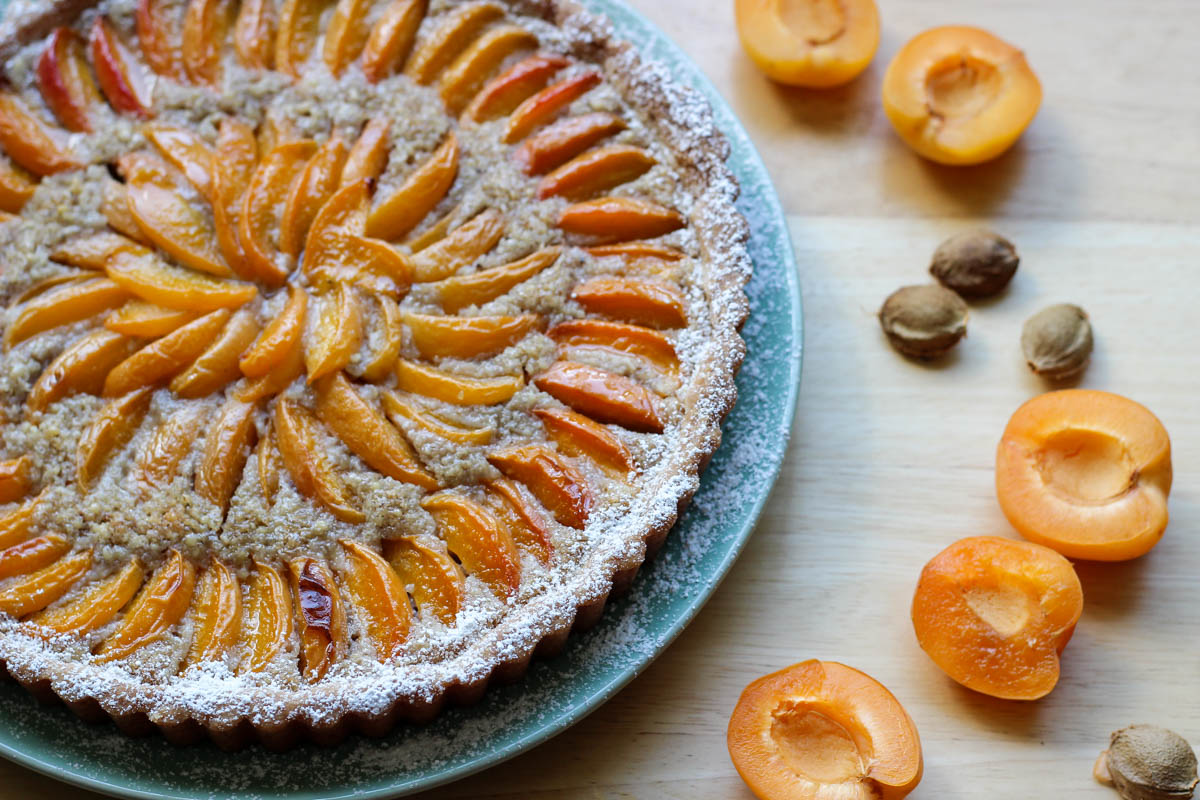 https://mostlysourdough.com/wp-content/uploads/2019/06/IMG_8981.jpg
Prep:
Cook:
Yield:

One 9 inch tart

Total:
A beautiful tart filled with walnut frangipane and fresh apricots.
You'll Need...
Crust:
1 1/4 cups ap flour
1/2 teaspoon salt
2 teaspoons sugar
1/2 cup butter, cold and cubed
1/2 cup cold water
1 tablespoon distilled white vinegar
Filling:
3/4 cup walnuts
1/4 cup plus 2 tablespoons granulated sugar
4 tablespoons butter, cubed
1/4 teaspoon salt
1 egg
1/2 teaspoon almond extract
Glaze:
Apricot jam with a splash of water to thin out
Powdered sugar for dusting
Directions
Crust: In a large mixing bowl, whisk together the dry ingredients. Combine the water, vinegar and ice in a measuring cup or other bowl. Cut the cold butter into the flour mixture using a pastry cutter or your hands until it resembles pea sized lumps. Drizzle over the wet mixture by the tablespoon, and use a spatula to stir together until a dough forms. Try not to add too much liquid (it really shouldn't need more than 1/4 cup or 4 tablespoons to come together). Use your hands to squeeze it all together and incorporate the liquid if needed. Wrap in plastic and chill for at least an hour or overnight.
Blind bake crust: Preheat the oven to 375 degrees. Roll out the crust into a 10 inch disc, about 1/8 inch thick. Transfer to your tart pan, and trim the edges as needed. Place in the freezer to firm up for about 15 minutes. Cover the crust with a circle of parchment or foil, and add pie weights (dried rice or beans work too!) to prevent the crust from puffing up. Bake covered for 20 minutes, and then remove the weights, prick the bottom with the tines of a fork, and continue to bake until the bottom is set. Set aside to cool.
Filling: In your food processor, combine the walnuts, sugar and salt. Pulse until the nuts are fine and the mixture is powdery. Add the butter, and continue to pulse until you can't see any butter clumps. Add the egg and extract and continue processing until you have a smooth paste.
Assembly: Smooth the frangipane over the cooled crust into an even layer. Place the apricots in concentric circles on top of the frangipane as desired. Be sure to overlap them as they spread during baking. Bake for 30-35 minutes until a toothpick inserted in the frangipane comes out clean. Allow to cool before glazing the apricots or dusting with powdered sugar.
Additional Notes
You can definitely make and bake the crust a day ahead of time. Just wrap it really well to keep for the next day.
You can also prep the walnut frangipane days ahead as well.
I also have some very exciting news that I will be starting a dual degree Master in Food Studies and MBA program at Chatham University this fall!! I can't wait to start this new adventure.
Anyways, this little tart is a great way to celebrate exciting things to come!