Hey friends! It's time to eat the rainbow.
These little fresh rolls are one of my current obsessions.
My coworker from the bakery introduced me to this great Thai restaurant here in Pittsburgh that makes the most delicious fresh spring rolls and peanut sauce. Like I'm totally addicted to them. I want them constantly.
So I decided I must recreate them myself because otherwise I'm going to go broke eating out all the time. Womp womp.
Enter these beauties! When I was in Vietnam with my friend Phoebe, we took a cooking class in Hanoi and made their fried version of spring rolls, so I was pretty excited to be able to use my rolling skills again!
The fun part about these is that you can totally switch up what you put in them. Don't feel like tofu… use another protein! Have some other assortment of vegetables already in your pantry? Use those! Have fun with it.
Fresh Tofu Spring Rolls & Peanut Sauce
From
Mostly Sourdough
at
https://mostlysourdough.com/2019/06/fresh-tofu-spring-rolls/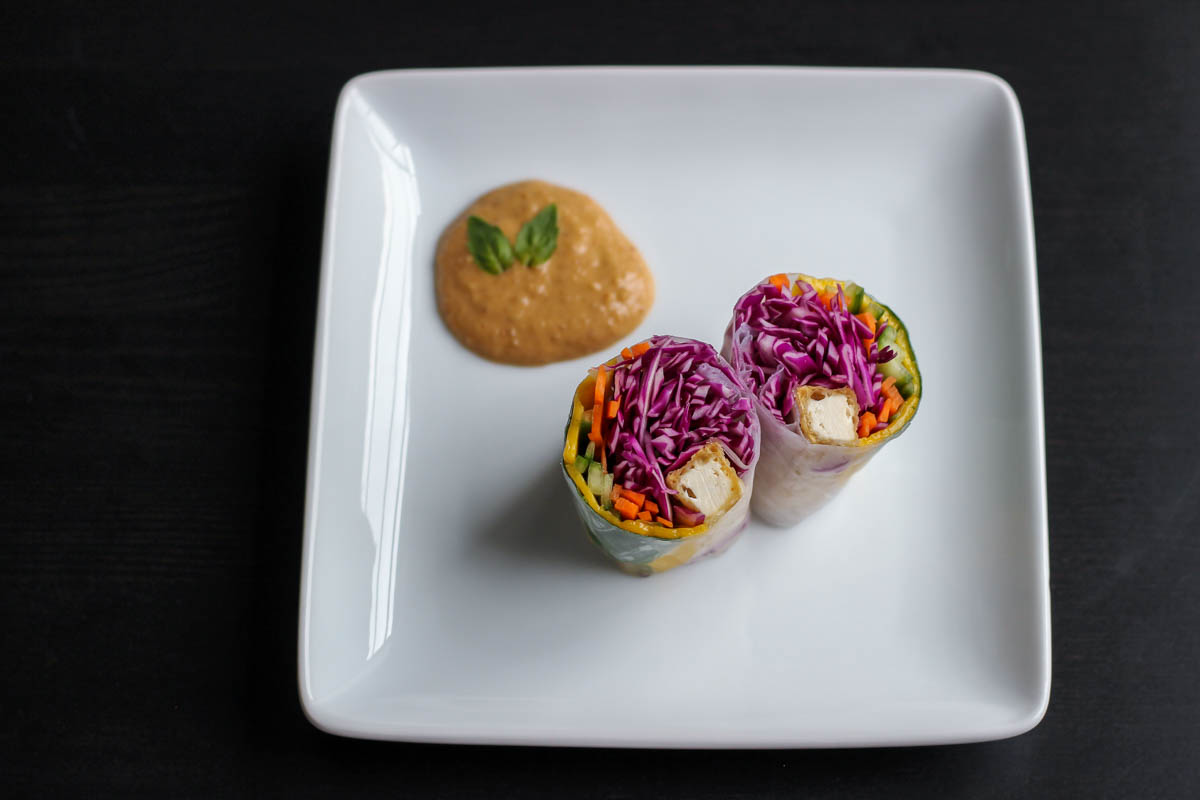 https://mostlysourdough.com/wp-content/uploads/2019/06/IMG_9119.jpg
Eat the rainbow with these beautiful fresh spring rolls and the best peanut sauce for dipping!
You'll Need...
Rolls:
1 package rice paper spring roll wrappers
1 head purple cabbage, shredded
1 large carrot, peeled and cut into matchsticks
1/2 cucumber, seeds removed and cut into matchsticks
1 champagne mango, peeled and sliced thin
5 strawberries, hulled and sliced thin
8 ounces firm tofu, pressed and sliced into rectangles
16 basil leaves
Peanut Sauce:
1/4 cup peanut butter
1 tablespoon soy sauce
1 tablespoon rice wine vinegar
1 tablespoon brown sugar
1 tablespoon Sriracha
1 tablespoon lime juice
1 clove garlic
1 teaspoon grated fresh ginger
2 tablespoons warm water
Directions
Peanut Sauce: Combine all ingredients except water in your food processor and blend until smooth. Add the warm water at the end to adjust for desired consistency. Taste and adjust any flavorings as necessary. Pour into a container and keep refrigerated or serve with rolls at room temp.
Rolls: Mise en place (put everything in its place) all your roll ingredients so you can assemble them easily. Fill a large bowl (big enough for the wrappers to soak in) with warm water and have a cutting board or work surface ready. When ready to start, dip one wrapper at at time in the warm water for 10 seconds until softened (do not let sit too long or they will fall apart). Lay the wrapper out flat on your workspace, and top with desired ingredients in the middle of the wrapper. Fold the sides in first, then bring the bottom edge over the sides, and finally roll it up so the top edge folds over everything else. Continue with the rest of your ingredients. If serving right away, arrange on a serving plate with peanut sauce. If keeping for another time, wrap each roll in plastic and store in the fridge.
Additional Notes
Definitely feel free to prepare the peanut sauce and your chopped veggies days in advance to your make day of prep easier.
You can use marinated tofu if you'd like, or another protein variation. I coated my tofu in cornstarch and quickly pan fried them in sesame oil so they would be crispy.
These are also really great to prep on a weekend and have for healthy lunches the week. Just pack them up with a little side of peanut sauce and you're good to go.
Look how preeeetty! I love eating the rainbow.