You guys! It's almost July! Can you even beliiieve it?
I can't. We have been in Pittsburgh for almost a whole year. That's just totally nuts. I still say to people who ask: "oh yeah, we just moved here." Not the case anymore!
We are actually moving house this weekend to a different neighborhood in the 'burgh, so of course our apartment is a crazy mess. And I decided to make it even more chaotic, by throwing in a blog post before our big move. I'm crazy.
This is what summer is alllll about. Grilling. These peaches are SO good. And paired with the fluffy angel food cake and fresh whipped cream. Oh man. It's UNREAL. Floofy, tasty, delish. That's all I can say about it.
Angel food cake is super fun to make, it's so tender and perfect with whipped cream and fresh fruit. AND it looks so impressive to friends!
With the fourth next week, this would be an easy delightful dessert. You're most likely already grilling, so just throw these peaches on there too!
Angel Food Cake with Honey Grilled Peaches
From
Mostly Sourdough
at
https://mostlysourdough.com/2019/06/angel-food-cake-grilled-honey-peaches/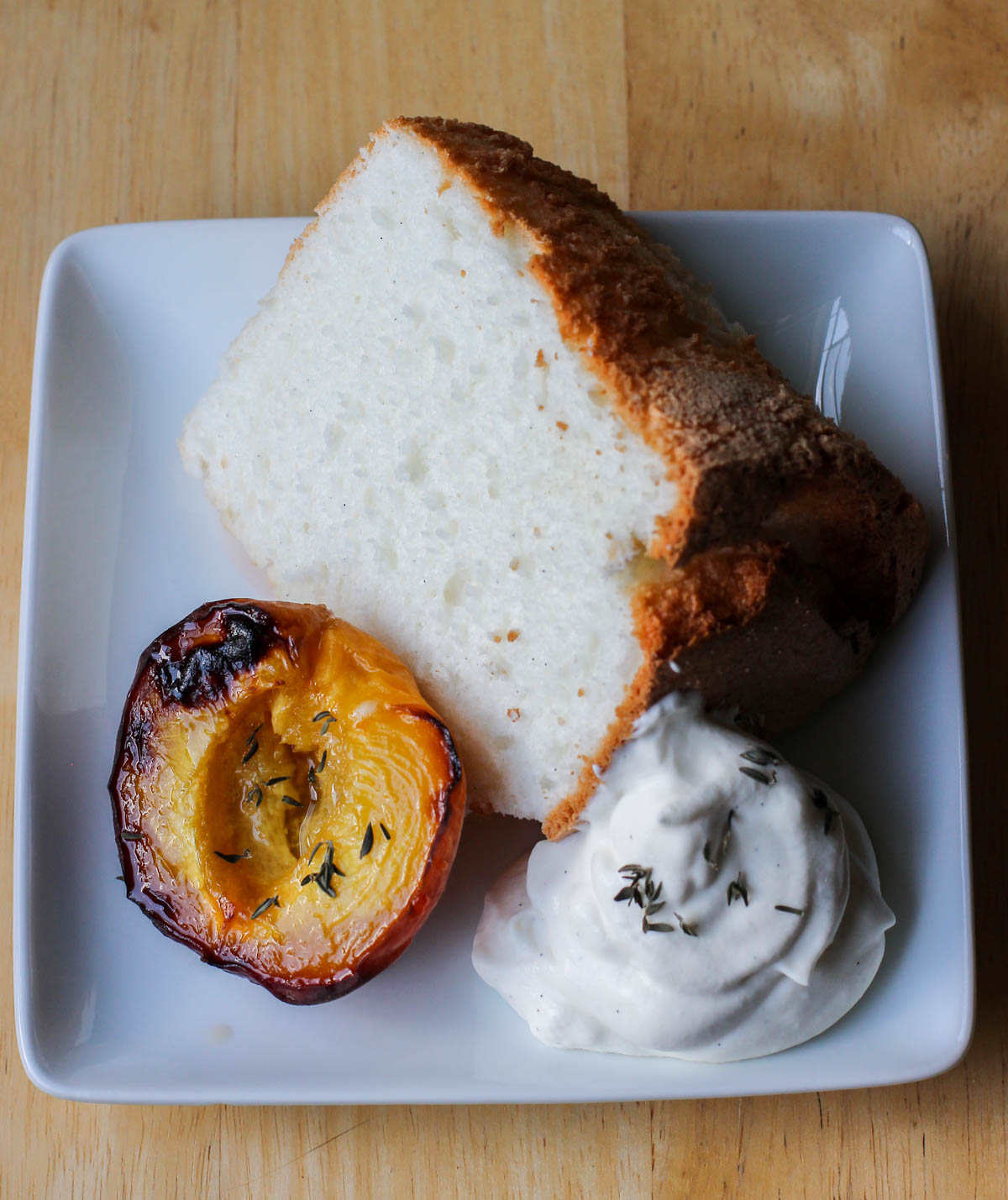 https://mostlysourdough.com/wp-content/uploads/2019/06/IMG_9235.jpg
Prep:
Cook:
Yield:

12

Total:
It's summertime, so let's grill some peaches and eat them with fluffy cake and whipped cream.
You'll Need...
Cake:
12 egg whites
2 cups granulated sugar
1 teaspoon vanilla bean paste
2 tablespoons lemon juice OR 1 1/2 teaspoons cream of tartar
1/4 teaspoon salt
1 cup plus 2 tablespoons cake flour
Grilled Peaches:
2 tablespoons honey
4 peaches, halved with pits removed
Whipped Cream:
1 cup heavy whipping cream
1 teaspoon vanilla bean paste
2 tablespoons cup sugar
Fresh thyme (optional)
Directions
Cake: Preheat the oven to 350 degrees and have a 10 inch aluminum tube pan (with stilts if possible!! see * note below) with removable bottom (NOT nonstick/treated) at the ready. Sift your cake flour, and set aside. In the bowl of your stand mixer with the whisk attachment, add the egg whites and vanilla and whisk until frothy. Slowly add the sugar a bit at a time, while beating on medium. Once all the sugar is in, add the salt and lemon juice. Increase the speed to medium high, and continue to beat until you have a glossy soft meringue. When you pull the whisk out, the meringue should run off, but stay in a small mound on itself in the bowl. Sprinkle over the cake flour, and very gently fold in with a rubber spatula. Do not over mix! Spoon into your tube pan, and smooth out with a spatula. Bake for about 45 minutes until the crust is golden brown. Immediately invert the pan so it cools upside down. Allow to sit upside down until completely cool. Use a metal spatula to run around the sides to detach the cake.
Peaches: Preheat your grill to 350-400 degrees. Drizzle the peaches with the honey, and place directly on the grill grates. Grill for about 5 minutes until they are tender and you have nice char marks.
Whipped Cream: Combine all ingredients in the bowl of your stand mixer with the whisk attachment, and beat until it forms medium firm peaks.
Assembly: Slice the cake into thick servings, top with the grilled peaches, dollops of whipped cream and fresh thyme if desired.
Additional Notes
Keep your yolks! You can make creme brulee, ice cream AND pudding with all those yolks.
Make the angel food cake ahead of time. For a day or two ahead, just wrap it really well in plastic wrap. For up to a week ahead of time, wrap it in foil, then plastic wrap and freeze.
*If your tube pan doesn't have stilts, find a bottle with a neck that would fit the mouth of the pan for inverting (wine bottles usually work well).
You can definitely buy an angel food cake and pre-made whipped cream too if you want to be lazy for the holiday. But they are both so much better when they're homemade.
Happy almost July friendos!