S'more macarons! Yes yes yes… you read that right.
These little cuties are inspired the classic summertime s'more treat.
I'm so excited to be sharing these with you all because they're my first post in the new house. Woop woop!
Since moving to our new neighborhood two weeks ago, Nev and I have just been completely absorbed in a whirlwind of getting the new place all set up. We literally built a bed frame and headboard from scratch this weekend! Crazy.
But I've been anticipating using our new beautiful kitchen for a post on this little blog since May, so the time has finally come!
These macs have graham cracker shells and are filled with toasted marshmallow cream and salted chocolate ganache. Like whoa right?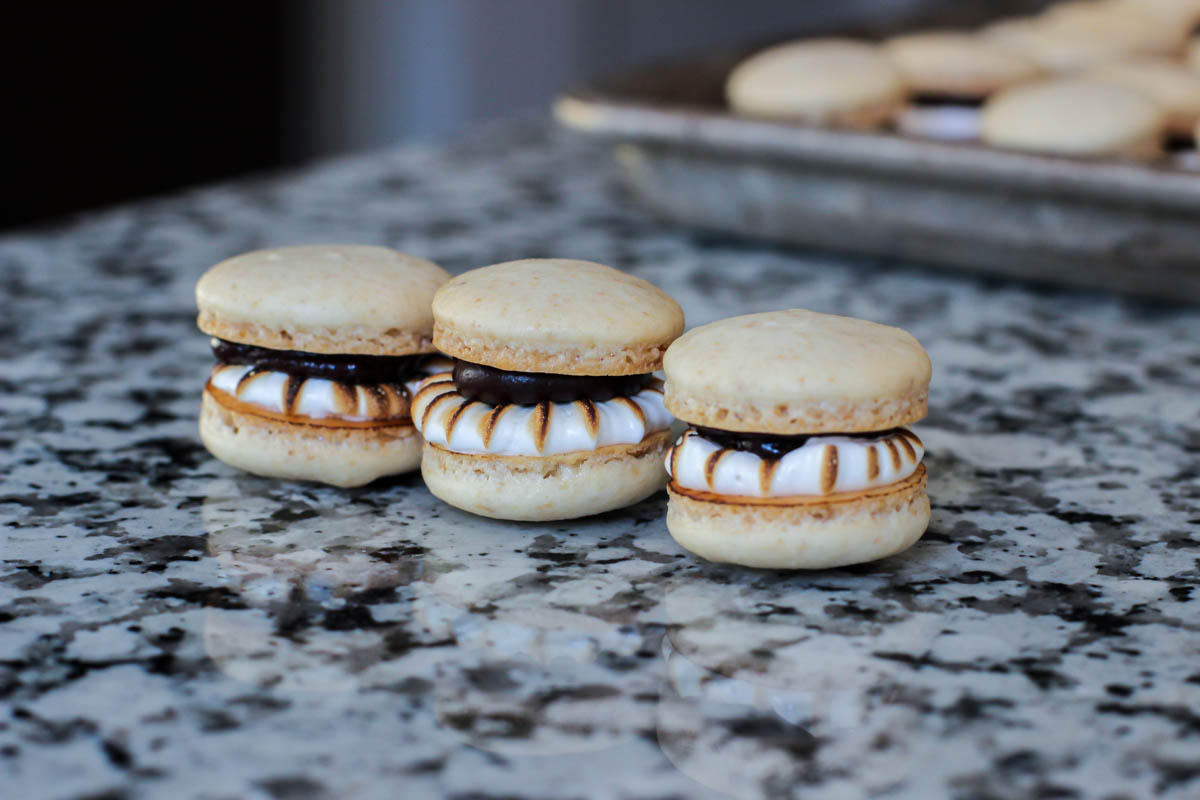 S'more French Macarons
From
Mostly Sourdough
at
https://mostlysourdough.com/2019/07/smore-macarons/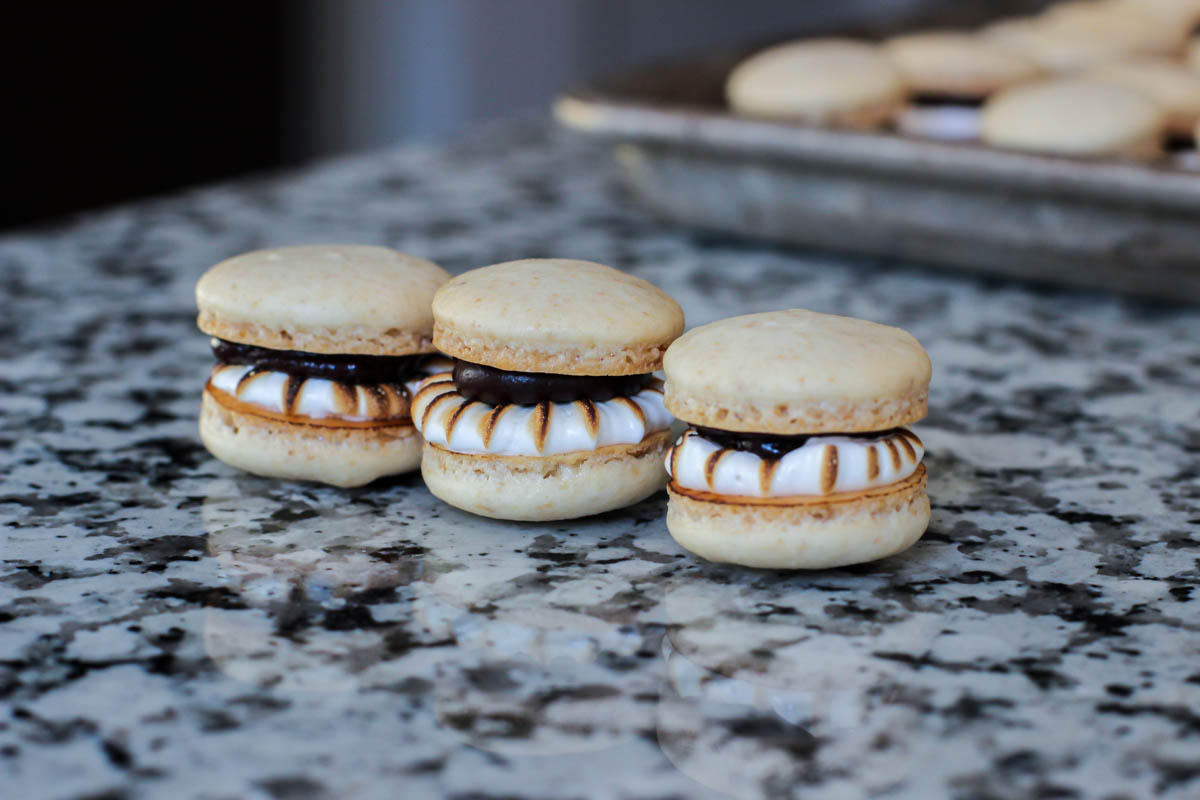 https://mostlysourdough.com/wp-content/uploads/2019/07/IMG_9449.jpg
Everything you love about the classic summertime S'more treat transformed into a French Macaron.
You'll Need...
Macarons Shells:
2 egg whites, room temp
50 grams almond flour
18 grams finely ground graham cracker crumbs
153 grams powdered sugar
2 tablespoons meringue powder
Salted Ganache:
4 ounces bittersweet chocolate
1/4 cup heavy cream
1/4 teaspoon sea salt
Marshmallow filling:
3 egg whites
3/4 cup granulated sugar
1 teaspoon vanilla extract
Directions
Macaron shells: Line two baking sheets with parchment. Sift together the almond flour, powdered sugar, and graham cracker crumbs into a bowl. In the bowl of your stand mixer fixed with the whisk attachment, beat the egg whites on medium-high until they are foamy. Slowly add the meringue powder while mixing, and beat until they reach medium-stiff peaks. Fold in the dry mix in three additions with a rubber spatula, being very careful not to over mix it. Your batter should be shiny and smooth, and when you lift the spatula and let some batter drop back down, it should fold back into itself after about 20 seconds. Transfer to a piping bag fitted with a plain tip and pipe to desired size. Allow your macarons to dry out for at least half an hour (may take up to an hour) so that they are no longer tacky to the touch. While they are drying out, make your fillings (see below). When the macarons are ready, preheat the oven to 295 degrees. Bake for about 13 minutes, rotating half way through. Allow to cool entirely before removing them from the parchment.
Ganache: Coarsely chop the chocolate and place in a small bowl. Bring the cream to a simmer on the stove (or in the microwave) and pour the cream over the chocolate. Let sit for a minute before whisking in the salt until smooth. Transfer to a piping bag when room temperature.
Marshmallow filling: Prepare a small saucepan with water and bring to a simmer over the stove. You want the bowl of your stand mixer to be able to sit in the pan without touching the water. In the bowl of your stand mixer, combine the egg whites and sugar and whisk by hand until smooth. Cook the mixture over the water bath whisking constantly until the sugar is completely dissolved and it's warm/hot to the touch. Immediately put on the mixer with the whisk attachment and beat until the mixture has cooled and reaches stiff peaks. Beat in vanilla. Transfer to a piping bag with a star tip.
Assembly: Match your macaron shells, and pipe a thin layer of ganache on one side. Pipe a dollop of the marshmallow filling on the other side. Use a blow torch to lightly toast the marshmallow before sandwiching the two sides together. Store in an airtight container in the fridge.
Additional Notes
To prep ahead of time, feel free to make your shells and the ganache beforehand. Store the shells at room temp on a baking sheet wrapped tightly in plastic. Store the ganache in the fridge, just be sure to let it come to room temp before assembly. I would recommend making the marshmallow the day of for best results.
These just make me want to go camping!
As a vegetarian, I don't eat gelatin. So I've tracked down these vegan marshmallows for when I want to partake in the s'more fun.
But they're also pretty easy to make yourself! Maybe that'll be my next s'more endeavor on the blog. With homemade marshmallows AND graham crackers. Yes, I'm that extra.
Happy summer friendos!