Hi folks. Today I bring you the wonder of the sour cherry.
Sour cherries are one of my absolute favorite things to bake with. I have never really liked regular cherry desserts. They tend to be overly sweet with all too often that icky sticky horrifyingly bright red goo (I think you know what I'm talking about). Just not up my alley at all.
BUT, sour cherries. These babies are what I live for. They are notoriously difficult to track down because they have a very short growing season (read: like two weeks at the end of July) and are only grown in certain places.
It's so worth the extra effort hunting for them because they are just the perfect thing to bake with. I love things more on the tart side to begin with, and sour cherries bring that punch of acidity but also so much more.
I found a farm right outside of Pittsburgh that was selling them pitted/frozen in 4lb bags, so I bought out their remaining stock (16 lbs!!) and have been savoring them from my freezer ever since. I'm planning on saving at least a pie's worth for Thanksgiving when my family comes out.
These crumble bars have been a fave recipe for a long while, and they are so easy to make. Plus, they can be adapted to use pretty much any fruit you want. I have typically done them with a combo of blackberries and raspberries, but they're great with bluebs too! And now with the lovely sour cherry.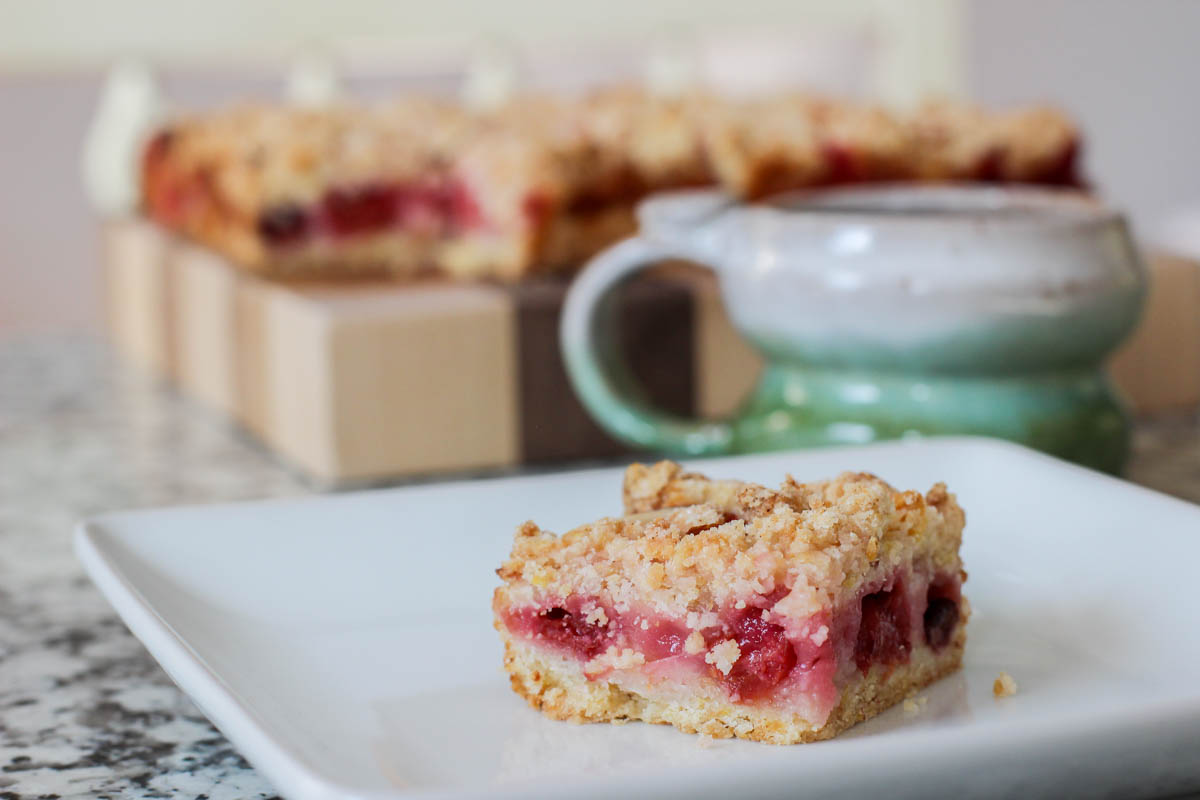 Ugh, heaven.
Sour Cherry Crumble Bars
From
Mostly Sourdough
at
https://mostlysourdough.com/2019/08/sour-cherry-crumble-bars/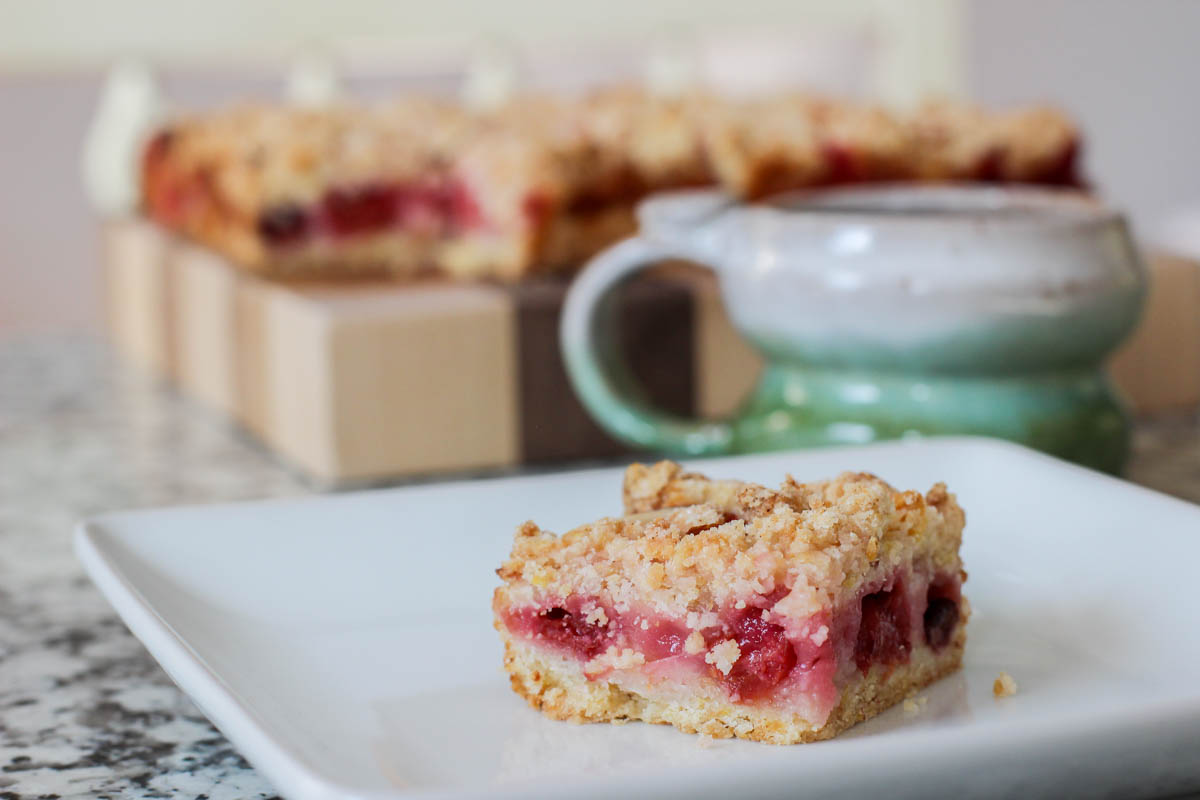 https://mostlysourdough.com/wp-content/uploads/2019/08/IMG_9483.jpg
Prep:
Cook:
Yield:

16 bars

Total:
The best crumble bars filled with sour cherries and almond. Adapt this recipe to use any fruit you want!
You'll Need...
Dough:
1/2 cup granulated sugar
1 1/2 cups ap flour
1/2 teaspoon baking powder
1/4 teaspoon salt
1/2 cup unsalted butter, cubed & cold
1/3 cup cream
Grated zest of 1 lemon
1/4 cup sliced almonds (optional)
Filling:
2 cups pitted sour cherries (frozen is fine!)
1 tablespoon cornstarch
1/2 cup granulated sugar
Juice of 1/2 lemon
Directions
Prepare an 8x8 baking pan by lining it with a parchment sling in both directions. Preheat the oven to 375 degrees.
Dough: In a large mixing bowl, combine the dry ingredients for the dough and whisk together. Cut the butter into the flour with a pastry cutter until it resembles small pea-sized lumps. Add the zest and the cream, and mix together with a spatula or your hands until it starts to come together slightly. It should still be a shaggy/crumbly dough. Press half of the dough into the pan. Add the almonds to the remaining half of dough (to act as the topping).
Filling: Add your cherries to another mixing bowl. In a separate small bowl, whisk together the sugar, lemon juice and cornstarch. Pour over the cherries, and stir to combine.
Assembly & bake: Pour the cherry filling over the pressed dough in the pan and disperse evenly. Crumble the remaining dough over the top, and bake for 35-45 minutes until the top has browned nicely and the fruit is bubbling. Allow to cool before storing in the fridge. See *note below about slicing/serving.
Additional Notes
*These bars really slice better once they've had a chance to set up in the fridge overnight. I usually make these a day in advance of whatever event I need them for to allow them to firm up.
-Recipe can be doubled and baked in a 9x13in pan.
The best part about summertime for me is all the delicious fruit you get to bake with. I've always been a lover of Fall and Winter weather wise (at least in California– the winter in Pittsburgh is definitely testing my tolerance haha). But summer fruit is unbeatable.
I have to remind myself to savor the warmth while it's here in Pittsburgh. Take these bars to a picnic and soak up some sun while you can!