Happy Sunday friends!
Here's a super easy but delicious and anything but boring noodle dish for y'all!
Soba noodles are one of my favorite starches because they're super versatile. While I LOVE ramen, in the summertime it's nice to have more weather-appropriate uses for these beautiful buckwheat noods.
We've recently been making chilled noodle salads since we went to the Strip District last month and bought our weight in soba noodles (haha okay, not that many, but a BUNCH). I'll make salads with tons of sesame oil and whatever veggies I have on hand.
This soba dish features an Asian spin on a pesto using scallions, sesame oil, miso and lots of other tasty things. So much flavor.
I love this because it can be eaten hot or chilled. Delish both ways, which totally makes leftovers super easy to eat.
Summer Soba with Scallion Pesto
From
Mostly Sourdough
at
https://mostlysourdough.com/2019/08/summer-soba-with-scallion-pesto/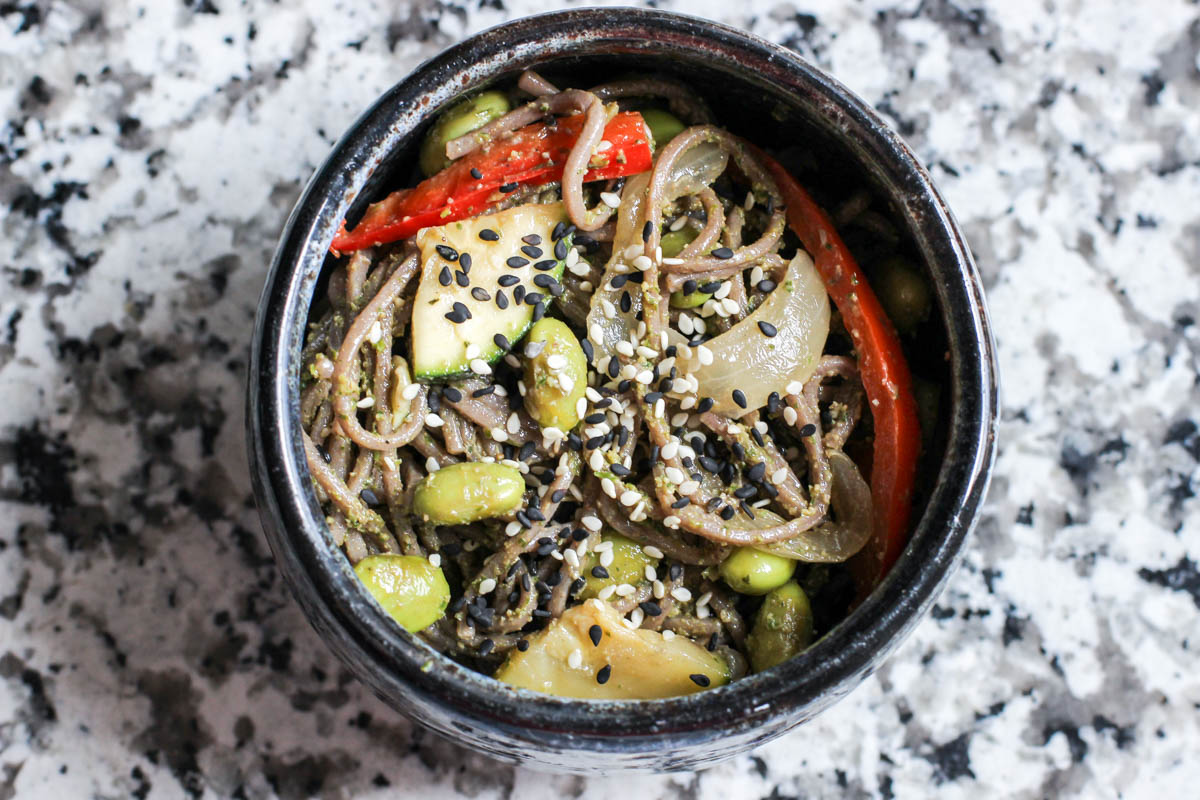 https://mostlysourdough.com/wp-content/uploads/2019/08/IMG_9713.jpg
Soba noodles topped with an Asian-inspired scallion sauce and summer veggies.
You'll Need...
4 bundles buckwheat soba noodles
Pesto:
1 cup scallion greens
1 cup basil leaves
1/4 cup walnuts, toasted
1 garlic clove
1 teaspoon fresh ginger, minced
1 tablespoon red miso paste
2 tablespoons soy sauce
2 tablespoons rice vinegar
1 tablespoon sesame oil
1 tablespoon Sriracha (optional)
1/4 cup olive oil
Salt to taste
Toppings:
1 tablespoon olive oil
1/2 yellow onion, sliced thin
1/2 red bell pepper, sliced thin
1 zucchini, quartered & sliced thin
1/2 cup frozen edamame
Salt & pepper to taste
1 tablespoon sesame seeds, for topping
Directions
Noodles: Cook buckwheat noodles per package instructions, drain and rinse well with water. Set aside.
Pesto: Combine all ingredients except olive oil in a food processor and blend until smooth. Slowly add the olive oil while running the processor until emulsified.
Toppings: In a large frying pan, heat the oil over medium heat. Add the onion, and saute until transluscent. Add the bell pepper and zucchini and cook until desired consistency (I like mine to still have a little bite). Add the edamame and saute until cooked through. Add salt and pepper to taste.
Assembly & serve: Toss the buckwheat noodles with the pesto to taste in a large bowl. Divide into your dinner bowls and top with toppings, then a sprinkling of sesame seeds.
Additional Notes
You'll have extra pesto most likely. It's great on everything!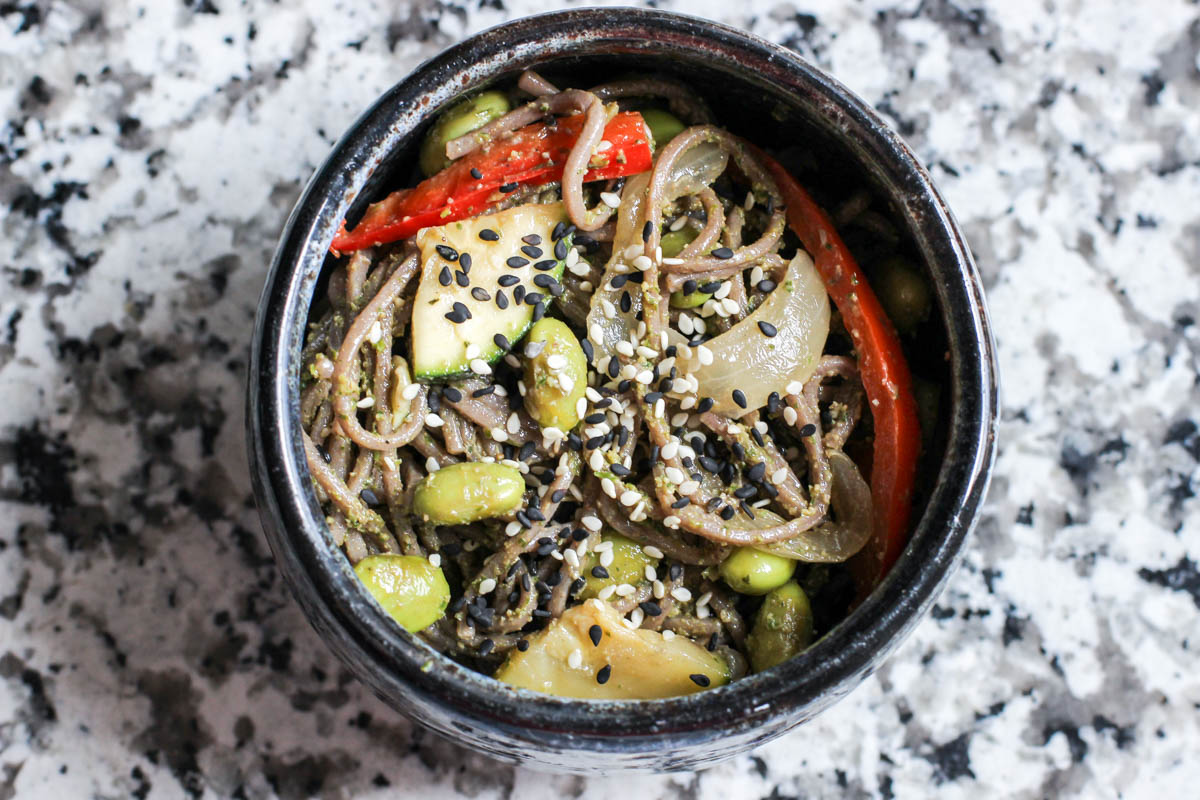 This would be really good with a fried egg on top too! Or some marinated tofu.
Can you believe I start school tomorrow?? Nope, I can't. I never thought I'd go back to school, so it's all feeling a little surreal to me.
But I'm SO excited to get into the program and start learnin'. Can't wait to see where it all takes me.