Yes you read that right. It's Fall!!! So bring on the apple cider and pumpkin everythang!
Have you ever known me to shy away from all things festive?
I'll answer that for ya…nope, not even in the slightest.
These doughnuts were born after my love affair with the apple cider doughnuts at a local apple orchard we visited here in Pittsburgh last year. I literally haven't been able to shut up about them since.
Buuut I wanted to try naturally leavened doughnuts, because duh. So here we are with these guys. They are sourdough apple cider doughnuts with an apple cider crème fraîche glaze. Say that five time fast!
I reduced the apple cider down so it was extra concentrated, and used it in the liquid of the doughnut, as well as in the glaze. So many great flavors! These do take a bit of planning ahead, so be sure to read through the timeline a few times before getting started.
Sourdough Apple Cider Doughnuts
From
Mostly Sourdough
at
https://mostlysourdough.com/2019/09/sourdough-apple-cider-doughnuts/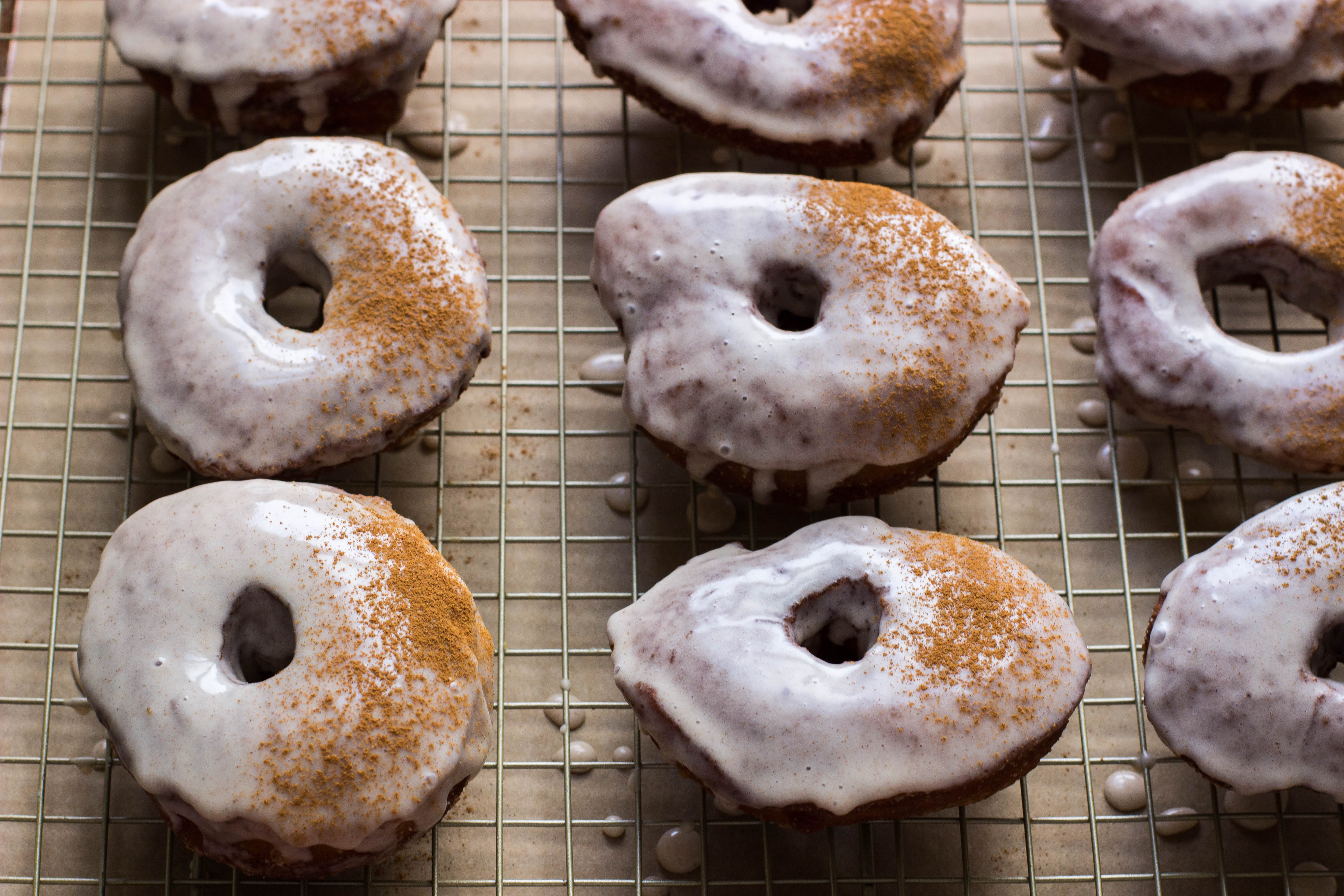 https://mostlysourdough.com/wp-content/uploads/2019/09/IMG_9941.jpg
Naturally leavened apple cider doughnuts with an apple cider crème fraîche glaze.
You'll Need...
Levain:
45 grams active starter (fed within 8-12 hours)
90 grams all purpose flour
90 grams room temperature water
Miscellaneous:
4 cups apple cider to reduce
Doughnuts:
250 grams ap flour
250 grams bread flour
4 eggs
1 stick unsalted butter, room temp
75 grams granulated sugar
90 grams reduced apple cider
200 grams levain
10 grams salt
1 teaspoon cinnamon
1/2 teaspoon each: cardamom & all spice
Frying:
Vegetable oil for frying
Dutch oven
Crème Fraîche Glaze:
30 grams reduced apple cider
22 grams lemon juice
63 grams crème fraîche
250 grams powdered sugar
1 teaspoon cinnamon
Directions
Levain: The morning of mixing your dough, combine the levain ingredients and let sit in a warm place for about 5 hours until doubled in size and active.
Reduced apple cider: Reduce the four cups of apple cider on medium heat over the stove until it boils down to 2 cups (decreased by half). Refrigerate until cool before using in your dough. You will have more than you need for the dough & glaze, so use the leftovers for another project.
Dough: In the bowl of your stand mixer, scale out the eggs, sugar, reduced apple cider, levain, flour, salt and spices. With the paddle attachment, mix on low speed until everything is incorporated. Turn up the speed by one notch, and mix for 5 minutes. The dough should be tacky, sticking to the sides of the bowl and the paddle. Let it sit for 10 minutes covered. Next, turn the mixer up to medium and slowly add the soft butter one piece at a time until mixed in. You will probably need to stop the mixer and scrape the bowl a few times. This process should take about 10 minutes and at the end you should have a smooth shiny dough. Place in an oiled bowl for the warm bulk ferment.
Bulk Ferment: The dough will rest in a warm environment (preferably at least 75 degrees) for six hours before being refrigerated overnight (see *note below). For the first two hours after mixing, do a stretch and fold every 30 minutes (a total of four stretch and folds). For the final four hours, just let the dough rest before covering with plastic wrap and putting it in the fridge until the morning.
Divide, shape, proof: The following morning, pat the dough out into a rectangle approximately 1 1/2 inches thick. Using a cookie cutter or doughnut cutter, cut into rounds and punch out a hole in the middle (I used a drinking glass and a piping tip). You can roll out the scraps again to cut too. Place the doughnuts on an oiled baking sheet, cover loosely with plastic and let proof in a warm environment for up to 12 hours. You want them to double in size. If you would like to fry these the next morning, cut the final proof short a few hours and refrigerate the ready to go doughnuts until the morning.
Frying: Fill your dutch oven about halfway with oil and heat over medium. You want the oil to reach 360-370 degrees before frying. Use a thermometer to keep an eye on the temperature. Fry 3-4 doughnuts at a time, using a metal slotted spoon to transfer/flip. They should take about 1.5-2 minutes each side until they are golden brown. Transfer fried doughnuts to a paper towel lined cooling rack. Continue in batches until they're all fried.
Glaze: Combine all ingredients and whisk until smooth. Dip the doughnuts and holes in the glaze and allow to drip until dry.
Additional Notes
This recipe was adapted from the Naturally Leavened Bomboloni recipe @The Perfect Loaf.
*To warm bulk ferment/proof: You can put the dough in the oven with the light on. Usually this will give off enough heat, but check the temp with a thermometer to be sure. If it's too chilly, boil a pan of water and place in the oven to provide extra heat.
I'm a month into grad school! I never thought I'd be writing those words after not being in school for five years and swearing it off forever. Ha. But here I am! It's been great so far and I'm excited to see where it all takes me.
These doughnuts are the perfect way to say hello to Fall! Now let's hope October isn't as hellishly hot as last year, and I can start getting cozy (NOT asking for winter weather just yet, I promise).