Happy happy fall my friends. My favorite season!
Tonight I bring you a wonderfully easy and delicious soup!
I have been a bit awol this month as I've been getting into the swing of things of being back in school again. Balance has never been my strong suit. But but but I promise I didn't forget about this little blog! I'm here to serve you this beautiful slouuup.
This soup features roasted butternut squash AND apples! And roasted garlic. Because in the Fall I just want to roast everything. And it's topped with crispy fried sage and hazelnuts for some crunch. 'Cause we need that.
It has been so cold in our new house already (we were forewarned by the previous tenants it can get pretty chilly in this big brick house), that soup is the perfect thing to cozy up to!
Butternut Squash Soup with Fried Sage & Toasted Hazelnuts
From
Mostly Sourdough
at
https://mostlysourdough.com/2019/10/roasted-butternut-squash-apple-soup-with-fried-sage/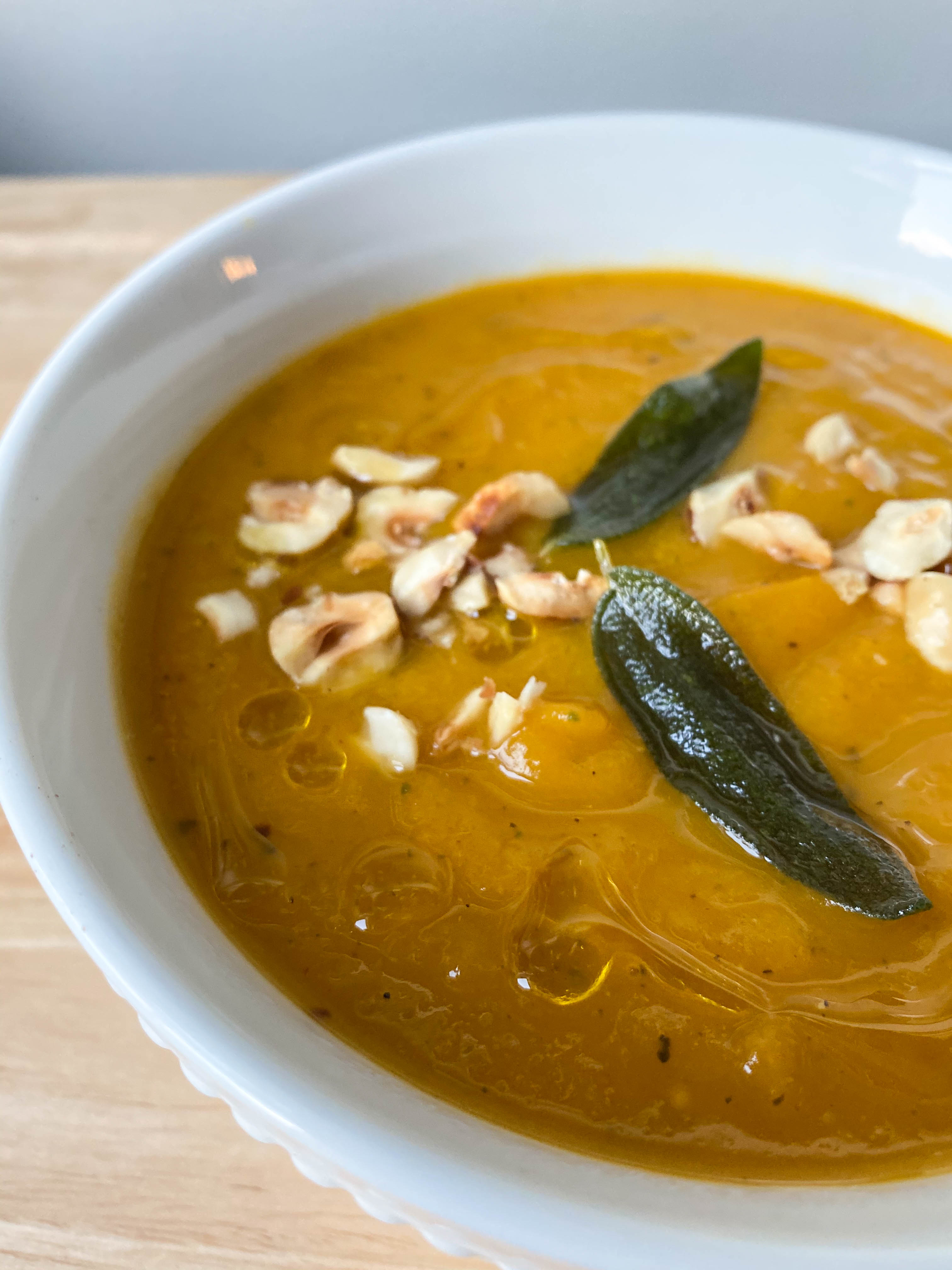 https://mostlysourdough.com/wp-content/uploads/2019/10/IMG_1834.jpg
Prep:
Cook:
Yield:

4 servings

Total:
Roasted butternut squash and roasted apples make this soup a Fall dream. Topped with crispy fried sage and hazelnuts.
You'll Need...
1 butternut squash, halved & seeds removed
2 apples, washed & left whole (any variety works)
2 medium yellow onions, peeled and quartered
1 head garlic, roasted (see below)
4 cups vegetable stock
1 teaspoon herbs de Provence
1/2 teaspoon ground nutmeg
Black pepper, to taste
Salt, to taste
Fresh sage leaves
1/4 cup hazelnuts, toasted & roughly chopped
2 tablespoons olive oil, for frying sage
Directions
Roast veggies: Preheat the oven to 400 degrees. Prepare a baking sheet with aluminum foil. Put the squash, apples, and onions on the baking sheet, season with salt & pepper, and roast until the squash is fork tender, about 45 minutes.
While those are baking, roast your garlic and toast your hazelnuts. Chop the head off the garlic so that each clove is exposed, drizzle with olive oil and wrap in an aluminum pouch. Bake for 20-30 minutes until roasty & tender. Toast the hazelnuts on a baking sheet for about 10 minutes, and then roughly chop them when cool enough.
Soup assembly: Once your squash etc is ready, add the vegetable stock to a large soup pot and bring to a simmer over medium heat. Peel the squash and get all of the pulp out of the bursted apples (careful not to get any seeds, don't keep the skin). Add all the ingredients up to the salt to the pot, and bring to a simmer. Use a spoon to smash the squash up a bit. Using an immersion blender, blend until smooth. Taste and adjust seasoning as necessary.
Fried sage: Heat 2 tablespoons of olive oil in a small frying pan over medium heat. Once you can see bubbles forming at the edge of the oil, add the sage and fry until crispy.
Serve: Ladle the soup into serving bowls and top with toasted hazelnuts, the crispy sage and a drizzle of the sage olive oil. Enjoy!
Additional Notes
-You can just do fresh garlic if you don't feel like roasting a bulb. Just cook 2-3 minced cloves in a little olive oil in the big pot before adding the veggie stock.

-This soup does really well with different squashes too! I have done both Acorn and Kuri soups this way.
Don't you want to just dive into that bowl? I mean, I know I do.
This semester is flyinggg by, and I can't believe November is NEXT WEEK. My friend Phoebe is coming to town next weekend for a visit, and pretty soon after that my family will be here for Thanksgiving. Can't wait!
This soup would be a perfect appetizer for Thanksgiving!