Hello November! How nice to see you!
Have you guys ever heard of an oatmeal cream pie? Or the oatmeal sandwich cookie? I believe that they're the same thing.
I didn't grow up eating very many store-bought cookies if I'm being honest. We were a big homemade cookie household. So to my knowledge, I never had the Little Debbie oatmeal creme pies that are so well known.
But soft chewy oatmeal cookies are right up my alley. Absolutely NO raisins. (That's a hard no for me!) And fill 'em with some vanilla bean buttercream. Mmm. Now that's a dream.
Oatmeal Cream Pies
From
Mostly Sourdough
at
https://mostlysourdough.com/2019/11/oatmeal-cream-pies/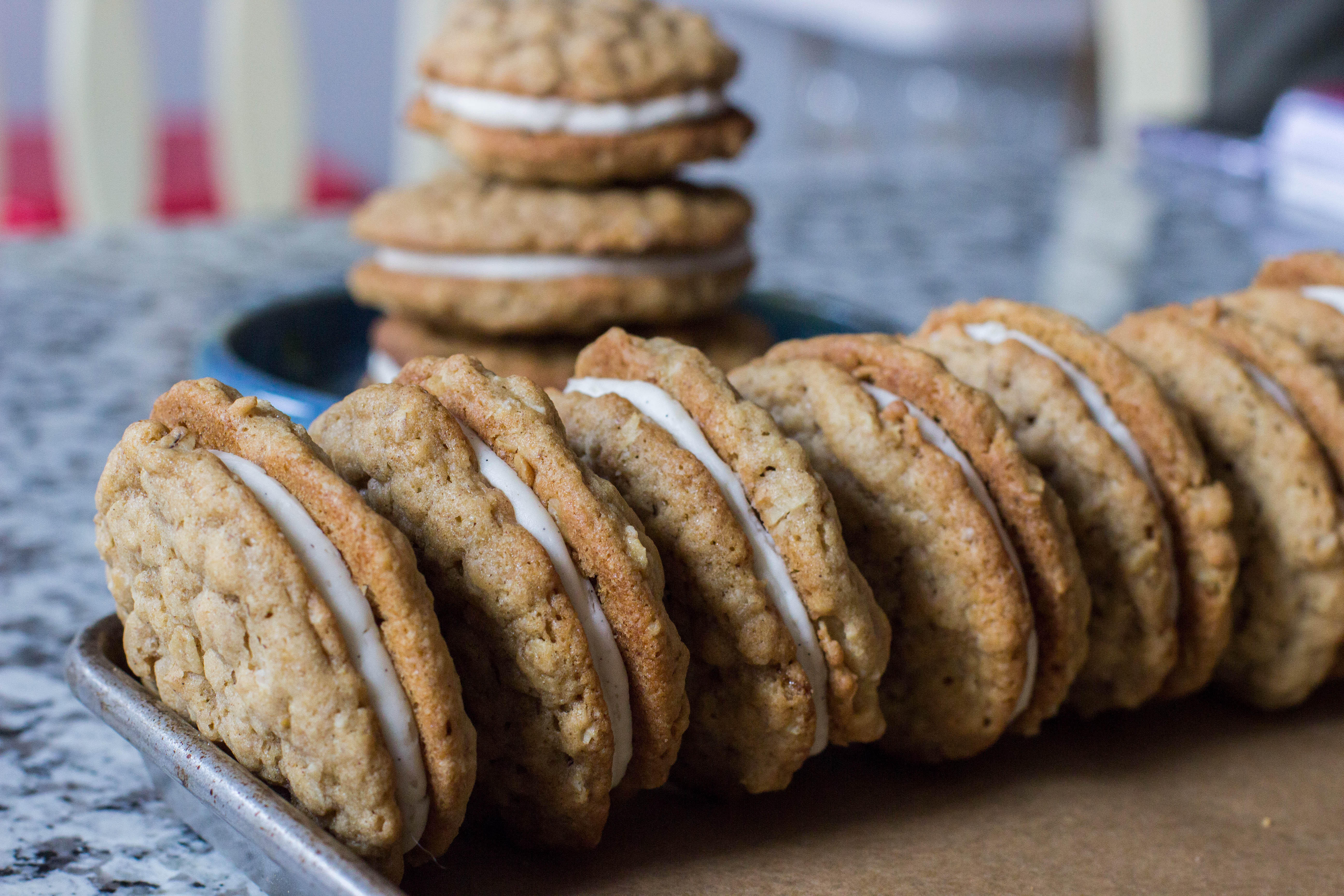 https://mostlysourdough.com/wp-content/uploads/2019/11/IMG_0172.jpg
Perfectly chewy oatmeal cookies sandwiched with vanilla bean buttercream.
You'll Need...
Cookies:
1 cup unsalted butter, room temp
3/4 cup packed brown sugar
1/2 cup granulated sugar
2 eggs
1 teaspoon cinnamon
1 teaspoon salt
1 teaspoon baking soda
1 teaspoon vanilla extract
2 cups all purpose flour
2 cups rolled oats
Filling:
1 cup unsalted butter, room temp
2 cups powdered sugar
1 tablespoon vanilla bean paste
1/2 teaspoon salt (optional)
Directions
Cookies: Preheat the oven to 350 degrees and line two baking sheets with parchment. In the bowl of your stand mixer cream the butter and sugars until light and fluffy. Add the eggs one at a time beating thoroughly until incorporated. Scrape down the bowl with a spatula. Next add the cinnamon, salt, baking soda and vanilla. Mix until combined. Finally fold in the flour until barely mixed in and add the oats and beat until fully combined. Scoop using a cookie scoop onto your baking sheets and bake for about 12 minutes until the cookies are golden on the edges, rotating the pan half way through. Allow to cool while making your filling.
Filling: In the bowl of your stand mixer, beat the butter until light and fluffy. Add the powdered sugar and carefully beat until incorporated and floofy. Add the salt and vanilla bean paste and beat until combined. Transfer to a piping bag to fill.
Assembly: Line up your cooled cookies and match them up with their other halves. Pipe a good round of buttercream on one side and continue until each has a half filled. Carefully sandwich all the cookies together, pressing them gently with your fingertips to allow the buttercream to spread to the edges. Serve at room temperature.
My friend Phoebe is visiting us in Pittsburgh this week and she almost bought a giant oatmeal cream pie from this cafe while we were out enjoying the last bits of Fall leaves. Of course, I told her NOOO I'll just make us some! Cuz that's who I am. Can't help it.
Most of the time if you tell me you want something in the dessert department, I'll be happy to just make it for ya. Homemade is just the best.