Hi friends!
I'm trying to squeeze in as many Fall posts as possible before Christmas takes over. Have you SEEN the stores already? I went to Target literally the day after Halloween and Christmas was seriously everywhere.
Not that I'm totally complaining about that because I of course also love Christmas. BUT Fall and Thanksgiving are some of my favorite excuses to cook and bake, so I'm still reveling in all the apple cider love.
You all must know by now how much of a popcorn freak I am. It's my favorite snack! I usually do a savory spicy blend for my snacking popcorn.
And I've been dreaming about making a Caramel Apple popcorn for eeever! Today is finally the day. It's done with a tasty spiced caramel made with reduced apple cider. You toss it over some simple stovetop popcorn and then crisp it up in the oven. So easy and so gooood!
Apple Cider Caramel Corn
From
Mostly Sourdough
at
https://mostlysourdough.com/2019/11/apple-cider-caramel-corn/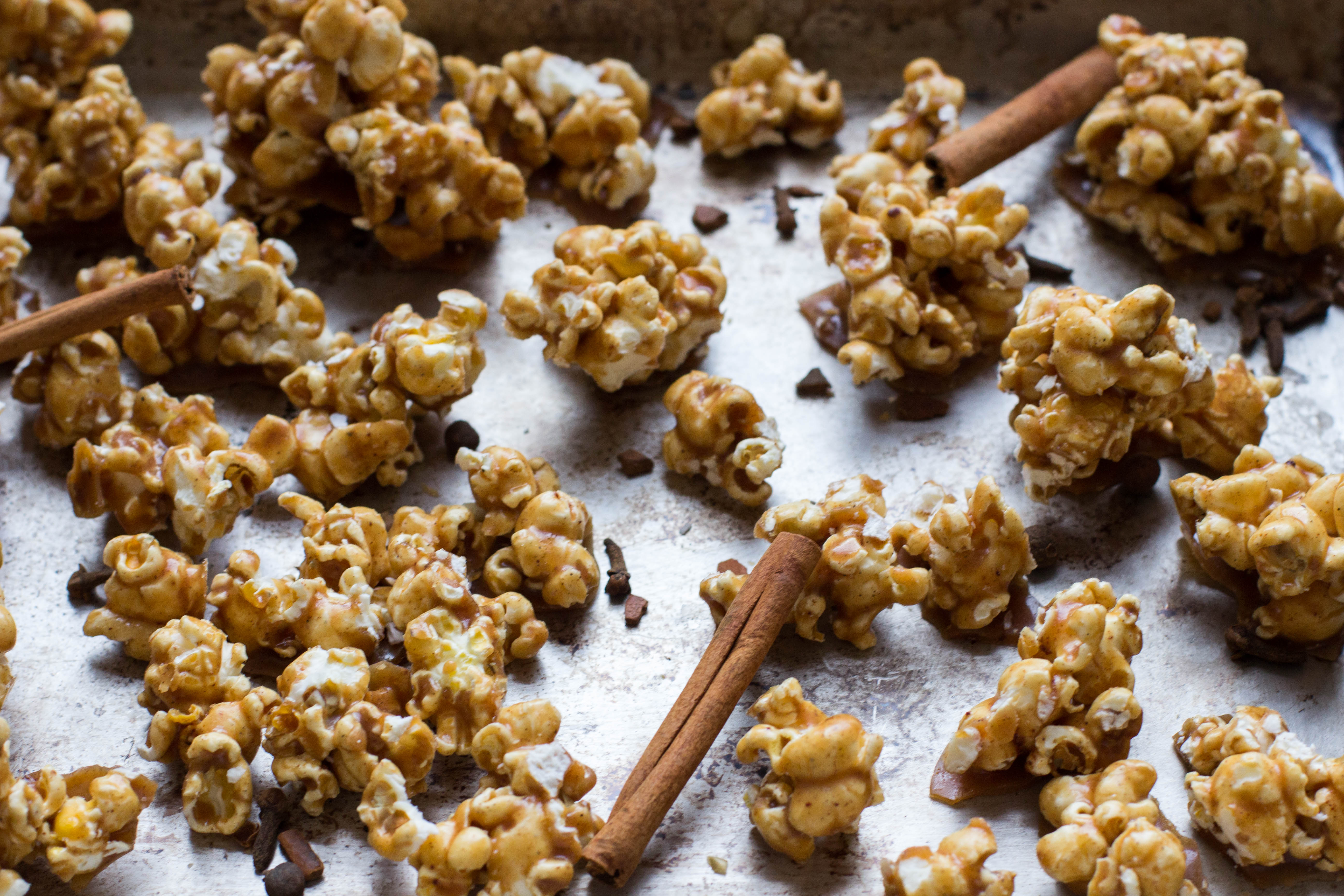 https://mostlysourdough.com/wp-content/uploads/2019/11/IMG_0216.jpg
Prep:
Cook:
Yield:

8 cups caramel corn

Total:
The caramel apple takes another form in this delicious caramel corn made with apple cider and all the best Fall spices.
You'll Need...
1/2 cup popcorn kernels
2 tablespoons olive oil
2 cups apple cider
1 cup brown sugar
1 cup granulated sugar
1 1/2 cups butter, cubed
1/2 cup heavy cream
2 teaspoons cinnamon
1 teaspoon ginger
1/2 teaspoon cardamom
1/2 teaspoon nutmeg
1 teaspoon salt
2 teaspoons vanilla extract
Directions
Popcorn: In a large pot with the lid heat one popcorn kernel in the olive oil over medium heat until the kernel pops. Add the rest of the kernels and continue to cook until they are all popped. Transfer to a bowl and wipe the pot clean. Shake the bowl of popcorn to allow any unpopped kernels to fall to the bottom. Transfer the popcorn to a new large bowl avoiding the unpopped kernels.
Caramel: Preheat the oven to 250 degrees and line a baking sheet with foil. Add the apple cider to the same pot and cook over high heat until reduced to about 1/2 cup. Reduce the heat to medium and add the sugars, stirring to combine. Next add the butter and heavy cream and bring to a simmer. Continue to cook until you have a thick caramel. Whisk in the spices, salt and vanilla.
Assembly & Bake: Pour the caramel over the popcorn and toss to distribute evenly. Transfer to the baking sheet and bake to set the caramel for 20-25 minutes. Store at room temperature in an airtight container.
LOOOK at that!!
This is seriously addictive. I bet if you make it, the bowl won't last the night.