Happy almost long weekend!
I'm stoked to be sharing the most perfect summery pasta salad with y'all.
So obviously, we're still stuck in the part of the year where tomatoes aren't quiiite good yet. And in my opinion, most summer salads aren't complete without a good tomato. This salad solves that problem.
You take those flavorless cherry tomatoes that are in grocery stores year-round, and you roast the heck out of them with a smidge of sugar 'til they're all shriveled and caramely and taste like candy and they're so good!!
This orzo salad is almost like if a greek salad, caprese and pasta salad had a baby together somehow.
I realize that's not possible, but I think you get me.
It's got the kalamatas, artichoke hearts, those amazing tomatoes, tons of lemon zest, fresh basil, briny feta and toasty pine nuts. Isn't it so pretty?
It's literally everything I want in a pasta salad. And hello. I love that I can call this carb-load a salad.
Slow Roasted Tomato Orzo Salad
From
Mostly Sourdough
at
https://mostlysourdough.com/2019/05/slow-roasted-tomato-orzo-salad/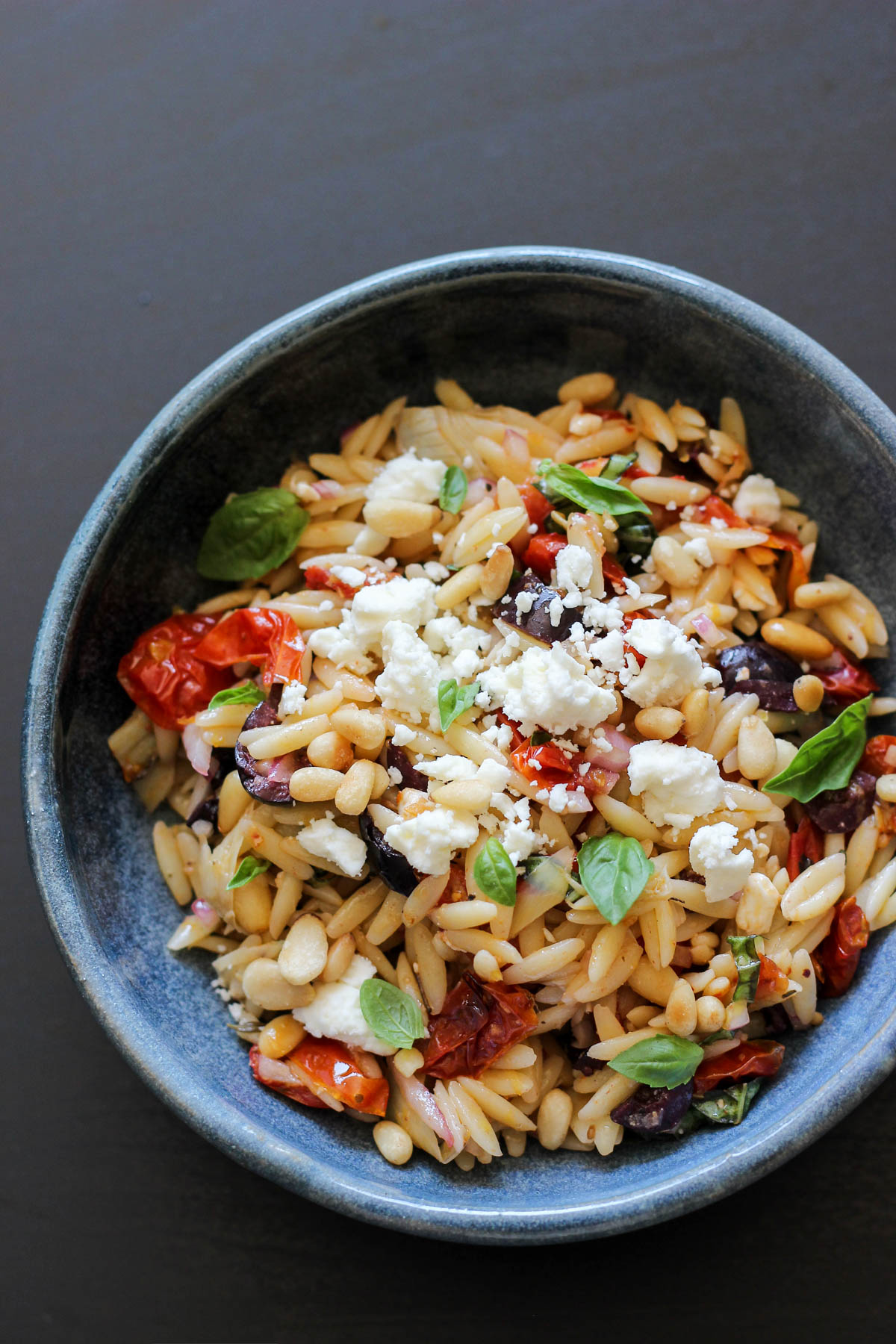 https://mostlysourdough.com/wp-content/uploads/2019/05/IMG_8868.jpg
This pasta salad is the perfect summer side dish!
You'll Need...
2 pints cherry or mini plum tomatoes, sliced in half
1 tablespoon olive oil
1 teaspoon garlic salt
1/2 teaspoon cracked black pepper
1 tablespoon sugar
8 ounces orzo pasta, cooked al dente (follow package directions)
1/2 cup pitted kalamata olives, roughly chopped
1/3 cup marinated artichoke hearts, roughly chopped
1/3 cup red onion, minced
Zest of 2 lemons
1/2 cup toasted pine nuts
1/2 cup crumbled feta
1/4 cup fresh basil, sliced into little ribbons
Lemon Garlic Vinaigrette:
1/4 cup lemon juice
1/3 cup olive oil
2 teaspoons honey
1 garlic clove, grated
salt and pepper to taste
Directions
Tomatoes: Preheat the oven to 300 degrees. Prepare a baking sheet with parchment. Scatter the tomatoes onto the sheet in an even layer (cut side up). Sprinkle over the olive oil and toss to coast. Top with the garlic salt, black pepper and sugar. Bake for 1.5-2 hours, tossing gently every 30 minutes or so until they are shriveled up and super sweet. Set aside to cool.
Dressing: In a mason jar, combine all the dressing ingredients, top with a well fitting lid, and shake until fully immersed and you have a smooth dressing. You can also do this in a bowl with a whisk.
Assembly: Allow time for your orzo to cool so it's not super hot when mixing (room temp is okay). In a large mixing bowl combine the orzo, tomatoes, olives, artichokes, onion, lemon zest and basil. Toss with a wood spoon or tongs until everything is evenly dispersed. Drizzle over the salad dressing to taste and mix gently. Top with crumbled feta and pine nuts.
Additional Notes
This salad keeps well in the fridge for a few days!
Prep the tomatoes and vinaigrette ahead of time so assembly the day of is easier.
Slow roasting the tomatoes inspired by NYT Cooking.
Don't show up to your Memorial Day festivities empty handed. Bring this orzo and your friends will love you!