I put the lime in the coconut… and came up with an absolutely to die for teacake!
One bite of this little snack cake and you'll feel like you're on a tropical island. It's a super tender cake. Like so soft. And it's perfectly coconut-y and zingy from the lime.
I took my favorite Triple Lemon Poppyseed Teacake and converted it to make this loaf. I don't know how I haven't come up with this situation already. It has so many things I love in it.
It has fresh lime zest, coconut cream & extract, AND shredded coconut in the fluffy cake. Then you imbibe it with a lime coconut simple syrup. THEN you top it with the perfect citrusy glaze made with coconut cream.
Whoa right? You could totally make this a play on a cocktail by adding some booze to the simple syrup and/or glaze.
I know it isn't quite summer yet, but we're getting pretty darn close and this would be the most delightful little dessert for a picnic or a barbecue!
All the yes to tender snack cakes. Make this for yourself and friends, and you'll all be so happy you did.
Coconut & Lime Teacake
From
Mostly Sourdough
at
https://mostlysourdough.com/2019/05/coconut-lime-teacake/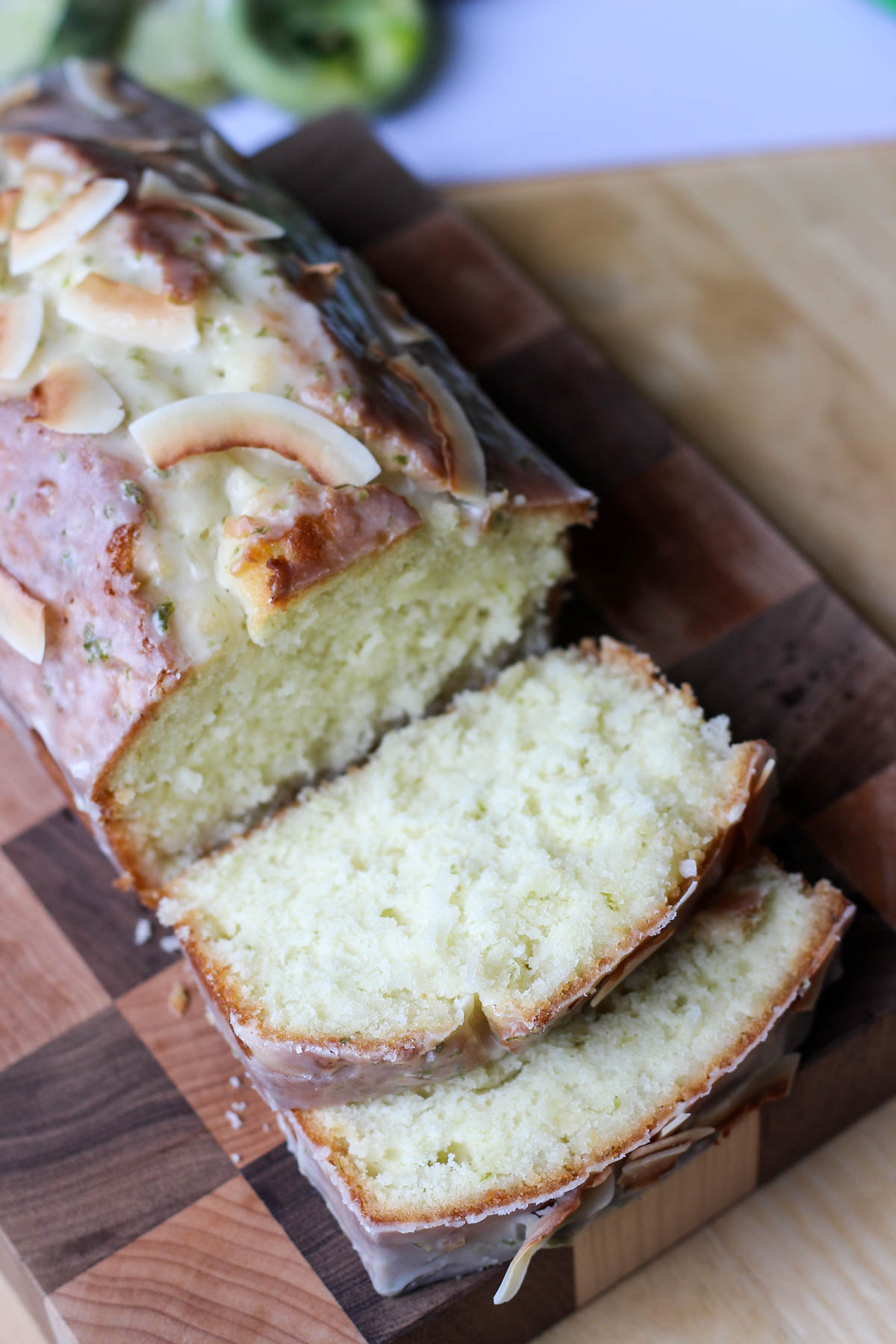 https://mostlysourdough.com/wp-content/uploads/2019/05/IMG_8768.jpg
Prep:
Cook:
Yield:

1-9x5 loaf

Total:
You put the lime in the coconut... and make a coconut lime teacake!
You'll Need...
Teacake:
1/4 cup coconut cream (full fat)
3 eggs, room temp
2 teaspoons coconut extract
Zest of 2 limes
3/4 cup sugar
1.5 sticks (12 tbsp) butter, room temp
1 1/2 cups cake flour* (see note)
3/4 teaspoon baking powder
1/4 teaspoon salt
1/2 cup shredded coconut** (see note)
Simple Syrup:
1/2 cup sugar
1/2 cup lime juice
1 teaspoon coconut extract
Glaze:
Zest of 1 lime
2 tablespoons coconut cream (more if needed)
3/4 cup powdered sugar
Flaked coconut, toasted (for topping)
Directions
Cake: Preheat the oven to 350 degrees. Prepare a 9x5in loaf pan by buttering and lightly flouring it. Whisk together coconut cream, eggs and extract in a small bowl. Combine butter, sugar, & zest in the bowl of your stand mixer. Beat until light and fluffy. Add flour, baking powder, & salt and mix for just a few seconds to disperse. Add half of the wet mixture and beat until combined. Slowly add the rest of the wet mixture until fully incorporated. Be sure to scrape the bottom and sides of the bowl to ensure the batter is evenly mixed. Fold in the shredded coconut. Transfer batter to loaf pan and bake for 55-60 minutes until a toothpick comes out clean. While cake is baking, make your simple syrup and glaze.
Simple Syrup: Heat the sugar and lime juice until the sugar dissolves. Whisk in the extract.
Glaze: Combine all ingredients and whisk until smooth. If needed, add a bit more powdered sugar or coconut cream to get desired consistency.
Assembly: When the cake is done, allow to cool for about 5 minutes before turning out of pan onto a cooling rack. Poke the cake all over with a toothpick and pour on the simple syrup. You want to use all the syrup. Trust me, it seems like a lot but it can take it! Allow to cool entirely. Once cool, drizzle over as much of the glaze as you like and top with the flaked coconut. Let glaze set before slicing, and serve as desired.
Additional Notes
* If you don't have cake flour, you can make your own. Using a half cup measuring cup, add one tablespoon of cornstarch and then top with all purpose flour. Repeat two more times to get 1 1/2 cups cake flour.
** I prefer to use unsweetened coconut, but feel free to use either here.
-You can skip the simple syrup step if you're in a time crunch or just feeling lazy. But if you have the time I swear it's worth the extra step.
Nev is in California for the next few weeks doing field research for his phD so it's just me and Jonesy (the kitty, who would love to eat this cake and pretty much everything if I let him). So I'm freezing it for when he's back.
Peep that fluffy little crumb. So good.