Hello fellow quarantine friends. Hope life is treating you well in this time of isolation.
Today I bring you some easy treats.
I actually made these truffles for a final project in my Chocolates class for graduate school. We had to come up with a product line as our project, so I chose to go with a line featuring fermented flavors.
We were supposed to be able to share our creations with the class at the end of the semester, but of course due to the Coronavirus we are presenting our treats virtually over Zoom instead. Womp.
These little truffles remind me of those chocolate candy bars with crunchy puffed rice in them! But they're made with crunchy bits of sourdough bread and little pops of sea salt. So much fun.
Bread crumbs are really easy to make, and a great way to use up any leftover stale bread you may have. Add them to some chocolate, and you have a crispy little dessert (or quarantine snack, no judgement here).
Sourdough Chocolate Truffles
From
Mostly Sourdough
at
https://mostlysourdough.com/2020/04/sourdough-chocolate-truffles/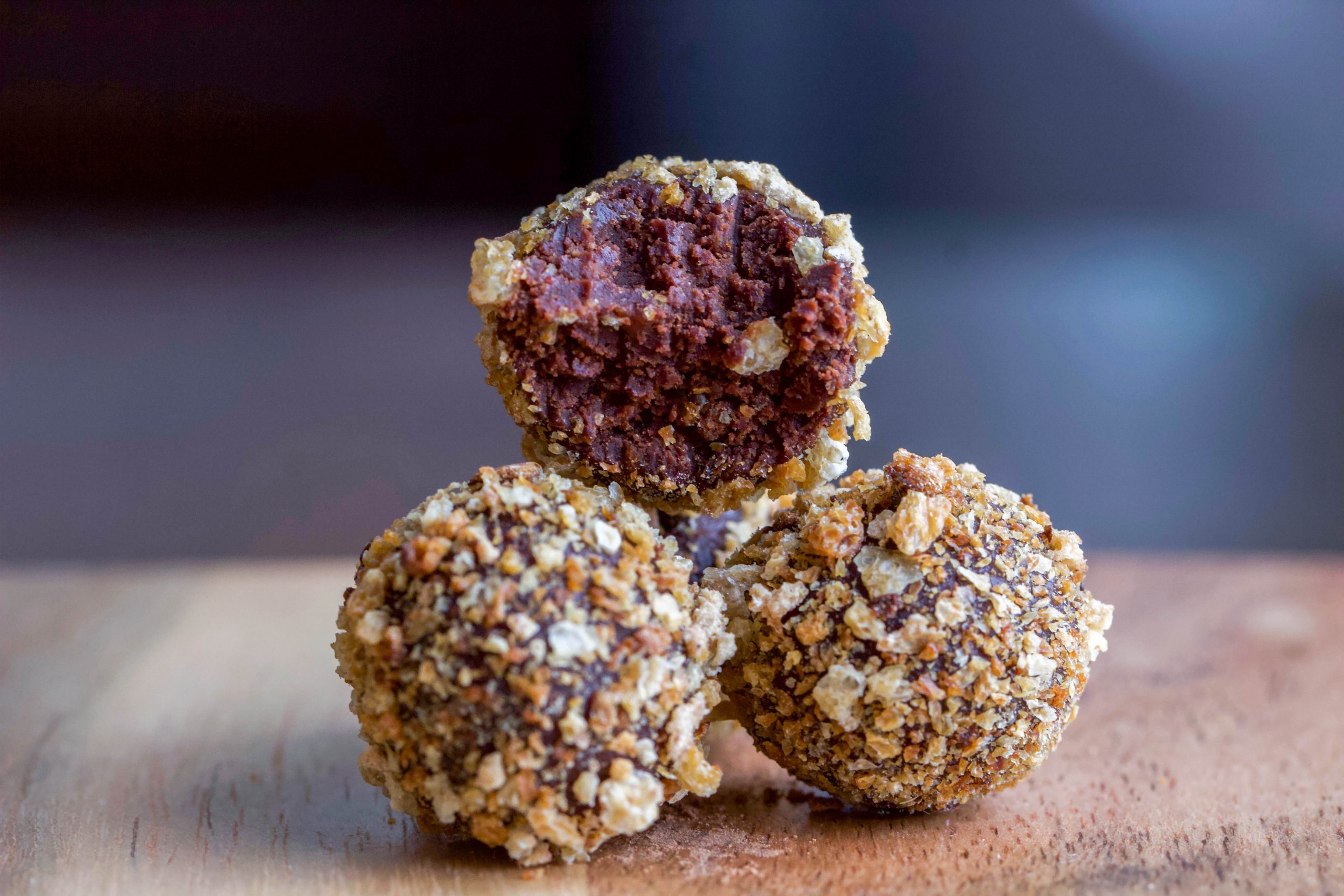 https://mostlysourdough.com/wp-content/uploads/2020/04/IMG_6136-scaled.jpg
Prep:
Cook:
Yield:

12-24 truffles (depends on size)

Total:
Rolled chocolate truffles filled with crispy sourdough crumbs.
You'll Need...
8 ounces dark chocolate, chopped fine
4 ounces (1/2 cup) heavy cream
2 cups cubed sourdough bread
1/2 teaspoon sea salt (optional)
Directions
Preheat the oven to 350 degrees. Place sourdough bread cubes on a baking sheet and bake until golden and crispy, 15-20 minutes. Allow to cool before pulsing in a food processor into crumbs.
Place chocolate in a microwavable bowl. Bring the cream to just a simmer over the stove top and pour it over the chocolate. Let sit for a few moments before whisking until smooth. If the chocolate did not melt fully, zap in the microwave at 15 seconds intervals stirring in between to finish it off. Fold in 1/2 cup bread crumbs and the sea salt with a spatula.
Line a baking sheet with parchment. Transfer the ganache to a piping bag, and pipe out little dollops of ganache. Refrigerate until firm. You can also chill the ganache in the bowl and then use a scoop or measuring spoon to portion if you prefer.
Once firm, roll the ganache into balls with your hands and then coat in the remaining sourdough crumbs. Store in an airtight container in the fridge.
Additional Notes
Feel free to roll the truffles in anything you want! Cocoa powder, toasted coconut, chopped nuts are all great options.
I love finding ways to incorporate sourdough into other foods or desserts.
These little truffles are most definitely addictive and I'm glad that I have at least one other person in the house to share them with.
In times of scary world events, baking always helps to keep me sane. Hope you guys are all finding your ways to stay sane too! We'll get through this. Especially with the help of chocolate.