Hello out there!
I hope everyone is fairing okay in this crazy time of quarantine and social distancing.
Life has been SO weird and unreal for the last several weeks. School is completely online (so difficult to stay focused and motivated in this environment), the bakery closed, Nev has been preparing for his huuuge Comps exam, and the outside world is just chaos.
While the state of the world is definitely weighing heavy on me, and I'm feeling anxious as all hell pretty much constantly, my sourdough starters are helping to keep me sane.
While flour can be hard to come by, I'm doing what I can to keep baking. Getting my hands in some dough always makes me feel better.
These flaky little biscuits are made with sourdough starter for a nice little tang, and no extra leavening. They are great as egg sandos, or just toasted up with some butter and jam or honey.
Sourdough Biscuits
From
Mostly Sourdough
at
https://mostlysourdough.com/2020/03/sourdough-biscuits/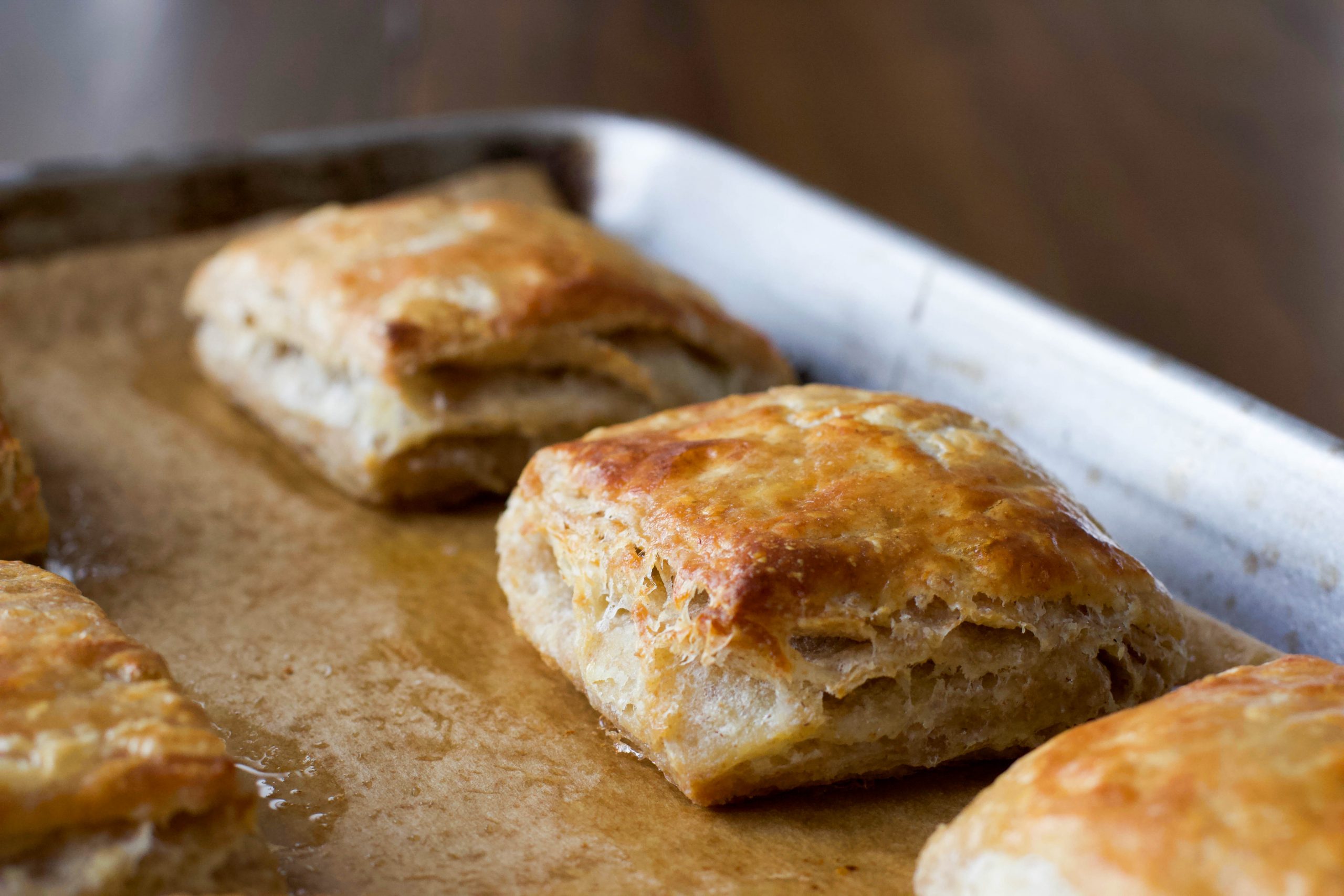 https://mostlysourdough.com/wp-content/uploads/2020/03/IMG_0343-scaled.jpg
Prep:
Yield:

6 biscuits

Total:
Flaky buttery biscuits naturally leavened using sourdough starter.
You'll Need...
1/3 cup unsalted butter, cubed and chilled
1 1/4 cup all purpose flour
1 tablespoon sugar
1 teaspoon salt
1 cup sourdough starter (fed within 12 hours)
1-2 tablespoons milk or cream (if needed)
1 egg (beaten with a pinch of salt for egg wash)
Directions
In a mixing bowl, whisk together the flour, sugar, and salt. Cut the butter into the dry mixture using a pastry cutter, two knives or your finger tips. You want the butter to be flat pieces, about the size of peas, throughout the dry mixture. Mix the sourdough starter in with your hands, and gently squeeze the mixture together. If it seems too dry, add a tablespoon of milk at a time until it starts to comes together. Do not overwork, it should be somewhat shaggy.
Cover the dough and rest in the fridge for 15 minutes.
After resting, pour the dough out onto an un-floured work surface, and roll out into an inch thick rectangle. Fold the rectangle in half over itself and roll out to an inch thick again. Repeat the process of rolling out and folding once or twice again (you're essentially mock-laminating the dough to create layers that will puff up in the oven). Cut the biscuits into 6 rectangles using a bench knife (or rounds with a cutter if you prefer).
Place on a parchment lined baking sheet. If you want to bake the same day, proof in warm spot for about 2 hours. They may not expand much, but they will increase in size a bit and you'll see some separation in the layers. You can also do an overnight cold proof, and bake them the next day. Wrap the baking sheet in plastic wrap, and then pull them out the next morning and proof them for an hour or two at about 75 degrees (If you don't have a proofer: Heat oven to 180 degrees, turn off and then put them in).
Preheat the oven to 425 degrees in the last half hour of the proof. Egg wash the tops of the biscuits if you'd like, and bake for 12-15 minutes until puffed up and golden. Serve warm.
Additional Notes
You can freeze the finished biscuits for a few months. Just place them single layer on a baking sheet, freeze until solid and then place them in freezer friendly container or bag. Thaw in the microwave for 30 seconds.
As things get scarier and scarier out there in the world, just try to remember that those of us who are fortunate enough to stay home should continue to do so to prevent further spreading of this pandemic virus.
Stay healthy out there my friends.