Ahh, shortbread cookies. So simple, but so perfect.
The most tender little melt in your mouth cookie.
Sometimes all you want is a classic, delicate cookie to enjoy with tea or coffee. Shortbread cookies are exactly that.
While they are simple and low maintenance, the best way to get a really tasty shortbread is to use really good butter.
Anytime I do these, I go for a European style butter (usually can find Plugra or Kerrygold), because it has a higher fat content than American butter, leading to a much better cookie. The vanilla bean paste just gives these a little something extra (literally one of my favorite ingredients ever).
I also go back and forth about dipping them in chocolate. Sometimes I want it, sometimes I don't. So I usually end up dipping half of them and leaving the rest unadulterated. 😛
Fave Shortbread Cookies
From
Mostly Sourdough
at
https://mostlysourdough.com/2020/02/fave-shortbread-cookies/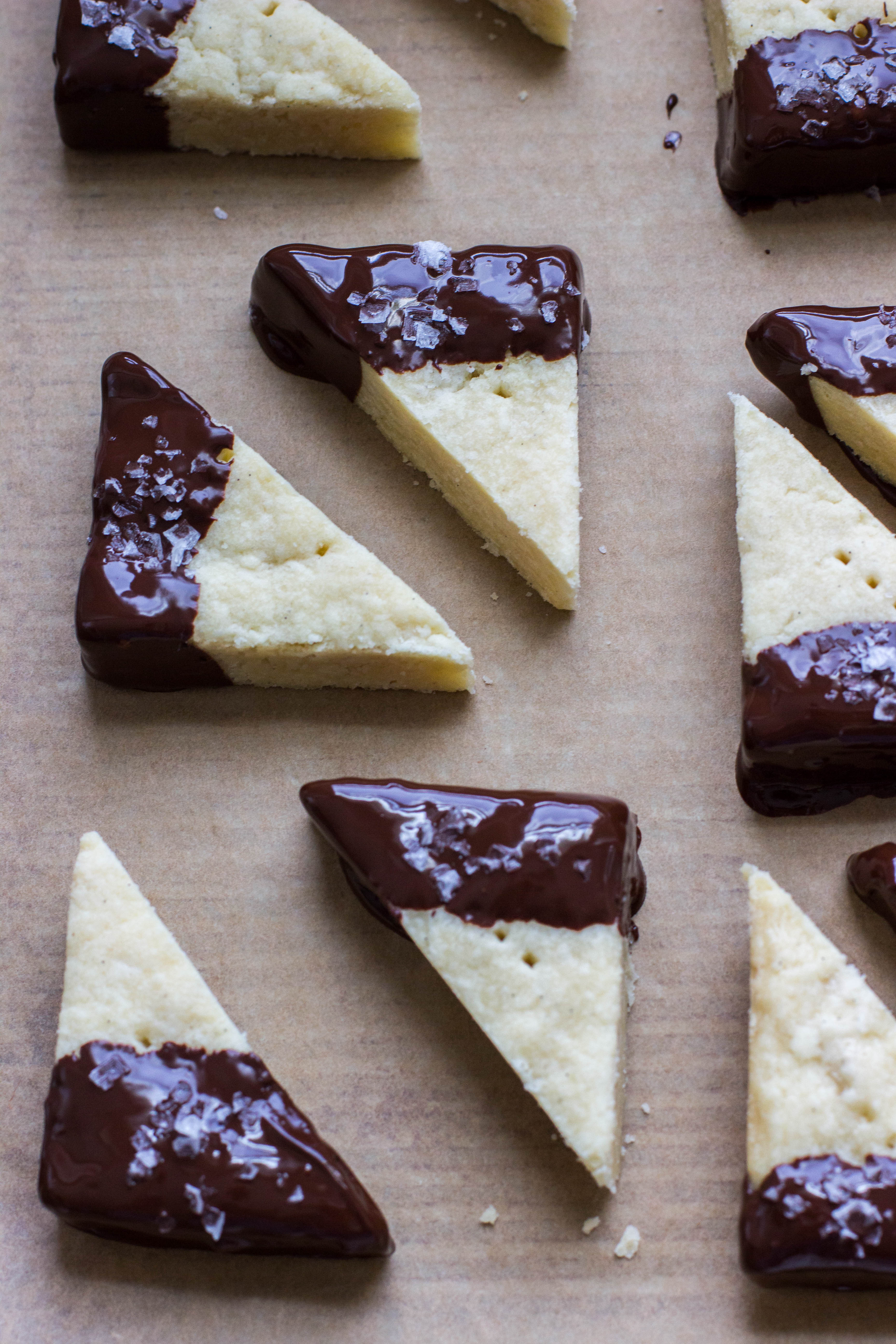 https://mostlysourdough.com/wp-content/uploads/2019/10/IMG_9863.jpg
Yield:

24-40 cookies (depending on how you slice them)
Tender, melt in your mouth shortbread cookies.
You'll Need...
1 1/3 cups (12 oz) unsalted butter, softened
3 1/3 cups unbleached all purpose flour
2 tbsp cornstarch
1 teaspoon salt
1 1/3 cups powdered sugar
1 tbsp vanilla bean paste (or vanilla extract)
4 ounces bittersweet or semisweet chocolate, chopped & melted (optional)
Flaky sea salt (optional)
Directions
Prepare a 9x13 baking pan with a parchment sling (cut the parchment so that the flaps stick over the sides longways for easy removal). Preheat the oven to 325 degrees.
Scale out the flour, cornstarch and salt into a medium bowl and mix together with a whisk. In the bowl of a stand mixer, cream together the butter, sugar, and vanilla on medium speed until the mixture is smooth and creamy. Then add the flour mixture while the mixer is on low speed until it is all incorporated. Pour the dough into the baking pan, and press it down into an even layer. Using a small knife, carefully cut the dough into the shape/size you want for each cookie. You will go over these same cuts after they're baked. Chill in the freezer for about 5 minutes.
Bake the cookies for 30-40 minutes until they are slightly golden. Do not wait until the pan is cooled to re-cut the cookies. Do it right after they are out of the oven to ensure they slice nicely. Carefully pull the cookies out of the pan by grabbing the flaps of parchment, and lay them on a cutting surface. Cut the cookies down the lines you already made, then transfer them to a wire cooling rack to cool. They can be stored in an airtight container for up to 4 days after they have been baked. If desired, dip or drizzle them with melted chocolate and top with sea salt.
Additional Notes
These are a great base recipe for any flavor! Try extracts or fresh citrus zest.
Easy right? But not boring.
Tasty and simple.
With Valentine's day tomorrow, these would be a great treat to surprise your sweetie or friends with.
Or make them for yourself! No judgement here.