Hi friendos. Today I bring you another blood orange cake.
I know I literally just posted one, but this is SO different. It really is. I swear.
I feel justified posting both of these this week because the time to enjoy blood oranges is literally right now. So I wanted to give y'all options.
Last year I posted these Blood Orange Ricotta Cookies and this Winter Citrus Olive Oil Cake. So I'm continuing the double blood orange post tradition I suppose.
This upside down cake combines some of my favorite flavors and textures. The cake is a really simple one bowl wonder with buttermilk, blood orange zest/juice & vanilla bean paste.
The blood oranges on top are sliced super thin with the rind kept on, and they caramelize beautifully. It actually gives the cake a lovely marmalade-y flavor that I LOVE.
I mean, just look at that beautiful tall floofy cake and those gorgeous oranges! So goood.
Blood Orange Upside Down Cake
From
Mostly Sourdough
at
https://mostlysourdough.com/2020/01/blood-orange-upside-down-cake/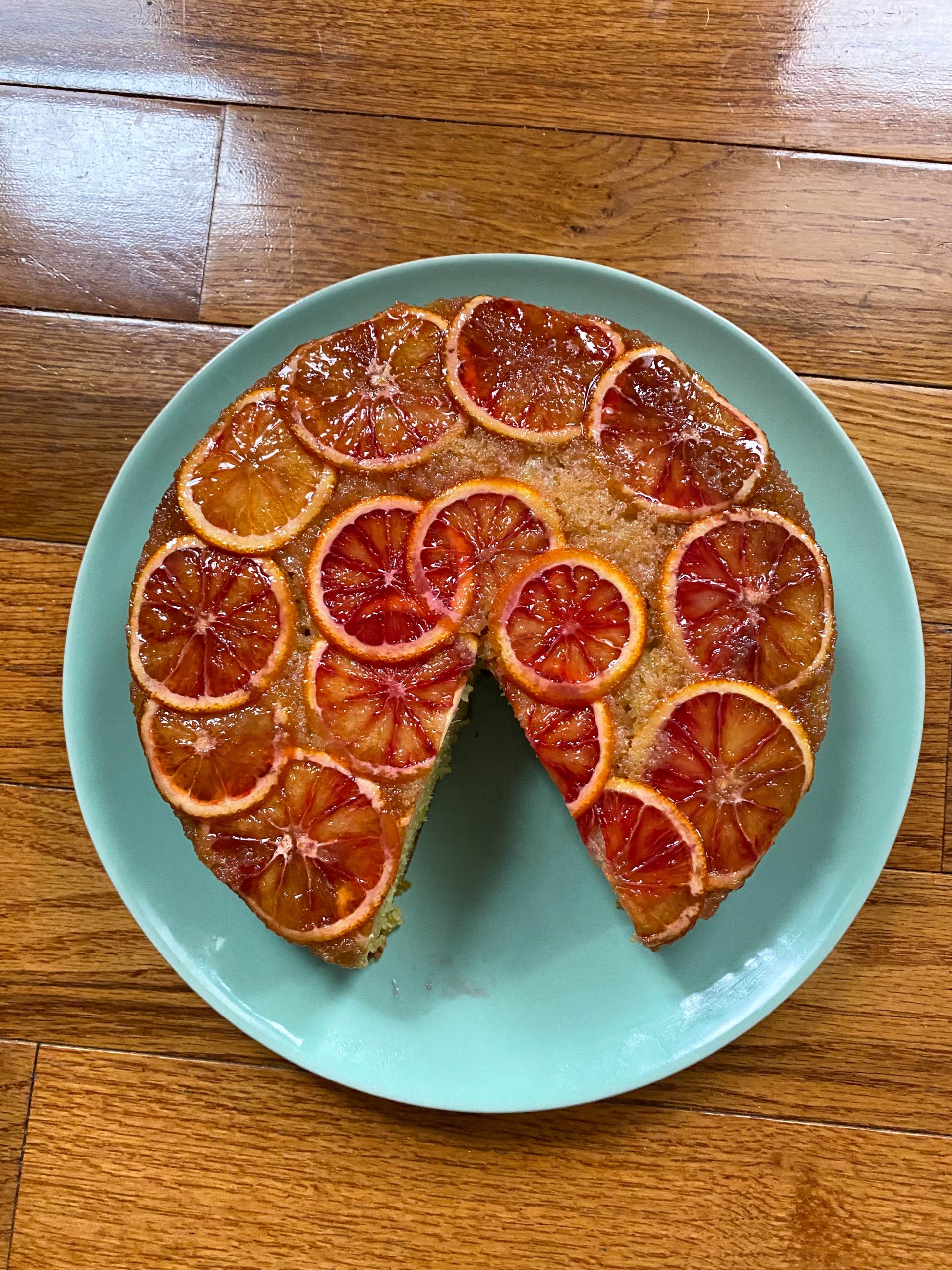 https://mostlysourdough.com/wp-content/uploads/2020/01/IMG_2882-scaled.jpg
A fluffy delicious cake topped with thinly sliced caramelized & marmalade-y blood oranges.
You'll Need...
Cake:
1/4 cup turbinado or demerara sugar
1 blood orange, sliced super paper thin (seeds removed)
2 cups all purpose flour
1/2 cup granulated sugar
3/4 teaspoon baking soda
3/4 teaspoon baking powder
1/2 teaspoon salt
2 eggs
1 cup buttermilk (see ** note below)
1 tablespoon vanilla bean paste
1/2 cup unsalted butter, melted
Grated zest from one blood orange
2 tablespoons blood orange juice
Blood Orange Simple Syrup:
1/4 cup blood orange juice
2 tablespoons sugar
Directions
Preheat the oven to 350 degrees. Grease an 8 inch cake pan with cooking spray. Sprinkle the bottom of the pan with the coarse sugar, and place the sliced blood oranges over top in concentric circles. You'll want to overlap them slightly as they will spread apart while baking.
Cake: Whisk together the dry ingredients in a large mixing bowl. Add the wet ingredients and zest, and whisk until you have a relatively smooth batter. It's okay if there are a few lumps, don't over mix. Carefully pour into the cake pan, smooth the top and bake for 30-35 minutes until the top is golden and the cake begins to come away from the sides. Allow to cool for no more than five minutes on a cooling rack before inverting onto a plate. Do not wait too long to invert it or the blood oranges will stick to the pan.
Simple syrup: Bring the juice and sugar to a simmer over the stove. Brush the top of the orange slices and the cake while it is still warm with the simple syrup to give it a shiny pretty look. Slice and serve as desired.
Additional Notes
** To make buttermilk easily, combine one cup of milk with one tablespoon of lemon juice. Let sit for a few minutes. When it has thickened/curdled slightly, it is ready.

Slicing the cake: To get through the orange rinds without destroying the top of the cake, use a serrated knife to gently saw through it.

This recipe was adapted from the Blood Orange Buttermilk Upside-Down Cake by Bon Appetit.
Now, I know we're all supposed to be New Year's Resolution-ing, so two cakes in a week is a lot for the beginning of the year.
I resolve to post more healthy/savory recipes this year as well.
But I will never give up on the sweets. I mean, c'mon.