We are officially in the winter gloom here in Pittsburgh. Since we got back from visiting California for the holidays it has been consistently grey and often raining or snowing.
We've been pretty much homebodies since we got back, trying to stay cozy and recovering from overdoing it at the holidays. I actually do love the winter, but come Springtime I will be ready for some brighter days!
Given the gloom, I felt like baking something bright and beautiful! Cue the blood orange. Such a gorgeous color and unique flavor.
This little teacake is based off the lemon one I did a couple years ago, but with some flavor swaps. I skipped the simple syrup step this time around, but I think it would be great with this loaf too.
That crème fraîche glaze is literally one of my favorite things ever. I have to stop myself from eating it up with a spoon every time I make it. Drool.
Blood Orange Poppyseed Teacake
From
Mostly Sourdough
at
https://mostlysourdough.com/2020/01/blood-orange-poppy-seed-teacake/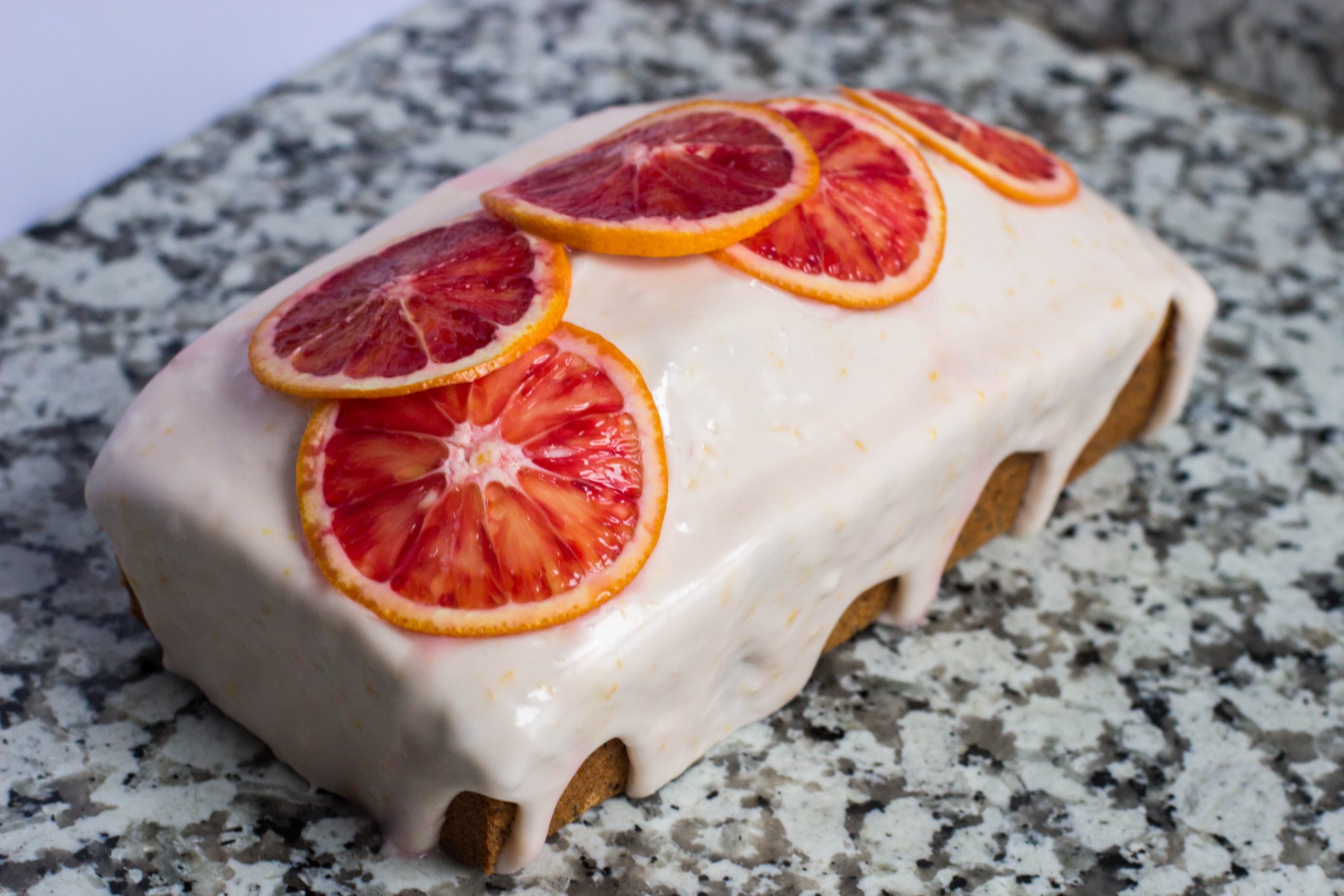 https://mostlysourdough.com/wp-content/uploads/2020/01/IMG_0299-scaled.jpg
A lovely poppy seed teacake flavored with one of my favorite winter citruses, blood oranges! Topped with a blood orange crème fraîche glaze.
You'll Need...
Cake:
Grated zest of 2 blood oranges
3 tablespoons poppy seeds
3/4 cup sugar
1/4 teaspoon salt
6.5 ounces (1 1/2 sticks) unsalted butter, room temperature
1 1/2 cups cake flour
3/4 teaspoon baking powder
3 tablespoons milk
3 eggs
1 1/2 teaspoons vanilla extract
Glaze:
Zest of 1 blood orange
2 tablespoons blood orange juice
1/4 cup crème fraîche ** (see note below)
2 cups powdered sugar
One blood orange, sliced thin (optional for topping)
Directions
Cake: Preheat the oven to 350 degrees. Prepare a 9x4 inch loaf pan by buttering and lightly flouring it or line with a parchment sling. Whisk together milk, eggs and vanilla in a small bowl. Combine butter, sugar, zest & poppy seeds in the bowl of your stand mixer. Beat until light and fluffy. Add flour, salt & baking powder and mix for just a few seconds to disperse. Add half of the milk/egg mixture and beat until combined. Slowly add the rest of the wet mixture until fully incorporated. Be sure to scrape the bottom and sides of the bowl to ensure the batter is evenly mixed. Transfer batter to loaf pan and bake for 55-60 minutes until a toothpick comes out clean.
While cake is baking, make your glaze. Combine all ingredients and whisk until smooth.
When done, allow to cool for about 5 minutes before turning out of pan onto a cooling rack. Allow to cool entirely. Once cool, drizzle over as much of the crème fraîche glaze as you like. Slice and serve as desired.
Additional Notes
** You can use sour cream or even plain full fat greek yogurt (keep an eye on the consistency as you mix it, you may need to add a little more powdered sugar if it seems too loose)
Teacakes are such an easy bake, and everyone always appreciates them as an afternoon snack with a cuppa or even as breakfast. Yes, cake for breakfast is entirely acceptable in my opinion.
School starts again this week, and I'm gearing up for what looks to be a very busy semester. All the feels. And cake please.