Happy National Chocolate Cake Day. It just so happens that I had this recipe in mind for posting today, so what a serendipitous occasion!
It's blood orange season, and if you've been around these parts before you'll know that I can never get enough of the bright beautiful citrus every year. See these previous posts: Blood Orange Shaker Tart, Blood Orange Upside Down Cake, Poppy Seed Tea Cake, Blood Orange Ricotta Cookies, and this Winter Citrus Olive Oil Teacake.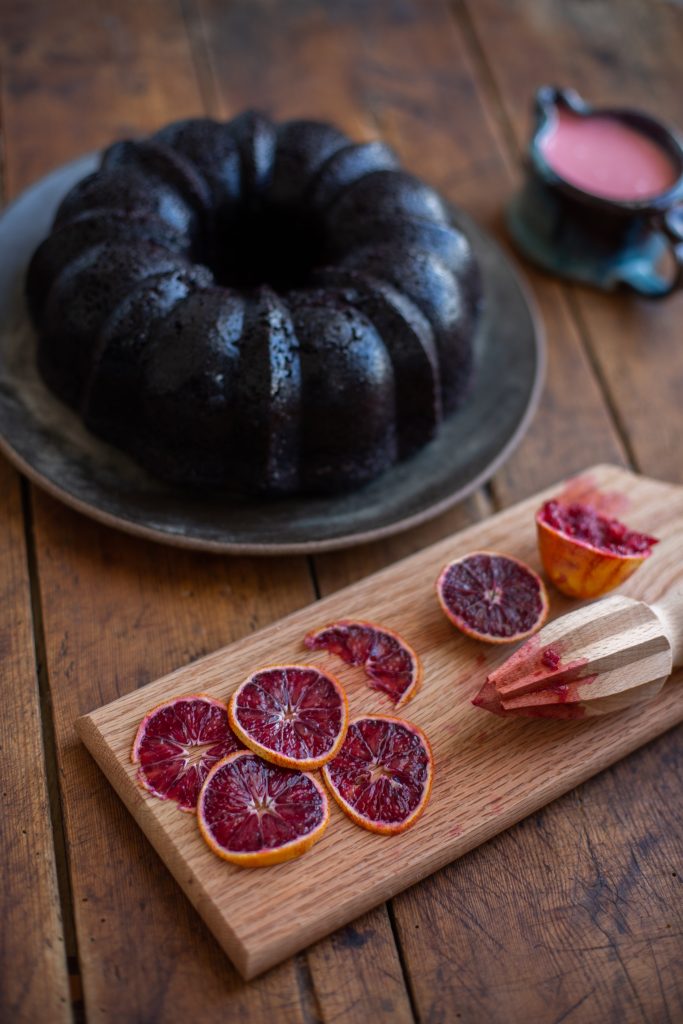 This cake is based off my favorite rich chocolate cake recipe that I use for things like layer cakes and cupcakes. This version uses sourdough discard, and I decided to bake it in a bundt pan, and my oh my it's gooood. The blood orange zest perfectly perfumes the interior of the cake, and that crème fraîche glaze is amazing on any sweet treat.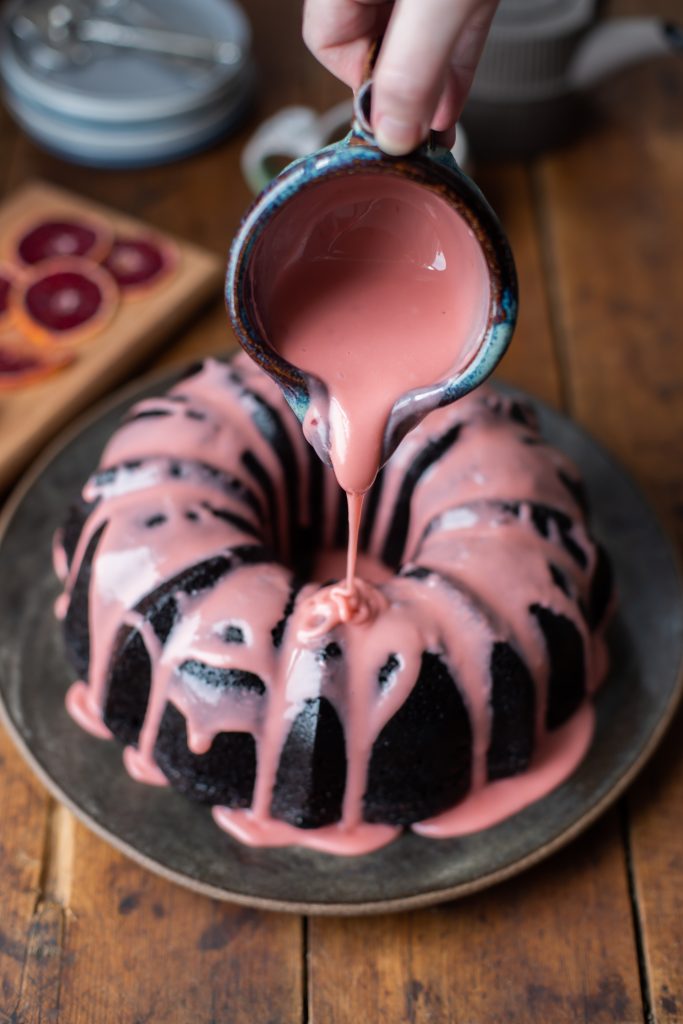 This is the kind of cake I want to see in the dead of winter. Dark chocolate brightened by a zingy citrus glaze. Mmm.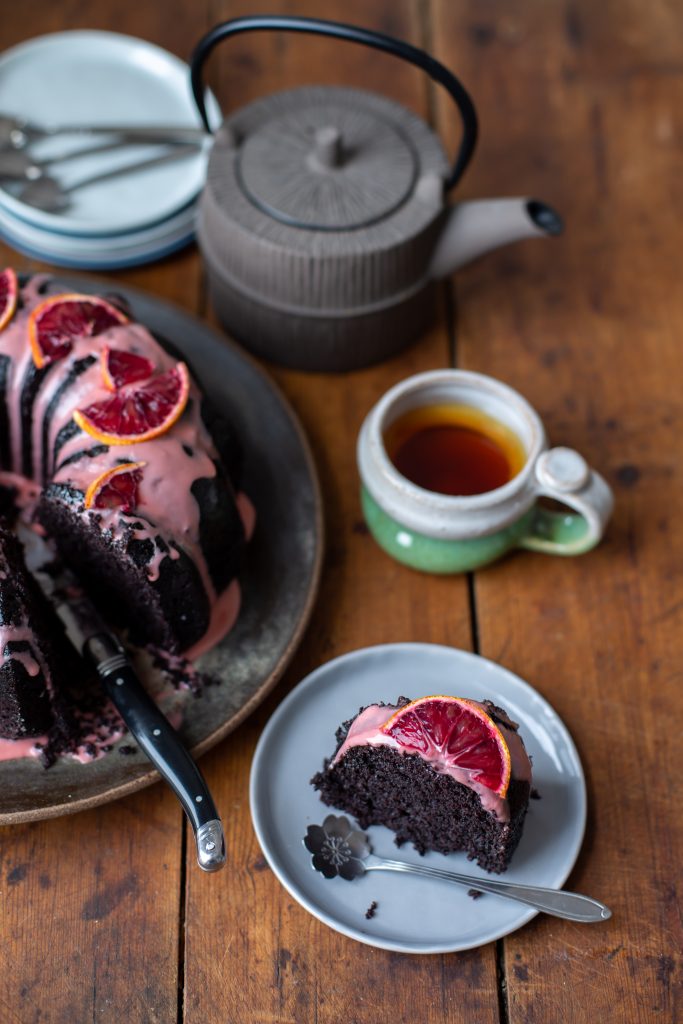 Sourdough Discard Chocolate Orange Cake
From
Mostly Sourdough
at
https://mostlysourdough.com/2022/01/sourdough-discard-chocolate-orange-cake/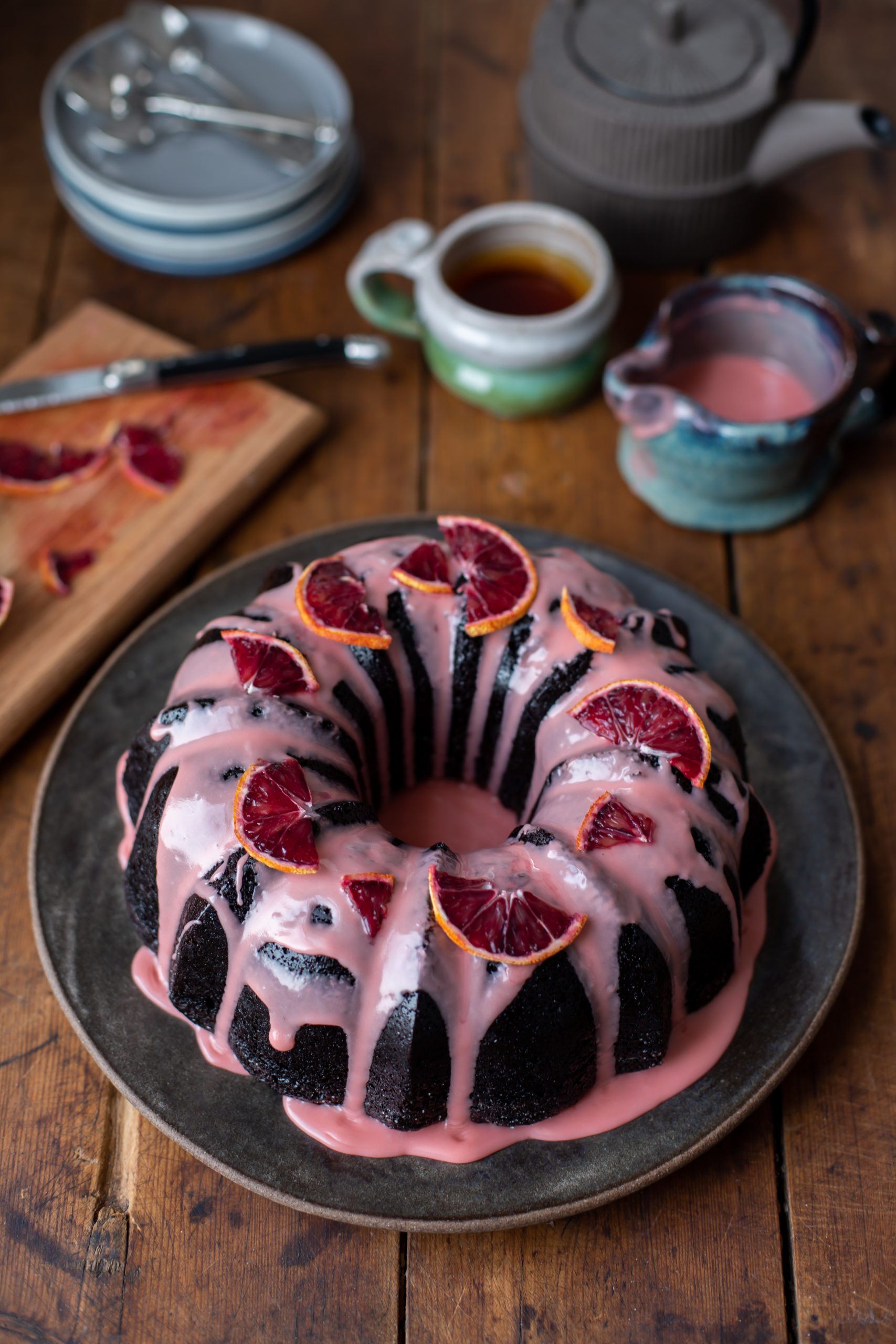 https://mostlysourdough.com/wp-content/uploads/2022/01/Chocolate-Cake-05-scaled.jpg
Yield:

1 12-inch bundt cake
Super rich and decadent chocolate cake that uses sourdough discard, flavored with orange zest and topped with a blood orange glaze.
You'll Need...
Cake:
450 grams sugar
270 grams all-purpose flour
85 grams cocoa powder
7 grams baking soda
6 grams baking powder
6 grams salt
2 eggs, room temperature
100 grams vegetable oil (or melted butter)
8 grams vanilla extract
100 grams sourdough discard, room temperature
220 grams milk
220 grams hot brewed coffee
Glaze:
Zest of 1 blood orange
30 grams blood orange juice
70 grams crème fraîche ** (see note below)
260 grams powdered sugar, sifted
One blood orange, sliced thin (optional for topping)
Directions
Cake: Preheat the oven to 350 degrees, and grease a 12 cup bundt pan with butter. Dust the pan with cocoa powder or granulated sugar. Mix together the dry ingredients in a large bowl. Add the eggs, vegetable oil, vanilla, sourdough starter, milk and mix gently with a whisk to combine. Do not over mix. Be sure to scrape the sides and bottom of the bowl with a spatula. Finally, slowly add in the hot coffee while mixing. Batter will be quite thin, but that's how it supposed to be. Fill the pan with batter, and bake for 40 to 50 minutes until a toothpick inserted comes out with a few crumbs. Allow the cake to cool in the pan for 5 to 10 minutes before turning it out onto a wire rack to cool fully before glazing.
Glaze: Whisk together the glaze ingredients until smooth. Pour or spoon the glaze over the cake and top with blood orange slices as desired.
Additional Notes
** You can use sour cream or even plain full fat greek yogurt instead (keep an eye on the consistency as you mix it, you may need to add a little more powdered sugar if it seems too loose)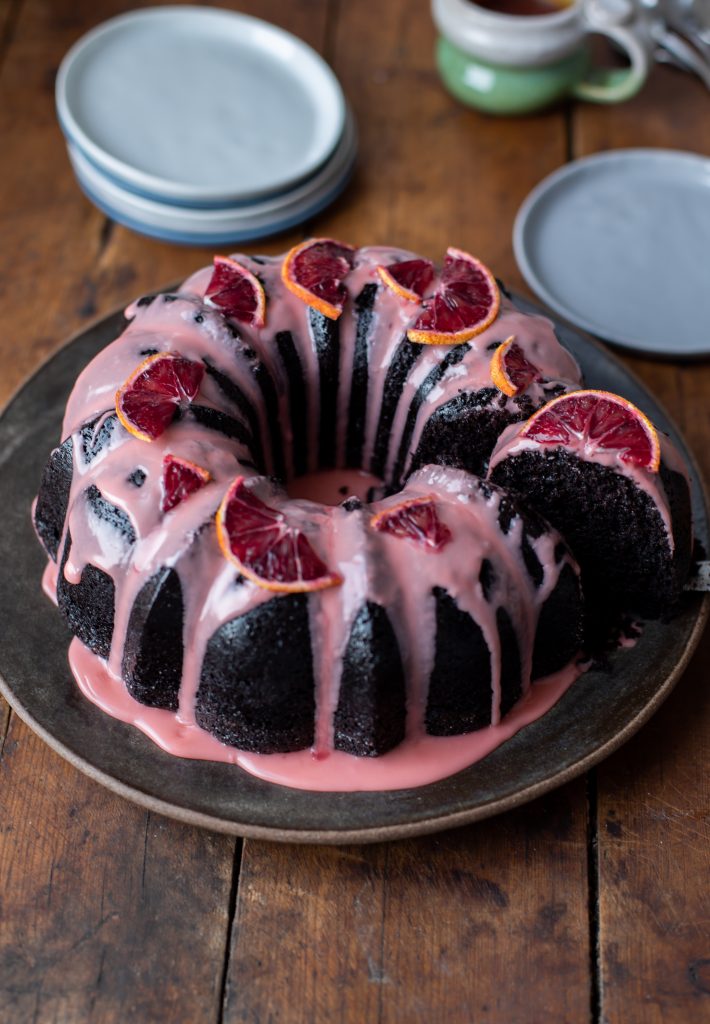 This cake keeps super well because it's so moist and fluffy. If you're not going to serve it at a big event, I'd recommend only glazing the bits that will get eaten right away. The glaze can be kept in a sealable container in the fridge and drizzled over portions as you'd like.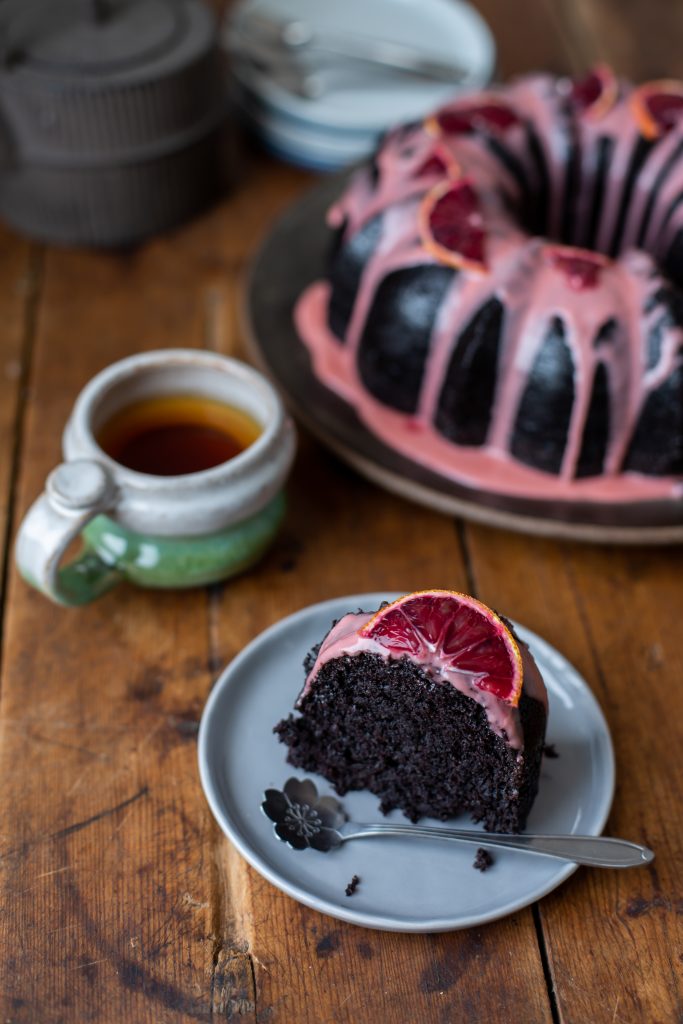 Look at that floofy little cake slice. I ate that one right after shooting it, and I'm already craving another slice.