Today I am sharing this lovely blood orange shaker tart with y'all.
Shaker pies or tarts are made with the whole citrus fruit, macerated with sugar over several hours or even days in order to tenderize the rind so it's not too bitter. The longer it sits, the better.
It tastes just like marmalade and is so flavorful. Blood oranges are so beautiful and provide a slightly different flavor than standard navels. You'll see several blood orange recipes on this blog (Upside Down Cake, Tea Cake, Ricotta Cookies, and an Olive Oil Cake).
If you know anything about me by now, you'll know that I am a sourdough fiend and I am always looking for more ways to incorporate it in my bakes. This tart features a flaky tart dough made with sourdough discard and buckwheat flour for extra flavor. This dough would also be great for pies or galettes.
Winter can feel so gloomy, especially living somewhere with real seasons. This is also the first year that I haven't been able to go home to California to see my family, so I do love using all the winter citrus I can to help feel a little more at home.
Blood Orange Shaker Tart with Sourdough Crust
From
Mostly Sourdough
at
https://mostlysourdough.com/2021/02/blood-orange-shaker-tart/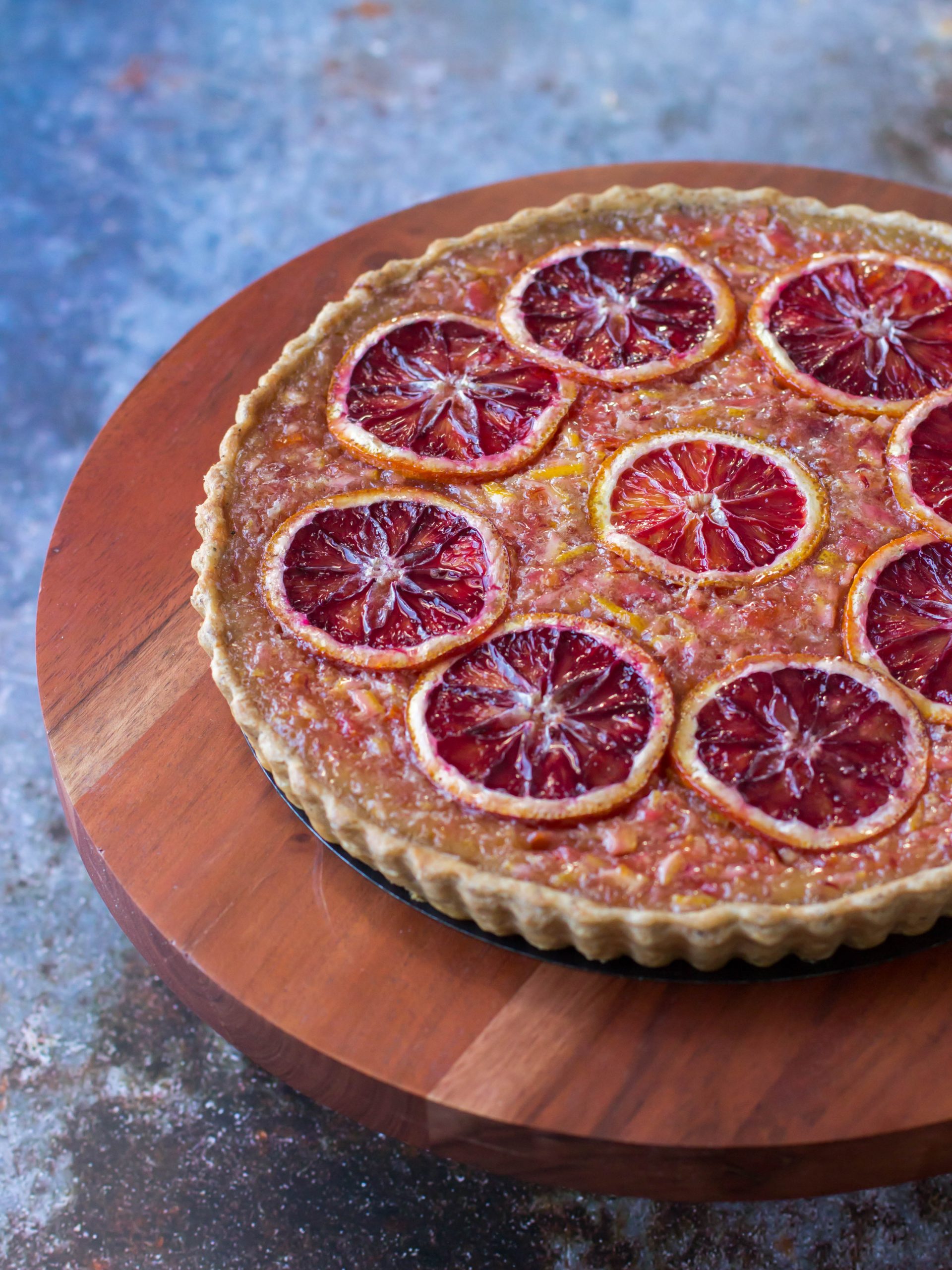 https://mostlysourdough.com/wp-content/uploads/2021/02/IMG_9944-scaled.jpg
This tart features a spin on the classic lemon shaker tart with blood oranges! A flaky tart crust made with sourdough starter gives this such an amazing flavor.
You'll Need...
Sourdough Pie Crust: (Makes 2)
200 grams all-purpose flour
100 grams buckwheat flour*
1 teaspoon salt
1 tablespoon sugar
227 grams butter, cold and cubed
200 grams sourdough starter, cold
43 grams apple cider vinegar
60 grams ice water (may need more or less)
Citrus Filling:
1 medium blood orange
1 lemon
350 grams sugar
4 eggs
Pinch of salt
1 medium blood orange, sliced paper thin (for topping)
Directions
Crust: In a large mixing bowl, whisk together the dry ingredients. Combine the water and vinegar in a measuring cup or other bowl. Cut the cold butter into the flour mixture using a pastry cutter or your hands until it resembles pea sized lumps. Add the sourdough starter and drizzle over the wet mixture by the tablespoon, and use a spatula to stir together until a dough forms. If you need to add more liquid, add a little at a time, but try not to add too much. Use your hands to squeeze it together into a ball. Cut in half, and wrap in plastic and chill for at least an hour or overnight. This can also be left to slightly ferment over a few days in the fridge to deepen the flavor.
Macerate the fruit: Slice the orange and lemon in half and remove any seeds. Grate with a box grater, or dice up with a knife into very fine pieces. Combine with the sugar, and allow to macerate for at least 3 hours, but preferably overnight. Be sure to stir the mixture every once in a while to break up the juices.
Par-bake the crust: Preheat the oven to 350 degrees. On a floured surface, roll out the crust into a circle about 1/8th inch thick. Mold your 9 inch tart pan with the dough and stash in the freezer to firm up while the oven preheats. Line the tart with parchment and add baking beans or ceramic weights. Bake for 20 minutes, remove the weights and bake for another 5 to 10 minutes until the bottom is slightly more set. You will most likely need to use your hand to press the bottom back down if it puffs up. Allow to cool while you finish the filling.
Filling: Whisk together the eggs and salt in a small bowl until very well homogenized. Whisk the eggs into the citrus/sugar mixture until fully incorporated. Pour into your pre-baked tart shell right up to the top (you may or may not have a little extra filling so don't use all of it if it won't fit). Top with your thinly sliced oranges.
Bake: Bake for 20 minutes, and then carefully sprinkle a little bit of sugar over the blood orange slices. Continue to bake until it is set, and puffs up slightly, another 15 to 20 minutes. Allow to cool before transferring to the fridge. It slices best right from the fridge.
I made Nev a shaker tart when we first learned that he got into the University of Pittsburgh for his phD so it has come to feel like an extra special bake.
We have been getting a bunch of snow here in Pittsburgh over the last couple of weeks, so a bright citrus tart felt like the antidote to help warm us up.