Happy Hanukkah my friends!
Today I am bringing you these rugelach pastries from my sister's kitchen in Indiana.
I drove to Indianapolis with Nevin and my cat Jonah the week of Thanksgiving, and have been staying here ever since for a little staycation away from home.
My classes went entirely online for the last two weeks of the semester, and the folks at the bakery are always really understanding about taking time off with enough notice so I decided to get away from Pittsburgh for a bit to be able to spend time with family.
Everyone has been having a difficult year, and I couldn't imagine spending the holidays without seeing at least some family. We are fortunate to live close enough to my older sister and her husband that I felt it was safe to make the trip with covid and everything.
I love rugelach and of course I had to make some with sourdough discard in them because do you even know me by now? I did half with the chocolate filling, and half with cinnamon brown sugar because I like options. Feel free to make all of one flavor by just doubling the filling.
Sourdough Rugelach
From
Mostly Sourdough
at
https://mostlysourdough.com/2020/12/sourdough-rugelach/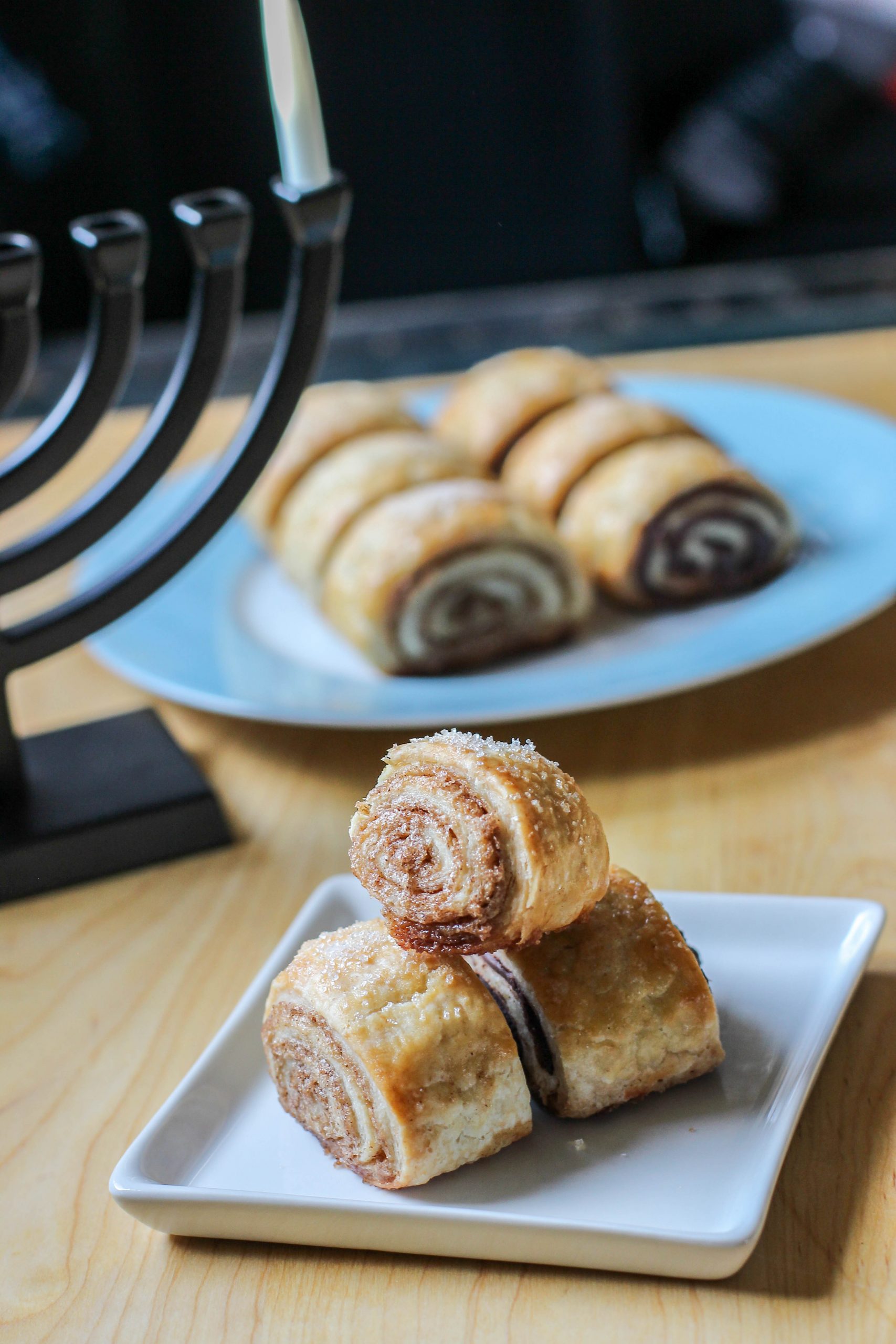 https://mostlysourdough.com/wp-content/uploads/2020/12/IMG_9843-scaled.jpg
Classic rugelach made with sourdough discard & filled with chocolate or cinnamon brown sugar.
You'll Need...
350 grams all purpose flour
50 grams granulated sugar
1/2 teaspoon salt
227 grams unsalted butter, cold (2 sticks)
227 grams cream cheese, cold (one block)
100 grams sourdough starter (can be active or discard from the fridge)
1 egg
1 teaspoon vanilla extract
113 grams dark chocolate, chopped
50 grams brown sugar
1 teaspoon cinnamon
1 egg, whisked (for egg wash)
Flaky sea salt (for topping)
Coarse sugar (for topping)
Directions
Dough: In the bowl of a stand mixer combine the dry ingredients and whisk to disperse. Cube the cold butter and cream cheese into approx. one inch pieces. Mix together with the paddle attachment on low until the fats are crumbled & pea-sized. Add the sourdough starter, egg and vanilla and mix until combined into a shaggy dough. Divide the dough into two, pat into disks, wrap and chill for at least an hour.
Assembly: Melt the chocolate in the microwave in 30 second intervals, stirring in between until smooth. Whisk together the brown sugar and cinnamon in a small bowl. Dust a work surface with flour and roll out one of the discs of dough into a rectangle about 1/8 inch thickness. Spread the chocolate in an even layer onto the dough with a spatula leaving an inch border on one of the long/wider sides. Work quickly so the chocolate doesn't harden. Paint the border edge with the egg wash, and gently jelly roll the dough into a tight log with the seam side down. Cut the log in half so it's easier to transfer to a baking sheet. Chill in the fridge for 20 minutes. Repeat the process with the other disc and the cinnamon sugar filling.
Slice & Bake: Preheat the oven to 350 degrees, and line two baking sheets with parchment. Brush the logs with the egg wash, and sprinkle the chocolate ones with the salt and then cinnamon ones with the sugar. Slice into 1 1/2 inch pieces and place on the prepped baking sheets (about an inch apart). Bake until golden brown on top, 20 to 25 minutes. Allow to cool for a few moments before transferring to a clean piece of parchment or a wire rack, and serve warm. Store in an airtight container at room temperature (will last for several days).
Additional Notes
This recipe can easily be halved!
These flaky, tender little pastries are just so good. They are ever-so slightly tart from the sourdough, but it goes so well with both of the decadent fillings.
Hanukkah is a holiday my family celebrates pretty loosely because we aren't religious (obviously same with Christmas too), but we always feel the most culturally connected by the foods.
It's completely insane that we are in the last few weeks of 2020. I am literally one assignment away from finishing the semester (should be working on that right now, oops). Can't wait for some semblance of a real break!