Hi hi hello!
Today I am bringing you some amazing cookies. Hamantaschen are little triangular cookies typically filled with jam, or a poppy seed or nut filling. They are enjoyed at the Jewish holiday, Purim. I am Jewish on my dad's side, and while I am not religious, I always enjoy celebrating the holidays through food.
My version is made with a tender lemony dough that uses sourdough discard. If you've spent any time on this blog you'll notice that I put sourdough in anything and everything I can think of.
I hate the idea of throwing away leftover starter, and I love the challenge of trying to find new and fun ways to use it up. This dough is really great if you can mix it the day before you plan to bake your cookies so it has a little more time to ferment in the fridge and deepen in flavor.
I filled these with a sour cherry jam that I made from some cherries I had stashed in the freezer, but any jam would do. I definitely recommend that you use a thicker jam, as it will leak out of the cookies in the oven if it is too thin.
The lemon in this dough and the tart sour cherries go so well with the flavors that the sourdough brings. I just love these! They remind me of little hand pies!
Sourdough Hamantaschen
From
Mostly Sourdough
at
https://mostlysourdough.com/2021/02/sourdough-hamantaschen/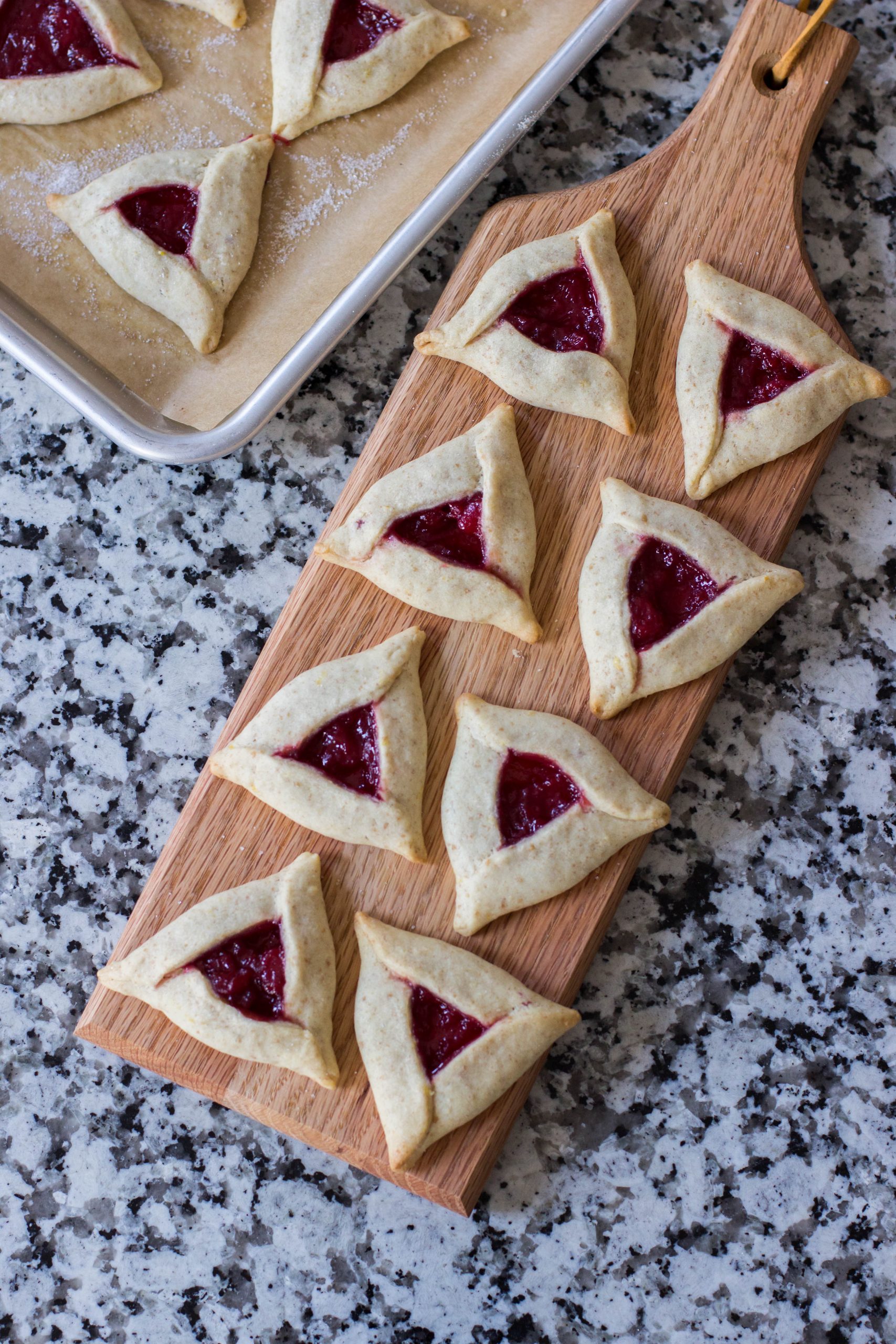 https://mostlysourdough.com/wp-content/uploads/2021/02/IMG_9978-scaled.jpg
Hamantaschen made with sourdough discard and a sour cherry jam filling.
You'll Need...
Hamantaschen dough:
170 grams unsalted butter, room temp (use margarine or oil if pareve)
150 grams granulated sugar
113 grams sourdough discard, room temp
1 egg
Grated zest of 1 lemon
5 grams vanilla extract
2 grams salt
256 grams all-purpose flour
8 oz jar homemade sour cherry jam (or any jam will do!)
Granulated sugar for sprinkling
Directions
Dough: In the bowl of your stand mixer, cream the butter with the sugar until light and fluffy. Add the sourdough discard, the egg, zest, vanilla and salt and mix until incorporated. Scrape down the sides of the bowl with a spatula. Mix in the flour on low until it comes together into a dough. Depending on the hydration of your sourdough starter, you may need to add either a little water or more flour to get the desired dough consistency. Pat into a disk, wrap with plastic, and chill in the fridge for at least an hour but up to two days.
Assemble: Line two baking sheets with parchment. Preheat the oven to 350 degrees. Get yourself a small bowl of water to help seal the edges while assembling. On a well floured work surface, roll out the dough to 1/8 inch thickness. Use a 3 inch cutter to cut out your circles. You can re-chill the scraps and re-roll them, or just discard. Plop a teaspoon (do not do more filling than this or they will bubble over into a terrible mess) of jam in the middle of each round. Fold one edge in towards the middle, dab the top with a little water, and bring the second edge over to create an overlap at the top. Repeat with final side so that you see a triangle of jam in the middle, and the edges create a pinwheel design. Use your fingertips to squeeze each point to ensure they seal properly. Transfer to your baking sheet, and repeat with each cookie. Sprinkle over a dusting of granulated sugar.
Bake: Bake for 15 to 20 minutes, or until the edges are golden and the jam is bubbly.
Additional Notes
It helps to look up a video or photos of the folding process.
Make sure your sides are really well crimped together so they don't burst in the oven.
Aren't they so cute?
I love a good thumbprint cookie, and these are so much better because you get more jam!
Happy Purim friends!
Also, big news on the personal front. If you don't follow me on social media, Nevin and I are engaged! He asked me on Valentine's Day and I said duh! Haha. We obviously will be waiting until after Covid for any major plans, but its an exciting time and we're super happy. 🙂