Hello friends! I'm here to share these sourdough soft pretzels. I have to say, I had so much fun making these.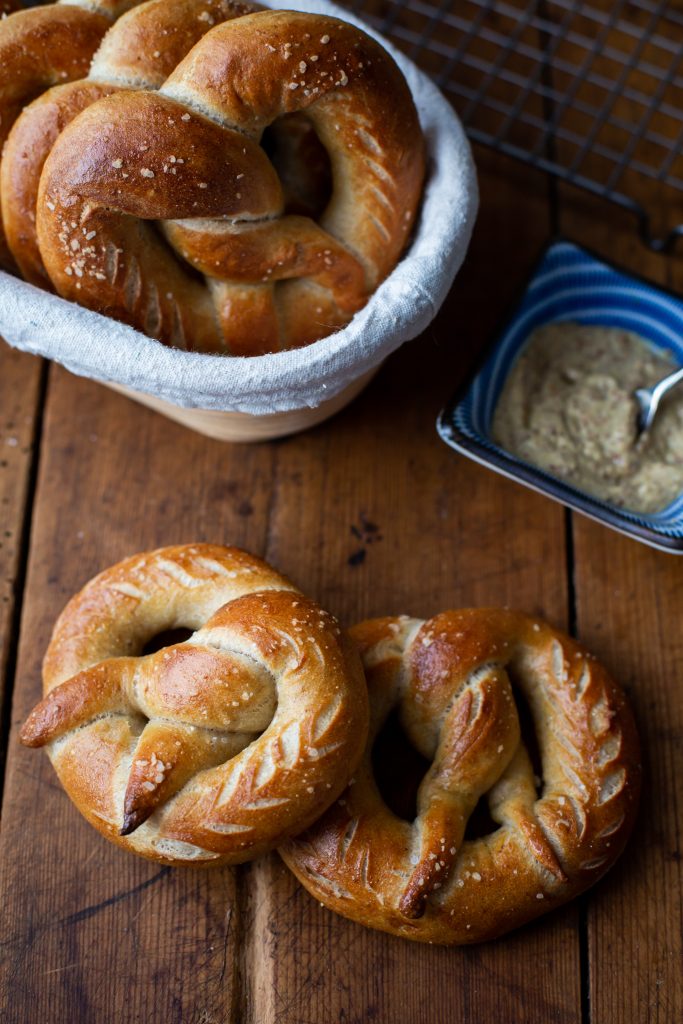 Every time I think of soft pretzels, I'm taken back to some of my favorite trips to Disneyland. Say what you want about Disney, but there are some true treasures in the food scene there.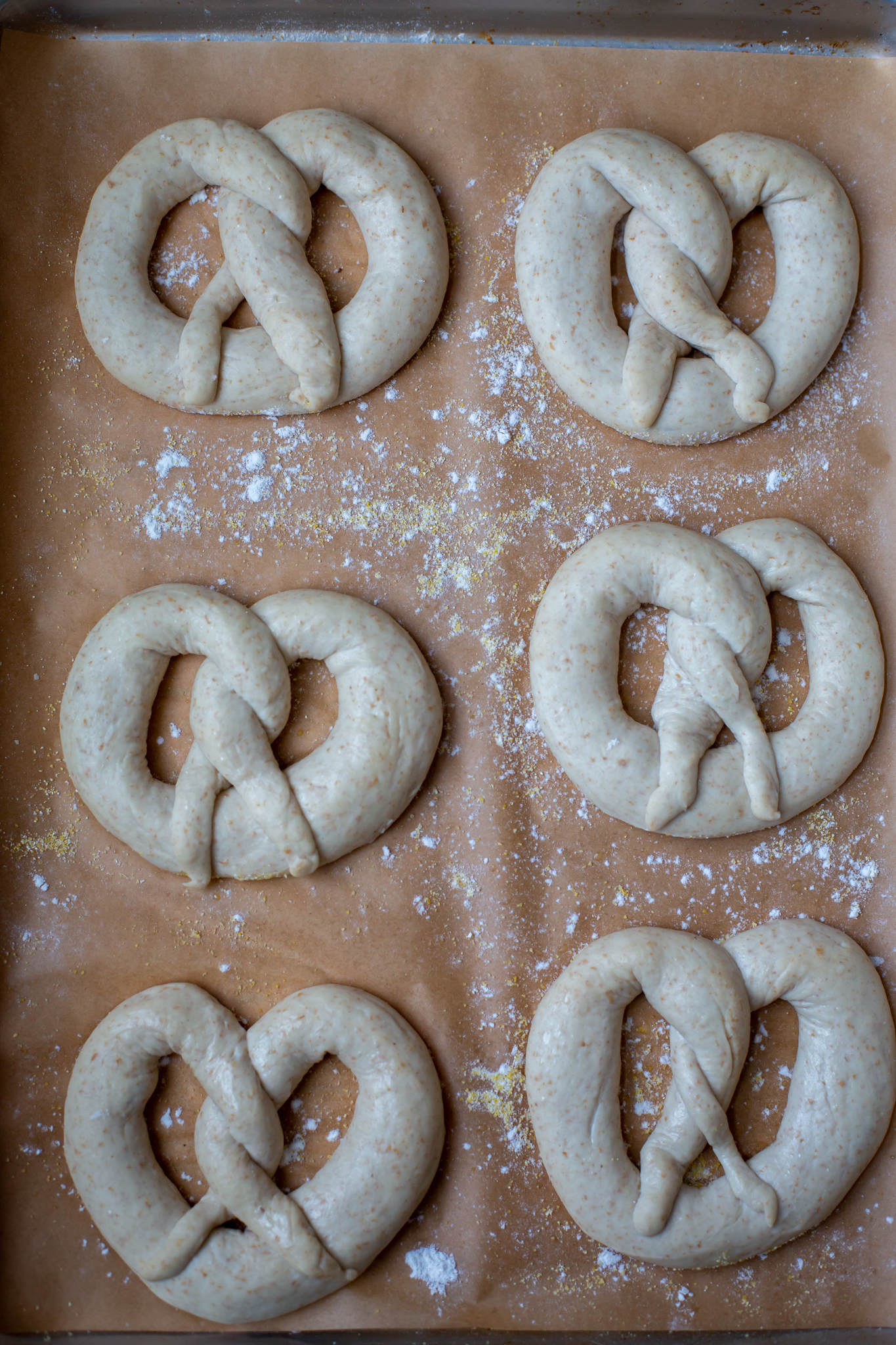 One of my faves is their jalapeño cheddar stuffed soft pretzels. Dipped in yellow mustard. Truly iconic. Haven't been to Disneyland in YEARS, but I can taste it now!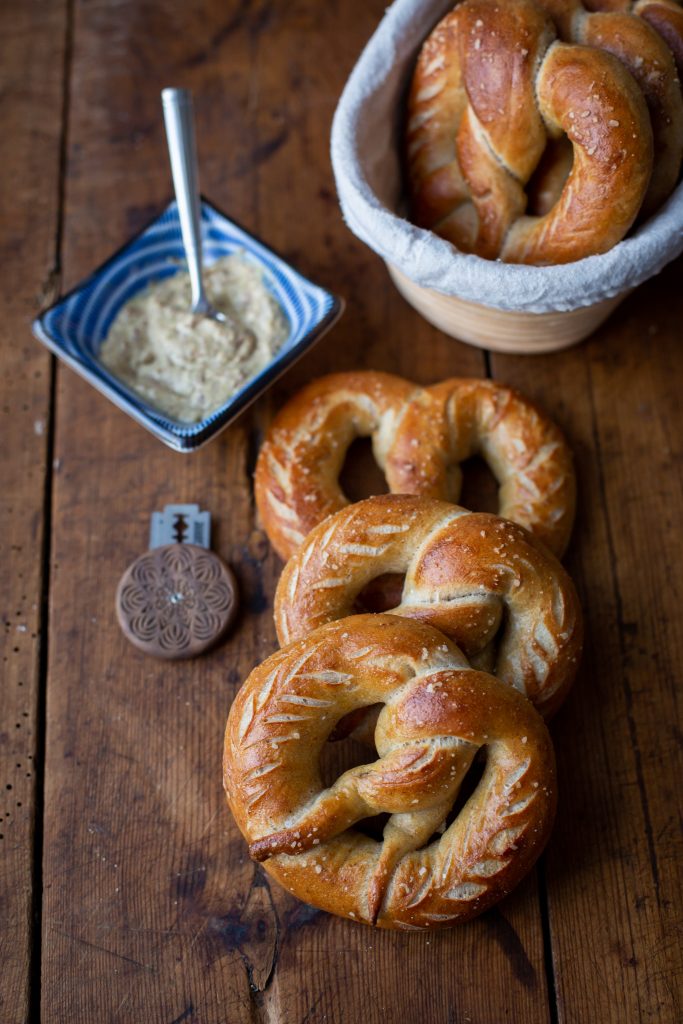 These pretzels don't have a fancy filling, but gosh they are goood. Hot outta the oven, they're crisp on the outside and chewy and tangy on the inside. All you need is a grainy mustard, but they'd also be amazing with a beer cheese sauce or something equally as decadent.
Now, I was a bit too scared to delve into using lye, which is traditionally how pretzels get that signature brown shiny color and alkaline-y tang. These babies are more simply boiled in a baking soda bath like bagels (in fact, these are actually made with my Sourdough Bagel dough recipe). Though they don't get quite the color as the lye provides, they're still super tangy and delish!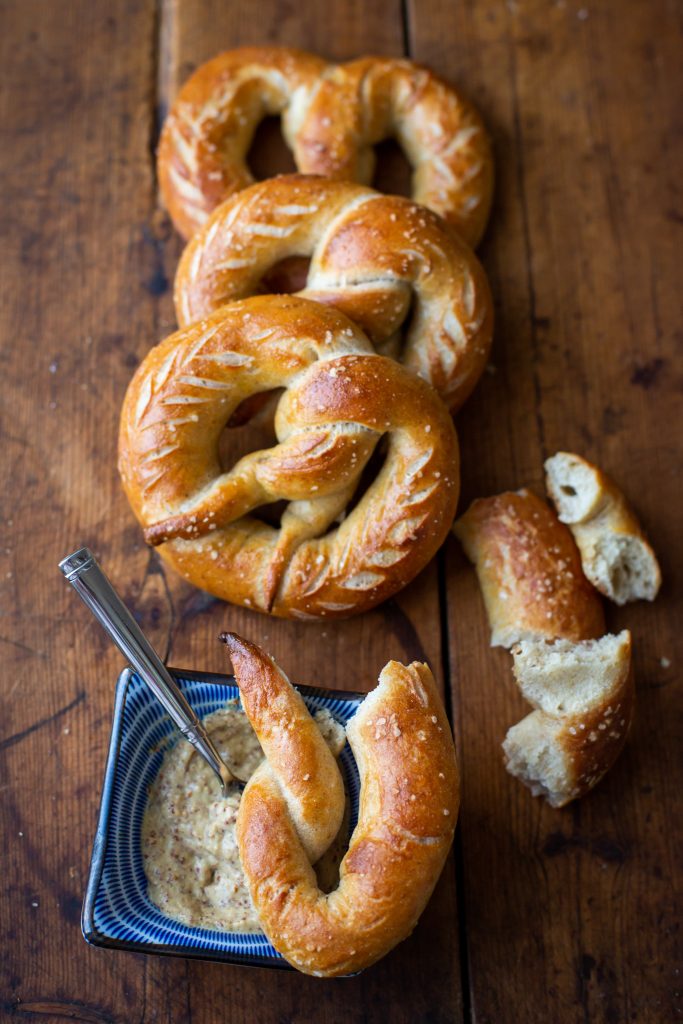 Sourdough Soft Pretzels
From
Mostly Sourdough
at
https://mostlysourdough.com/2022/03/sourdough-soft-pretzels/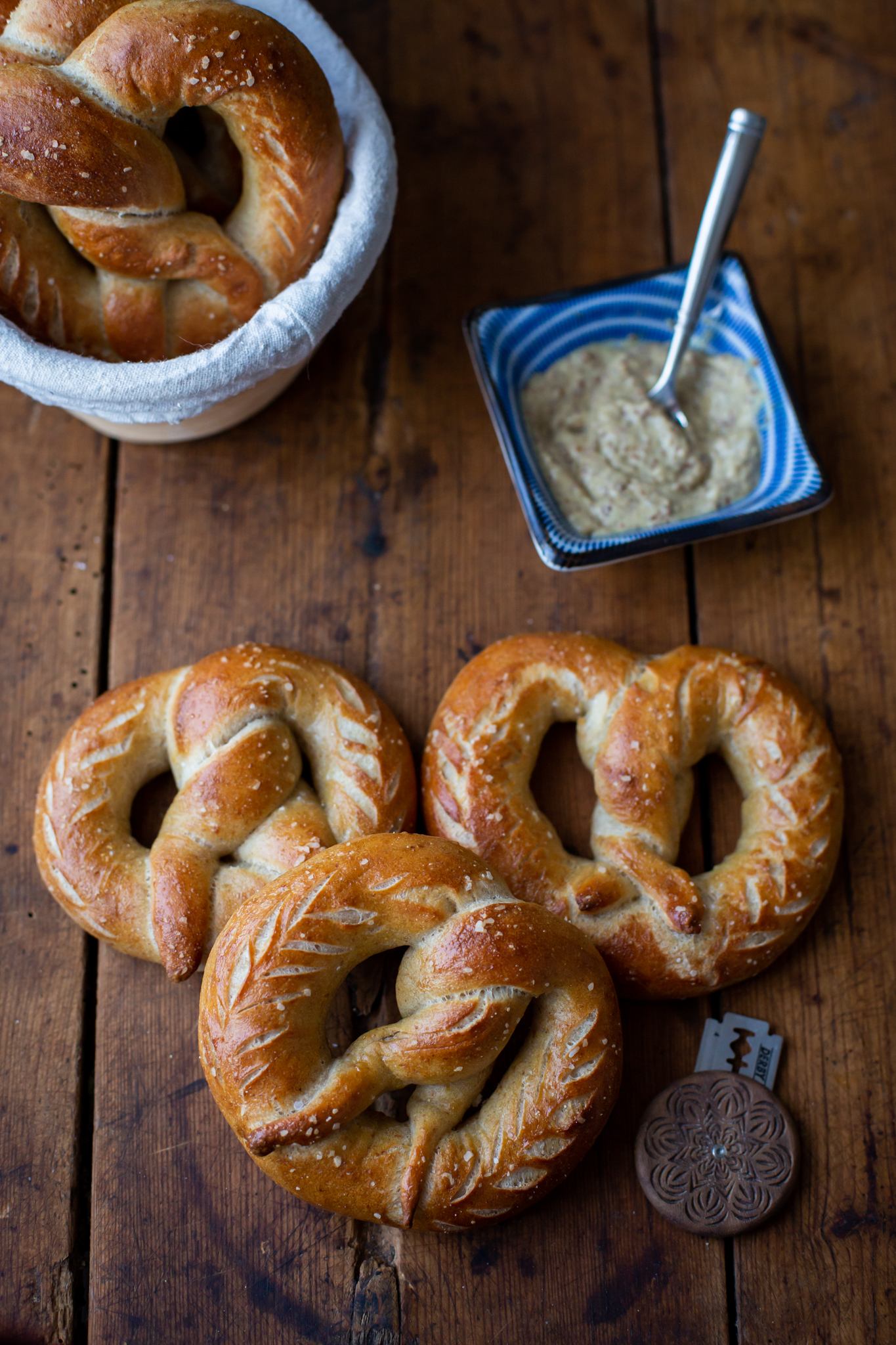 https://mostlysourdough.com/wp-content/uploads/2022/03/BH1A0667.jpg
Chewy and tangy soft pretzels made with sourdough starter.
You'll Need...
Levain:
1 tablespoon sourdough starter
50 grams white bread flour
50 grams whole wheat flour
100 grams water, room temp
Dough:
375 grams water, room temperature
700 grams white bread flour
42 grams honey
17 grams salt
For baking & toppings:
6 cups water (for boiling)
2 tablespoons baking soda (for boiling)
1 egg, whisked (for topping)
Desired toppings (coarse salt, poppy seeds, sesame seeds, everything seasoning)
Directions
Levain (the night before mixing): Mix together the levain ingredients in a small mixing bowl and cover with a towel. Leave at room temp overnight until active and bubbly.
Dough Mix: The next morning, combine the water, levain, and flour and mix until it comes to a shaggy ball. Allow to rest for 30 minutes up to 1 hour (this is considered the autolyse step). Next add the salt and honey, and pinch it into the dough to incorporate. Knead the dough in the bowl or on a work surface until it starts to smooth out (no more than 5 minutes). Transfer to an oiled bowl covered with a towel. This can also be mixed in a stand mixer with the dough hook attachment.
Bulk Fermentation: The bulk ferment for this dough is somewhat flexible, between 3 and 5 hours depending on how active your levain is. You want to give it 3 stretch and folds/turns over 2-3 hours at 30 minute intervals. If the dough is still slow and doesn't look like it has increased much, let it rest for another hour or two to give it a chance to bulk up.
Divide/Pre-Shaping: Line 2 baking sheets with parchment, and liberally sprinkle them with corn meal and flour. Transfer the dough to an un-floured work surface. Divide it into 12 even portions (at about 115 grams each). Pre-shape the pretzels into little rectangles to make it easier to roll them out. Allow the pre-shaped pieces to rest at room temperature for 20-30 minutes (cover with a tea towel).
Shape and final proof: One at a time, roll each piece of dough into a long rope about 20-24 inches long. Make a u-shape with the rope, and twist the ends over each other twice before bringing them to the bottom of the u. Press the ends gently down so that they adhere well. Transfer them to the prepared baking sheets (6 per pan). Allow the pretzels to sit at room temperature for about 30 minutes for a final rest/proof.
Boil & Bake: Preheat the oven to 450 degrees. Put the pretzels in the fridge while the oven preheats so that they are easier to pick up. To a large wide pot, add 6 cups of water and mix in the baking soda. Bring to a boil, and then reduce to a consistent simmer. Prepare a wire cooling rack with a dish towel underneath next to the oven so you can drain the pretzels as you go. Also line 2 baking sheets with parchment and dust with cornmeal (or if you only have 2 baking sheets, have the tools at the ready so when you remove your proofed pretzels to boil them, you can re-prep the pans).
Boil & Bake: Once the oven is preheated you can start boiling. Add 2 pretzels to the water at a time (depending on how large the pot is), and boil for 20-30 seconds. They may look a bit flat after boiling, but they puff back up in the oven. Transfer to the cooling rack to drain before starting the next batch. Put 6 boiled pretzels on each baking sheet. Brush the pretzels with the egg wash, and sprinkle with desired toppings. You can score the pretzels if you'd like using a razor or lame. Bake for 20-22 minutes until nice and golden.
The pretzels can be frozen in a single layer on a baking sheet and then popped into a baggy for saving; just pull them out as you want to eat them. They can be thawed in the microwave for ~30 seconds, or in a few hours at room temp.
Additional Notes
Just like sourdough loaves, these pretzels are a 3 day process so plan ahead!
These are best hot out of the oven, but they can easily be reheated and enjoyed. You can also freeze them and reheat them that way.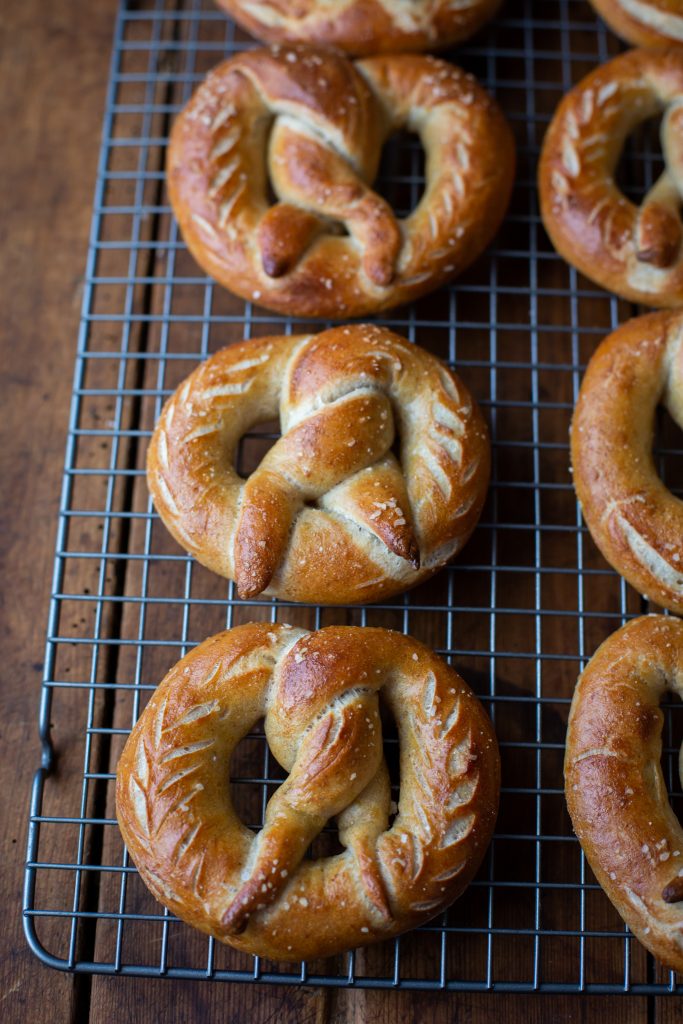 Chewy and tangy pretzels! Gimme some mustard and a beer, and I'm good. 🙂