Hey hey out there.
Yes, I know, I'm bringing you yet another sourdough recipe.
You could say I have an obsession, but to be fair I've been baking with sourdough for over 7 years and I'm taking advantage of the world's band-wagon jumping to share some of my fave bakes.
These sourdough bagels are SO good. We devoured them within a few days the first time I made them. Just Nev and I. 12 bagels. They're that good.
Now, since these are naturally leavened they do take the typical 3 days to make from starting the levain to finally boiling/baking but they are well worth the wait I PROMISE.
One of the best things about this is if you follow the Tartine method for sourdough bread baking, these bagels use up the exact amount of levain leftover from the country loaves! But I've made the recipe so you can start a levain specifically for these if you aren't baking bread.
Top 'em with whatevah your little heart desires. I made them all with everything seasoning this time through because they were our favorite. I also made my own everything seasoning since we haven't been able to get to Trader Joe's with all the madness.
Sourdough Bagels
From
Mostly Sourdough
at
https://mostlysourdough.com/2020/05/sourdough-bagels/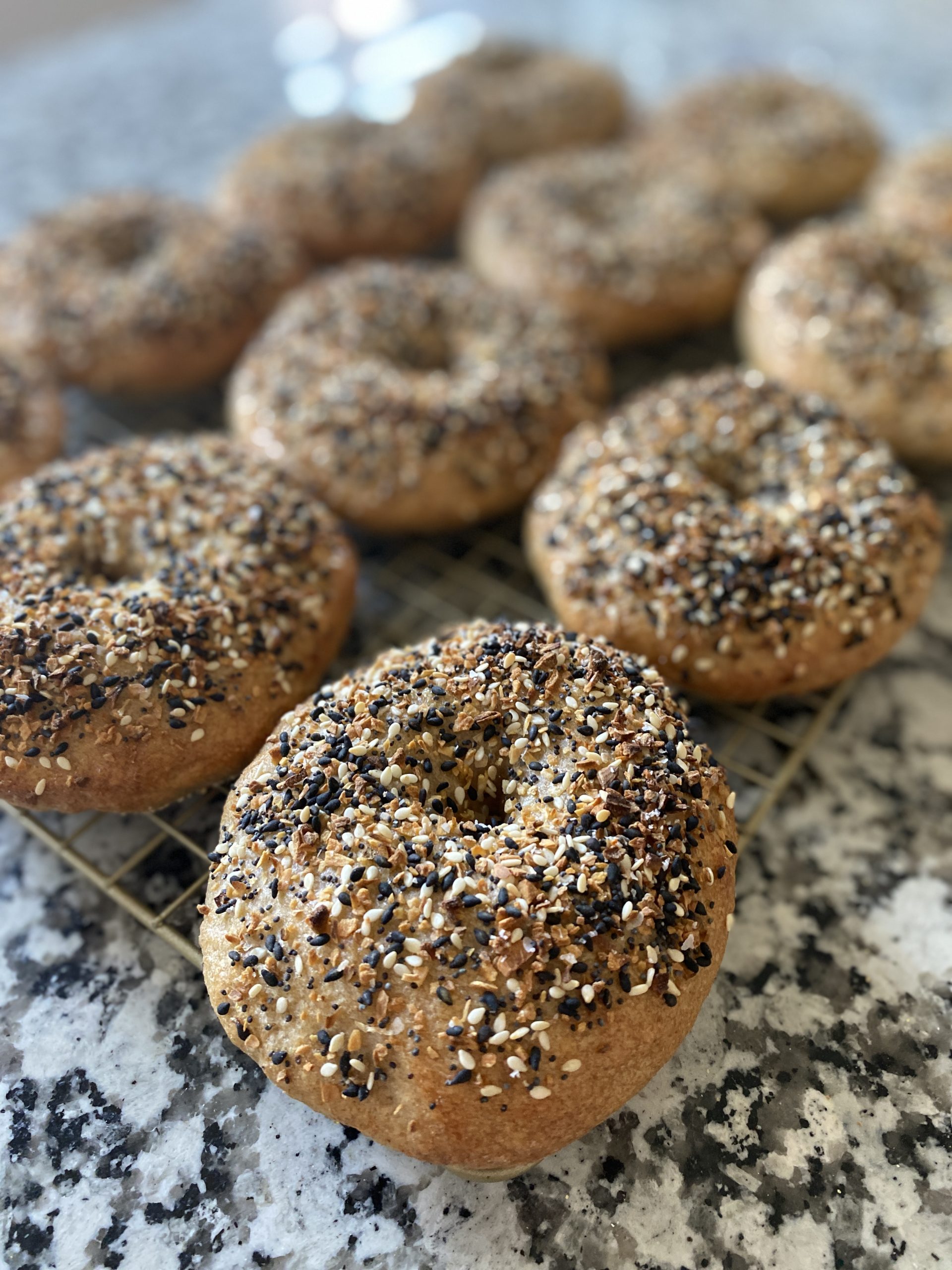 https://mostlysourdough.com/wp-content/uploads/2020/05/IMG_4370-scaled.jpg
Naturally leavened bagels perfect for your favorite toppings!
You'll Need...
Levain:
1 tablespoon sourdough starter
50 grams white bread flour
50 grams whole wheat flour
100 grams water, room temp
Dough:
375 grams water, room temperature
700 grams white bread flour
42 grams honey
17 grams salt
For baking & toppings:
1/4 cup granulated sugar (for boiling)
2 teaspoons baking soda (for boiling)
1 egg white, whisked (for topping)
Desired toppings (poppy seeds, sesame seeds, everything seasoning)
Directions
Levain (the night before mixing): Mix together the levain ingredients in a small mixing bowl and cover with a towel. Leave at room temp overnight until active and bubbly.
Dough Mix: The next morning, combine the water, levain, and flour and mix until it comes to a shaggy ball. Allow to rest for 30 minutes up to 1 hour (this is considered the autolyse step). Next add the salt and honey, and pinch it into the dough to incorporate. Knead the dough in the bowl or on a work surface until it starts to smooth out (no more than 5 minutes). Transfer to an oiled bowl covered with a towel.
Bulk Fermentation: The bulk ferment for this dough is somewhat flexible, between 3 and 5 hours depending on how active your levain is. You want to give it 3 stretch and folds/turns over 2-3 hours at 30 minute intervals. If the dough is still slow and doesn't look like it has increased much, let it rest for another hour or two to give it a chance to bulk up.
Divide/Shaping: Line 2 baking sheets with parchment, and liberally sprinkle them with corn meal and flour. Transfer the dough to a floured work surface. Divide it into 12 even portions (at about 115 grams each). You can pre-shape the bagels into tight little balls if you are going to poke a hole through them, or leave them as blobs and then roll them out into even logs and attach the ends to make a circle. I prefer the poke. Place each shaped bagel on the baking trays (6 per tray), stretching out the holes a little as you go since they will relax back in a bit.
Overnight Proof: Wrap the baking sheets in plastic wrap, and allow to sit at room temperature for 30 minutes to jump start the proof. Then stick them in the fridge overnight until the next morning.
Final Proof: The next morning, remove the bagels from the fridge and allow to sit at room temp for an hour or so. Preheat the oven to 450 degrees. To a large wide pot, add 1 gallon of water and mix in the sugar and baking soda. Bring to a boil, and then reduce to a consistent simmer. Prepare a wire cooling rack with a dish towel underneath next to the oven so you can drain the bagels as you go. Also line 2 baking sheets with parchment and dust with cornmeal (or if you only have 2 baking sheets, have the tools at the ready so when you remove your proofed bagels to boil them, you can re-prep the pans).
Boil & Bake: Once the oven is preheated you can start boiling. Add 3-4 bagels to the water at a time (depending on how large the pot is), and boil for 30 seconds, flip them and then another 30 seconds. They may look a bit flat after boiling, but they puff back up in the oven. Transfer to the cooling rack to drain before starting the next batch. Put 6 boiled bagels on each baking sheet. Brush the bagels with the egg white, and sprinkle with desired toppings. Bake for 20-22 minutes until nice and golden.
The bagels can be frozen in a single layer on a baking sheet and then popped into a baggy for saving; just pull them out as you want to eat them. They can be thawed in the microwave for ~30 seconds, or in a few hours at room temp.
Additional Notes
Just like sourdough loaves, these bagels are a 3 day process so plan ahead!
This recipe is in grams because it is easier/more accurate to measure by weight. If you need alternative measurements feel free to message me.
I have always loved bagels, and we have a favorite shop back at home that we go to anytime we're back in town. Bartons! We miss you!
So these little sour bagel babes are helping get me through my longing for Bartons. Plus they're sourdough. So that's a win win in my book.