Hi friends. Apologies for the mini-absence. Honestly, given everything going on with the Coronavirus, racial justice movement and never-ending turbulent politics, it felt wrong to be sharing frivolous recipes in this space with so many people hurting.
But my silence on this blog doesn't mean that I haven't been doing what I can to better educate myself on how to be actively anti-racist and understanding the ramifications of white privilege, amplifying BIPOC voices, donating where I can and having tough conversations with people in my circle. It's okay to be growing and learning in this time. But we gotta do the work. It's not on BIPOC people to teach us these things. Here is a link to some good resources to get started if you need.
Today I am back to the blog because I have decided to post some homemade graham crackers for s'mores, the perfect summer treat! With all of the quarantining, I have yet to enjoy some of my favorite parts of summer.
S'mores are a quintessential camping dessert. Roasting marshmallows and sitting around a roaring fire laughing with friends and/or family is just one of the best ways to celebrate, and as I'm sure most are, I am really missing that feeling of being around the people I love. So s'mores are here to help.
Here's the fun part: We're making SOURDOUGH graham crackers from scratch! (duh, do you guys even know me by now?) Great way to use up sourdough discard, and to sneak some whole wheat flour into your dessert.
If you were super into this idea, you could even use bean-to-bar chocolate and homemade marshmallows to make a truly scratch-made s'more. That's really going above and beyond, or gilding the lily (so of course I considered it). This time around I opted for some dark chocolate and Dandie's vegan marshmallows because I don't eat gelatin. Perhaps I'll do a vegetarian marshmallow on the blog next! 🙂
Sourdough Graham Crackers for S'mores
From
Mostly Sourdough
at
https://mostlysourdough.com/2020/07/sourdough-graham-crackers/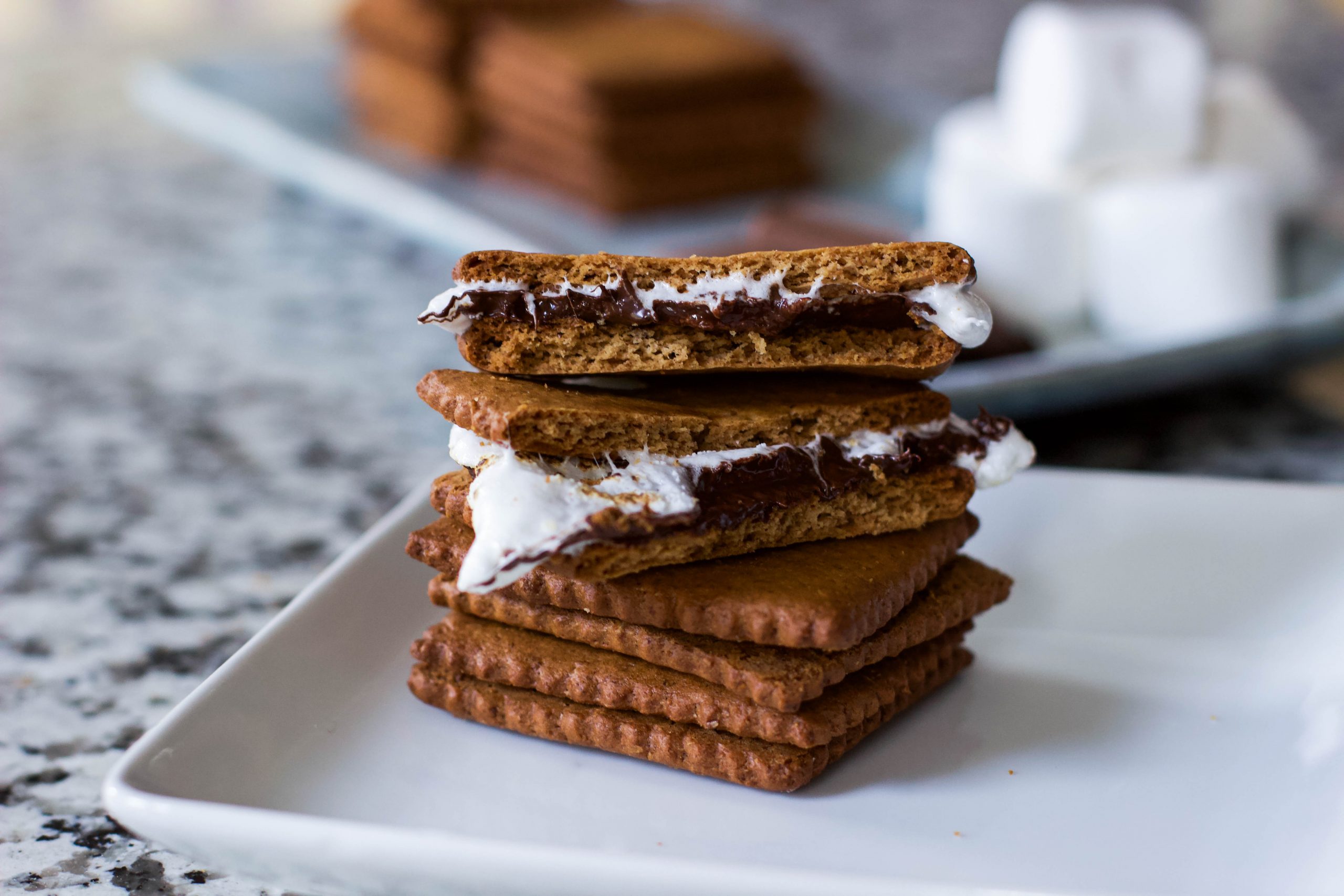 https://mostlysourdough.com/wp-content/uploads/2020/07/IMG_8867-scaled.jpg
Yield:

36 graham crackers
Graham crackers made with sourdough discard for a slightly healthier spin on s'mores!
You'll Need...
Sourdough Graham Crackers:
4 oz unsalted butter, room temp
1/2 cup brown sugar
1/4 cup honey
1 tsp baking soda
1 tsp cinnamon
1/2 tsp salt
1 cup sourdough discard (*see note below)
1 cup all purpose flour
1 cup whole wheat flour
For S'mores:
Milk or dark chocolate bars
Marshmallows (I used Dandie's vegan ones)
Directions
Sourdough Graham Crackers: Cream together the butter with the sugar and honey until light and fluffy. Add the baking soda, cinnamon and salt, and mix to combine. Scrape down the sides of the bowl with a rubber spatula. Add the sourdough starter and flours, and mix until it just starts to come together. Do not over mix. Divide the dough into two, and pat into a rectangle, then wrap and chill in the refrigerator for at least an hour (can store overnight to roll out the next day if desired).
Preheat the oven to 350 degrees. After chilling, roll out the dough between two sheets of parchment paper to about 1/8 inch thick. If the dough gets too soft while you're rolling it transfer it with the parchment to a baking sheet and chill until it is easier to work with. Cut into 2 1/2" squares and dock as desired with a fork. You can re-chill, and re-roll out the scraps.
Place the crackers on parchment lined sheet pans and freeze for about 15 minutes. Then bake for 15-22 minutes until golden and crisp. Keep an eye on them, you may need to do some rotating of the cookies part way through so they bake evenly. Allow to cool on the trays before serving or transfer to an airtight container (should last 5-7 days).
S'more assembly: Toast your marshmallows over a fire, on a grill, or using your oven or stove. Assemble the s'more by placing a piece of chocolate on a graham cracker, topping with the toasty 'mallow, then sandwich with another graham cracker and enjoy.
Additional Notes
* This can be active/ refreshed starter, or discard that you've kept in the fridge. My sourdough starter is 100% whole wheat, and it's 100% hydration. Depending on how you keep your starter, you may need to adjust the flour quantity in this recipe to get the right consistency for rolling out. When in doubt, chill the dough down really well before trying to roll it out, and keep it as cold as you can.
I hope these s'mores can bring some happiness and comfort to you. Times are tough and uncomfortable right now. People in this country are understandably angry, scared and frustrated with everything going on. All I can say is please stay home as much as you can, wear your masks, wash your hands, and for the love of mother nature, VOTE in November.
When things are so up in the air and uncertain, I find that baking helps to ground me and calms my nerves. Hopefully these fun lil s'mores can help you too!