Hey there! Today I'm bringing you a super easy recipe that will surely make your life so much more flavorful and fun.
If you've never heard of a shrub, they are the most wonderful little drinking vinegars that can help to spruce up any cocktail or non-alcoholic spritzer. They are so simple, but versatile! I love fermentation.
I dunno about the rest of the world, but Pittsburgh has suddenly had a change of heart in its weather department and we are quickly going into the warm and humid part of the year. I'm relieved to say g'bye to winter, but also hoping to savor this milder end of Spring because soon it will be unbearably hot. Still getting used to the extremes here. Not entirely sure I'm adjusting all that well.
But yay! It's Spring! And fruit season is upon us. And with that, soon come the balmy days that demand refreshing beverages.
This shrub is so incredibly easy, and can be adapted to use whatever fruit your little heart desires. The general ratio is 1:1:1 of fruit, sugar and vinegar. I chose strawberry rhubarb because rhubarb is only around for a short little bit, and I wanted to be able to preserve some of its flavor for the coming months.
Strawberry Rhubarb Shrub
From
Mostly Sourdough
at
https://mostlysourdough.com/2020/05/strawberry-rhubarb-shrub/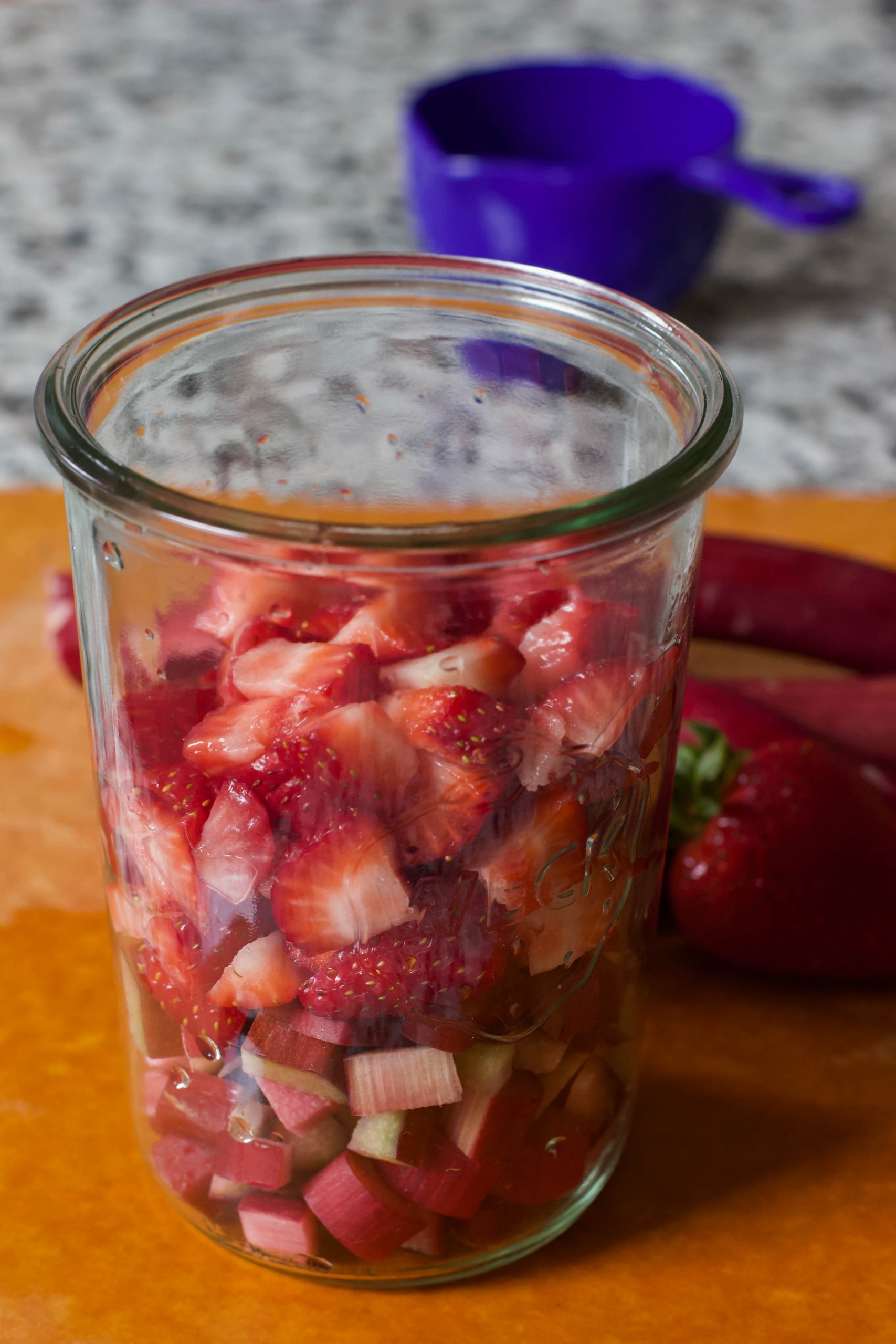 https://mostlysourdough.com/wp-content/uploads/2020/05/IMG_6209-scaled.jpg
A delicious drinking vinegar flavored with strawberries & rhubarb. Perfect in a cocktail or non-alcoholic spritzer.
You'll Need...
2 cups (or 1 pound) chopped fruit (1 cup strawberries, 1 cup rhubarb)
2 cups sugar
1 1/2 to 2 cups apple cider vinegar
Sparkling water (to serve)
Directions
In a small mixing bowl or large jar, combine the fruit with the sugar and toss together to coat evenly. Slightly mash the fruit with the spoon/spatula as you mix to start breaking down the juices. Cover with a towel.
Allow to sit at room temperature for about 2 days, stirring the mixture once each day. The timing on this is somewhat flexible; you can let it sit for a little longer if you'd like to encourage more wild fermenty flavors. Just be careful of mold growth if you let it sit for too long.
When ready to finish the shrub, strain out the fruit. Combine the fruit syrup with equal parts vinegar, adding it slowly in batches and tasting as you go until you reach a desired flavor. Transfer to a jar, and store in the refrigerator (it will last for several months). Serve over ice with sparkling water or in your favorite cocktail!
This shrub is SO good with a gin drink like a Tom Collins, which has been my boozy drink of choice these days. It would also be amazing in a margarita, or even a daiquiri. We hit the state liquor store the day they reopened to restock our bar cart, and have been having way too much fun coming up with new takes on our fave cocktails.
But if you're not into the hard drinking, this is even more refreshing poured over a glass of iced sparkling water. YES to hydrating with fun fruity vinegars.