I was on a mission to recreate my favorite bagel from a bagel shop in my hometown (shoutout to Barton's Bagels in Marin County!), and I think I finally nailed it!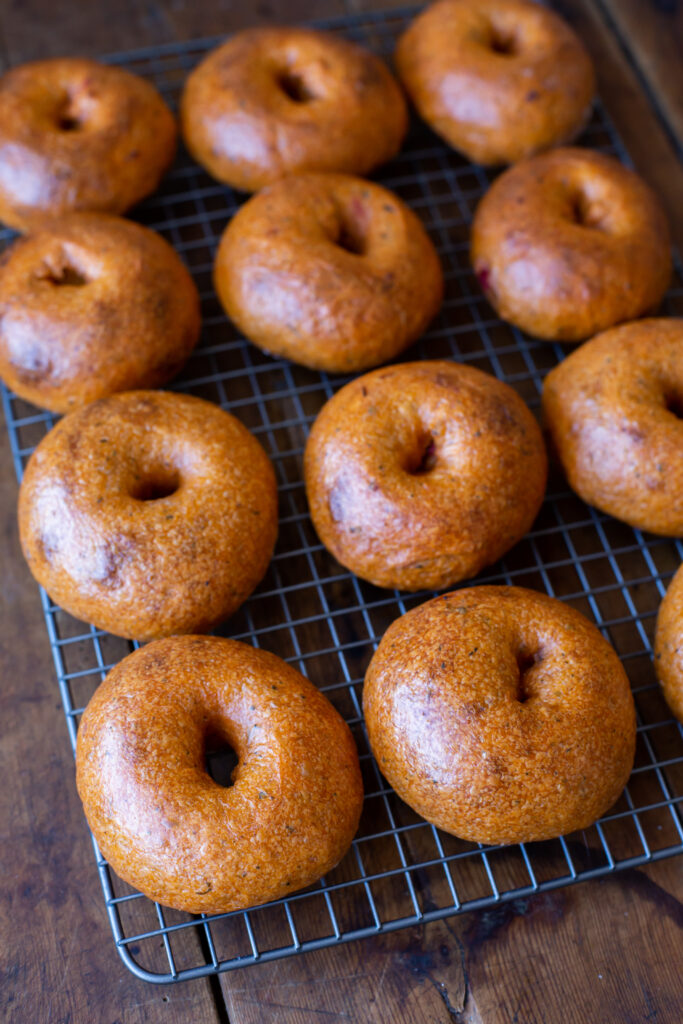 My go-to bagel is always their tomato basil bagel with sun dried tomato cream cheese. I've actually never seen another bagel shop that serves something similar. And I rarely get to visit California much these days now that we live in Pittsburgh. So I was in need of my tomato bagel-fix.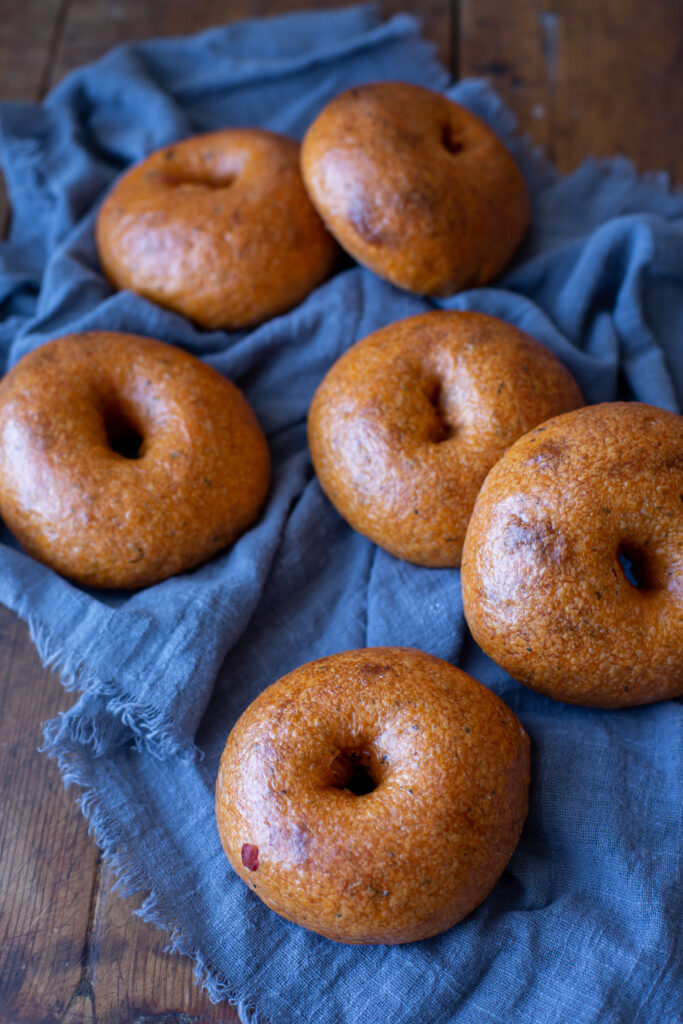 I was determined to make a sourdough version of their tomato basil bagel, using my regular Sourdough Bagel recipe as the base. I added jarred tomato sauce and dried basil, swapping out the honey and reducing the salt a bit to account for the seasoning in the sauce.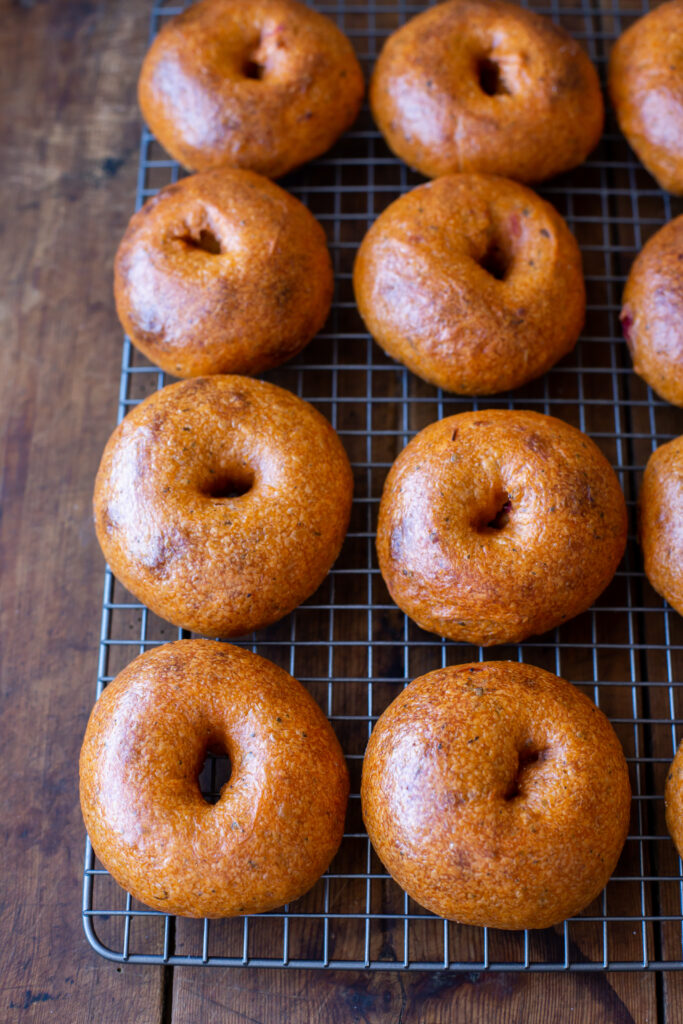 They turned out exactly how I was hoping they'd taste. Another key to the nostalgic flavors here is using sun-dried tomato cream cheese (you can easily make your own, or a specialty store may have some pre-made).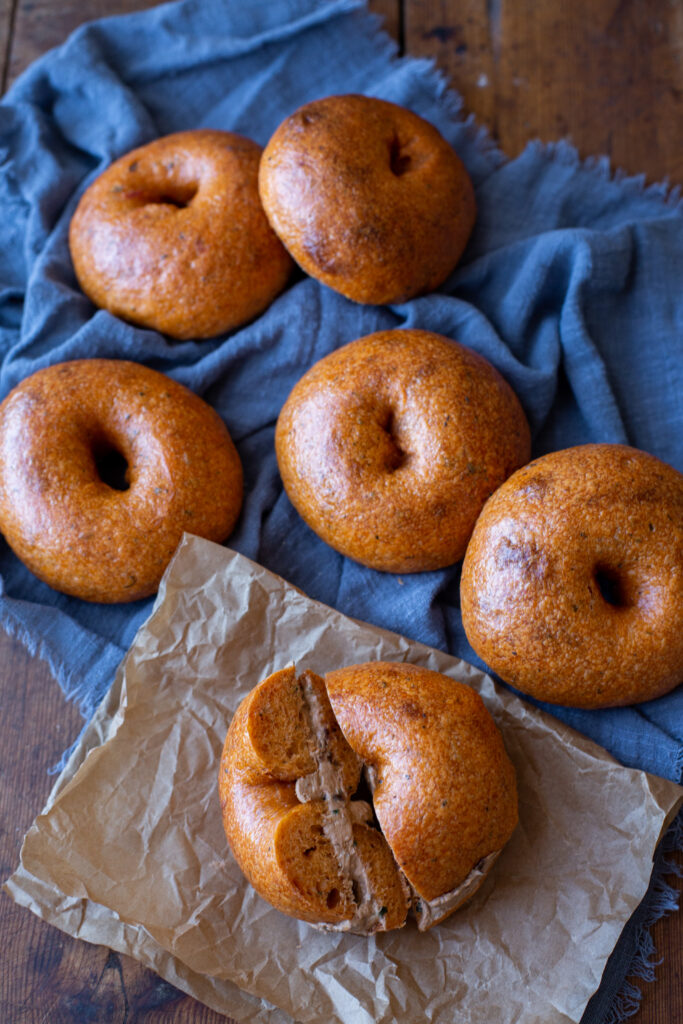 Sourdough Tomato Basil Bagels
From
Mostly Sourdough
at
https://mostlysourdough.com/2023/04/sourdough-tomato-basil-bagels/
Chewy and delicious sourdough bagels flavored with tomato sauce and basil.
You'll Need...
Levain:
1 tablespoon sourdough starter
50 grams white bread flour
50 grams whole wheat flour
100 grams water, room temp
Dough:
350 grams tomato sauce
100 grams water, room temperature
700 grams white bread flour
15 grams salt
5 grams dried basil
For baking & topping:
1/4 cup granulated sugar, for boiling
2 teaspoons baking soda, for boiling
Sun dried tomato cream cheese, for serving
Directions
Levain (the night before mixing): Mix together the levain ingredients in a small mixing bowl and cover with a towel. Leave at room temp overnight until active and bubbly.
Dough Mix: The next morning, combine the levain with the remaining dough ingredients and mix until it comes to a shaggy ball. Allow to rest for 30 minutes up to 1 hour. After resting, knead the dough in the bowl or on a work surface until it starts to smooth out (no more than 5 minutes). Transfer to an oiled bowl covered with a towel.
Bulk Fermentation: The bulk ferment for this dough is somewhat flexible, between 3 and 5 hours depending on how active your levain is. You want to give it 3 stretch and folds/turns over 2-3 hours at 30 minute intervals. If the dough is still slow and doesn't look like it has increased much, let it rest for another hour or two to give it a chance to bulk up.
Divide/Shaping: Line 2 baking sheets with parchment, and liberally sprinkle them with corn meal and flour. Transfer the dough to a floured work surface. Divide it into 12 even portions (at about 115 grams each). You can pre-shape the bagels into tight little balls if you are going to poke a hole through them, or leave them as blobs and then roll them out into even logs and attach the ends to make a circle. I prefer the poke. Place each shaped bagel on the baking trays (6 per tray), stretching out the holes a little as you go since they will relax back in a bit.
Overnight Proof: Wrap the baking sheets in plastic wrap, and allow to sit at room temperature for 30 minutes to jump start the proof. Then stick them in the fridge overnight until the next morning.
Final Proof: The next morning, remove the bagels from the fridge and allow to sit at room temp for an hour or so. Preheat the oven to 450 degrees. To a large wide pot, add 1 gallon of water and mix in the sugar and baking soda. Bring to a boil, and then reduce to a consistent simmer. Prepare a wire cooling rack with a dish towel underneath next to the oven so you can drain the bagels as you go. Also line 2 baking sheets with parchment and dust with cornmeal (or if you only have 2 baking sheets, have the tools at the ready so when you remove your proofed bagels to boil them, you can re-prep the pans).
Boil & Bake: Once the oven is preheated you can start boiling. Add 3-4 bagels to the water at a time (depending on how large the pot is), and boil for 30 seconds, flip them and then another 30 seconds. Transfer to the cooling rack to drain before starting the next batch. Put 6 boiled bagels on each baking sheet. Bake for 20-22 minutes until nice and golden.
The bagels can be frozen in a single layer on a baking sheet and then popped into a baggy for saving; just pull them out as you want to eat them. They can be thawed in the microwave for ~30 seconds, or in a few hours at room temp.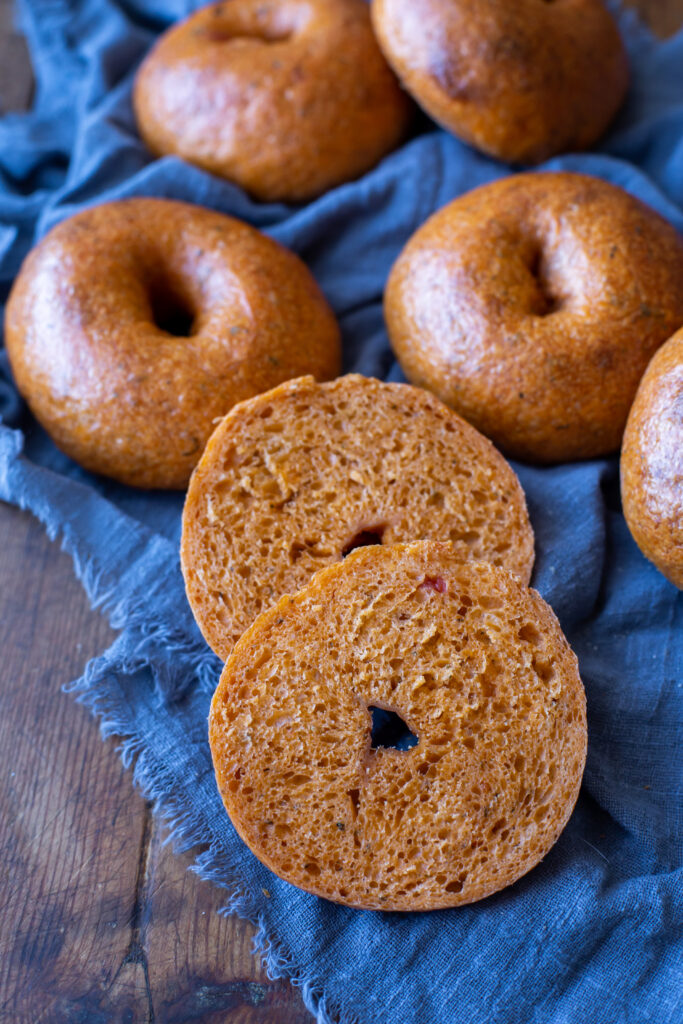 I'm so happy with how these came out, and I can't wait to keep experimenting with more bagel flavors.