Hi friends! Here are some seriously decadent cookies to put you in the mood for warmer weather ahead.
I know, we literally just hit spring…but I'm already dreaming of all the best summer bakes, and s'mores are always a fave!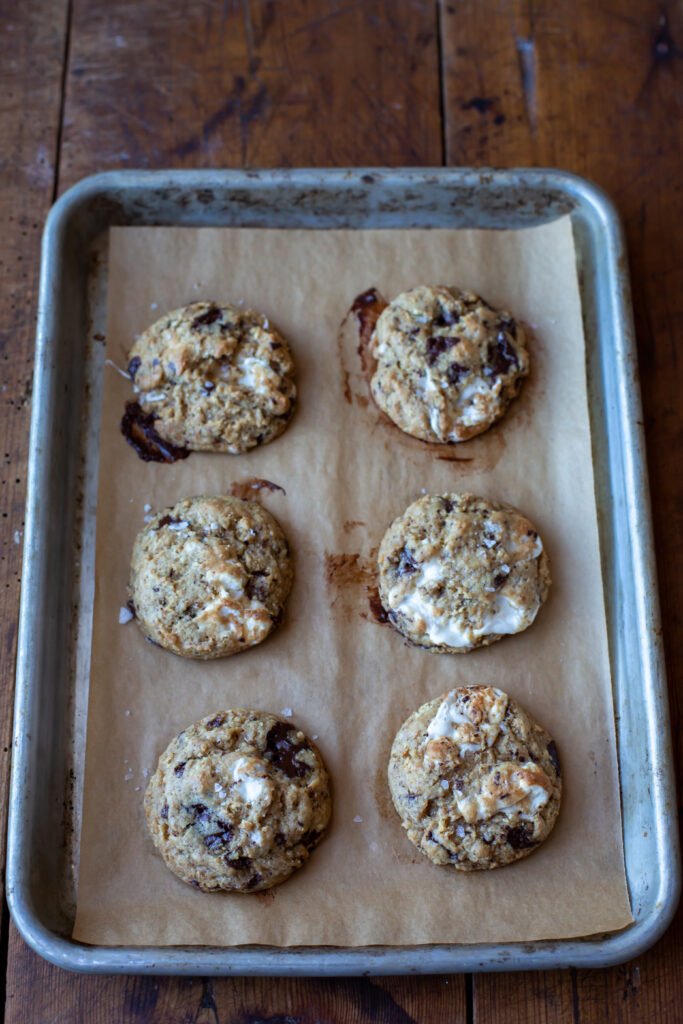 These s'mores flavored sourdough discard cookies are incredible! Gooey marshmallows and dark chocolate; a match made in heaven. And using graham cracker crumbs in the dough help really sell these as a great vehicle for all those flavors.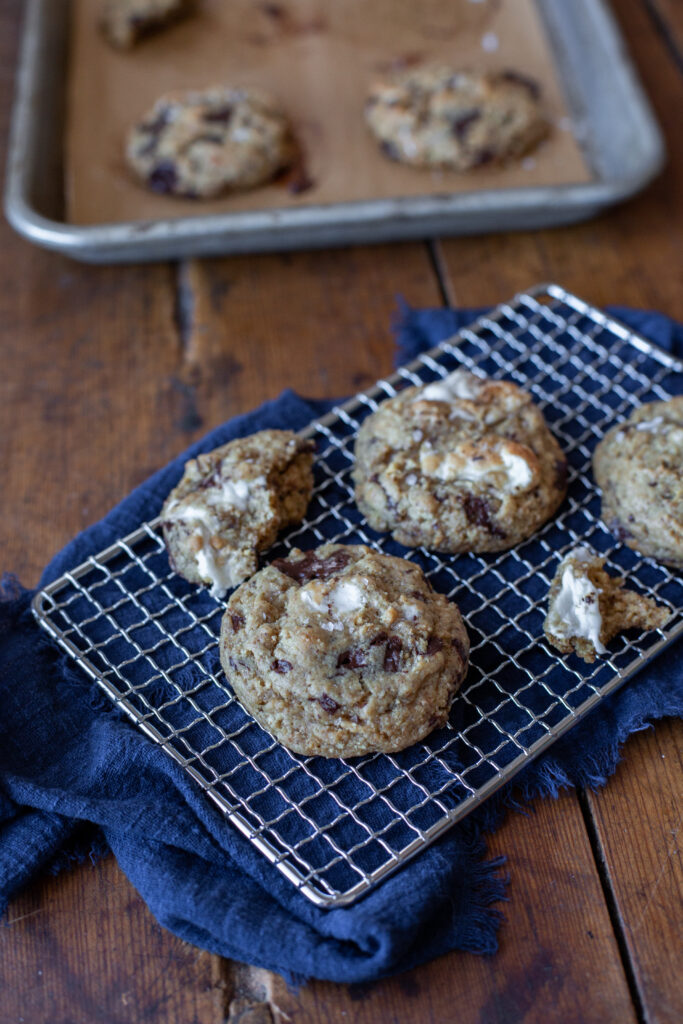 I did use Dandie's vegetarian marshmallows in these because I don't eat gelatin, but they should work just fine with regular 'mallows. These also work with chocolate chips instead of chopped chocolate, but I prefer the larger pockets of dark chocolate here.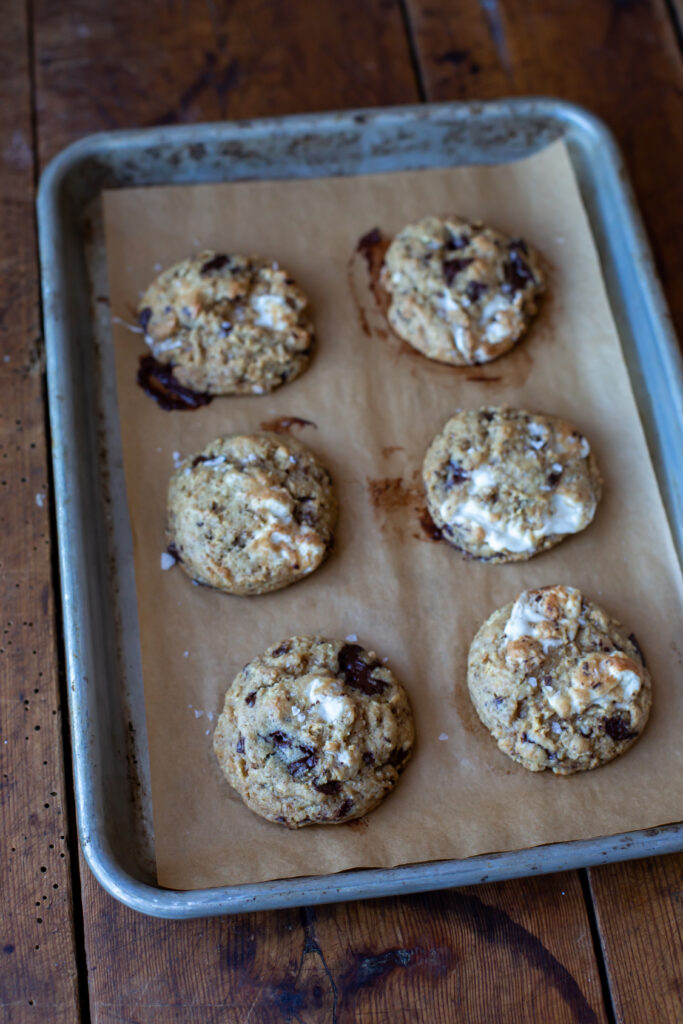 Now, if only we could skip over the cold weather that I know we're still in for before the warmth of spring and summer actually come around…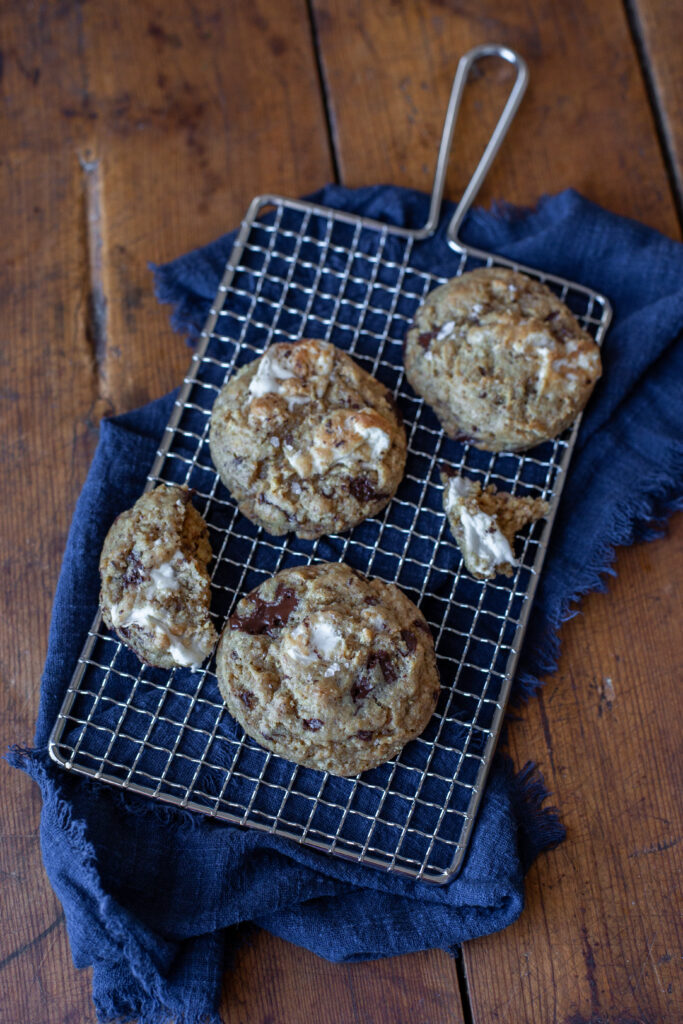 Sourdough S'mores Cookies
From
Mostly Sourdough
at
https://mostlysourdough.com/2023/04/sourdough-smores-cookies/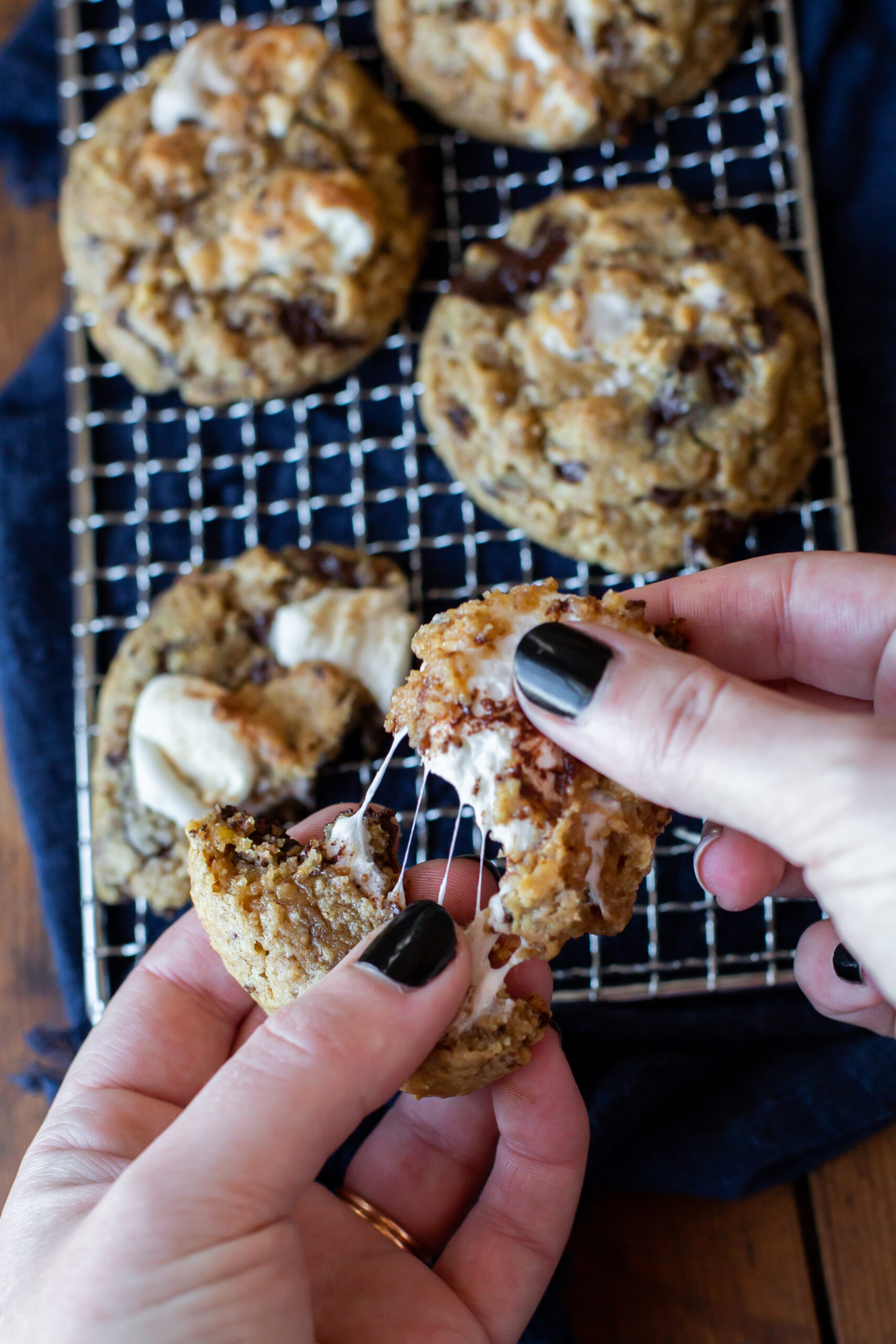 https://mostlysourdough.com/wp-content/uploads/2023/04/BH1A9696-scaled.jpg
Prep:
Cook:
Yield:

2 dozen cookies

Total:
S'mores flavored cookies made with sourdough discard, graham crackers, dark chocolate chunks and gooey marshmallows.
You'll Need...
113 grams unsalted butter, room temperature
75 grams brown sugar
75 grams granulated sugar
1 teaspoon vanilla or vanilla bean paste
1 egg
100 grams sourdough discard
3/4 teaspoon baking soda
3/4 teaspoon salt
2 teaspoons cornstarch
150 grams graham cracker crumbs (plus more if desired for rolling)
150 grams all purpose flour
170 grams dark chocolate, chopped (or chocolate chips)
50 grams mini marshmallows
Flaky sea salt (for topping, optional)
Directions
Preheat the oven to 350 degrees and line two baking sheets with parchment paper.
Cream together the butter, sugars and vanilla in a stand mixer or with a hand mixer until light and fluffy. Add the egg, and mix on medium to combine. Be sure to scrape down the bottom and sides of the bowl with a rubber spatula to incorporate everything. Next, add in the sourdough discard and mix until combined. Add the dry ingredients, and mix on low until it comes together into a dough. Mix in the add ins on low (or by hand with a rubber spatula).
Scoop the cookies using a cookie scoop (or measure to two tablespoons each), and place on the baking sheet. You can roll the dough balls in more graham cracker crumbs if desired. Press a couple extra marshmallows and chocolate on top of each scooped cookie if you want. Leave at least two inches between the cookies on the tray for them to expand. Sprinkle with flaky sea salt if desired.
Bake for 10-11 minutes until golden and set. Whack the baking trays on the counter when they come out of the oven for flatter cookies. You can also do a cookie scoot using a large round cookie cutter if they get a little wonky shaped in the oven (do this when they're still HOT). Eat warm!
Additional Notes
To ensure that you get a gooey marshmallow on top of your cookie, you can reserve some for adding to the top of each scooped cookie before they go in the oven. Just press it into the dough a bit so it stays put.
Freeze the cookie dough: Scoop the cookies onto a baking tray and freeze them until solid. Then pop in a freezer-safe bag to have cookies to bake on hand whenever. Just add a couple minutes to the baking time.
Another great use for your extra sourdough starter laying around.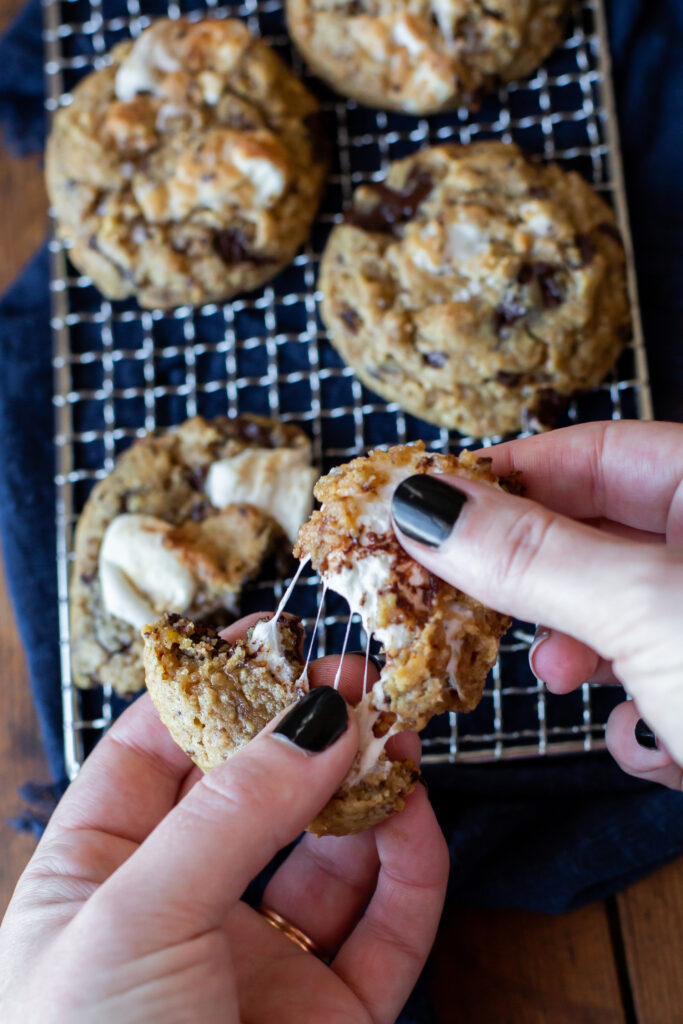 As I usually do with most batches of cookies, I like to scoop these and freeze them to have cookies on hand to bake whenever. Just add a couple of minutes to the baking time!