Hello friends! It's finally Spring, and I am so ready for it.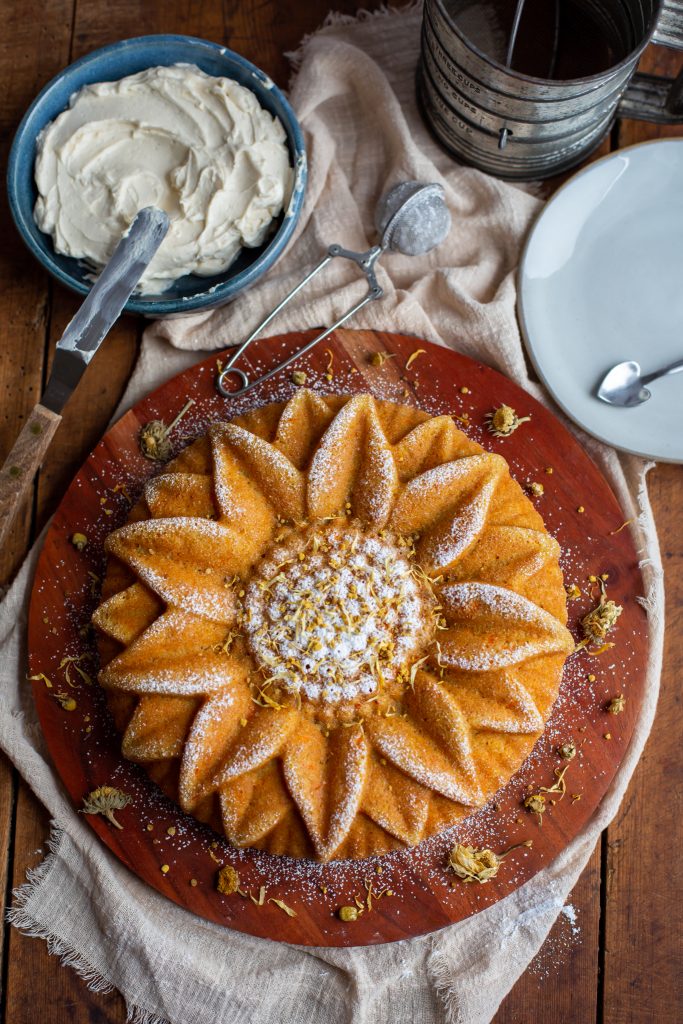 Coming from California, each year the winters in Pittsburgh have gotten longer and longer. I've noticed this year in particular how my inner clock started screaming for sun starting in February, and by April I have had entirely enough of the cold.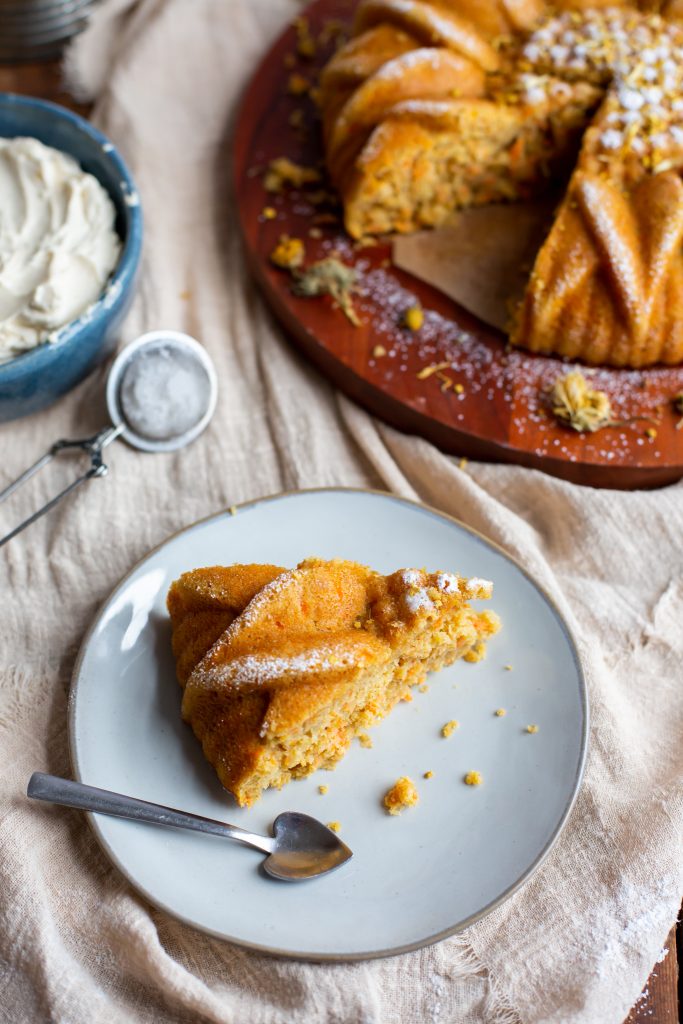 The weather always dictates what I want to eat, as I'm sure it does with most folks. I'm ready for all the salads, veggies and fruits that finally start to come with this time of year.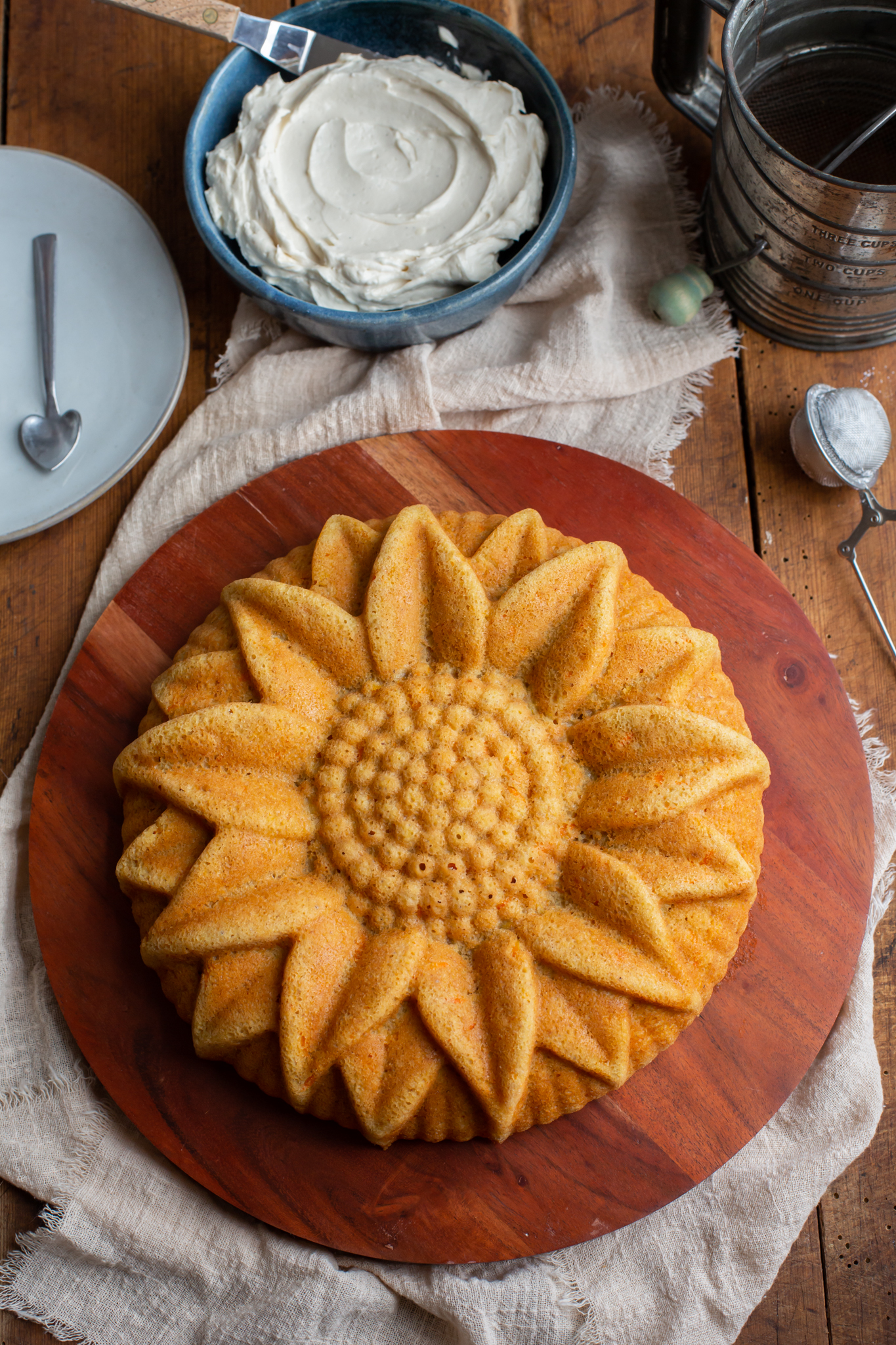 This spring, my partner Nev requested a carrot cake, and I of course was more than happy to oblige (with the caveat that it had to be made with sourdough of course).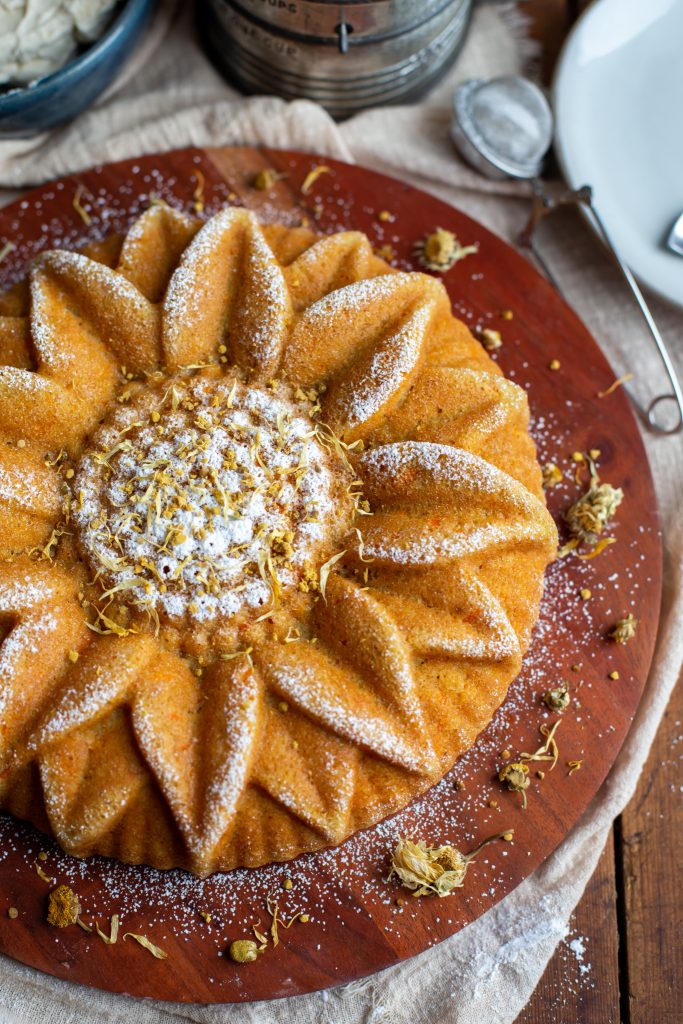 This cake is a riff on my Winter Citrus Olive Oil Teacake I posted a couple years ago. I modified it to include the classic elements of a carrot cake, and it's served with a lovely cream cheese maple frosting.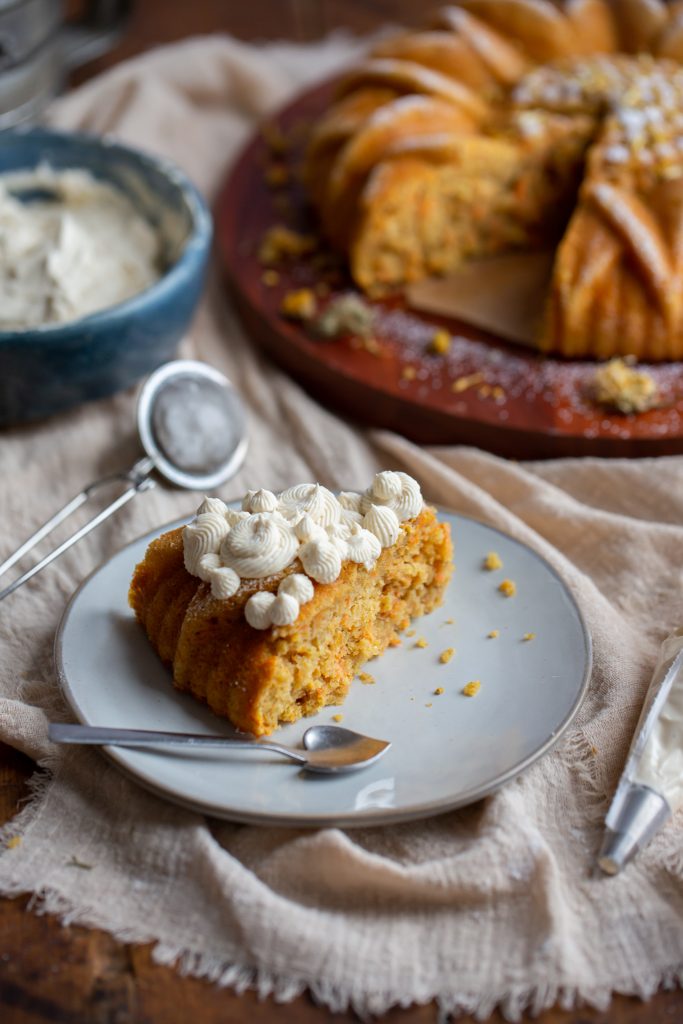 Sourdough Discard Olive Oil Carrot Cake
From
Mostly Sourdough
at
https://mostlysourdough.com/2022/04/sourdough-olive-oil-carrot-cake/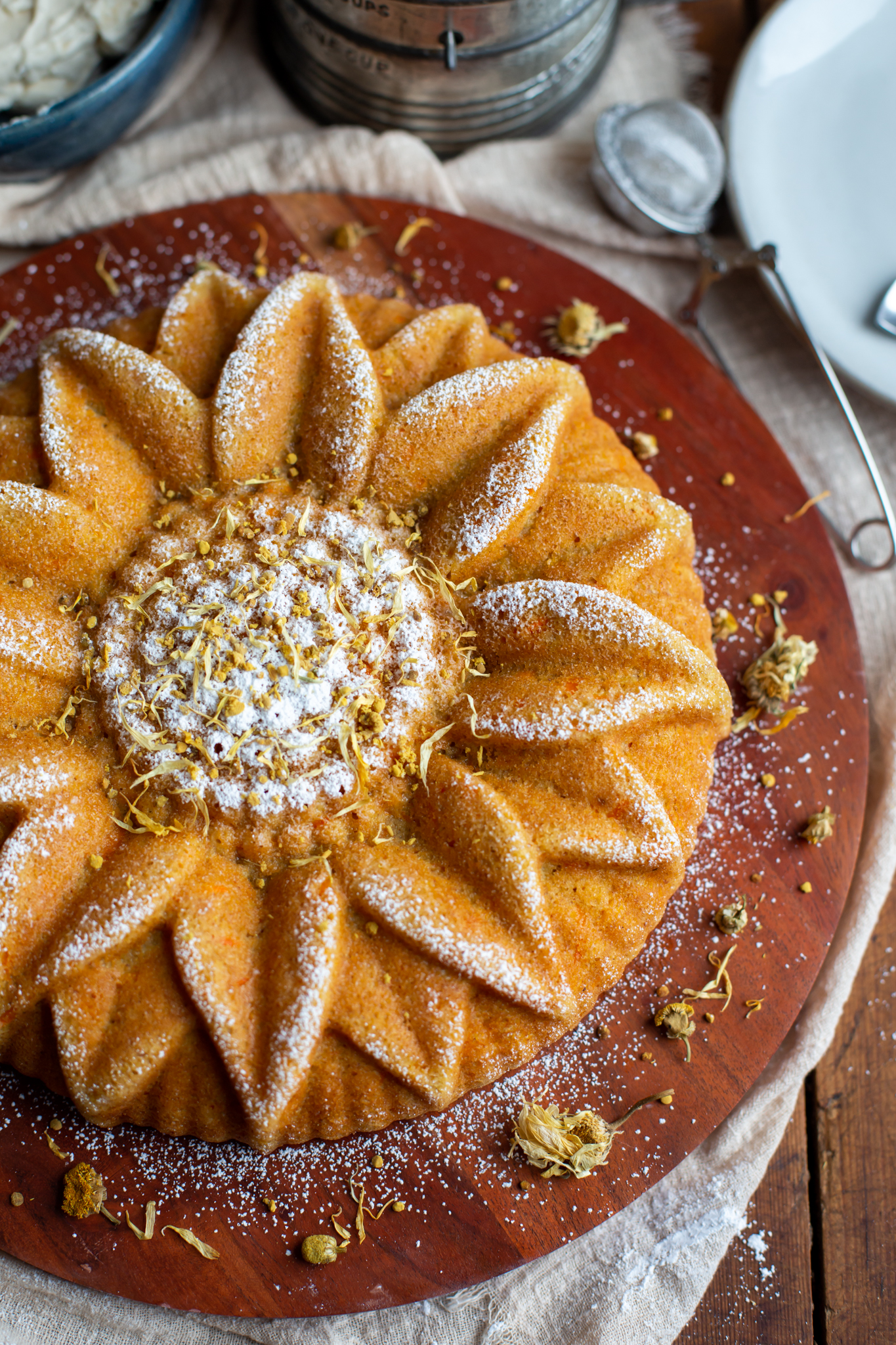 https://mostlysourdough.com/wp-content/uploads/2022/04/BH1A1145.jpg
Classic spiced carrot cake that incorporates sourdough, made richer with olive oil. Served with a maple syrup sweetened cream cheese frosting.
You'll Need...
Cake:
190 grams all purpose flour
3 grams salt
9 grams baking powder
150 grams granulated sugar
2 grams ground ginger
2 grams cinnamon
1 gram grated nutmeg
180 grams buttermilk
3 eggs, room temperature
3 grams vanilla extract
100 grams sourdough discard
3 medium carrots, grated
100 grams extra virgin olive oil
Maple Cream Cheese Frosting:
113 grams (4oz) cream cheese, room temp
50 grams unsalted butter, room temp
40 grams pure maple syrup
3 grams vanilla bean paste
Pinch of salt (optional)
Directions
Cake: Preheat the oven to 350 degrees, and grease your pan with butter, dust with flour and tap out the excess. In a medium mixing bowl, combine your dry ingredients. In another bowl, whisk together the buttermilk and sugar. Add the eggs and vanilla and whisk until combined. Next, whisk in the sourdough discard and then fold in the carrots until evenly dispersed. Add the dry ingredients, and fold until incorporated. Finally, whisk in the olive oil. Pour the batter into your pan, and bake for 30-40 minutes until a toothpick inserted comes out with a few crumbs. Allow to cool on a wire rack for 15-20 minutes before de-panning.
Frosting: Beat together the cream cheese and butter until combined. Add the maple syrup, vanilla, and salt and mix until light and fluffy. Serve with the cake as desired.
Additional Notes
If you don't have this specific pan, you can also bake this in a 10-cup capacity bundt pan, or even as layers for a layered cake.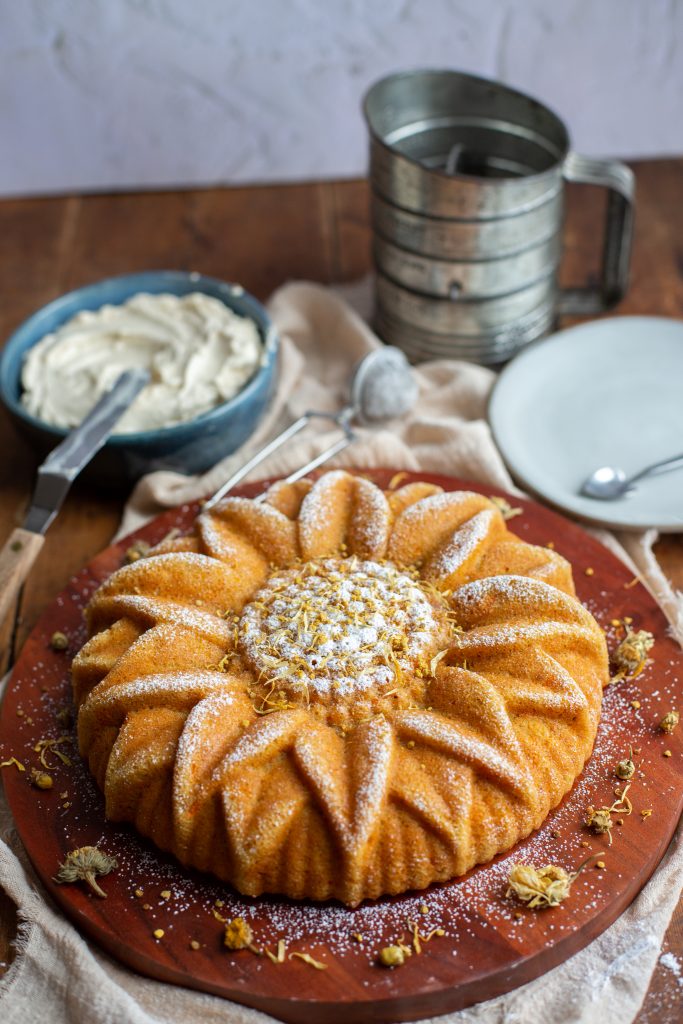 It's so moist from the olive oil and surprisingly fluffy for a carrot cake. And neither the cake nor the frosting are overly sweet, which is the way I prefer cake. I have a thing about cream cheese frosting where it is almost always cloyingly sweet from too much powdered sugar, so I opted for a more natural flavor by sweetening it with pure maple syrup!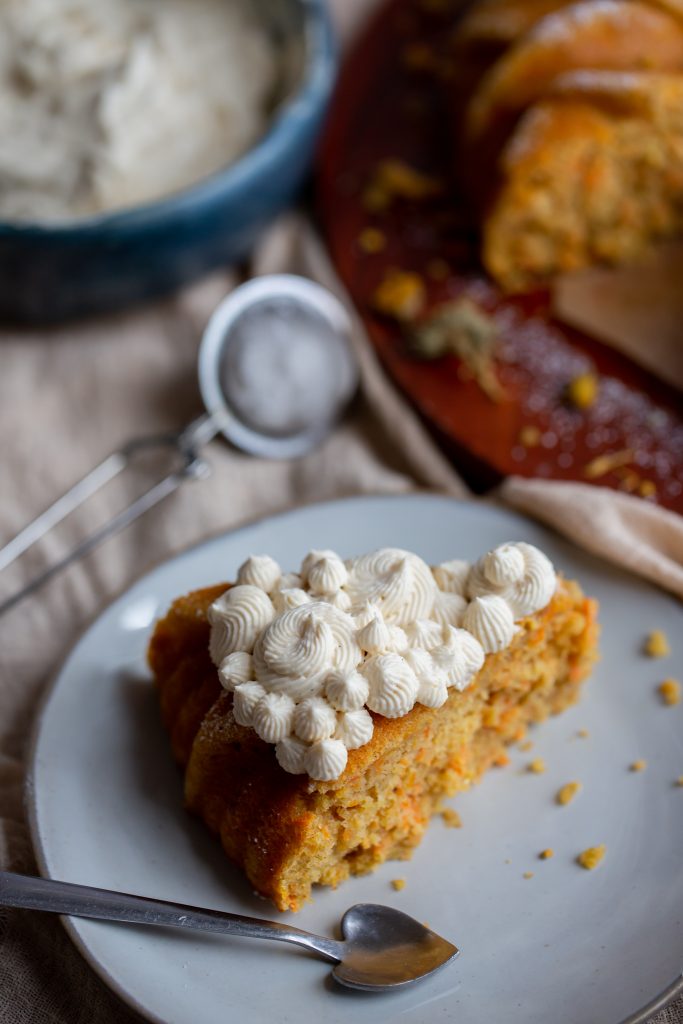 In fact, this could pass as a breakfast cake. I mean, really…all cake can be for breakfast if you want it to be.