Who else loves croutons as much as me?
They're the best of all things savory. Crunchy. Salty. Garlicky. CHEESY. Yes.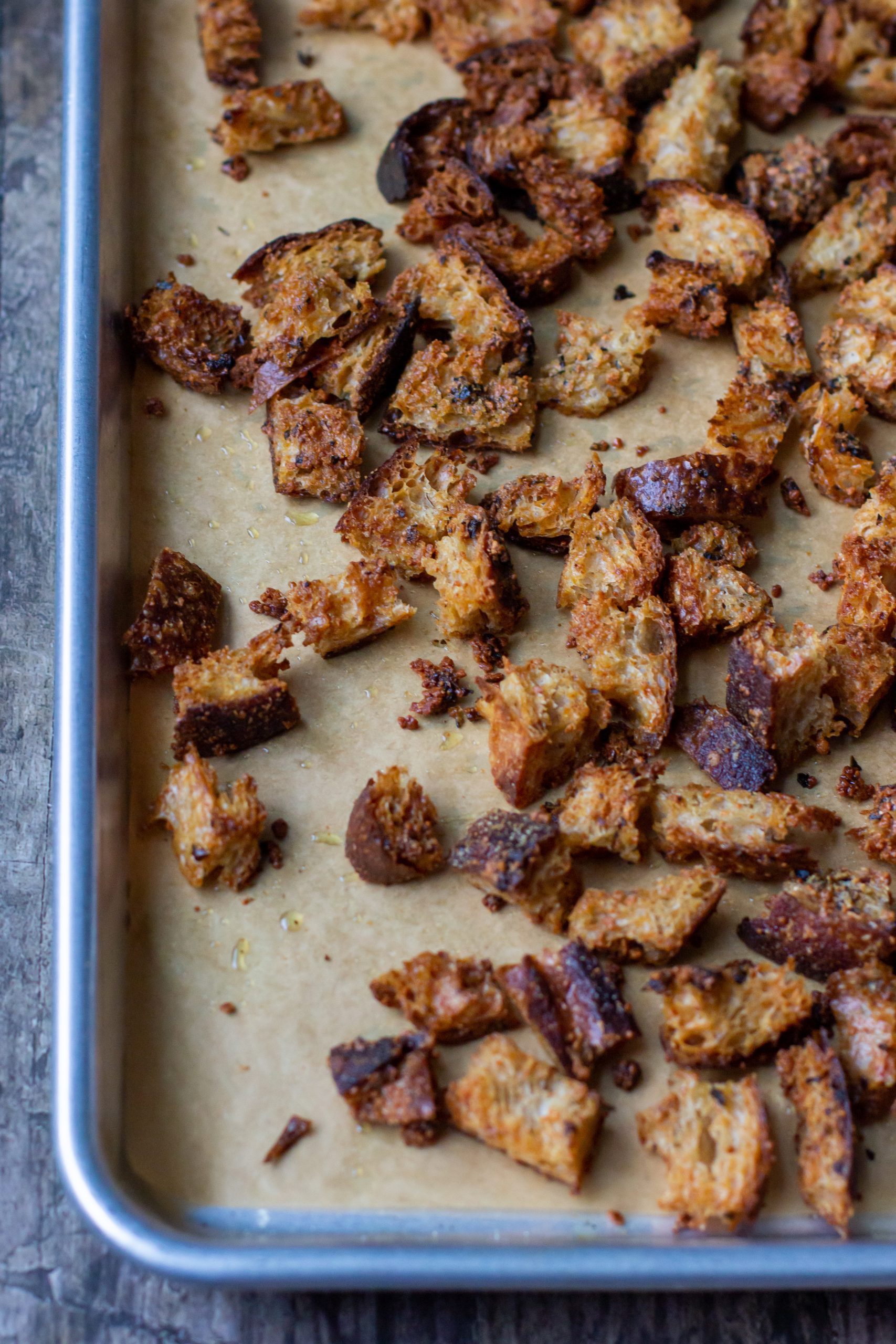 Also, they're versatile. Put 'em on soup. Stick 'em in a salad to make it more interesting, because salads are ALL about the trashy extras.
I've used my own homemade sourdough bread for these, but you can of course just use any loaf.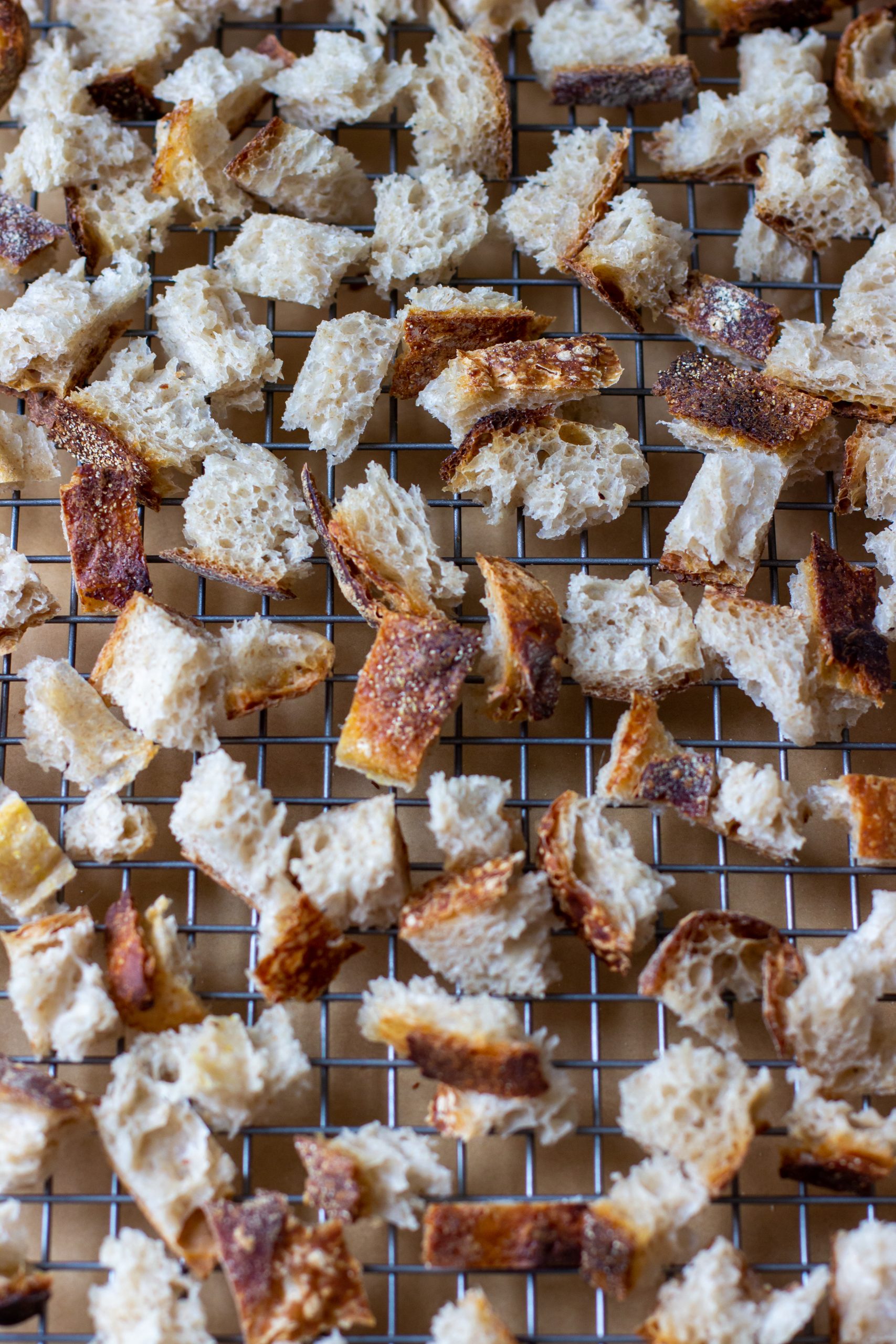 I've been baking sourdough bread with my starter Kip since I was in culinary school EIGHT years ago (crazy how fast time goes by). In all of those years I've had some great loaves, anddd admittedly some notso perfect ones.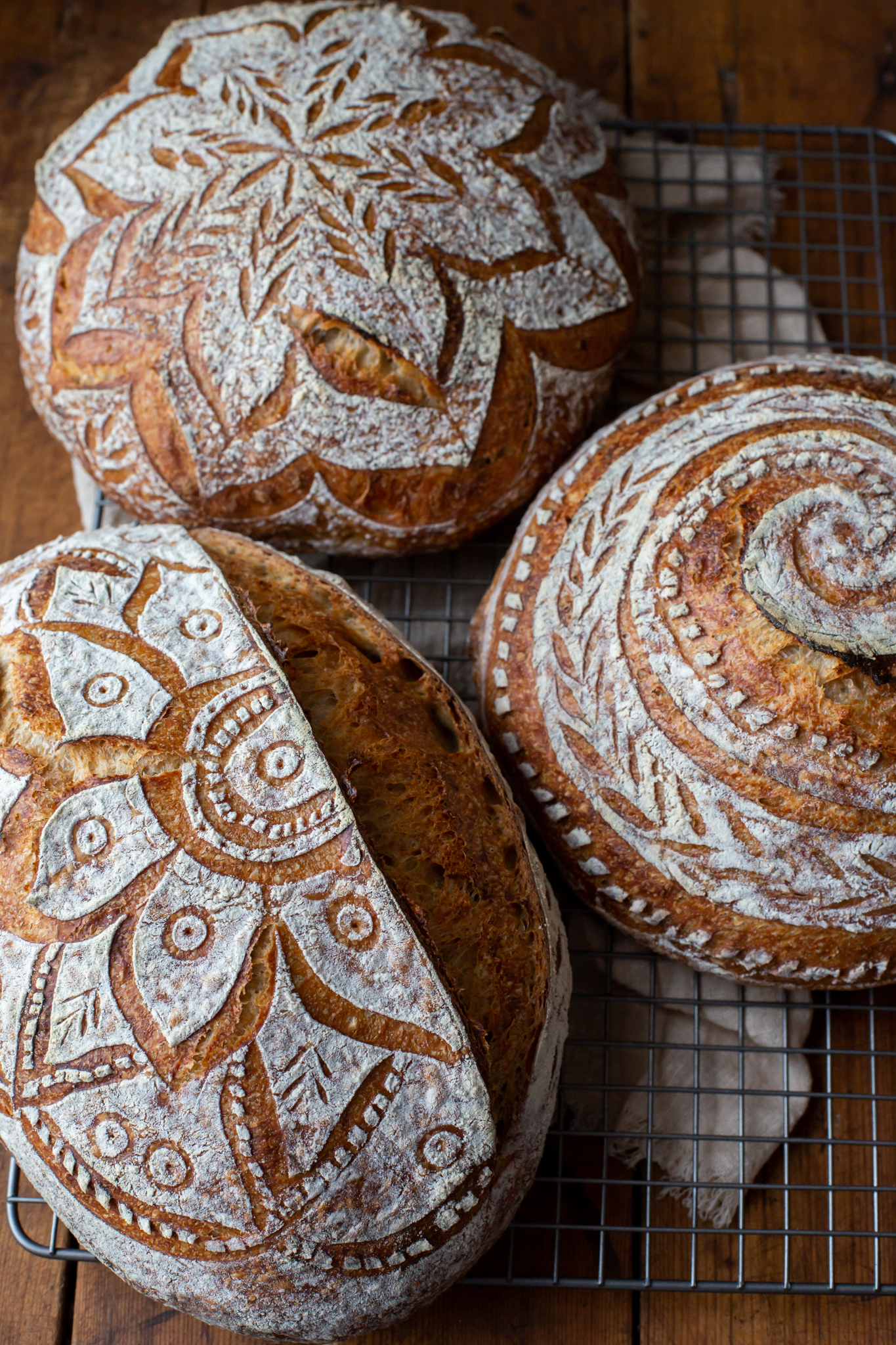 I'm constantly learning and adjusting my bake process with my bread because it's all so variable. The weather affects the dough temperature, and subsequently how it behaves. The flours you use vary widely. The amount of water and its temperature. How long you give it to ferment and proof. How you bake it.
It all comes together to either a perfect loaf, something halfway decent, or a total disaster. And I've had my fair share of all of those scenarios. When you have a complete fail after THREE dang days of work and patience. Ugh, it can be really demoralizing. Makes ya wanna throw in the towel on the worst days.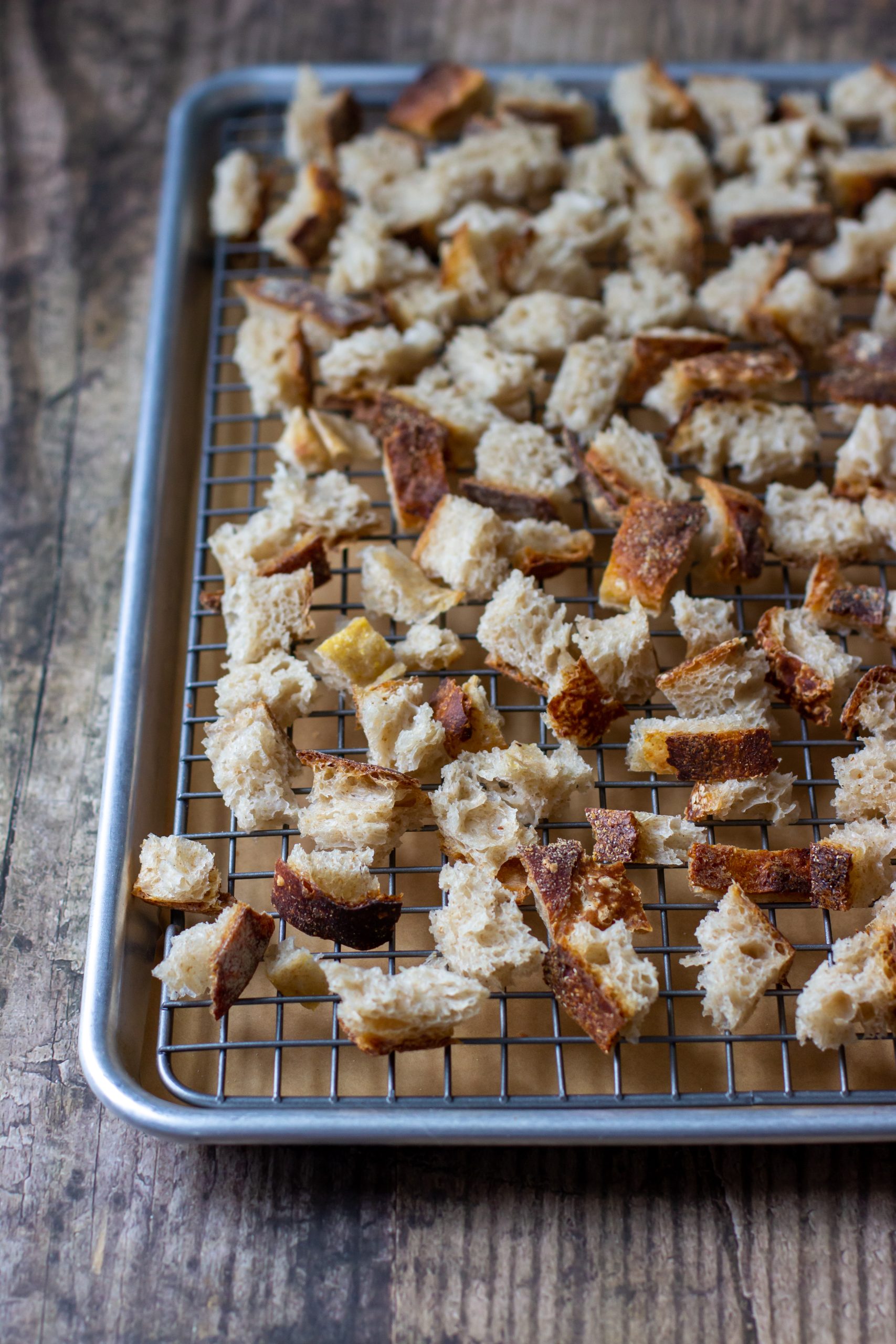 BUT I keep at it! Because it's just one of my favorite things to bake. I enjoy each step. And in the cases where you don't get what you hope for, you make something else with it! Like focaccia. Or croutons. Or breadcrumbs. Or bread pudding. The bread I used for these croutons had a great crust, but the crumb didn't turn out how I wanted because I pushed the hydration too much with some new flours. There's no need to waste a sad loaf!
Sourdough Croutons
From
Mostly Sourdough
at
https://mostlysourdough.com/2022/05/sourdough-garlic-parmesan-croutons/
Crunchy, cheesy, garlicky croutons made with leftover sourdough bread.
You'll Need...
2-3 cups torn or cubed sourdough bread
1/4 cup olive oil
3 cloves garlic
1 teaspoon salt
Dried herbs to taste (I did Rosemary and a TJ's herb blend)
1/4 cup grated Parmesan
Directions
Preheat the oven to 385 degrees and line a baking sheet with foil. In a small bowl, add the olive oil and grate in the garlic using a microplane/zester. Add your herbs and salt and mix together. In a large mixing bowl, toss the bread cubes with the oil mixture. Sprinkle over the Parmesan and toss to distribute. Taste for seasoning, and adjust if needed.
Spread evenly on your baking sheet and bake for 15 minutes. Remove from oven, toss the cubes with some tongs, and continue to bake until they are golden brown (about another 20-25 minutes), checking on them and tossing them frequently. When crispy, allow to cool and then store them in an airtight container. Enjoy on salads or soups to your heart's delight.
And, to make bread crumbs, you'd just grind up the croutons in a food processor or blender 'til they're crumbs. Easy peasy.
I munched on these so much while making them I ended up skipping dinner that night. Ha. Croutons for dinner. Oops.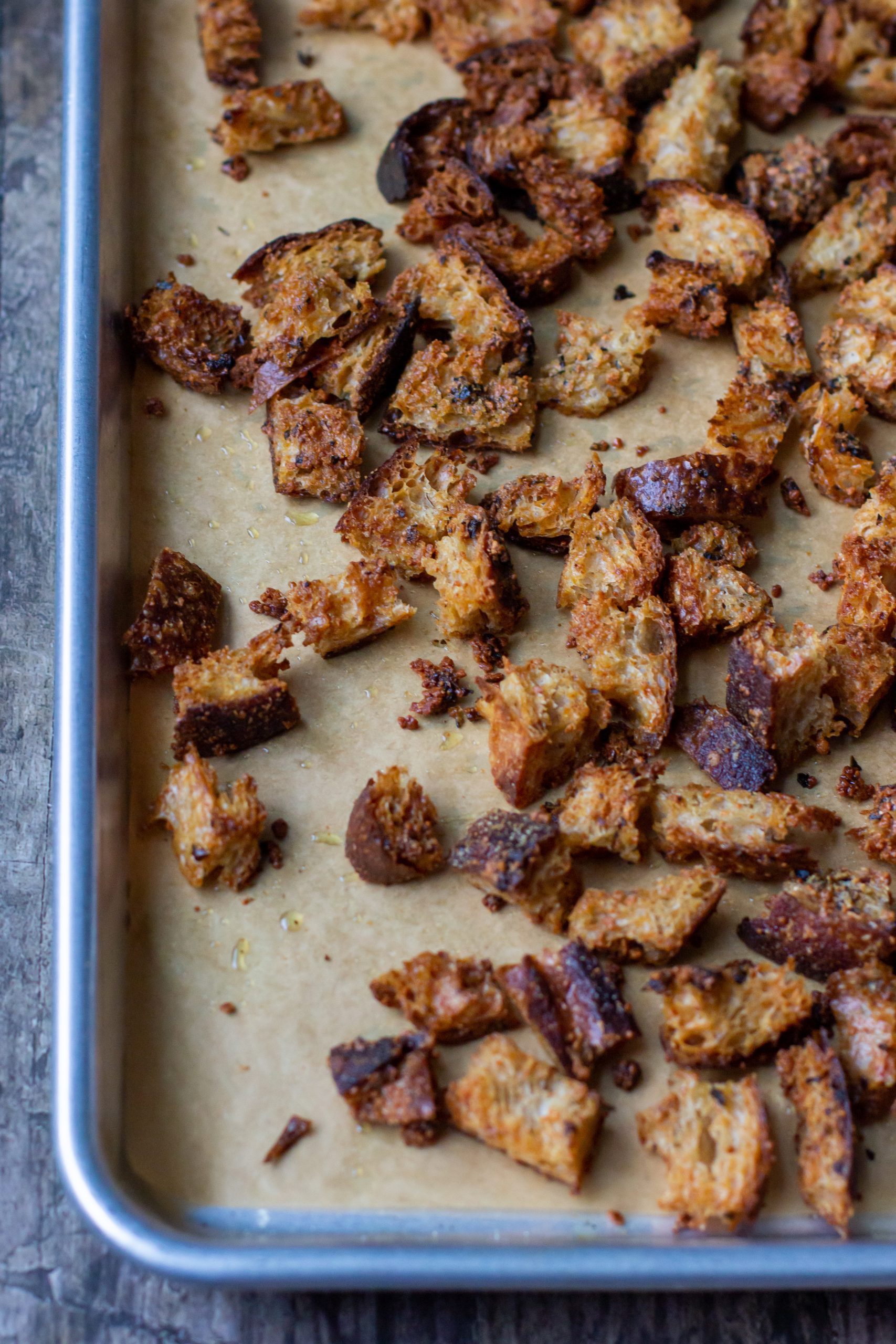 I swear, I'm an adult. I just have a weakness for crunchy snacks.