Hay friends! Did you notice the new blog name? I felt like it was time for a change and something that better represents what I do here in this little space.
Now, it's also time to disclose a notso secret that I am an avid Taylor Swift fan. Absolutely LOVE her. I cannot even explain how excited I am for the release of her rerecorded RED album this week and the All Too Well 10 minute version us Swifties have been waiting almost a decade for…
I was lucky enough to attend her Reputation Stadium Tour with my friend Danielle literally the week that Nevin and I moved to Pittsburgh. Best show of my life.
Well, back in 2014 Taylor shared a chai sugar cookie recipe that she made for her 1989 secret sessions based on a recipe by Joy the Baker (sorry- if you're not a Swiftie and have no idea nor care what I am talking about, please bear with me). And I have had this recipe saved on my computer for literally years, but never got around to trying them!
And if you know anything else about me, you'll know that I will put sourdough in anything and everything I can. So of course now I've decided to alter these to be able to use sourdough discard in them. My oh my, Tay was on to something. These are the perfect chewy sugar cookie, spiced so well with the addition of chai tea and chai spices. It's Fall in a cookie.
Sourdough Discard Chai Sugar Cookies from Taylor Swift
From
Mostly Sourdough
at
https://mostlysourdough.com/2021/11/sourdough-chai-spice-cookies-taylors-version/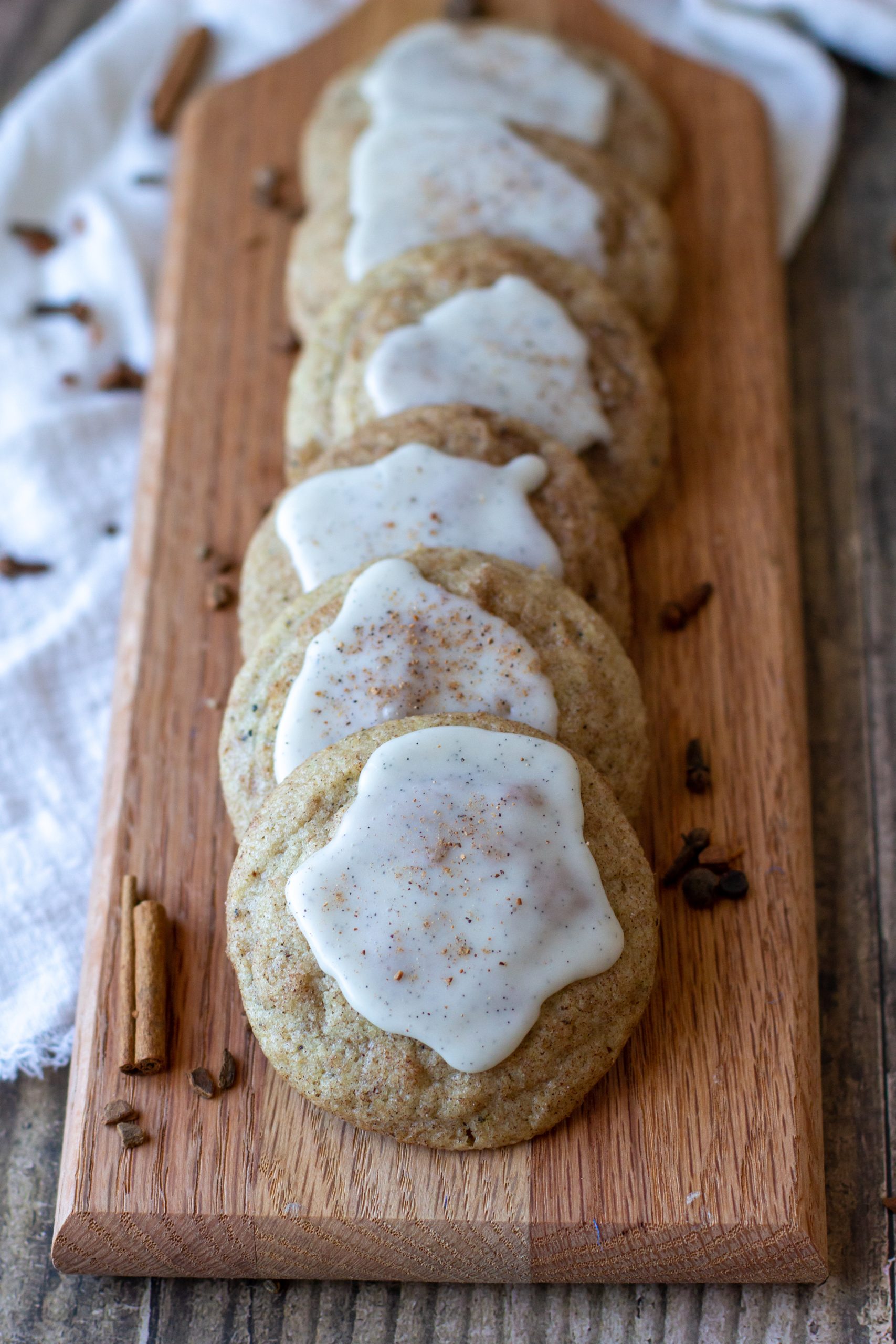 https://mostlysourdough.com/wp-content/uploads/2021/11/IMG_0433-scaled.jpg
Based on the recipe that Taylor Swift popularized during the 1989 secret sessions <3
You'll Need...
113 grams unsalted butter, room temp
100 grams granulated sugar
50 grams powdered sugar
100 grams vegetable oil
50 grams sourdough starter, room temp
1 egg, room temp
5 grams vanilla extract or vanilla bean paste
240 grams all-purpose flour
3 grams baking soda
4 grams ground ginger
3 grams ground cinnamon
1 gram ground allspice
Pinch ground nutmeg
Pinch ground cardamom
Tiny pinch ground cloves
Tiny pinch black pepper
3 gram salt
1 bag chai tea
Cinnamon sugar for rolling
Glaze: (Optional)
100 grams powdered sugar
3 grams vanilla bean paste
5-10 grams milk
Directions
In the bowl of a stand mixer, cream together the sugars and the butter until light and fluffy. Next, add the vegetable oil, starter, egg and vanilla. Mix on low until just combined (the mixture will look a little lumpy and not homogenous, but don't worry). Be sure to scrape the sides of the mixing bowl with a spatula.
In a separate bowl, combine all of the dry ingredients. Add to the butter mixture and mix on low until a soft dough forms. Cover the bowl and refrigerate for an hour, or stick it in the freezer for 20 minutes or so to firm up.
Preheat the oven to 350 degrees and line two baking sheets with parchment. Scoop the dough into balls using a cookie scoop or a spoon. At 1.5 tablespoons each you should get close to two dozen cookies. Roll the cookies into balls and then roll them in cinnamon sugar. Line them up on the baking sheets giving them about two inches to spread out.
Bake for 10 to 12 minutes until the edges are golden and the cookies are set. Allow to cool entirely before glazing if desired. To make the glaze, whisk together the ingredients until smooth. You may need a little more milk or powdered sugar to get it to the right consistency for spooning over the cookies. Sprinkle the tops with nutmeg if desired.
Additional Notes
Original recipe by Joy the Baker, adapted by Taylor and then ME 🙂
I figured what better week than this one to share this recipe with so much exciting Taylor content to come. I mean, RED is a Fall album after all so it's only fitting to eat these cookies this week. Check out my Reel on Instagram making these cuties.
Now I need to go down the street and get my favorite chai latte to enjoy with these little treats.