Happy Thanksgiving week my friends!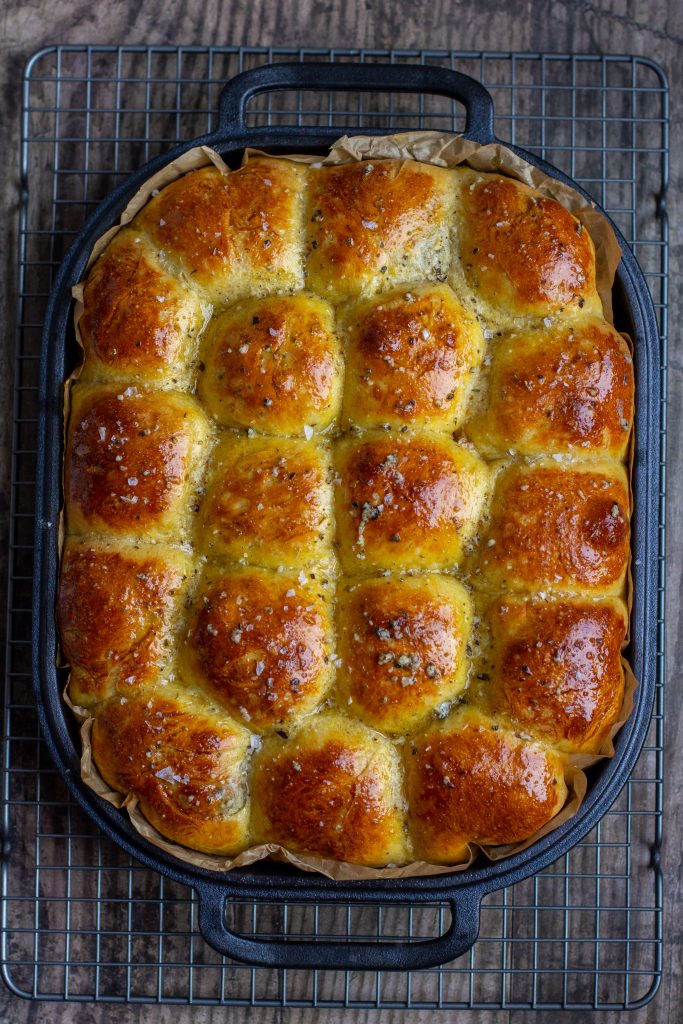 I'm here to share these super floofy and buttery sourdough parker house rolls. With pumpkin, garlic, herbs and parmesan.
Funnily enough, I honestly never grew up in a household where dinner rolls were really a thing on our table. If we had bread with dinner it was usually a more crusty sourdough or a baguette to have with cheese.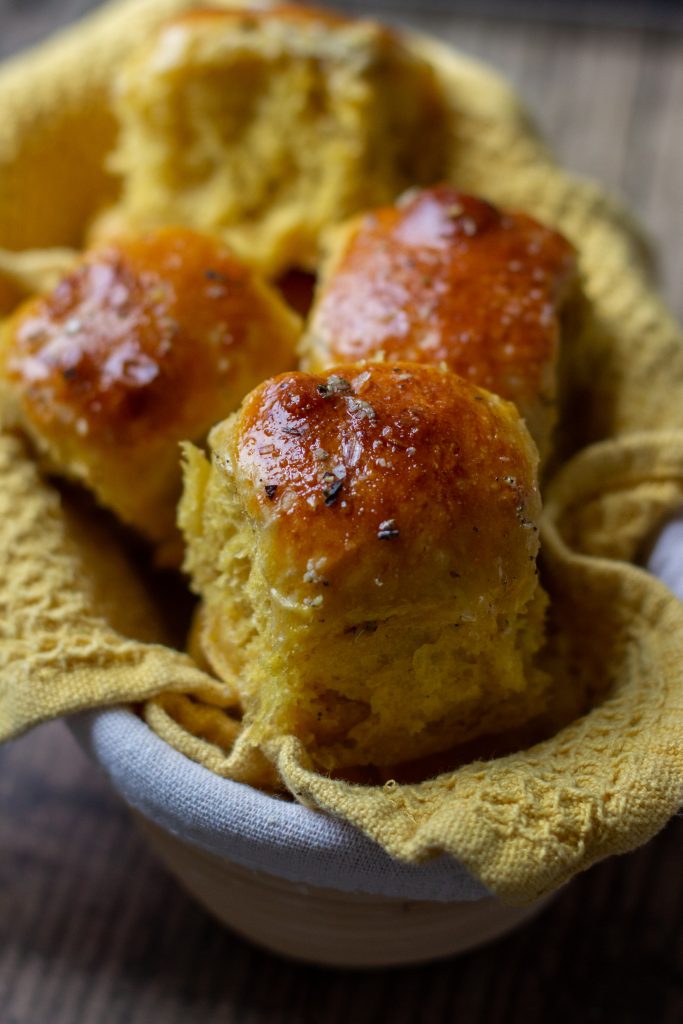 I actually can't remember a Thanksgiving where there were rolls… But that does not mean that I dislike rolls at all! I love a soft fluffy roll slathered in butter as much as the next person.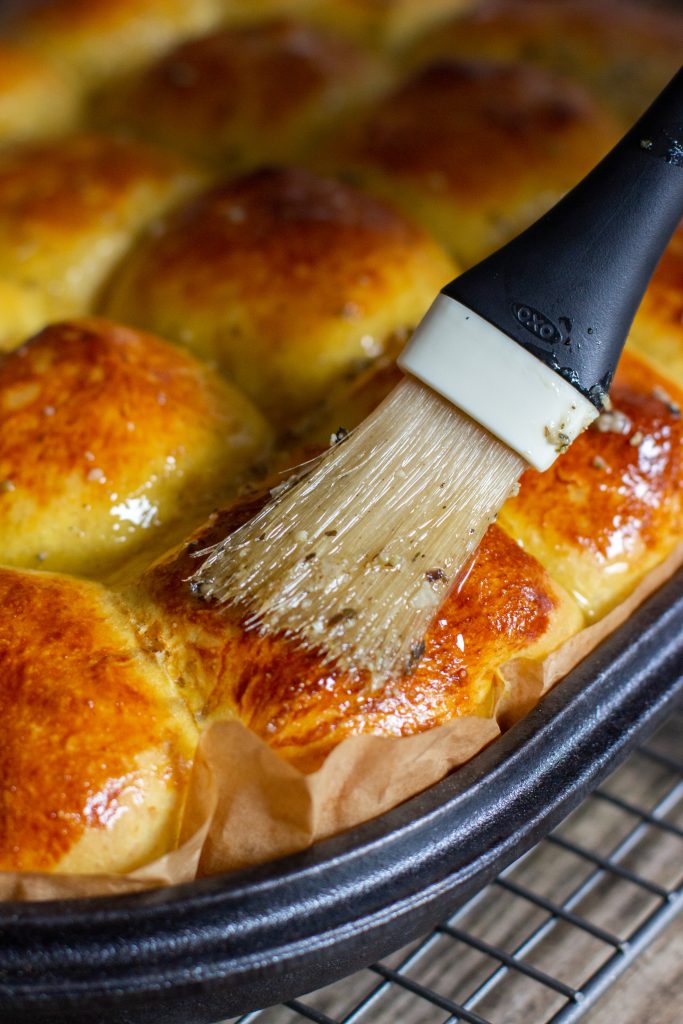 So this year, I decided to take things into my own hands for Thanksgiving. This is the first year that I will not be spending the holiday with my family (just Nev and a couple friends here in Pittsburgh) so I'm feeling a little out of sorts and sad to miss out on our usual traditions together.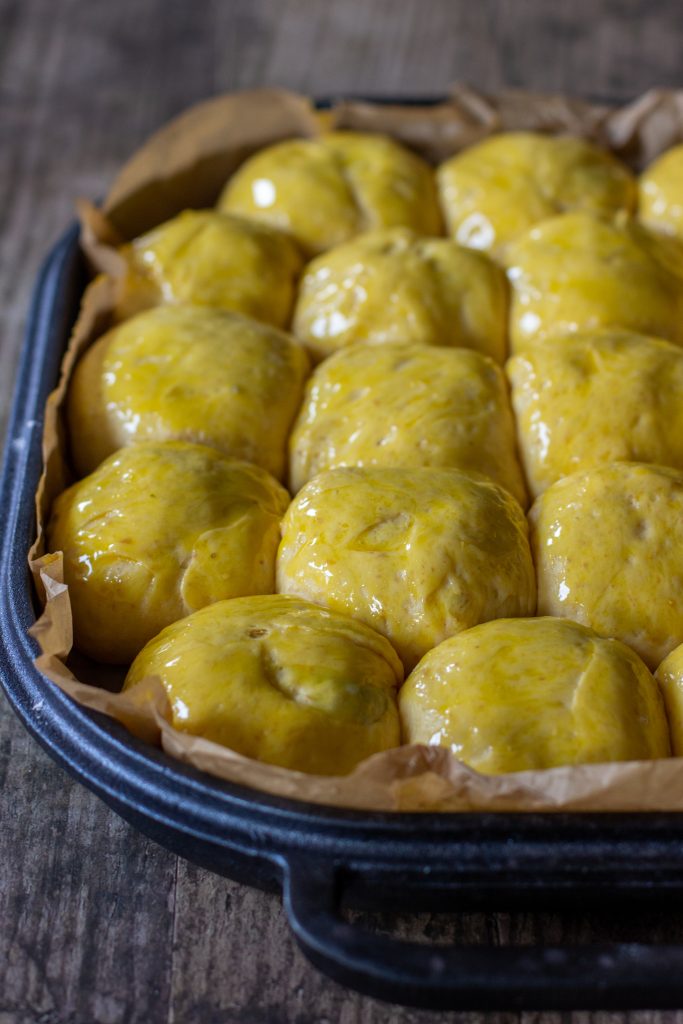 But that's why I want to make my meal super delicious and memorable for our friends. These rolls are the perfect accompaniment to your Thanksgiving table! Can't wait to slather them in my homemade vegetarian gravy.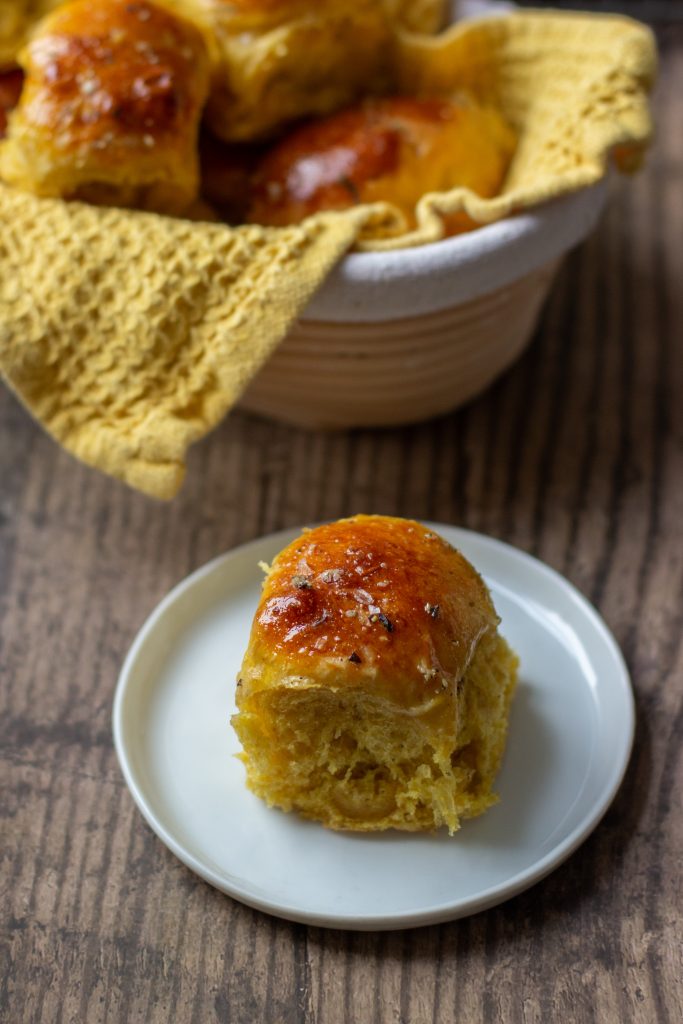 These are a discard recipe that also features instant yeast, because to be frank…who has time to wait around for sourdough rolls to rise when making the rest of Thanksgiving dinner? Easy but still delicious!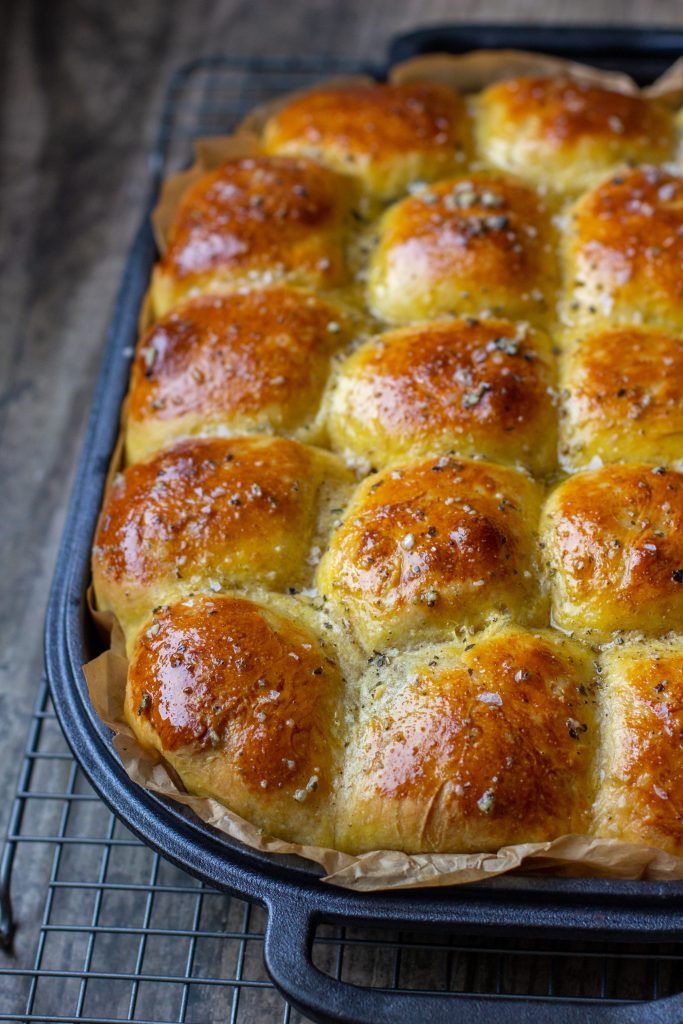 Sourdough Discard Pumpkin Garlic Parmesan Rolls
From
Mostly Sourdough
at
https://mostlysourdough.com/2021/11/sourdough-pumpkin-garlic-parmesan-rolls/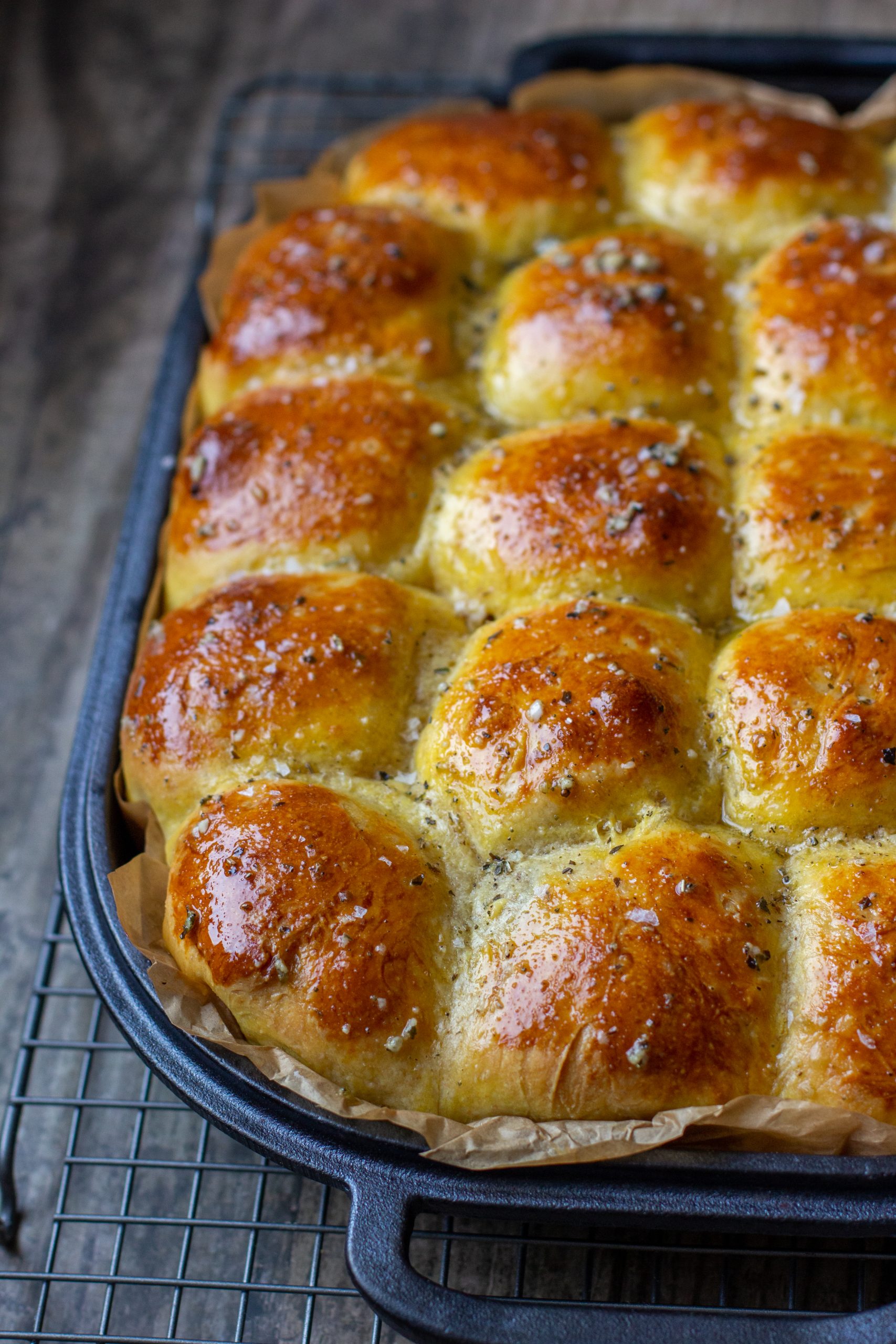 https://mostlysourdough.com/wp-content/uploads/2021/11/IMG_3161-scaled.jpg
Buttery soft dinner rolls made with sourdough discard.
You'll Need...
Dough:
100 grams active (or discard) sourdough starter
7 grams instant yeast
113 grams unsalted butter, room temp
1 egg
165 grams milk
25 grams brown sugar
5 grams salt
175 grams pumpkin puree
500 grams white bread flour
Butter for Filling & Topping:
113 grams butter, melted
2 cloves garlic, minced
1 tablespoon dried oregano
1 tablespoon fresh or dried sage
23 grams grated parmesan
Pinch of salt & pepper
For Topping:
One egg yolk
Flaky sea salt
Directions
In the bowl of a stand mixer, combine all the ingredients together and mix on low speed with the paddle attachment for about a minute until a shaggy dough forms. Allow to rest for 10 minutes. Switch to the dough hook attachment, and then mix on speed 2 for 10 minutes until a soft and smooth dough forms and it pulls away from the sides of the bowl.
Transfer to an oiled bowl and allow to bulk ferment for one hour in a warm spot (turned off oven with the light on works well). The dough should just about double in size.
Grease a 9x13 baking dish with some of the melted butter or line a cast iron baking pan with parchment paper and butter the paper. Combine the rest of the butter with the garlic, herbs, parmesan and salt/pepper. Pour the dough out onto a floured work surface and divide into 18 pieces (about 65 grams each). Working with one of the sections at a time, pat the dough into a circle about a half inch thick. Brush the top of the dough with some garlic butter and then bring each side to the middle and roll each piece into a ball enclosing the butter. Place seam side down in the baking dish. Repeat the process with each piece of dough.
At this stage the rolls can be proofed and baked in the same day, or retarded in the fridge until you want to bake them. If proofing and baking the same day, place the baking dish in a warm spot (again, oven with light on) for about half an hour until they have grown a bit and puffed up. If retarding, just be sure to let the rolls come up to room temperature and proof them until they have puffed up before baking. Bake with same instructions as below.
Preheat the oven to 350 degrees. Brush the tops of the rolls with the egg yolk and bake for 20-25 minutes until the tops are golden and they are at least 190 degrees when probed. Brush the rolls with more melted butter right when they come out of the oven and sprinkle with flaky sea salt. Serve warm.
Additional Notes
These can be made and baked in the same day, or you can retard them in the fridge after they've been shaped and bake them when you want to. Just be sure to let them proof at room temperature before baking.
You can skip the instant yeast for these if you'd like them to be purely sourdough! Just use active sourdough starter or levain and add several hours to the bulk and final proof timings.
Just look that floofy little roll sitting there. I had two right when they came out of the oven, they're that good!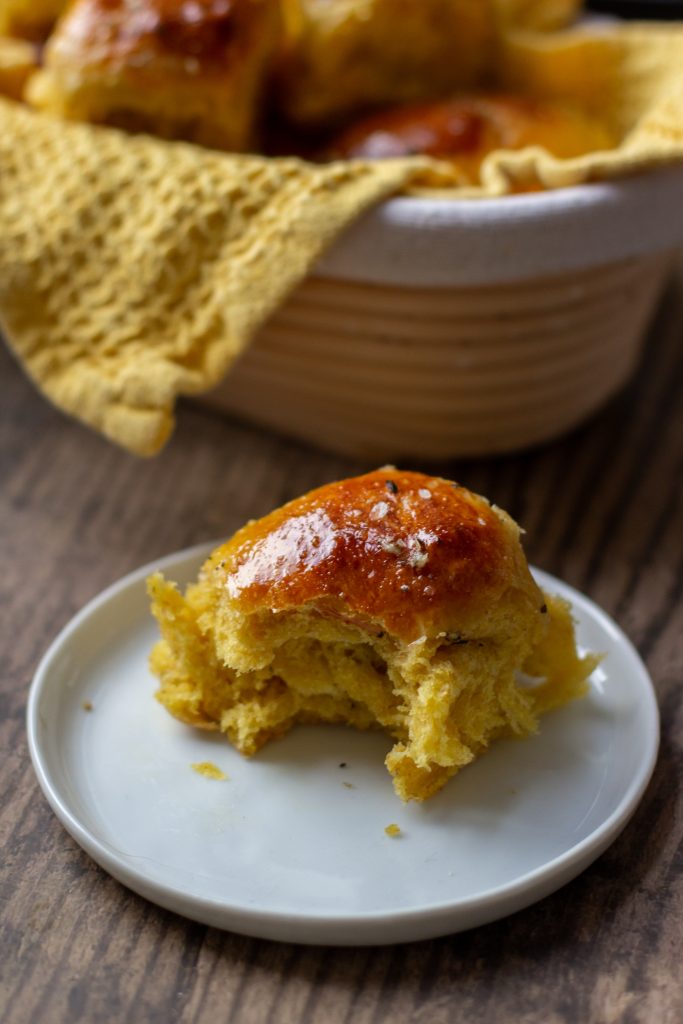 The garlic and cheese make these the perfect savory little bun to join your Thanksgiving plate. Happy holidays friendos.