Hi friends! I'm back to share yes, yet another pumpkin recipe. But these are very different from my bagels and muffins hehe.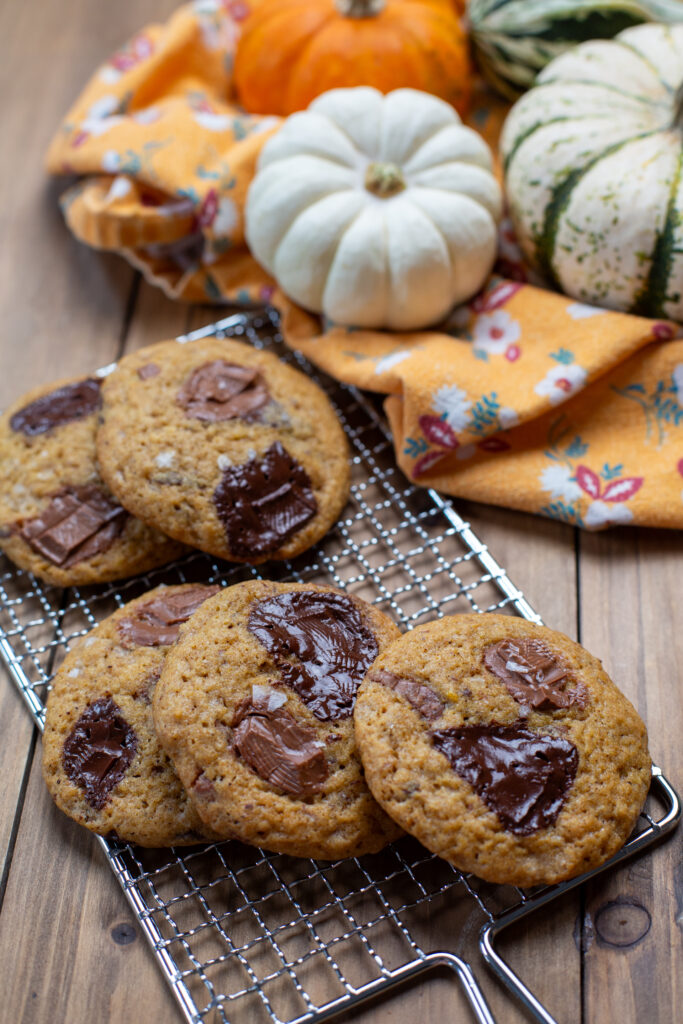 Theeese are pumpkin browned butter chocolate chip sourdough discard cookies. Yep, that's a mouthful to say, but they're so good.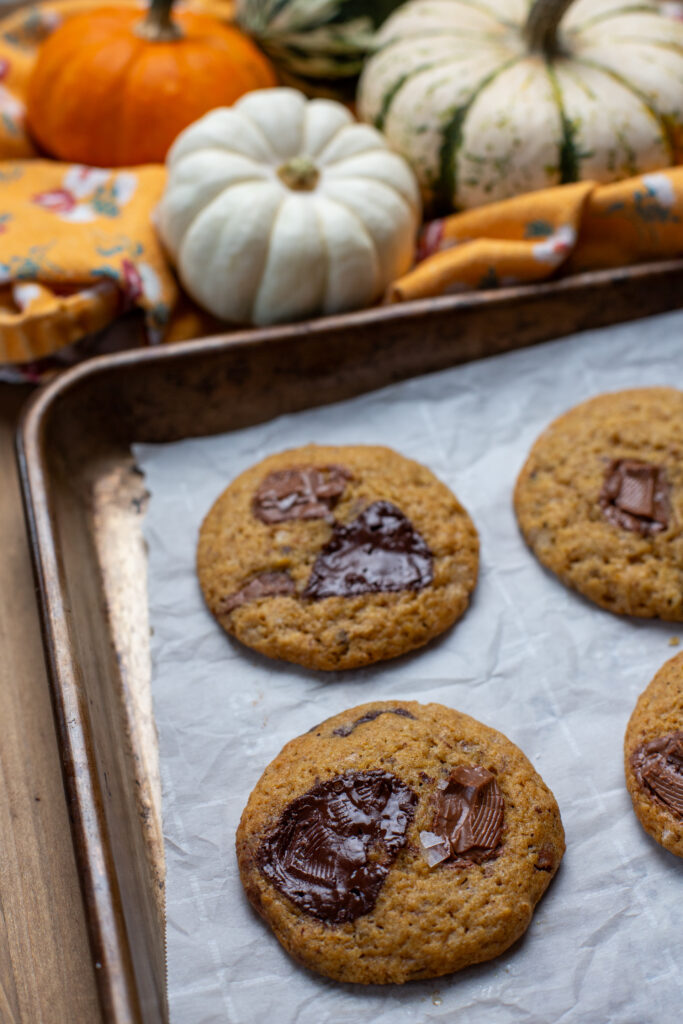 Normally I'm not into fussy recipes that require extra steps — BUT, browned butter is honestly one of the biggest exceptions to that for me. Every time I make browned butter cookies, I remember how dang good they are. It just adds that little caramely nuttiness that really makes a difference.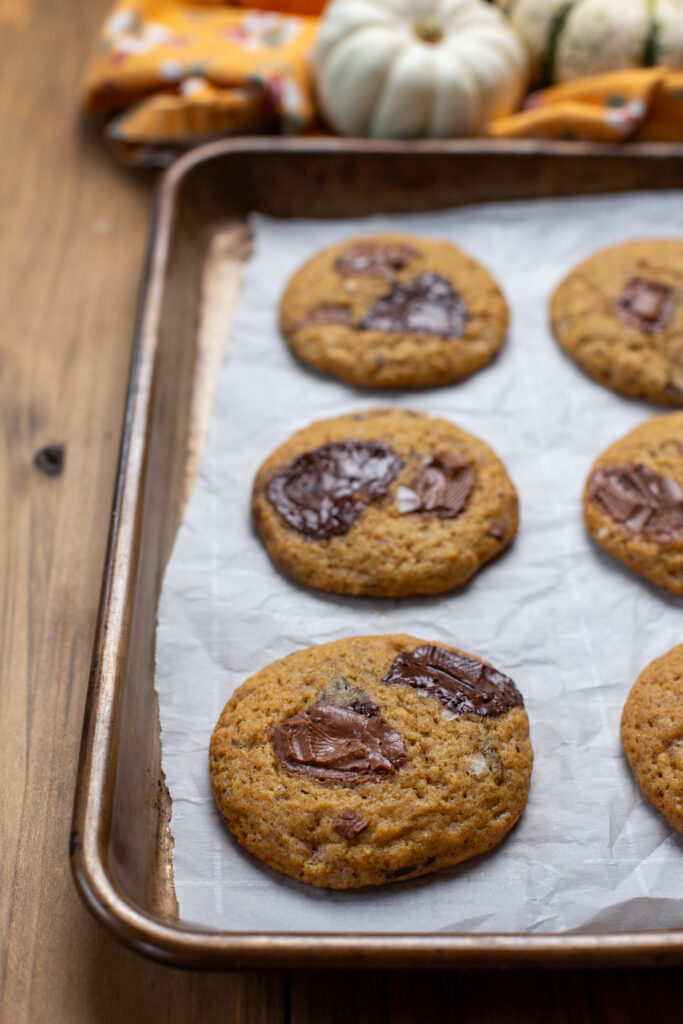 Another step I wouldn't skip is blotting your pumpkin puree on a paper towel to remove the extra moisture, keeping the cookies chewy. I'm all about a chewy cookie over anything too cakey (or crisp too).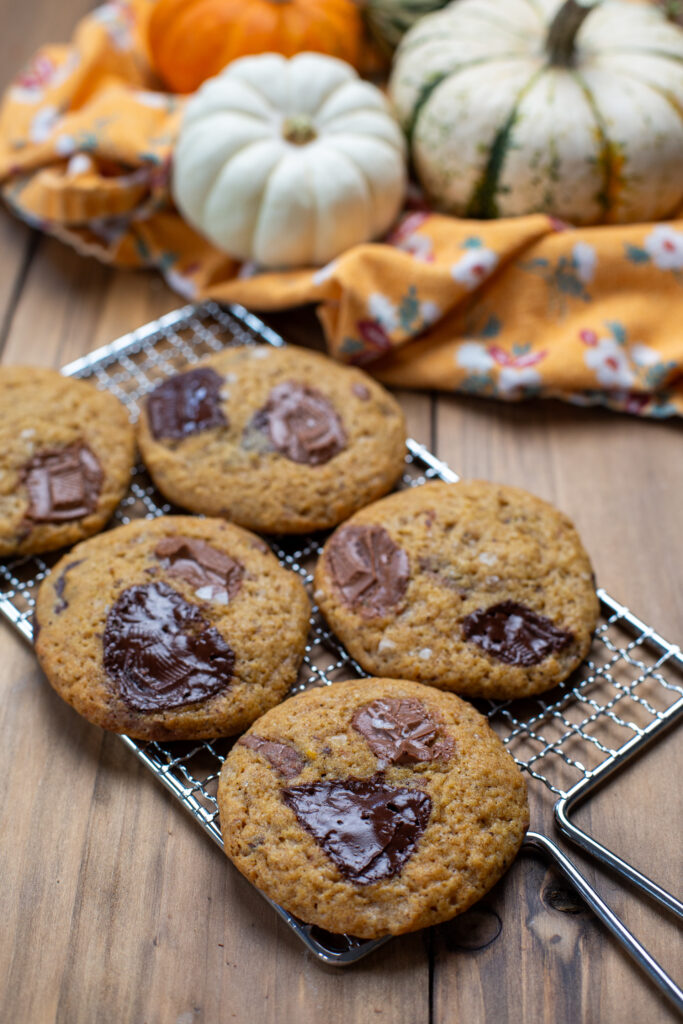 These cookies are perfectly spiced and decadent with pools of melty chocolate in each bite.
Sourdough Pumpkin Chocolate Chip Cookies
From
Mostly Sourdough
at
https://mostlysourdough.com/2023/09/sourdough-pumpkin-chocolate-chip-cookies/
Prep:
Cook:
Yield:

2 dozen cookies

Total:
Chewy chocolate chip cookies made with sourdough starter, browned butter and pumpkin.
You'll Need...
113 grams unsalted butter
100 grams brown sugar
100 grams granulated sugar
1 egg
3g vanilla
60 grams pumpkin puree (blotted on a paper towel to remove extra moisture)
75 grams sourdough starter (can be discard or active)
190 grams all purpose flour
3 grams baking soda
3 grams salt
2 grams pumpkin pie spice
100 grams chopped chocolate of choice
Flaky sea salt, for topping (optional)
Directions
Preheat the oven to 350 degrees and line two baking sheets with parchment paper.
Brown the butter: Have a medium mixing bowl at the ready. In a small frying pan, bring the butter to a simmer over medium high heat. The butter will start to bubble and spatter a little. Continue cooking, swirling the pan occasionally, until the butter solids at the bottom start to turn a golden brown amber color and it smells nutty and caramelized. Pour the browned butter into the mixing bowl, and allow to cool for about 20 minutes.
Mix the dough: To the bowl with the butter, add the sugars and mix with a whisk. Next add the egg, vanilla, and pumpkin puree. Whisk together until smooth, and then add the sourdough starter. Mix until just combined. Finally, add the dry ingredients all at once, and fold together with a rubber spatula. Stir in the chocolate chunks, just be sure not to over mix. Scoop onto baking sheets as desired. I usually freeze my cookies unbaked at this stage to have cookie dough on hand. See note below.
Bake: Bake for 10-12 minutes until the cookies are golden brown and the edges have set. Allow to cool on a wire rack before serving.
Additional Notes
Freeze cookie dough: I usually scoop all my cookie dough onto a baking sheet and freeze until the cookies are solid. Then I'll transfer them to a ziptop baggy so I can have cookie dough on hand to bake whenever we want (and we can have one or two instead of a whole batch hehe). Bake directly from frozen, just add a few minutes to the baking time.
My favorite thing to do with any cookie is to scoop them all onto a baking sheet and freeze them unbaked. Then I pop them into a baggy. That way I can have cookie dough on hand to bake whenever we want, and we can just have a couple at a time.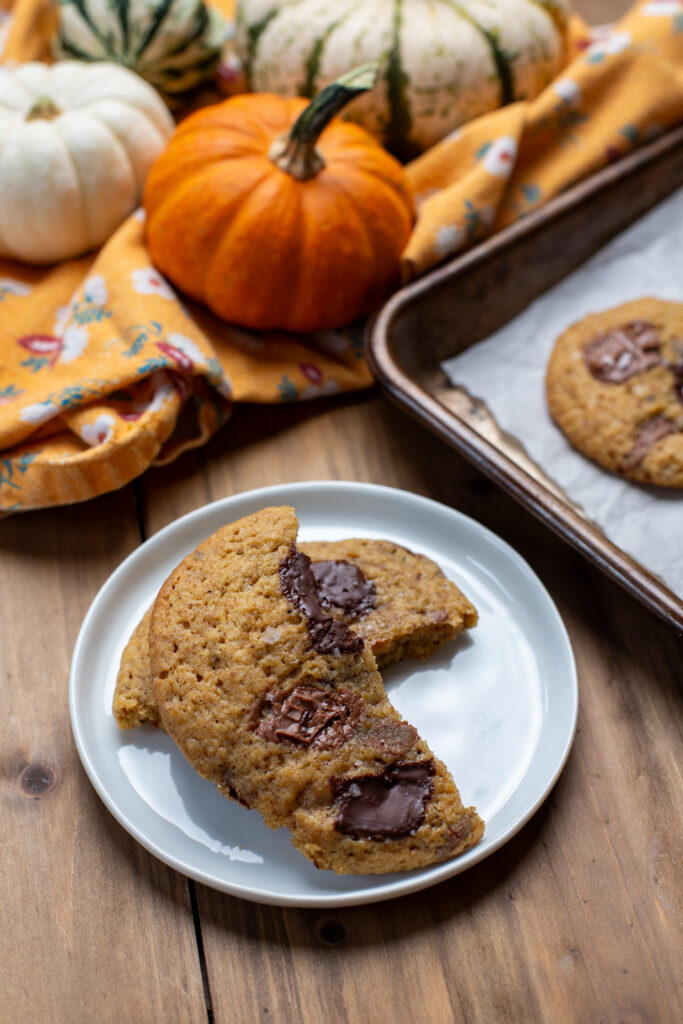 Happy fall baking my friends!