Hi hi hello! Today I'm bringing you homemade pop-tarts.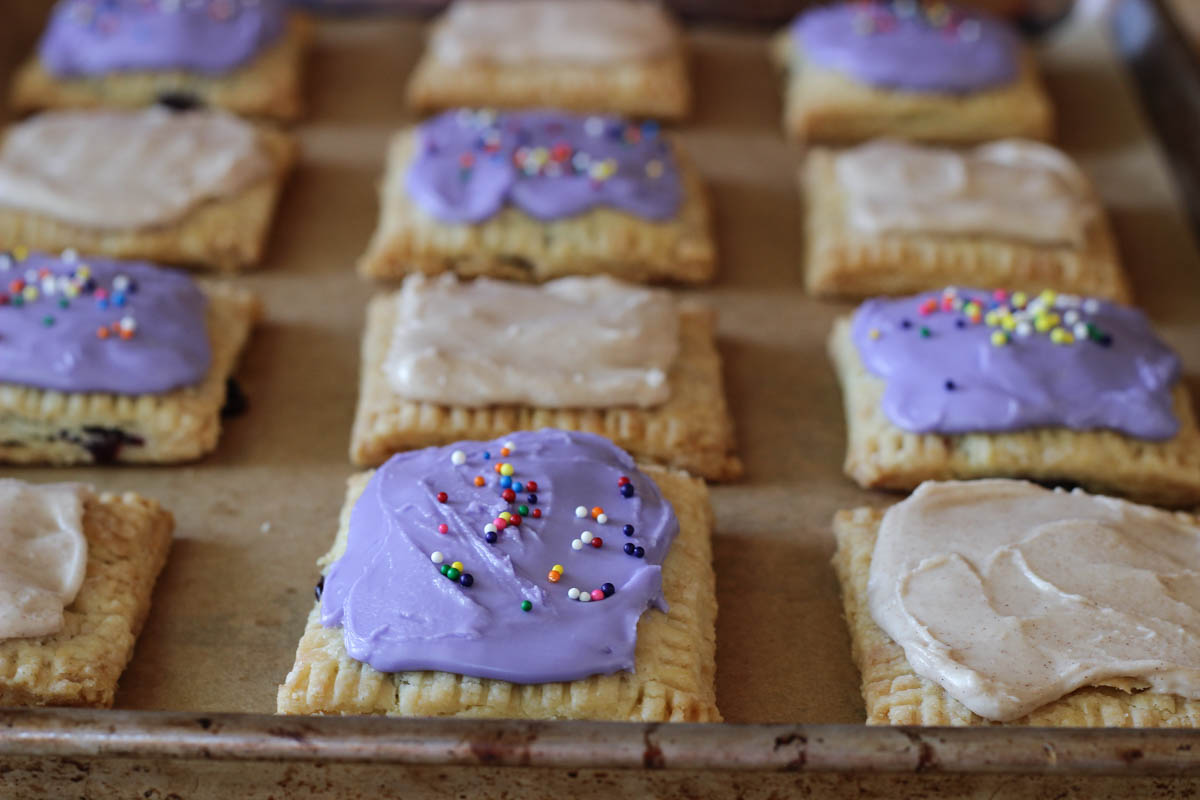 Pop-tarts are VERY in right now. I've been seeing them pop up (meheh) in local bakeries recently, so obviously I had to make them myself.
Growing up, I was a fan of the brown sugar cinnamon and the super chocolatey ones. You would never catch me with any of the fruity varieties though because I was a very picky child and hated cooked fruit. Weird, I know.
These little poppytarts are so much fun, and they come together super quickly. They're basically like little handpies. And if you know me, ya know I love pie. I also love homemade versions of classic store bought goodies.
Half of these babes have homemade boysenberry jam in them from berries we picked. The other half are an iteration of the brown sugar packaged ones. So much yum.
Flaky sweet goodness right there.
Homemade Pop Tarts
From
Mostly Sourdough
at
https://mostlysourdough.com/2018/07/homemade-pop-tarts/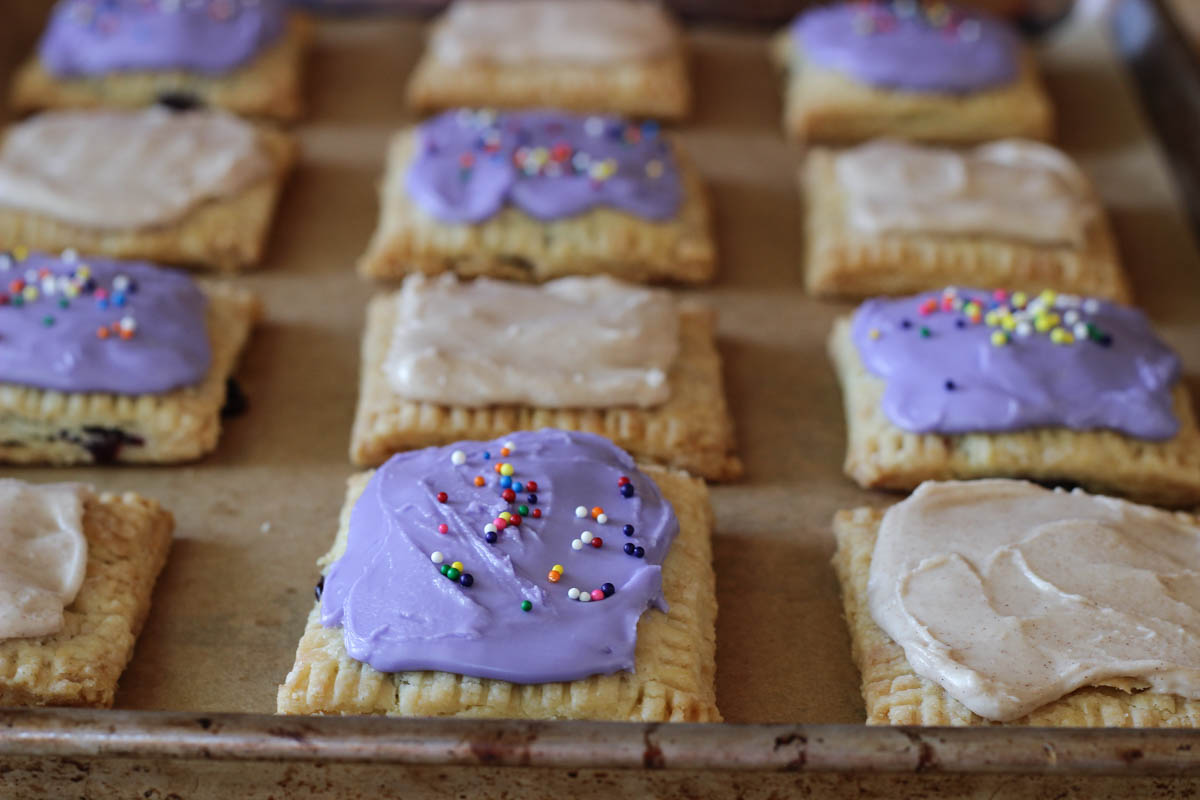 https://mostlysourdough.com/wp-content/uploads/2018/07/IMG_6207-4.jpg
Prep:
Cook:
Yield:

9-12 pop-tarts

Total:
You'll Need...
Pastry:
2 cups ap flour
1 tablespoon sugar
1 teaspoon salt
1 cup (2 sticks) cold unsalted butter, cubed
1 egg
2-4 tablespoons milk
Fillings:
Jam of your choice OR
1/4 cup brown sugar
2 teaspoons ap flour
1 teaspoon cinnamon
Icing:
1 1/2 cups powdered sugar
2 tablespoons milk
Flavorings & colorings as desired
Directions
Pastry: In a medium mixing bowl, whisk together the dry ingredients. Add butter and cut into flour mixture with a pastry cutter until butter clumps are the size of peas. Whisk together 2 tablespoons milk with the egg and mix into pastry mixture with your hands until a dough forms. Use more milk if it looks too dry. Split dough in half and wrap in plastic. Chill 30 minutes. In a small bowl, whisk together the brown sugar, flour and cinnamon for the filling and set aside.
Assembly: Line a baking sheet with parchment. On a lightly floured surface, roll out one of the pieces of dough to a 9x12 rectangle about 1/8 inch thick. Using a pizza cutter, slice into 9 or 12 even rectangles. Fill with 1 tablespoon of jam or the brown sugar mix, leaving a 1/2 inch border. Wet the edges with a little water, and cover with another rectangle of dough. Transfer to your baking sheet and continue with the rest. Prick the tops and crimp the edges with a fork. Chill in the refrigerator while you preheat the oven to 350 degrees.
Baking & Icing: Bake at 350 degrees for 25-30 minutes until golden, and then allow to cool entirely. Whisk together the icing ingredients for a thick spreadable icing. Use about a tablespoon of icing for each and gently spread it on with an offset spatula. Top with sprinkles or whatever your little heart desires! 🙂
Additional Notes
Recipe adapted from King Arthur Flour
Doesn't that just take you right back to your childhood?
Wanna know something funny that occurred to me when I decided I wanted to make these? In all the years that I ate those real pop-tarts, I cannot remember a time where I actually toasted one. I don't think I've ever tasted a toasted one. Did anyone ever actually toast them? Were they better that way? Meh.
Well, either way these homemade ones taste better and are so fun to make! So I'm happy.
Can I do a little face dive into the middle of that bite please?