You guuuuys. This is one of my favorite things ever.
I love focaccia so much. It reminds me of walking around the tiny cobblestone streets of Italy a few years ago with Nevin and smelling all the wonderful aromas of baked breads and pastries.
We'd be drawn to little hole in the wall bakeries serving big slabs of focaccia and ciabatta. We'd then pop into a tiny corner market and get a big hunk of parmesan to enjoy with our bread. Mmm. Takes me right on back.
I've made focaccia numerous times, but I had never made it naturally leavened with sourdough before. I knew I wanted that VITAL fluffy focaccia crumb, and I loved the idea of it having that wonderful developed sourdough flavor. I just knew it would be absolutely delish.
I got these beautiful heirloom and cherry tomatoes from the farmer's market especially for this little project. I find that I can rarely get good tomatoes at the regular grocery store, so it really is worth the trip if you can manage it. Or if you grow them yourself or know someone, even better!
Summer is one of the best times to bake because of all of the beautiful fruits and vegetables! The apartment we're moving to in Pittsburgh has garden plots for the tenants to use, so we're planning on having a full garden there.
I'll admit I'm not one with a successful green thumb, but Nev seems to be pretty good at it! 🙂 So excited.
Ah! Just look at that fluffy crumb! Doing a little happy dance right now.
Sourdough Focaccia with Heirloom Tomatoes
From
Mostly Sourdough
at
https://mostlysourdough.com/2018/07/sourdough-focaccia-with-heirloom-tomatoes/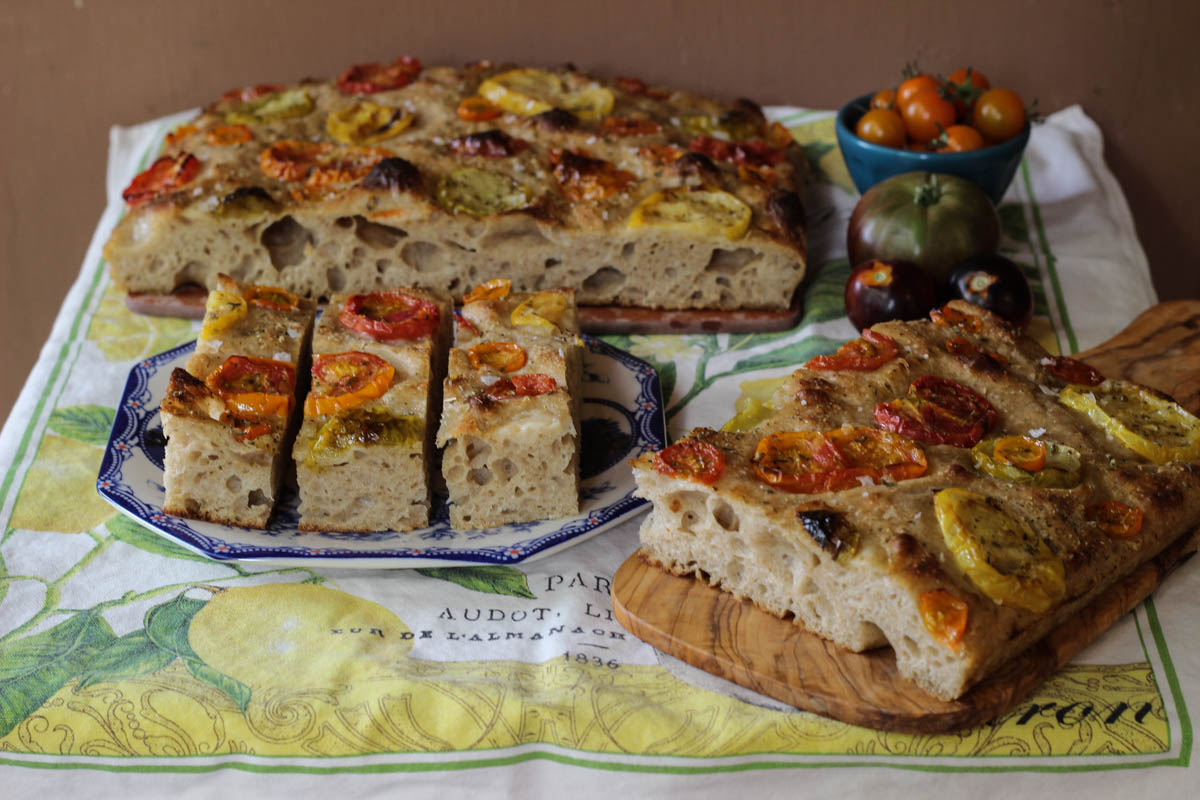 https://mostlysourdough.com/wp-content/uploads/2018/07/IMG_6181-12.jpg
Prep:
Cook:
Yield:

1 sheet pan

Total:
You'll Need...
Levain: (Night before mixing dough)
1 tablespoon mature starter (fed/refreshed within 8 hours)
100 grams white bread flour
100 grams whole wheat flour
200 grams warm water
-
Dough:
200 grams active levain
900 grams white bread flour
100 grams whole wheat flour
700 grams warm water, plus 50 grams (divided)
20 grams salt
-
Focaccia:
Olive oil for pan
Italian herb mix
Assorted heirloom tomatoes, sliced
Flaky sea salt
Directions
Levain (Night before mixing dough): Mix together ingredients in a small bowl, cover and store in a relatively warm place for the night.
Mixing: Using a scale, weigh out your first water and add the levain. Mix until dissolved. Add your flours and mix with your hand until you have a shaggy dough. Cover, and allow to autolyse for 20-40 minutes. Sprinkle over the salt and extra 50 grams of water. Pinch the salt and water into the dough, giving it a good mix by hand, and scrape down the sides of the bowl with a wet bowl scraper.
Bulk Fermentation: Essentially, you will do a series of 6 turns over 3-4 hours depending on the temperature of your room and dough. Typically I do the 6 in the first three hours (every half hour) and let my dough rest for an hour untouched. At this point you can bake the focaccia right away, or cover the bowl and retard it in the fridge overnight to develop more flavor.
Bake: If you've retarded your dough, allow to sit at room temperature for about 30 minutes. Preheat the oven to 500 degrees and place two sheet pans on the lower rack to catch any overflow of oil. Add about 2 tablespoons of olive oil to a sheet pan. Turn out your dough into the pan, and gently use your hands to spread it out to reach the edges. Take care not to deflate it, and if it springs back on you just let it rest for a bit before continuing. It's okay if it doesn't fully reach the edge.
Arrange your sliced tomatoes and sprinkle on your herbs. Bake for 15 minutes, rotate and another 20 until golden brown. I also brushed some garlic infused olive oil on the top for more flavor. Sprinkle with sea salt. Cool on a wire rack until you can slice it. Serve warm.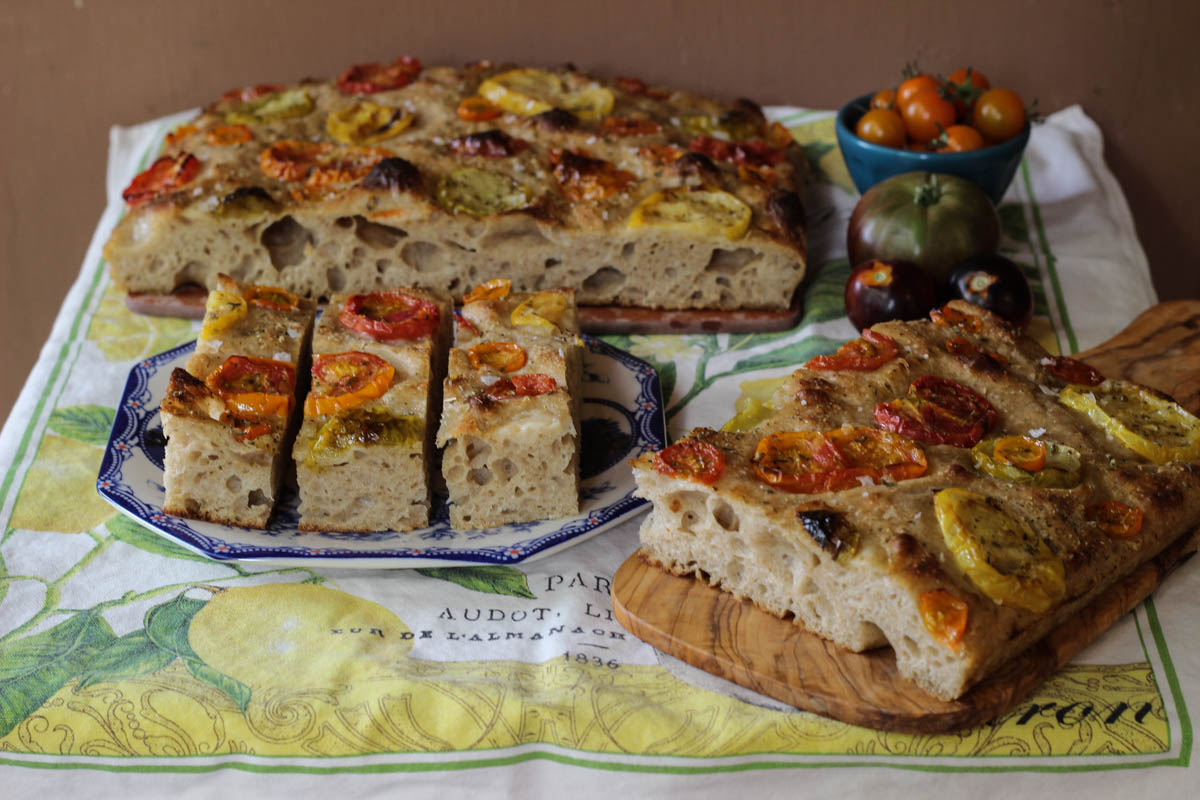 Sourdough breads are just one of the most fun things for me to make. In terms of ingredients, it's as simple as you can get. But it can be challenging because it's so variable. I love that it keeps me on my toes. And nothing feels better than when you pull a fresh beautiful loaf outta the oven. It's pure magic.
All the nom.