Anyone who bakes sourdough bread regularly knows the feeling of guilt when you pour your discard into the trash between feedings. It's such a terrible waste!
Buuut every sourdough baker has their favorite discard recipes to use up that extra starter and avoid that guilt. It can be fun to experiment with new recipes, but my go-to faves are waffles and this easy AF banana bread.
This banana bread is unlike your typical overly sweet stuff. Although I bake a lot, my sweet tooth has a limit and I find most banana bread to be on that cloying line. This bread is like a cross between a standard 'nana loaf and a sourdough loaf, so it's not too sweet. It's perfect.
Kip, my starter, has been with me since one of my favorite classes in culinary school (intro to baking & pastry with the best instructor, Chef Cathy). During our bread unit, she brought her own personal starter to class to share with all the students. I've had Kip ever since!
Cathy has had her starter for over 30 years!! Can you imagine how many people she's shared it with in that time? I've given my starter to several people in my few years with Kip. I call them Kiplings or Kiplets. My sister Amy just baked her first loaves this summer. It's so fun to share bread baking with friends and family!
I love love love this toasted up with some peanut butter. *Heart eyes emoji*
Sourdough Banana Bread
From
Mostly Sourdough
at
https://mostlysourdough.com/2018/08/sourdough-banana-bread/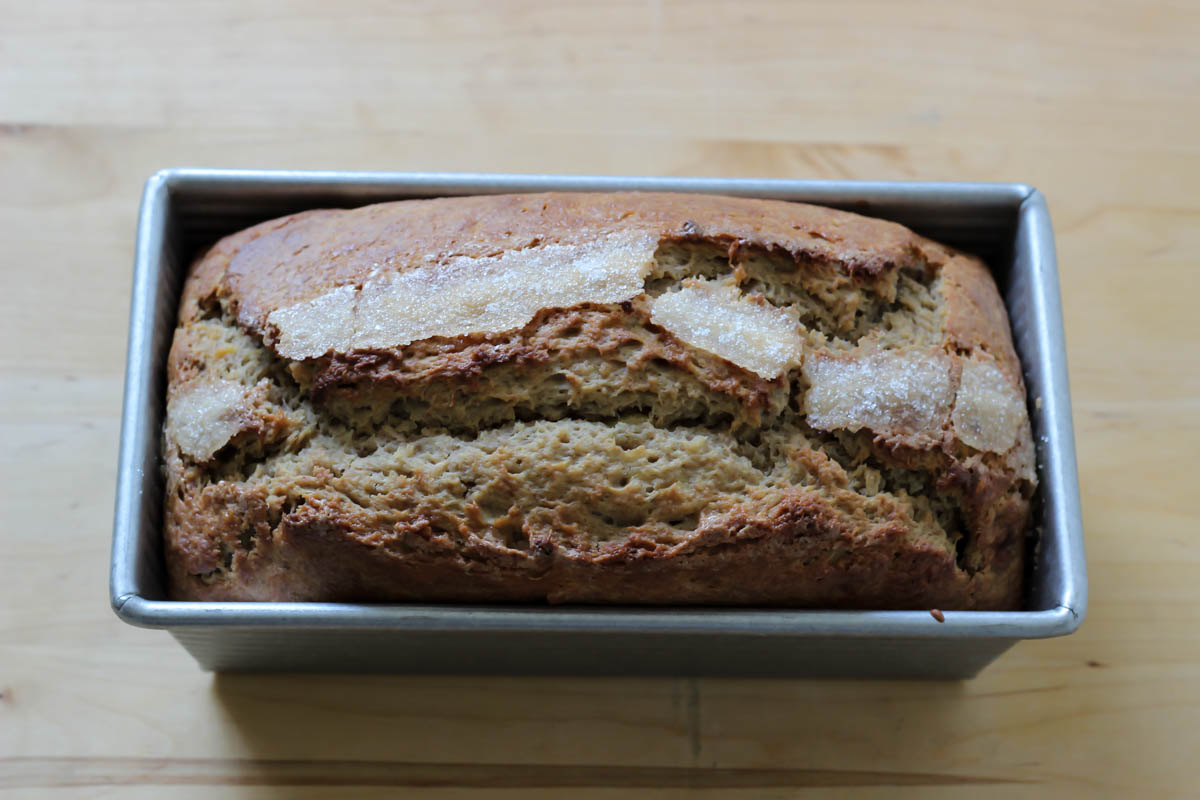 https://mostlysourdough.com/wp-content/uploads/2018/08/IMG_6248-1.jpg
Prep:
Cook:
Yield:

1 9x5 loaf

Total:
Not your typical overly sweet banana bread. Sourdough starter, less sugar, & greek yogurt make this a perfect banana loaf.
You'll Need...
1/4 cup vegetable oil (can be subbed with butter)
1/2 cup brown sugar
3/4 cup to 1 cup sourdough starter
1/4 cup plain greek yogurt
2 eggs
3 super ripe bananas, mashed
1 teaspoon vanilla
1/2 teaspoon salt
1/2 teaspoon baking soda
1 teaspoon cinnamon
2 cups all purpose flour
Turbinado sugar for topping
Directions
Butter a 9x5 loaf pan. Preheat the oven to 350 degrees.
In a medium mixing bowl, whisk together the oil and brown sugar. Add the yogurt and starter and beat until thoroughly combined. Add the eggs, vanilla and mashed banana and mix until incorporated. Next add in the salt, baking soda and cinnamon. Fold in the flour with a rubber spatula.
Transfer batter to the loaf pan, and top with a strip of turbinado sugar. Bake for 55-60 minutes. Allow to cool in the pan for about 10 minutes before removing and cooling on a rack.
YAAAS for easy recipes!
I inevitably end up with both leftover starter and brown bananas at some point during a month, so this bread is always the answer.
You can dress this 'lil loaf up too if you want. Add chocolate chips, nuts, dried fruit. I typically like to keep it simple, but the possibilities are endless.
I'll also do a healthier version now and again with unsweetened applesauce instead of oil, a mixture of different flours, and sometimes I cut down the brown sugar too.
If you're ever interested in getting into sourdough baking, message me! I can mail you some starter. 🙂